14.8.01
WITTON ALBION
versus.
ALTRINCHAM
7.45pm
Red and white striped shirts, black shorts and socks
All blue
1.
Kevin WHITEHEAD
1.
Dale NEWBROOK
2.
Neil MORLEY
2.
Gary SCOTT
3.
Mark STYLES
3.
Chris ADAMS
4.
Brian PRITCHARD (capt.)
4.
Terry BOWKER
5.
Ian BOLD
5.
Mark SERTORI
6.
Mark JONES
6.
Jason GALLAGHER
7.
Carl RENDALL
7.
Jeremy ILLINGWORTH
8.
Charlie BOYD
8.
Steve HAWES (capt.)
9.
Danny WILDE
9.
Lee POLAND
10.
Marc HAWKES
10.
Michael TWISS
11.
Mike HORTON
11.
Danny MURPHY
12
Danny GIBELERO
12.
Dave SWANNICK
13
Matt CONKEY (gk)
13.
14
14.
Ian CRANEY
15
Tom SPEARIT
15.
Keith MAIRS
16
Matt STALEY or Danny GRAYSTONE
16.
James JENNINGS
17
Melford KNIGHT
17.
Steven TAAFFE
---
BACKGROUND
Altrincham's last visit to Wincham Park was for the Cheshire Senior Cup Final in 2000 when a rash foul by Phil Power led to his sending off and a defeat to Macclesfield which sparked a slump in league form and eventual relegation from the Conference. Witton are now managed by Eddie Bishop, who took over from Nigel Gleghorn towards the end of last season and whose former employers, like Gleghorn's, include Altrincham.
---
SUMMARY
An entertaining first half saw the sides level, 1-1, at the break but Witton had also hit the woodwork twice and Altrincham once. Alty fielded a number of players from outside the first-team squad and one of these, Michael Twiss, opened the scoring after 19 minutes with a fine shot from over 20 yards after the keeper had been forced out to try to intercept a through ball for Poland. Witton deservedly equalised after 28 minutes through a deflected goal by Bold. The home side dominated the early stages of a less accomplished second half but two goals in as many minutes from Lee Poland transformed the game. The first was a tap in after Witton's keeper and a defender collided (66 mins) and the second was a well-taken effort (68 mins) to bring his pre-season tally to seven. In truth, the final margin of victory flattered Altrincham against a hard-working Witton side.
---
TEAM NEWS
Altrincham's team last night was a mixture of first-teamers and reserves. Last year's Youth Team goalkeeper, Dale Newbrook, was between the posts in place of Stuart Coburn, who has an ankle knock and was rested as a precaution. Mark Maddox, Rod Thornley, Carl Furlong and Kevin Hulme were also missing from the side, whilst Ian Craney was only a substitute. Alty played their usual 4-4-2 with Lee Poland partnered up-front by Michael Twiss. He made his debut for the Old Trafford first XI in a cup match against Barnsley in 1998 but then went on loan to Sheffield United and Port Vale. At the back Gary Scott and Chris Adams were on the flanks with Terry Bowker alongside Mark Sertori at centre-back. The midfield comprised Gallagher, Hawes, Illingworth and Murphy. All the subs were used and these were Dave Swannick, Keith Mairs, Ian Craney and two newcomers to the first-team line-up, James Jennings and Steven Taaffe. Taaffe, a forward, is a 5ft 7ins tall, 21 year-old formerly in Stoke City's first team (1999/2000). He also has had a spell at Northwich Victoria and in Blackpool's Reserves. The Alty side also included three ex-Witton players- Gallagher, Poland and Sertori. However, Witton did not field ex-Moss Laner David Anane who had played in other pre-season games nor ex-Robin Martin Faulkner, who appeared for Witton last season. Witton included some new signings; in goal was ex-Manchester City trainee Kevin Whitehead and up front was Danny Wilde from Southport.
---
MATCH REPORT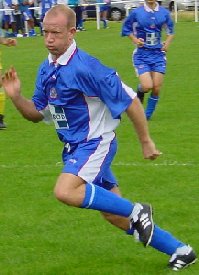 Picture of Man of the Match, Lee Poland, courtesy of Terry Rowley.

Altrincham won the first corner of the game through Murphy after 90 seconds, and soon after this Gary Scott got in a good cross which former Manchester City trainee goalkeeper, Kevin Whitehead, held well (3 mins). Scott was soon busy at the other end, clearing a cross from Rendall, who was to have a fine match for Witton. After a Witton corner had come to nothing, it was Scott, yet again, who fed Lee Poland and the nimble striker turned superbly past his man to fire in a fierce shot from outside the box, which Whitehead did well to beat over the bar (8 mins). Alty's good start continued with a fine 50-yard pass forward to Poland but the Witton defence got the ball clear. Murphy then won a rather fortunate corner on the left as he appeared to foul his marker but it was Witton who posed the next threat with a long punt downfield by their keeper having to be headed clear by Scott, as it threatened to drop behind the Alty back line (12 mins).

Rendall next combined with Boyd and Wilde to win a corner on their right flank. From the flag-kick Witton's Pritchard headed firmly against the upper part of Dale Newbrook's right upright, but the ball rebounded to safety (13 mins). However, six minutes later it was Altrincham who took the lead. An excellent long ball forward from Hawes set Poland and the keeper on a collision course near the edge of the Witton box. The keeper managed to get the ball away but only as far as Michael Twiss. The ex-Manchester United man scored superbly, curling the ball past the stranded keeper and just under the crossbar from outside the penalty area (19 mins). Following the recent unfortunate injury to Paul Taylor incurred whilst committing a foul, another of our centre-backs almost repeated the act in this game. Mark Sertori needed treatment on his right thigh after blocking his opponent and, although he recovered, he left the fray at half-time. From Boyd's free-kick the ball came out to Rendall whose shot came back off the same part of the upright that his team-mate had struck earlier (20 mins). After a bit of a defensive muddle, Altrincham conceded a corner. The ball came out to Bold whose shot from outside the area was deflected through a ruck of players and gave Newbrook no chance as it entered the net for the equaliser (28 mins).

Play was end to end now and the action continued with a free-kick to Altrincham, 22 yards out, after a foul on Illingworth. However, Hawes's free-kick hit the wall. But, moments later, the Altrincham captain unleashed a magnificent shot from 25 yards after good linking work by Poland and Gallagher. Hawes's shot crashed against the crossbar and rebounded to safety (31 mins). Following a stoppage for treatment to Illingworth, Newbrook cleanly took a routine through-ball but was unnecessarily charged, late, by Hawkes. After a significant stoppage for treatment to his left leg, Dale continued, though Sertori had to take the resulting free-kick (32 mins). Another fine long ball from Hawes, relishing his restored midfield role, reached Scott via Gallagher and the full-back's shot was only slightly too high from 30 yards (34 mins). Altrincham continued to play well but Murphy was the next in the succession of their players to injure himself, seeming to stub his toe against a defender's tackle as he shaped to shoot. Witton relieved the pressure when Hawkes, on the break, shot narrowly over the bar from just outside the box (41 mins). The half ended on a note of controversy as Boyd carved out a chance for Rendall but just as the Witton man was about to get a clear shot on goal, Mr Edgeley blew for half-time with no time at all having been added, despite a number of injury stoppages. The first half had been very entertaining and with three strikes against the woodwork, it could have been 3-2 to Witton; as it was Altrincham deserved at least to be on level terms.




HALF-TIME: WITTON ALBION 1 ALTRINCHAM 1

The new half started with three substitutions. For Alty, Craney replaced Gallagher in midfield and Swannick came on for Sertori at the back. For Witton, Bold was replaced by number 16, listed on the teamsheet as Staley but announced as Graystone (46 mins). Sadly, the second half did not live up to the excitement of the first and the opening stages were rather scrappy. Witton seemed to be more lively than Altrincham and put together some good passing movements but these all petered out before seriously threatening the visitors' goal. More substitutions followed; Steve Taaffe came on for Illingworth and Spearit replaced Jones for Witton (60 mins). Taaffe initially took over Illingworth's midfield berth, whilst Twiss and Poland remained largely starved of service further upfield. Hawkes then tried to lob Newbrook but his effort was just too high and it was Witton who looked the more likely to score at this stage. However, out of the blue, Alty scored twice in two minutes. The first goal came from a good ball forward by Twiss. Whitehead, the Witton keeper, and a defender collided near the edge of the box as they both attempted to intercept but the ball ran free behind them and Poland was left to walk it into an empty net (66 mins). Two minutes later an excellent ball from the Alty midfield reached Poland just outside the box; he controlled it well and turned neatly before slotting it home, low, for his seventh goal of the pre-season (68 mins). The 3-1 scoreline was rather flattering to Altrincham and the double goal-scoring blast took the wind out of Witton for a while.

As Altrincham now looked comfortable, more changes were made. James Jennings replaced Lee Poland and Knight came on for Witton (71 mins); a minute later Keith Mairs replaced Twiss and Taaffe now moved up front with Murphy. Craney soon showed some fine touches in midfield before Witton's Horton was substituted (76 mins). The home side now got back into gear and they were unlucky when a goalbound shot hit Rendall and rebounded only narrowly wide of the goal (79 mins). The nearest Alty came was when a diagonal Hawes free-kick was missed by every one in the box and nearly crept in at the far post (83 mins).Styles and Knight prompted some good movement on the Witton left but few clear openings arose. The tannoy announced Pritchard (Witton) and Poland (Altrincham) as the respective Men of the Match. A minute before the referee blew for time Murphy curiously just walked off the pitch and left Altrincham with ten men for the final moments. The final action was a save from Newbrook from Rendall.

FINALE

With only about half of tonight's starting line up likely to start against Whitby on Saturday, this was a creditable if somewhat flattering result for Altrincham. Several players took knocks in this game, however but the implications of injuries sustained by Sertori, Illingworth, Murphy and Newbrook remain uncertain at this stage. The form of Poland will give Bernard Taylor and Graham Heathcote food for thought as they have the rare luxury of three good strikers to choose from in Thornley, Furlong and Poland. Newcomer Twiss also showed some good touches and took his goal well. In all, it has been an encouraging pre-season as tonight Altrincham concluded their pre-season campaign with their sixth win from nine "first-team" fixtures, their only defeat being a narrow 0-1 reverse against a Blackburn side containing six internationals. For their part, Witton looked to have a promising side for their Division One campaign; Altrincham will need to be on their guard in October when we return to play them in the UniBond Cup.
---
FULL-TIME: WITTON ALBION 1 ALTRINCHAM 3
---


Copyright: ©


Compiled by John Laidlar
---