16.3.02
ALTRINCHAM
versus.
GAINSBOROUGH TRINITY
3pm
Red and white striped shirts, black shorts and socks
&nbsp
All blue
1.
Stuart COBURN
1.
Gary INGHAM
2.
Neil RYAN
2.
Danny BROWN
3.
Dave SWANICK
3.
Darren HOLMES
4.
Mark MADDOX
4.
Chris HURST
5.
Mark SERTORI (capt.)
5.
Neil ALLISON (capt.)
6.
Marc WHITEMAN
6.
Iain GORE
7.
Kevin HULME
7.
John REED
8.
Ian CRANEY
8.
Phil BROWN
9.
Carl FURLONG
9.
Lee ELLINGTON
10.
Rod THORNLEY
10.
Gareth WILLIAMS
11.
Barry SHUTTLEWORTH
11.
Darren CONWELL
12.
Vernum ROWLAND
12.
Andrew STANHOPE
14.
Gareth STRANGE
14.
Joby GOWSHALL
15.
Lee POLAND
15.
Owen WRIGHT
BACKGROUND
After a bad run of six successive league defeats, Gainsborough had recently got back on track with a fine win over Lancaster City, whilst Alty had suffered three consecutive defeats in by far their worst run of the campaign. The game was played on a mild sunny afternoon and was refereed by Mr David Commins, the man who sent off Carl Furlong in the tempestuous league match at Lancaster City earlier this season. Alty had lost to Gainsborough at Moss Lane in the President's Cup some weeks ago.
---
SUMMARY
Altrincham continued to limp towards the finishing line with this draw which took their run of league games without a win to five. Naming three loan players in their squad and lacking first-teamers Adams, Scott, Taylor, Gallagher, Murphy and Hawes, it was not surprising that the Robins were not at their most fluent. However, Carl Furlong shot Alty ahead after 26 minutes, finishing well from a Thornley pass. Gainsborough deserved their point which came from a header by Hurst which seemed to go through Coburn after 48 minutes.
---
TEAM NEWS
Alty showed four changes to their squad from last Wednesday's game. Kevin Hulme and Barry Shuttleworth returned to the starting line-up after injury, whilst two new players appeared on the teamsheet, apparently on loan. These were Gareth Strange, a former Manchester United youngster, who has been more recently at Accrington Stanley and Marc Whiteman from Bury. Whiteman started in place of the indisposed Steve Hawes. Out of Wednesday's squad went Barry Guildford, David Wills and Youth players Mario Daniel and Lee Thompson. However, it was good to see another Youth team player, 16 year-old Vernum Rowland, retain his place on the bench after a fine debut at Bishop Auckland. The home formation varied from the normal 4-4-2 with newcomer Whiteman playing in an advanced role supporting Furlong and Thornley. Shuttleworth played on the left of midfield. For Gainsborough Mark Lewis was absent due to knee ligament damage.
---
MATCH REPORT
Alty, captained by Mark Sertori, kicked off towards the Golf Road End and enjoyed the majority of the early possession. Mr Commins showed no signs of his previous encounter with Carl Furlong when he allowed the Alty man to escape with just an admonishing word after the striker had kicked the ball away when stopped for offside. Carl, who has previously been booked twice for this needless offence this season, clearly has not learnt his lesson (3 mins). Alty's first half chance arrived when Hurst fouled Furlong, 30 yards out. Shuttleworth fired the free-kick, left footed, over the bar (6 mins). Hurst made amends when he got in a good header at Coburn, which the keeper palmed away, but the Gainsborough man had been "climbing" and was penalised. (7 mins). Furlong then showed the better side of his play, chasing a lost cause to win a corner for Alty on their right. Ryan's corner was cleared but, in the process, Brown seemed to be hit by the ball in the face and needed treatment. A second Gainsborough injury soon followed when Ellington went down (10 mins). After a fairly uninspiring opening period, Alty finally put together a slick passing move when Furlong and Whiteman set Thornley running at goal. He was felled by Allison but Mr Commins allowed play to continue and curiously penalised Hulme for a subsequent challenge (12 mins). The Gainsborough trainer was busy and had to come on to treat a player for the third time after only 13 minutes. After Coburn had risen well to catch a Trinity cross, Allison again felled Thornley and this time the ref did award a free-kick but Shuttleworth was unable to capitalise on this opportunity with his left-foot shot (15 mins). A fine ball from the right by Reed then found Ellington unmarked inside the box. As he shaped to shoot Mark Maddox made a superb saving tackle, at the cost of a corner on the Gainsborough left (17 mins). Following this Brown got in a shot which was deflected for another flag-kick. Gainsborough were now getting the upper hand and it took another fine interception from Maddox to clear from Ellington. Indeed, Maddox was having a storming start to the game and was soon in action again to head clear. Yet another stoppage for a Gainsborough player to be treated occurred after 23 minutes with Ellington going down off the ball.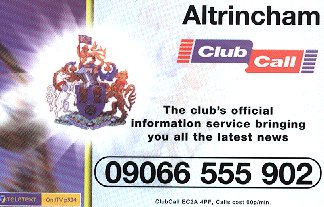 Maddox was penalised for handball twenty yards out. With Reed, Brown and Conwell loitering over the ball menancingly, an obviously pre-rehearsed ploy was in store. But it went farcically wrong and no danger to the Alty goal resulted. Soon afterwards, a Coburn clearance found Furlong, who fed Thornley to the right. Rod got the ball back across the penalty area where Furlong, slightly off balance, nevertheless did well to hook the ball with his left foot firmly past Ingham, the former Stalybridge goalkeeper, for the opening goal (26 mins). This was Alty's fiftieth league goal of this season. Thornley soon made progress again on the right and fed Hulme, whose ball to Craney saw the young midfielder slice his effort well wide (29 mins). Furlong now needed treatment as Alty physio Gary Thompson made his first appearance of the afternoon. The next goal threat came when Furlong did well and found Thornley, who advanced and shot firmly to provoke a fine save from Ingham (33 mins). Gainsborough were holding their own, however, and almost equalised in bizarre fashion. Ellington shot from the edge of the box and the ball deflected off a defender, wrong footing Stuart Coburn. With the Alty keeper motionless on his line, the ball struck the foot of his right-hand post a couple of yards away and rebounded to safety (37 mins). Within seconds, a fine cross from Hurst found Williams, who climbed to make a good header at the back post which Coburn saved magnificently at the cost of a corner. A Gainsborough player headed the corner just over the bar, albeit Dave Swanick was covering well under the crossbar, but the Alty lead looked precarious.
Carl Furlong continued to apply himself well, winning several flicked headers from balls played forward to him. However, it was Gainsborough who threatened again when Hulme had to be alert to see off Ellington in the Robins' penalty area (41 mins). Nevertheless, Alty won a corner on their right through Whiteman, but Ryan's kick only found the Trinity keeper. A lob, just wide of goal, by Allison came after Coburn had collided with a defensive colleague when trying to punch clear a preceding cross into the penalty area (43 mins). A goalbound 25-yard shot from a Trinity player then hit a team-mate, Williams, inside the Alty box to prevent any danger to the Alty net shortly before the whistle went for half-time.
---
Half-Time: ALTRINCHAM 1 GAINSBOROUGH TRINITY 0
---
Gainsborough made a change at half-time, Gore giving way at the back to Gowshall (46 mins). Soon, Hulme's barge on Williams conceded a needless free-kick. From this, Reed's cross from the right found Hurst in a central/left position in front of goal. His header seemed too close to Coburn to be a serious threat but somehow the ball got through the keeper's hands and into the net for the equaliser (48 mins). The sides traded a free-kick each before yet another stoppage occured, the fifth of the game, for a Gainsborough player to receive treatment. This time, Holmes was carried off by the two team-physios and was replaced by Stanhope (51 mins). A foul by Hulme on Hurst near half-way and some subsequent dissent saw the Alty man booked by Mr Commins (52 mins). Gainsborough now continued to pen Alty back into their own half. Alty's clearances were mostly long balls which simply gave possession back to the visitors. No one seemed able to hold the ball for long on the Alty side at this stage and Gainsborough were playing the better football. This was hardly surprising given that so many of the home side were unused to playing with each other. Maddox and Sertori next had to engage in some head tennis to clear an attack but they gave Trinity a corner. Coburn punched the corner upwards but then caught the ball. Alty themselves then won a corner through Thornley's efforts. The ball eventually came back to the corner-taker, Ryan, whose volleyed shot launched the ball into orbit way over the target (55 mins).
Craney and Hulme were having relatively quiet afternoons in midfield as Gainsborough continued to press. As Conwell threatened to break into the box, he was driven right by Swanick who fouled him to concede a free-kick right on the edge of the penalty area. Swanick received a yellow card for this (58 mins). Following this, a corner resulted on the right, won by Williams (59 mins). Once this had been cleared, 16 year-old Vernum Rowland came on to replace Whiteman (59 mins) on the right of midfield. With Trinity still enjoying most of the possession, Coburn, Ryan and Conwell all collided in going for a cross and both the outfield players needed brief treatment (62 mins). After he had recovered, Conwell got past Ryan only for Brown to shoot wide. Altrincham continued to lose possession cheaply as they attempted to go forward but they won a fortunate corner when a Maddox ball forward was needlessly headed out by Allison. Hulme won a header from Shuttleworth's corner and the ball almost dropped for Thornley at the back post. However, a free-kick did soon result when Allison handled the ball as Thornley threatened to get past him from a neat pass by Furlong. The Trinity captain was booked for the offence (70 mins). Sertori curled the free-kick just over the bar.
Wright now replaced Reed for Gainsborough (70 mins). Rowland then won the ball near the centre line and went past an opponent near the right touchline and, though he found Thornley, only a throw resulted. Craney belatedly came into the game and he nearly scored with a measured low shot, just wide of Ingham's left post after good work by Furlong had let in Thornley for a blocked shot which came back for Craney to have his shot (77 mins). Shuttleworth then chipped a ball into the box which the keeper half punched clear under a challenge, judged to be illegal, by Hulme (79 mins). Craney then fed Furlong, but the striker was offside before a mis-placed pass across the pitch by Gowshall allowed Thornley in on goal. Rod's fine shot was superbly saved by Ingham (84 mins). After Stanhope and Williams had combined, Sertori conceded a corner to Trinity, from which the danger was eventually cleared. Rowland continued to show some neat touches on the right of midfield but a 35 yard curling lob by Stanhope soon caused Coburn to back-pedal to see the ball out. Yet another stoppage was needed as two Gainsborough players were simultaneously prostrate in different areas of the pitch (89 mins). To general surprise Ian Craney was now announced as Man of the Match. In reality, this had been of his quieter games and Mark Maddox, Carl Furlong or Barry Shuttleworth were all more likely contenders for the award.
So, just two points have now been gathered from the last fifteen available and Alty's best unbeaten run of the season (6 games) has been immediately followed by their longest run without a league win (5 games). Injuries have a lot to do with this, with senior players such as Adams, Scott, Taylor, Murphy, Gallagher and Hawes all missing today whilst on the pitch Whiteman was making his debut and Shuttleworth had only played less than an hour's football previously for the Robins. It was not surprising therefore that fluent inter-passing was not a sustained feature of Alty's game as the players sought to get to know each other. Altrincham dropped two places in the league as both Worksop and Vauxhall Motors won today.
---
Full-Time: ALTRINCHAM 1 GAINSBOROUGH TRINITY 1


Copyright: ©


Compiled by John Laidlar