19.3.02
ALTRINCHAM
versus.
CREWE ALEXANDRA
3pm
Red and white striped shirts, black shorts and socks
&nbsp
Blue shirts, white shorts and socks
1.
Stuart COBURN
1.
Ademole BANKOLE
2.
Neil RYAN
2.
A. YATES
3.
Dave SWANICK
3.
Alex MORRIS
4.
Gary SCOTT
4.
Chris McCREADY
5.
Mark SERTORI (capt.)
5.
Richard WALKER
6.
Vernum ROWLAND
6.
Michael HIGDON
7.
Kevin HULME
7.
Colin LITTLE
8.
Ian CRANEY
8.
Lee BELL
9.
Carl FURLONG
9.
Paul EDWARDS
10.
Rod THORNLEY
10.
ROBINSON
11.
Lee POLAND
11.
Phil TRAINER
12.
Lee THOMPSON
12.
Mark ROBERTS
14.
Barry GUILDFORD
14.
Stuart TOMLINSON
15.
James WILKINSON
16.
Ian JEFFS
BACKGROUND
This was Alty's third CSC Final in four years, having lost to Macclesfield in 2000 and having won against Northwich at Wincham Park the previous year. With the UniBond title looking to be elusive this year, this game represented Alty's best chance of winning something this season. Surprisingly, Crewe had not won the CSC since the 1920s. The pitch was very damp and down the centre it was particularly bobbly, making it difficult to run quickly with the ball at the players' feet.
---
SUMMARY
History repeated itself as this 114th CSC Final ended like the 112th in 2000 in a defeat for Altrincham brought on by a sending-off. For Phil Power in 2000 against Macclesfield, read Carl Furlong in 2002 against Crewe. Furlong's red card, (his third this season to add to his 7 yellow cards) came after 89 minutes. An injury ravaged Altrincham side had played very well until then and but for a spot-kick miss in the first half by Rod Thornley might well have won the Cup without the need for extra time. However, Furlong's dismissal for a totally needless foul 40 yards from his own goal on the touchline, after an earlier booking for an equally pointless handball, led to Crewe making the extra man tell in extra time. The first goal came from Trainer (101 mins) and, as the gaps appeared on the Alty right, a brace followed from ex-Hyde man, Colin Little (110, 114 mins).
---
TEAM NEWS
With Adams, Taylor, Gallagher, Murphy and now Maddox out injured. the recently acquired Shuttleworth, Whiteman and Strange all ineligible and captain Steve Hawes suspended, Alty fielded an understrength side. However, Gary Scott did make a welcome reappearance though not fully fit. Kevin Hulme moved alongside Sertori at centre-back in Maddox's absence, with Ryan and Scott at full-back. 16 year-old Vernum Rowland made his first start for the first team after two impressive substitute appearances last week. Vernum played in central midfield alongside Dave Swanick, whilst striker Rod Thornley started in an unaccustomed right midfield role, Ian Craney being his counterpart on the left. Carl Furlong was up front, supported by Lee Poland. Crewe included recent first-team keeper Ademole Bankole in goal.
---
MATCH REPORT
Altrincham started well with Vernum Rowland particularly impressing in the opening minutes. The first shot of the game came when Furlong fed Poland whose strong 25 yard shot was well stopped by Bankole (3 mins). Alty won their first corner after 7 minutes when Ian Craney, Rod Thornley and Vernum Rowland combined to set up a shot from the right by Furlong which was deflected over the dead-ball line. Play stopped for treatment to Sertori who appeared to have been caught accidentally around the head when challenging for the ball (12 mins). With the rain which had fallen steadily since before kick-off now having stopped, Crewe's most prominent player was 18 year-old Lee Bell who was spraying the ball around well from midfield though occasionally his aim was inaccurate.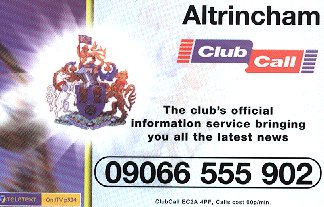 After Scott had lost the ball a long range shot was easy for Coburn but the Alty keeper had to be more alert and rush out to kick clear soon afterwards (16 mins). Sertori then need further treatment to his face before Dave Swanick saw off the next attack by Bell. Furlong was soon penalised for a foul, as the two sides balanced each other's efforts. Furlong next got the ball to Thornley whose effort from 25 yards was routinely stopped by Bankole (25 mins). But at the other end, a slip by Scott allowed Edwards to shoot just wide of Coburn's left post, but the keeper had it covered (26 mins). Coburn soon had to make his best save of the half, making a fine block save as he advanced from goal to meet a threat conjured up by interplay between Yates and Edwards on the right (27 mins). Although Crewe were now enjoying more possession, a neat flick on by Furlong set Poland in on goal but Bankole came out to dribble the ball to safety. End to end play continued with Alty's next effort seeing Thornley race towards goal from a neat feed by Furlong. Rod's shot from inside the box was held by the keeper (30 mins). After a stoppage for treatment to Furlong and to a separately injured Crewe player, Alex won a corner on their left which was cleared and a free-kick was awarded for an offence against Sertori in the Alty box in such a dramatic manner by the referee that, for a moment, it seemed that the ref had awarded a penalty to Crewe. If Alty fans' hearts had missed a beat because of this it was soon their Crewe counterparts turn to suffer the real thing as a spot-kick was awarded at the other end. This arose after a foul on Furlong not far from half way. Swanick's free-kick came through to Poland, who got in a cross from the right which was cleared. But Mr Mathieson had spotted a handball and awarded a penalty. Rod Thornley struck the ball weakly to Bankole's left and the keeper made a relatively comfortable stop, though he could not hold the ball, which ping-ponged round the area before being cleared (38 mins)
Altrincham continued to press but from a Bankole clearance, Little fed Edwards for a 25-yard effort which went over the bar. Just after the "2 minutes to go" board had been shown Furlong advanced into the box after Sertori's clearance had been relayed to him by Thornley. Carl went down much too easily to convince the referee that a penalty was called for. After Rowland had been fouled, Swanick's free-kick led to Craney getting in a good shot which Bankole saved well, one-handed (44 mins) as Alty ended the half strongly. Half-time came with rain again falling and Altrincham having given a good account of themselves. Crewe had shown a lot of neat passing but a lot of it had lacked penetration.
---
Half-Time: ALTRINCHAM 0 CREWE ALEXANDRA 0
---
The half opened with an early foul on Ian Craney and a free-kick from 25 yards out which was laid off for a shot by Lee Poland which was underhit and went wide (46 mins). A superb tackle by Scott conceded a corner to Robinson on the Crewe right but this simply led to an Alty goalkick. Poland continued his lively start to the second period by winning the ball off a defender inside the Crewe box but another defender then dispossessed him (51 mins). After Craney had fouled Bell a corner resulted off Scott as he closed down Little on the right (53 mins). Then Craney led a breakaway, feeding Thornley who in turn set Rowland off up the right. Rowland's cross was then deliberately handled by Furlong in front of goal as he found himself unable to reach the ball legitimately. The referee booked Furlong and the Alty man was to rue this needless caution by the end of the ninety minutes of normal time (54 mins). Craney was now beginning to assert himself in midfield and it was he who got in a good shot from 30 yards which was only narrowly wide (57 mins). Before play could resume Mr Mathieson felt it necessary to lecture Furlong for a dubious challenge which had taken place in the build up and which he had allowed to pass as Crewe seemed to have the advantage at that point. So, Carl had been warned.
Craney again impressed by winning possession and as he set off forward, he was tripped 40 yards from goal. The free-kick came to nothing but soon afterwards Craney was advancing again when Bankole came out of his goal and dribbled clear, the keeper finding himself fully 40 yards from his own goal-line. His clearing pass was intercepted by Furlong who advanced up the left but elected not to try a long range effort at the vacant goal. Instead Furlong played a cross which was cleared by a Crewe defender (59 mins). After a Crewe shot had gone over the bar, Furlong went down and needed treatment from physio Gary Thompson (60 mins). Crewe spurned an opening when Robinson's lay off, left, to Little found the number seven in space but his shot failed to hit the target from fairly close range (62 mins). Crewe now were asserting themselves with the lion's share of possession but many of their long passing movements were ponderous in the progress that they made up the pitch. However Alty were still a threat and Scott's fine interception set Thornley running at goal but the bobbly centrefield halted his progress. Bell then hoisted a 35 yarder into the gardens behind Coburn's goal (63 mins) before Dave Swanick picked up a caution for a late tackle just inside the Crewe half (66 mins). Dave has now had five bookings so joins Neil Ryan awaiting a suspension.
After Robinson had threatened to turn past Kevin Hulme, the Alty man pulled him back to concede a freekick in a central position just outside the box. Bell lifted the freekick just over the bar as Coburn covered any late dip (70 mins). Yates then won a corner off Scott but this was cleared. However, the impressive Bell then beat Ryan with a fine ball forward which the Alty defence managed to smother as a Crewe man prepared to shoot (72 mins). Coburn then had to make a magnificent save from Robinson after a feed by Little as Crewe began to get the upper hand. However, Rowland led a breakaway but his final ball intended for Furlong found the striker running in the opposite direction across the penalty area. After Bell had badly misplaced a pass straight to Carl Furlong by the halfway line, the Alty striker kept himself in the spotlight by running for goal and for the second time in the game going down rather too easily to be convincing inside the Crewe box under a challenge. Again Mr Mathieson was unimpressed. At this point Alty brought on Lee Thompson for Lee Poland on the left flank (76 mins). There were quite a few Alty fans who felt that it might have been wise to remove the volatile Furlong at this point before he got into more trouble.
Crewe were still enjoying more of the possession and a foul by Sertori gave them a free-kick just outside the box but this ended up with an Alty goalkick. Alty themselves won a freekick through Thornley after 80 minutes but this ran to Bankole off Hulme. A Crewe overlap on the right by Yates almost led to a goal when his cross found Trainer at the back post but he made a hash of things and the ball went wide. Trainer then needed treatment for cramp (85 mins). Good harrying by Craney won Alty a late corner but this ended with a Crewe breakaway in which Little fell over as he neared the Alty box. Crewe next won a corner on their right, taken by Bell. This was cleared and came to a Crewe player on the right touchline about 40 yards from Alty's goal. Carl Furlong came steaming in from ten yards and needlessly took the player as well as the ball. Mr Mathieson had little option but to reach for his red card and dismiss the Alty man for his third early bath of the season (89 mins). Alty were now condemned to thirty minutes of extra time with just ten men.
---
90 mins: ALTRINCHAM 0 CREWE ALEXANDRA 0
---
Altrincham now pushed Thornley up front, supported by Lee Thompson. The early exchanges were fairly even before Higdon shot well wide for Crewe from 25 yards (95 mins). After a Crewe corner had been cleared an Alty breakaway by Thornley, who turned his man superbly, came to naught (97 mins). A good move initiated by Swanick saw the ball go up the left via Scott to Thornley and end with a low right foot shot by Thompson from right of goal which went wide of the keeper's right post (100 mins). Little and Higdon then broke forward well and fed Trainer who drove the ball past Coburn from the edge of the box. Trainer hit the ball, whether intentionally or otherwise, with the outside of the left foot and the swerve beat Coburn (101 mins). Craney soon received a lecture for pulling back an opponent in midfield and then a limping Gary Scott was replaced by ex-Macclesfield player James Wilkinson, who had not made an appearance for Alty since December 2001.
---
Extra Time Half-Time: ALTRINCHAM 0 CREWE ALEXANDRA 1
---
After a very long delay to treat Trainer for cramp, he was replaced by Jeffs (108 mins). Crewe were now passing the ball about in lengthy but seemingly unproductive moves as the ten men of Altrincham struggled to get possession. After some 20 passes Crewe had made little progress from their own defence in one such passing movement until Jeffs played a ball left to Little. The Crewe man then turned past Ryan and, though Coburn got a hand to his shot from the left, the ball had enough power to enter the net to seal the match at 2-0 (110 mins). Kevin Hulme now moved forward for Alty to leave the defence even more sparsely populated and they paid the price when Little again found space on the left and tricked his way past a defender to score a third goal (114 mins). The three-goal margin was harsh on Altrincham but it could have been worse as Little sent a 25 yarder narrowly wide. The final act saw Vernum Rowland go off with cramp, to be replaced by Barry Guildford (119 mins). Altrincham went up to receive their losers' medals vocally accompanied to the end by the Moss Lane choir which had given the team fine support throughout the match.
This had been an excellent performance by Altrincham for ninety minutes but they will have rued the missed first-half penalty. But the most decisive factor in the outcome was the dismissal of Furlong. Aggression is an integral part of Furlong's game and when channelled positively it can produce results. Sadly, too often, it leads to rash challenges and needless bookings which cost his team-mates and the supporters dear. With his dismissal went Alty's last hope of a trophy this season, barring a miraculous recovery of league form to enable us to overhaul Burton Albion, who won again last night.
---
Score After 120 mins: ALTRINCHAM 0 CREWE ALEXANDRA 3
---
---


Copyright: ©


Compiled by John Laidlar