Match Report
---
ALTRINCHAM (0) 1 TRANMERE ROVERS XI (0) 1
Friendly match,
played on Wednesday 17 July, 2002 at 7.30p.m.
---
| | |
| --- | --- |
| Matchday Sponsor | Matchball Sponsor |
| | |
For more on the Club's sponsors, click
here
.
---
SCORERS:
63 mins: Jason KOUMAS (Altrincham 0 Tranmere Rovers 1)
64 mins: Rod THORNLEY (Altrincham 1 Tranmere Rovers 1)
---
REFEREE:
Mr. P.A. Knowles
---
ATTENDANCE:
484
---
TEAMS:
17.7.02
ALTRINCHAM
versus.
TRANMERE ROVERS
7.30pm
Red and white striped shirts, black shorts and socks
&nbsp
All yellow
1.
Eric NIXON
1.
Jamie ATWELL
2.
Derek WARD
2.
Richard HINDS
3.
Gary SCOTT
3.
James OLSEN
4.
Andy McDONALD
4.
Paul LINWOOD
5.
Mark MADDOX
5.
Kevin GRAY
6.
Gary TALBOT
6.
Danny HARRISON
7.
Neil RYAN
7.
Andy PARKINSON
8.
Ian CRANEY
8.
Jason KOUMAS
9.
Danny MURPHY
9.
Alex HAY
10.
Rod THORNLEY (capt.)
10.
Micky MELLON
11.
Ryan HEVICON
11.
Stuart BARLOW
12.
Stuart LOCKE
12.
Ryan TAYLOR
13.
Chris WILLIAMS (gk)
13
Richard SANNA
14.
Stephen ROSE
14
Jamie McGUIRE
no number
--- THOMAS
15.
Paul ROBINSON
16.
Peter MELLOR
16.
Karl DUNBAR
17.
Mike MILLER
no number
Mike TURNER
&nbsp
no number
Danny FROST
no number
---- SMITH
BACKGROUND
This was Alty's first pre-season game after a summer of financial tribulations and of changes to the coaching staff, the playing squad, the physio and the Board.
---
SUMMARY
This was an evenly contested game between an Alty side including five new players and a Tranmere eleven which comprised half of their first team squad. Despite falling behind in the second half and making numerous substitutions, Altrincham's play held up well and they deservedly equalised. Debutants Chris Williams, who saved a penalty, and the lively Ryan Helicon will have been particularly pleased with their performances but the returning Gary Talbot and Stuart Locke also gave assured displays in defence. Alty played some good passing football which belied the experimental nature of the side.
---
TEAM NEWS
The Alty starters last night included six of last year's regulars (Scott, Maddox, Ryan, Craney, Murphy, Thornley), two potential returnees to Moss Lane (Gary Talbot and Stuart Locke), three other trialists (right-back Derek Ward from Stalybridge, midfielder Andy McDonald from Witton and left-sided player Ryan Hevicon from Blackburn Rovers) and guest goalkeeper Eric Nixon of Tranmere, who has apparently been doing some goalkeeping coaching with Altrincham. Other trialists used as subs included Chris Williams, a goalkeeper from Bolton Wanderers, Peter Mellor, a regular at Trafford and Kevin Duncalf, a striker who played some games for Alty Reserves last season. Rod Thornley, sporting a new blond-tinted hairstyle, was the new team captain. The game was also new coach Andy May's first match for the Robins and he will have been pleased with his side's performance. In the crowd were at least three more former Alty players; Dickie Landon (now at Radcliffe), Phil Power and Terry Bowker (Stalybridge). Dickie Landon was on target again- he won the Golden Goal prize competition!
Tranmere fielded a strong side, having brought the half of their first team squad which did not participate in the club's friendly at Morecambe on Tuesday night, which Rovers won 3-0. Jason Koumas, about to move to Everton, Stuart Barlow and Andy Parkinson were amongst the well-known names in their starting line-up. Also playing for them was striker Alex Hay who enjoyed a fruitful loan spell at Moss Lane two years ago.
---
MATCH REPORT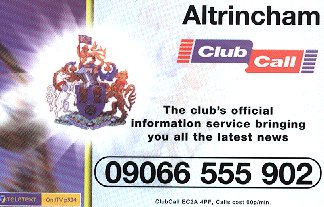 The game was played on a fine, sunny evening and Gary Talbot was the busiest player in the opening minutes making two headed and one kicked clearances in the Alty defence. However, play was fairly even in the early stages but it produced no threats to either goal. Alty won the game's first corner (7 mins) as new coach Andy May gave his side very vocal instructions. The first shot of the game was a curling effort from Hay which did not trouble Nixon as it went wide of his right post from 20 yards (10 mins). Alty won a second corner before Tranmere gained their first flag-kick, followed swiftly by a second (14 mins). Altrincham were matching Tranmere with some neat passing football from the back. The best chance of the game so far came when Hevicon did well and fed Murphy who threaded the ball through to Thornley whose shot from inside the box was well beaten out by Atwell, the young Rovers' keeper (16 mins).
Parkinson, in space, soon put in a Tranmere shot, but it was well wide of the goal then a misplaced back header by Maddox allowed in Barlow, who hooked his effort wide (17 mins). A trip by Craney soon allowed Koumas a 25 yard free-kick which he hit at a defender. Then Murphy won a corresponding free-kick for Alty which Hevicon curled over the Golf Road crossbar (22 mins). After Hay had won a corner, Maddox made a superb tackle to stifle another Rovers' attack. Next, Thornley was the victim of one of the few stiff challenges of the night, from Olsen. He soon recovered, however, to get on the end of a fine pass by Scott but the ball ran to Atwell. After Talbot had dispossessed Parkinson, Hevicon's fine run ended with a pass to Thornley. Rod's relayed pass to Craney produced a corner to Altrincham, which led to two more successive corners for the Robins as they maintained some pressure on the visitors' goal (34 mins). At the other end, after Barlow had been caught offside, he soon got in a volley over the bar (41 mins). Tranmere enjoyed the better of the closing minutes of the half, which ended with a low shot from Hay at Nixon.
---
Half-Time: ALTRINCHAM 0 TRANMERE ROVERS 0
---
Alty made two half-time swaps. Nixon gave way to the young Bolton Wanderers' keeper Chris Williams, whilst Gary Scott made way for 17 year-old Vernum Rowland. Ryan moved to left back to allow Rowland to slot into the right of midfield. The sides traded attacking moves which came to nothing in the early stages of the half. Alty then replaced Maddox by Stephen Rose at the heart of their defence (49 mins). Soon, a Williams kicked clearance hit Hay but, fortunately for the keeper, the ball bounced out of play for a goalkick (53 mins). Williams soon made amends catching a lob from Parkinson. At the other end Ryan's freekick, following a foul on Hevicon, came to Atwell. Then Mike Miller, another trialist, came on for the impressive Hevicon (56 mins). Barlow then hooked a shot over the bar for Tranmere (58 mins). Soon afterwards Koumas found Parkinson in the box, where he was held and the referee had no hesitation in awarding a penalty to the Rovers. Chris Williams made a fine save, low down, from Mellon's spot-kick but Hay knocked in the rebound. However, Mr Knowles immediately ruled out the goal for reasons which were not altogether clear (60 mins).
Stuart Locke now came on for Neil Ryan at left back (60 mins). Locke's first spell at Alty had ended in injury but he looked to have fully recovered as he went on to have a fine game. Tranmere then took the lead through a fine run by Koumas who cut in from the left and sent a reverse diagonal shot across Williams for an early contender for goal of the season (63 mins). But the Rovers' lead was only to last for little more than a minute. Atwell came out to the edge of his area to kick clear but Thornley picked up the ball and expertly lobbed the keeper from outside the penalty area. The ball entered the net off the underside of the crossbar (64 mins).
Williams soon made a fine save at the feet of Hay (67 mins) before Alty brought on an unnumbered substitute (70 mins). A Koumas corner for Tranmere was then cleared before Rowland embarked on a good run in centre-field before he was tripped by Linwood. Rowland soon limped off to be replaced by Kevin Duncalf, a striker who played for Alty Reserves towards the end of last season (73 mins). Williams further impressed with a fine save from a low shot by Harrison (74 mins). Locke then dispossessed Parkinson before a good run by Murphy almost ended with the ball reaching Thornley in the box. Tranmere then won a corner, following which Parkinson headed narrowly wide from a Koumas cross. Another unnumbered sub, came on for Ward (76 mins).
A 25 yard shot from McDonald then squirmed through Atwell's hands for a corner (81 mins). From this, Talbot hooked the ball over the bar. Then a cross by Thornley was nodded narrowly over the bar by Miller. Rod Thornley then hobbled off injured and was replaced by the pony-tailed Mellor (86 mins). A Tranmere corner was cleared by Locke before Rose made a fine tackle to stop another attack. A Hay shot was then diverted for a corner before a fine long ball from Murphy had found Duncalf but he was blocked off from goal by a defender (90 mins).
A draw was a fair result. Given the upheavals on and off the pitch at Moss Lane this summer the Alty performance was far better than might have been expected and gave encouragement to the supporters that this season might be a good one after all. Obviously, much will depend on how many of the trialists manager Bernard Taylor is able to sign over the coming weeks.
---
Full-Time: ALTRINCHAM 1 TRANMERE ROVERS 1
---