Match Report
---
ABBEY HEY (0) 1 ALTRINCHAM (0) 1
Pre-Season Friendly match,
played on 20 July, 2002 at 3p.m.
---
SCORERS:
68 mins: Andy McDONALD (Abbey Hey 0 Altrincham 1)
82 mins: Matt JACKSON (Abbey Hey 1 Altrincham 1)
---
REFEREE:
Mr. C.M. Byrne (Denton)
---
ATTENDANCE:
About 100
---
TEAMS:
20.7.02
ABBEY HEY
versus.
ALTRINCHAM
3pm
Pale blue and yellow shirts, yellow shorts and socks
&nbsp
Red and white striped shirts, black shorts and socks
1.
Andy FLETCHER
1.
Chris WILLIAMS
2.
Brian WALSH
2.
Gary SCOTT
3.
Ryan GIBSON
3.
Stuart LOCKE
4.
Darren EVANS (capt.)
4.
Neil RYAN
5.
Greg TAYLOR
5.
Mark MADDOX
6.
Alan BOSWELL
6.
Gary TALBOT
7.
Matty MINSHALL
7.
Sean WOODFORD
8.
Steve QUINN
8.
Ian CRANEY
9.
Joe METZ
9.
Danny MURPHY
10.
Danny JOHNSON
10.
Rod THORNLEY (capt.)
11.
Andy WALKER
11.
Ryan HEVICON
12.
Matt JACKSON
12.
Derek WARD
13.
13.
Nick STEPHENS (gk)
14.
Calum DEMPSEY
14.
Steve ROSE
15.
D. CARR
15.
Peter MELLOR
16.
D. MORRISON
16.
Ian SMITH
17.
J. HORRILL?
17.
Andy McDONALD
18.
J. STANTON
18.
Carlos MEAKIN
19.
Darren GREEN
No Number
Vernum ROWLAND
BACKGROUND
This was Altrincham's second pre-season game, following their fine 1-1 draw with a strong Tranmere Rovers XI last Wednesday. In last year's corresponding friendly with Abbey Hey, Alty won 6-1.
---
SUMMARY
After a first half in which Altrincham had the majority of the possession and played some neat if unpenetrative football, the second half was broken up by substitutions by both sides and the game was more scrappy. Alty took the lead through a fine interchange between Murphy and McDonald which the trialist finished off with a good shot. Abbey Hey equalised eight minutes from the end when Jackson was set free on the Alty goal after good work on the right wing.
---
TEAM NEWS
Alty fielded eight of the same starters as against Tranmere last Wednesday with the changes seeing trialists Chris Williams (in goal), Stuart Locke and Sean Woodford starting this game. Sinon is a former Cheadle Town and Ramsbottom player, whilst Stuart Locke is well known to Moss Laners and Chris Williams played in the match last Wednesday. > Alty played their usual 4-4-2 with Locke, Maddox, Talbot and Scott at the back and Woodford, Ryan, Craney and Hevicon in midfield. Up front, Danny Murphy again partnered Rod Thornley.
---
MATCH REPORT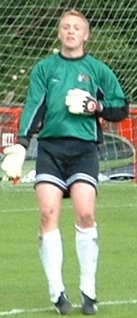 Nick Stephens, Alty's trialist keeper in the second half.

Abbey Hey's Goredale Avenue ground was in excellent condition for this friendly game and after last year's 6-1 win for Alty this was to prove a much closer game. Altrincham got the upper hand from the kick off but apart from a corner, they had nothing to show for their possession and territorial advantage in the opening stages. As on Wednesday, Ryan Hevicon was again looking to be Alty's most lively player, operating on the left flank. However, his tendency to cut inside rather than cross from the touchline frequently led to moves petering out. Altrincham continued to play the ball around neatly to feet but this meant that their attacks were often slow in building and the well organised Abbey Hey defence prevented any real threat being placed on keeper Fletcher's goal. At the other end, Chris Williams was a virtual spectator.
The first real chance of the game came after 25 minutes when Hevicon got in a cross from the left and Thornley rose well in front of the keeper but his header went narrowly over the bar. Murphy then won a slightly dubious free-kick just outside the box but the Alty free-kick came to nothing (30 mins). On the right flank Woodford saw relatively little of the ball but Ryan and Craney were busy in central midfield. Talbot and Maddox shut out any danger from the home side, for whom Metz looked the most lively attacker but Alty's trialist keeper Williams was confined to collecting a fairly routine cross from Gibson (35 mins). The home side's best effort came shortly before half time when Walker headed a Metz cross just wide of the target following a throw-in on the right. Just before the interval a fine ball by Craney found Woodford but he had to stretch and his volley went wide (44 mins). Hevicon then cut inside past two defenders but his cross was cleared just before the excellent referee, Mr Byrne blew for half-time.
---
Half-Time: ABBEY HEY 0 ALTRINCHAM 0
---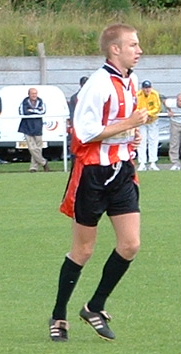 Pictured, right, is Stephen Rose.
Alty brought on 19 year-old trialist Nick Stephens to replace his fellow trialist Chris Williams in goal for Altrincham. Stephens has been on the bench 12 times for Torquay United but has turned down a new contract with the Devon side to seek regular football in the north-west. Another half-time substitute was Stephen Rose, (seen right), who replaced Mark Maddox at centre-back. Rose is 21 and has been at Bristol Rovers, Manchester United and most recently, Chester City. A few minutes later another trialist, Andy McDonald came on for Woodford and Derek Ward replaced Gary Scott (49 mins). Then a fifth sub, Carlos Meakin came on to replace Hevicon and he partnered Thornley up front, with Murphy moving to the left flank. Abbey Hey also made three substitutions during the early stages of the half; Carr, Stanton and Horrill joining the fray.
Goalmouth action continued to be scarce but Stephens did have to field a routine header from Johnson. More promise of a goal came when Thornley got round Evans and his shot was well parried out by Fletcher (65 mins). Vernum Rowland now came on for Ian Craney (66 mins) in midfield. Vernum soon won a corner but though this was cleared, Alty soon took the lead. McDonald made a neat interchange of passes with Murphy outside the penalty area before receiving the ball back and striding on to strike it firmly past Fletcher (68 mins) to open the scoring. Three minutes later a Ryan ball into the box saw Murphy clearly held by a defender but no penalty was awarded. This was Murphy's last action as he was now replaced by Peter Mellor (72 mins).
Carlos Meakin made good progress towards the box to win a free-kick for Alty but McDonald lifted the resulting free-kick over the bar (81 mins). Horrill then did well on the right against Locke and got the ball forward to Jackson who ran in unmarked on the exposed Alty keeper. The Abbey Hey substitute gave Stephens no chance as he slotted the ball home for the equaliser (82 mins). Altrincham continued to try and build patiently but created few openings in the closing stages and the game ended all square at 1-1. Of the trialists both keepers (Williams and Stephens) had little action to deal with and Woodford, too, saw relatively little of the ball in midfield. Talbot was his usual reliable self at the back and Hevicon again looked useful on the left flank. McDonald had a better game today than in midweek and took his goal well, whilst Mellor was steady as a late substitute on the left. Carlos Meakin had one good run at goal and Derek Ward was generally solid at right-back. After the excellent performance against Tranmere in midweek this match was a less exhilarating affair. Alty still seem a little short of attacking firepower and their build-ups were often slow but their passing was generally neat and accurate. Their next test is on Thursday against another NW Counties side, Flixton.
---
Full-Time: ABBEY HEY 1 ALTRINCHAM 1
---