Match Report
---
FLIXTON (0) 0 ALTRINCHAM (3) 4
Pre-Season Friendly match, ,br>played on Thursday, 25 July, 2002 at 7.30p.m.
---
SCORERS:
16 mins: Rod THORNLEY (penalty) (Flixton 0 Altrincham 1)
23 mins: Rod THORNLEY (Flixton 0 Altrincham 2)
30 mins: Mike TURNER (Flixton 0 Altrincham 3)
57 mins: Mike TURNER (Flixton 0 Altrincham 4)
---
REFEREE:
Mr. Paul Graham
---
ATTENDANCE:
About 100
---
TEAMS:
The Flixton team (apart from no.10) is listed below as per programme but the actual players may have differed. No tannoy announcements were made at all.
25.7.02
FLIXTON
versus.
ALTRINCHAM
7.30pm
Blue and white striped shirts, blue shorts and socks
&nbsp
All white
1.
Nehru McKENZIE
1.
Chris WILLIAMS
2.
David ESDALE
2.
Gary SCOTT
3.
Gavin McKENZIE
3.
Stuart LOCKE
4.
Chuku OTUTO
4.
Andy McDONALD
5.
Gary THOMAS
5.
Mark MADDOX
6.
Alan OSBOURNE
6.
Peter BAND
7.
Damien Lee QUEENLEY
7.
Danny MURPHY
8.
Anthony JONES
8.
Ian CRANEY
9.
Gary COOLEY
9.
Mike TURNER
10.
Nathan COMLEY-EXCELL
10.
Rod THORNLEY (capt.)
11.
Lee MATTHEWS
11.
Ryan HEVICON
12.
??
12.
??
13.
13.
Nick STEPHENS (gk)
14.
?Sam BAKER
14.
Neil RYAN
15.
Troy HAYDER
15.
Derek WARD
16.
16.
Chris YOUNG
17.
17. (short sleeves)
Peter MELLOR
17.
17. (long sleeves)
?SMITH?
No number
Steven ROSE
No number
Simon WOODFORD
BACKGROUND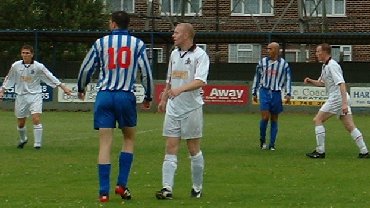 L to R, Alty's Scott, Maddox and Band police Flixton's Nathan Comley-Excell.
This was Altrincham's third pre-season game, following 1-1 draws with a strong Tranmere Rovers XI last Wednesday and with Abbey Hey last Saturday.
---
SUMMARY
Altrincham put in a good performance and deserved their victory, though better finishing from Flixton could have narrowed the scoreline. Once again Ryan Hevicon looked a useful player on the left flank whilst new striker Mike Turner was also impressive. Peter Band made a solid debut in defence where, once again, both goalkeepers (Williams and Stephens) had little opportunity to show their shot-stopping skills but did what they had to competently, whilst Thornley looked sharp up front. Alty remain unbeaten in their three friendlies to date.
---
TEAM NEWS
Alty employed 20 players in this game fielding a number of faces not seen in the previous two friendlies. These included Peter Band, last season's team captain at Hyde United, who played this game at centre-back; Mike Turner, a tall and powerful striker and Chris Young who was briefly at Moss Lane a couple of years ago. Alty rested Gary Talbot who had played in the previous two games. Jason Gallagher and Chris Adams were both present both neither is yet to fit to play after last season's injuries. As there were no team announcements it was difficult to identify one or two of the Alty substitutes. In goal was Chris Williams; the back four comprised Scott, Band, Maddox and Locke; midfield was made up of Murphy, McDonald, Craney and Hevicon, whilst Thornley and Turner were paired up front. As for the Flixton side, it was possible to identify former Alty striker Nathan Comley-Excell and the number twelve looked like Sam Baker, who played for Alty Reserves last season. Named in the programme for Flixton was Chuku Otutu, who also turned out for Alty Reserves last season.
---
MATCH REPORT

Rod Thornley (right) scores the opening goal from the spot.
After a fairly even start Altrincham nearly took the lead after seven minutes when Turner received the ball from Murphy and lashed a left foot shot at the target which came off the inside of the left upright and rebounded across and out of goal. Altrincham began to assert themselves though there was the occasional glimpse of skilful movement from Nathan Comley-Excell and his partner up front for Flixton. Following a foul by McDonald, Flixton took a free-kick from 25 yards out which was played short for a shot which whistled past Williams's right post (12 mins). Murphy responded with a fine dribble past three opponents before he played the ball left to Hevicon. His cross was met by Murphy's head but the ball went just wide (12 mins). Comley-Excell was then presented with a good chance when he got between Scott and Williams inside the box but he shot wide (15 mins). Play switched to the other end as Thornley advanced into the edge of the box on the left, where he was brought down. He took the resulting penalty himself, sending the keeper the wrong way as his shot went into the right side of the net (16 mins). Alty soon had a corner but then Comley-Excell again got free from a fine pass by the number nine. Perhaps thinking that he was offside, Comley-Excell hesitated and the chance disappeared (22 mins).
Alty doubled their lead soon afterwards when Thornley chased a 50-50 ball and though the keeper parried his first attempt, Rod headed the rebound over him and into the net (23 mins). Flixton continued to attack as well and after Williams had punched clear, the ball came to their number seven whose shot from the edge of the box was only narrowly over the bar (24 mins). After Hevicon had been tripped by the opposition number seven, the resulting free-kick came to Thornley on the left. His acrobatic volley back into the goalmouth found Turner who finished neatly from close range to make it 3-0 to Altrincham (25 mins). Although the visitors had been undeniably the better side, the margin of the lead was a little hard on Flixton at this stage. Next, a fine run by Hevicon up the left was blocked off before a Flixton corner on their left found the head of their tall number five whose header just cleared the crossbar. A nice turn by Thornley from a Craney feed almost got Rod his hat-trick but the ball ran to the keeper (31 mins). After the number seven for Flixton had got in a good cross from the right, Hevicon broke away and put in a fine cross from the left but the keeper caught it. The end to end play continued with Comley- Excell having a shot blocked, to win a corner. Comley-Excell then had another shot, just wide, after a fine pass from his number four (34 mins). Williams then had to come out smartly to clear the next attack before another Hevicon run led to a Flixton goal-kick. Flixton's number nine again fed Comley-Excell but this time the ball ran to Williams in the Alty goal (42 mins). The half ended with a 25 yard right-foot shot from Stuart Locke which went wide and a fine covering tackle by the Flixton number seven as Hevicon advanced towards the box.
---
Half-Time: FLIXTON 0 ALTRINCHAM 3
---
Alty made seven changes at half time with the new players being goalkeeper Nick Stephens from Torquay United, Neil Ryan in midfield, Derek Ward from Stalybridge Celtic at right-back, Steven Rose from Chester City at centre-back, the burly Chris Young in midfield, Simon Woodford on the right wing and an unidentified number 17 (?Smith). Those who went off were Thornley, Craney, Scott, Maddox, Williams, Locke and McDonald. The opening stages of the half were fairly unremarkable, though substitute keeper Stephens made two routine saves. However, the impressive Hevicon won a corner after 57 minutes. A Flixton defender slipped as he attempted to clear this and left Turner with little more than a tap-in for Alty's fourth goal. Despite this setback, Flixton continued their efforts and by the hour mark had themselves brought on four substitutes.
Another Hevicon run ended with a shot at the Flixton keeper (62 mins) before Turner again threatened the Flixton defence, the ball rebounding to Hevicon whose shot rose over the bar (63 mins). Peter Mellor now came on for Danny Murphy (66 mins) to give Alty two number seventeens on the pitch. A Flixton free-kick then glanced off one of their players' heads and wide of Stephens's goal (67 mins). Rose and his defensive colleagues continued to hold the line at the back for Alty before another fine Hevicon cross was met by the diving Turner's head but the ball passed over the bar (76 mins). Alty then brought on an unidentified number twelve to replace Peter Band. Woodford showed some nice touches on the right whilst Turner continued to impress for Alty up front. By this stage only Hevicon and Turner remained on the field of the original Alty eleven. There were no more goals but a shot by Ryan went wide (85 mins) before in the final minute a good cross by Woodford span wide off Turner.
After the slightly disappointing display at Abbey Hey, this was a good performance by Altrincham. If manager Bernard Taylor can sign several of the trialists who played tonight, Altrincham should be able to more than hold their own in the UniBond Premier League this season. It is believed that Peter Band may already have signed but this is yet to be confirmed.
---
Full-Time: FLIXTON 0 ALTRINCHAM 4
---