Match Report
---
ALTRINCHAM (0) 2 MALAWI NATIONAL XI (1) 3
Friendly match,
played on Saturday 27 July, 2002 at 3p.m.
---
| | |
| --- | --- |
| Matchday Sponsor | Matchball Sponsor |
| | |
For more on the Club's sponsors, click
here
.
---
SCORERS:
3 mins: Steve BAKALI (Altrincham 0 Malawi National XI 1)
63 mins: Jones NKHWAZI (Altrincham 0 Malawi National XI 2)
69 mins: Rod THORNLEY (penalty) (Altrincham 1 Malawi National XI 2)
81 mins: Simon WOODFORD (Altrincham 2 Malawi National XI 2)
89 mins: Sherry MSUKU (Altrincham 2 Malawi National XI 3)
---
REFEREE:
Mr. Mike Jones
---
ATTENDANCE:
---
TEAMS:
The Malawi players shown below are those named on the teamsheet numbered from one upwards. However, the players played in shirts bearing their squad numbers so it was impossible to identify anyone at the time! After the game most of the numbers were identified thanks to Ian Watts from Stockport County and these are included below. The numbers of those who started the game were: goalkeeper=16; defence= 6,7,12,14; midfield=19,8,20,2; attack=15,13.
27.7.02
ALTRINCHAM
versus.
MALAWI NATIONAL XI
3pm
Red and white striped shirts, black shorts and socks
&nbsp
Black shirts and shorts, with red and green decoration; red socks, with green top.
1.
Chris WILLIAMS
16.
Navigator DZINKAMBANI
2.
Gary SCOTT
Clement MTAMBO
3.
Stuart LOCKE
19.
Maupo MSOWOYA
4.
Andy McDONALD
7.
Itaye NUNDWE
5.
Mark MADDOX
12.
Joseph GATROS
6.
Peter BAND
8.
Peter MGANGIRA
7.
Danny MURPHY
20.
Sherry MSUKU
8.
Ian CRANEY
6.
Fisher KONDOWE
9.
Mike TURNER
15.
Jones NKHWAZI
10.
Rod THORNLEY (capt.)
13.
Shabba PHIRI
11.
Ryan HEVICON
13.
Steve BAKALI
12.
Neil RYAN
17.
McDonald YOBE
13.
Nick STEPHENS (gk)
Harold MULEMBO (gk)
14.
Simon WOODFORD
5.
Victor PHIRI
15.
Sean SMITH
Heston MUNTHALI
16.
Chris YOUNG
Frank PHIRI
17.
Derek WARD
3.
Lackson MUTAMBO
18.
Vernum ROWLAND
&nbsp
Matembo MSOWOYA
19.
Danny FROST
Grant LUNGU
James CHILAPONDWA
BACKGROUND
The Malawi National Side was on a 12 day visit to England at the invitation of the Football Association. They had beaten a Stockport County side 3-1 in midweek and are to play Walsall before returning home. The game was played on a warm sunny afternoon at Moss Lane.
---
SUMMARY
A last minute goal deprived Alty of a draw against the Malawi national side. The Malawi side had dominated the first half with an impressive display of passing after taking the lead in the third minute when a thunderous long-range shot by Sherry Msuku came back off the bar and was headed home from close range. They doubled the lead after 63 minutes when a left-wing cross was converted at the near post. Alty made several substitutions in the second half and these improved the performance. Rod Thornley won and converted a penalty after 69 minutes (seen above) before Simon Woodford scored a fine headed equaliser from a Hevicon cross nine minutes from the end. However, a crashing 20-yard volley in the last minute clinched the game for the African side who enjoyed some good vocal support from their Commonwealth Games squad in the second half.
---
TEAM NEWS
There were no completely new faces in the Altrincham squad though the players included numerous trialists who have arrived at Moss Lane this close season. The same eleven started in this game as against Flixton on Thursday, when Alty won 4-0. The Malawi players used shirts bearing their squad numbers so during the game it was impossible to identify anyone as the team-sheet showed them numbered from number one to nineteen - (there were 20 on the squad)! The numbers of those who started the game were: goalkeeper=16; defence= 6,7,12,14; midfield=19,8,20,2; attack=15,13. Their captain was Sherry Msuku.
---
MATCH REPORT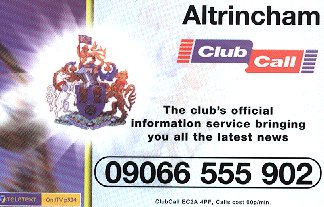 From the start Malawi showed that they were comfortable on the ball and not afraid to pass it about, even in defence. They took an early lead when a tremendous shot from Sherry Msuku (no.20) from 25 yards crashed against the centre of Williams's crossbar and bounced back for Bakali, to head past the now stranded keeper (3 mins). Soon after this, Gary Scott slipped near his own goal and a corner resulted to the visitors on their left; a second corner immediately followed. After some more impressive passing from the Malawians, Nkhwzi got in a shot with the outside of his right boot which Williams saved cleanly (8 mins). Then a corner from the right saw Bakali shoot over the bar as the Alty defence challenged him. Alty were as yet unable to get any attacks going and Scott soon had to be alert to see out a ball at the back post for another Malawi corner (15 mins). Williams was then forced to make a good save from a well struck volley by Mgankira who in stature and style bore than a passing resemblance to Ronaldinho of Brazil, but without the teeth. The Malawi no.14 then fired in a fierce long range shot which Williams again did well to save (19 mins). The Malawi keeper on the other hand was unemployed.
Malawi's no.2 and a colleague then combined but as the latter confronted Williams he was pulled up for offside. Rod Thornley was trying his best to spark an attack but his partner Mike Turner was finding the opposition much tougher than on Thursday against Flixton when he scored twice. Ryan Hevicon was also being forced to play deeply and made none of his trademark menacing runs at this stage. Altrincham slowly began to get a bit more into the game as the first period reached its half-way point. However, Malawi again threatened when a player got in against Williams, who did enough to prompt a shot wide of the goal. Alty's first real threat came after 37 minutes when Thornley won possession and got in a cross from the left which the keeper missed but the ball also evaded Murphy at the back post. At the other end, Williams was soon in action again, saving well from a low shot by the Malawi captain, Msuku. Malawi continued to show some good skills and when Gary Scott dived in for a tackle on half-way and found that his opponent had evaded his challenge, the likeable Alty defender got up with a generous grin on his face in acknowledgement of his opponent's ability (42 mins). The half ended with Altrincham perhaps a little fortunate to be only one goal down.
---
Half-Time: ALTRINCHAM 0 MALAWI NATIONAL XI 1
---
Altrincham made three half-time changes. Neil Ryan, Sean Smith and Derek Ward replaced Ian Craney, Danny Murphy and Stuart Locke. Smith and Ward played at left- and right-back respectively, as Scott moved into midfield. Almost immediately Mark Maddox almost scored a spectacular own goal when his flying header diverted a cross from the right which Williams had to save (46 mins). Malawi continued where they had left off with some sustained passing movements. Another fiery long range shot, from Gatros, tested Williams once more but the ex-Bolton Wanderers' youngster fielded the shot at the second attempt (56 mins). Alty then made a change with Chris Young replacing Turner up front (58 mins). At last Alty won a corner but it was taken short and came to nothing (59 mins). A long ball set the Nkhwazi running at goal and though Williams could not get out in time to the ball, he did enough to induce a shot wide of his goal from the Malawian (60 mins). The Africans then doubled their lead when a cross from the left found the Nkhwazi who knocked it home, possibly off the crossbar, as he got in front of Mark Maddox at the near post (63 mins). Immediately Simon Woodford came on for Scott on the right of midfield and goalkeeper Williams gave way to Nick Stephens, the former Torquay United youngster. Almost immediately Woodford combined well with Ryan and forced the Malawi keeper into a rare piece of action to deal with his cross (66 mins). Smith, too, showed some good touches in defence as Altrincham began to play with some conviction. Stephens stopped a difficult bouncing shot from a Malawi player (68 mins) and the ball soon came forward to Thornley on the left. He cut in from the left past no.14 and as he crossed the outer fringes of the boxes he went down under a challenge from Nundwe. Mr Jones gave a penalty and for the second game this pre-season Thornley himself converted the spot kick (see picture), sending the keeper the wrong way (69 mins). Woodford again did well on the right soon after this and after he had won a free-kick, the ball came out to Ward who hooked the ball over the bar (72 mins).
Just after the Malawi keeper had come out to stop Thornley getting the ball, the visitors made their first change, taking off Bakali for Phiri (75 mins). Altrincham continued to play their best football of the match, with first Woodford and then Hevicon beginning to get some joy down the flanks. A contingent of Malawi fans arrived during the second half and their chants and songs enlivened the proceedings. A fine cross by Malawi's no.2 was well blocked by Mark Maddox before Thornley and Woodford combined well on the right. Malawi continued to threaten too as Msuku shot well wide and then no.2 sidefooted wide from 20 yards (80 mins). Thornley then fed Hevicon who beat the no.14 and won a corner on the left. This was taken short and Hevicon then crossed accurately towards the back post where Woodford rose magnificently to head home a very good goal (81 mins). Play resumed after a Malawi player received treatment for an injury. The visitors made a double change, with nos. 2 and 14 giving way to Lackson Mtambo and Yobe (84 mins). Msuku continued to spray long passes to his colleagues and one of these produced a corner on the left. After this Stephens made a save but a free-kick had already been awarded to Alty. Hevicon then fed Thornley who got into the box but he curled his shot at the keeper (87 mins). Just as it looked as if Altrincham would gain a draw, Malawi scored a last gasp winner. Mark Maddox cleared well only for his midfield colleague McDonald to allow Malawi's Msuku to have time to unleash an excellent 20 yard volley into Stephens's goal (89 mins).
Despite the numerous changes to Alty's side in the second half they showed resolve in coming back from a two-goal deficit against a side who were clearly more technically accomplished. Of the Alty newcomers, Woodford and Smith impressed with their substitute performances today, whilst the competition between Williams and Stephens for the goalkeeping spot continues to be difficult to call. The game provided good entertainment to a moderately sized crowd but the football was put into perspective by a half-time collection for the Southern African Crisis Appeal; this raised a commendable £202 to help to alleviate the famine in that region.
---
Full-Time: ALTRINCHAM 2 MALAWI NATIONAL XI 3
---