Match Report
---
---

The domain name "altrinchamfc.com" has been kindly donated by The Dedicated Partnership,a leading Web design company in the North-West.
---
ALTRINCHAM (1) 2
BLACKBURN ROVERS XI (1) 2
Friendly match, played on Saturday, 3 August, 2002 at 3p.m.
---
| | |
| --- | --- |
| Matchday Sponsor | Matchball Sponsor |
| | |
For more on the Club's sponsors, click
here
.
---
SCORERS:
13 mins: Marc RICHARDS (Altrincham 0 Blackburn Rovers XI 1)
25 mins: Rod THORNLEY (Altrincham 1 Blackburn Rovers XI 1)
64 mins: Danny MURPHY (Altrincham 2 Blackburn Rovers XI 1)
67 mins: Andrew BELL (Altrincham 2 Blackburn Rovers XI 2)
---
REFEREE:
Mr. F. Tarry
---
ATTENDANCE:
---
TEAMS:
3.8.02
ALTRINCHAM
versus.
BLACKBURN ROVERS XI
3pm
Red & white striped shirts, black shorts & socks
&nbsp
Blue & white halved shirts, white shorts & scoks
1.
Nick STEPHENS
1.
Kieron RENTON
2.
Neil RYAN
2.
D. HOCKENHULL
3.
Gary SCOTT
3.
Alan MORGAN
4.
Peter BAND
4.
Ciaran DONNELLY
5.
Gary TALBOT
5.
Gordon GREER (capt.)
6.
Andy McDONALD
6.
Alex BRUCE
7.
Danny MURPHY
7.
Jimmy CORBETT
8.
Ian CRANEY
8.
Adam NELSON
9.
Brian McILROY
9.
Egil OSTENSTAD
10.
Rod THORNLEY (capt.)
10.
Marc RICHARDS
11.
Ryan HEVICON
11.
B. O'BRIEN
12.
Neil MURPHY
12.
David McNAMEE
13.
Chris WILLIAMS (gk)
13
D. STEVENSON
14.
Stuart LOCKE
14
15.
Chris YOUNG
15.
Andrew BELL
16.
Danny FROST
16.
Jerome WATT
17.
Vernum ROWLAND
18.
Chris ADAMS
&nbsp
19.
Simon WOODFORD
BACKGROUND
This was Alty's second successive pre-season game against a Premiership club but, once again, the opposition's first team was abroad, so their representatives at Moss Lane were drawn from the ranks of the reserves with Egil Ostenstad the only "big name". Before the game, Andy Tunnicliffe, Alty's former loan player from Manchester City, warmed up on the pitch as he attempts to regain fitness after breaking his leg.
---
SUMMARY
Rovers had much of the possession and went ahead after 13 minutes through Richards, who converted a left-wing cross at the near post, despite the attentions of Band and Talbot. Alty equalised with a well taken Thornley goal from a fine pass by Craney (25 mins). Danny Murphy put Alty ahead after 64 minutes against the overall run of play before Rovers equalised through Bell. Alty had more of the game in the second half despite making eight substitutions.
---
TEAM NEWS
Two new faces appeared today for Altrincham. Neil Murphy (22), made his debut as a substitute at right-back. He is a trialist, released recently by Blackpool, and he played for their first team. Previously he was at Liverpool and was an England youth international. Another ex-Liverpool trainee on view was striker Brian McIlroy, who started the game, as manager Bernard Taylor sought a suitable partner for Rod Thornley. Also making his first appearance for the first team was Danny Frost who has been at Altrincham previously but not in the first team. Chris Adams made his first appearance since his lay-off with injury at the end of last season. With Maddox sidelined by injury, Band and Talbot were the centre-back pairing, with Scott and Ryan at full-back.
---
MATCH REPORT
ALTRINCHAM 2 BLACKBURN ROVERS XI 2
Neil Murphy (22), who made his debut at right-back today. He is a trialist released recently by Blackpool and played for their first team. Previously he was at Liverpool and was an England youth international.
The game was preceded by a minute's silence in memory of Alty coach Andy May's thirteen year-old son, who died last Sunday. Understandably, Andy himself was not at the game and all at the Club send him and his family their condolences. The Altrincham team wore black arm bands as a sign of respect.
Blackburn started well and won a corner off Band in the first minute, which was immediately followed by a second, but both were cleared. Alty's response was a chase by Rod Thornley for a 50-50 ball which keeper Renton just managed to punch off Rod's head. Full-back Hockenhull then played a fine ball for Corbett up the right wing but his cross was missed by a colleague in the goalmouth. After Thornley had lost another chase for the ball to keeper Renton, a left-wing cross saw Rovers' Richards head over the bar but Stephens had the ball covered (6 mins). McIlroy then prompted a move for Alty which ended with Murphy's over-long cross from the right.
A risky back pass from Gary Scott was then safely gathered by an alert Stephens before a cross from the left by O'Brien seemed to be covered by both Band and Talbot. However, Richards nipped in at the near post and beat the two defenders to the ball and knocked it into the net for the opening goal (13 mins). Blackburn soon threatened again when Donnelly played an excellent ball across the box which yielded a corner for the Rovers. Blackburn were passing the ball well and making use of the ball over the Alty defence into the right and left corners of their attack, where both Corbett and O'Brien looked useful.
Alty's McDonald then got the ball to Thornley, who relayed it to the right to Murphy. His cross was missed by the keeper but the referee awarded him a free-kick for a foul by McIlroy. Ostenstad showed the first of a number of deft flicks to set Morgan running forward but the danger was stopped by the Alty defence. Ostenstad did it again soon afterwards when he flicked the ball on from a move involving Donnelly, Morgan and O'Brien. This time the Norwegian's skill set up a fierce diagonal shot from the left by Morgan which keeper Stephens did very well to parry clear for a corner (23 mins). Following the corner Stephens again did well, punching out a testing cross by O'Brien. The double saves were a turning point, for Alty went down to the other end and scored. Ian Craney laid on a magnificent ball forward, to his left, to Thornley who took the ball expertly, first time, on the half-volley and lobbed it over the keeper. Renton got his hand to the ball but the shot had enough power to enter the net for the equaliser which, in truth, was against the run of the game at this point (25 mins).
Ostenstad responded with a useful cross from the right corner and then Hevicon, who was having a quiet game against his former employers, overhit a cross for Altrincham. The goal encouraged Alty and Ryan, Craney, McIlroy and McDonald combined very well to mount an attack but an offside decision intervened.
A well timed tackle by Scott gave Rovers a corner on their right and this was cleared but soon a neat interchange between Ostenstad and Richards won the visitors another flag-kick (34 mins). Alty were penned back for several minutes till Ryan made a well judged defensive interception. A mistake by Talbot, surrendering possession to Donnelly just outside the Alty box, led to a shot which Stephens beat out well from Ostenstad's shot. Altrincham were now improving and, after Hevicon had won the ball, a six-pass move looked promising till Scott lost control of the ball, 30 yards from goal. As half-time approached McDonald hit a volley well over the Rovers goal (44 mins).
---
Half-Time: ALTRINCHAM 1 BLACKBURN ROVERS XI 1
---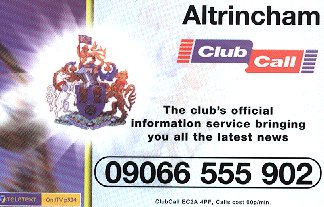 The sole change at half-time was the replacement of Stephens in the Alty goal by his fellow trialist Williams. He was soon in action fielding comfortably a deflected shot from Nelson (47 mins). Alty were again hemmed into their own half for several minutes and their goal was threatened when Talbot brought down Corbett just outside his own box. The free-kick was deflected for a corner. Play then stopped for treatment to Band who appeared to hurt himself in stretching to clear a ball (56 mins). Both sides took the opportunity to make changes at this point; Watt replaced Corbett for Rovers and Alty brought on Neil Murphy for Ryan in defence and Young for McIlroy up front. Murphy slotted in at right-back and he soon showed himself to be a useful player.
Ian Craney, who had probably been Alty's best player in the game so far, produced a great pass to find Thornley who appeared to be hindered by Greer. Play continued and a defender played a suicidal back-pass which Young almost turned past the keeper for Altrincham (58 mins). Richards now gave way to Bell for Blackburn (59 mins). After Williams had fielded a testing high cross at the second attempt, Danny Murphy did well and won a free-kick in the right corner (63 mins). From Hevicon's free-kick the ball was headed on by Band from the outer reaches of the penalty area, towards the left post where Murphy scrambled it home past the keeper to give Altrincham the lead (64 mins).
Soon, Rowland, who has recently had trials at Ewood Park, came on for the limping Murphy in midfield (66 mins). Ostenstad then found Bell and, as the Alty defence stood off, he hammered the ball home though Williams did get a touch on the shot (67 mins). A minute later a long forward pass found Ostenstad who crashed the ball against the Alty keeper's left upright. Young, Rowland and Thornley replied with a neat attack which earned them a free-kick in the right corner. More substitutions came as Woodford and Adams replaced Hevicon and Scott (76 mins) and then McNamee came on for Bruce a minute later. Watt then got in a shot after Rowland had lost possession but Williams saved his attempt. Another excellent ball from Craney found Young and he, in turn, almost found Woodford coming in at the back post on the Alty right (78 mins).
After being treated for an ankle injury, McDonald was replaced by Danny Frost, who took over at right back, with Neil Murphy moving into midfield (81 mins). Stuart Locke then replaced Peter Band (83 mins). Woodford then won the ball well in his own half and fed Young but possession was soon lost (85 mins). Altrincham enjoyed more of the game in the second period despite the eight substitutions and a 2-2 draw was a fine result for such an experimental side.
Of the trialists, Neil Murphy looked the most promising newcomer whilst Nick Stephens again had a good game in goal. Brian McIlroy saw relatively little of the ball and his replacement by another trialist, Chris Young, coincided with Altrincham's improvement in performance. Simon Woodford again showed potential in his short period on the pitch. Ryan Hevicon had a fairly quiet game against his old team as did Andy McDonald in midfield. Neil Ryan had a good game and the rest of the defence looked fairly solid though both goals were conceded in slightly disappointing circumstances. Rod Thornley, as ever, led by example up front and has now scored five goals in the six friendlies to date. Danny Murphy, too, showed some glimpses of his best form. Outstanding, however, was Ian Craney, whose strength on the ball and perceptive passing promised much for the new season.
---
Full-Time: ALTRINCHAM 2 BLACKBURN ROVERS XI 2
---