Match Report
---
ALTRINCHAM (0) 0 SOUTHPORT (0) 2
Friendly match,
played on Saturday, 10 August, 2002 at 3p.m.
---
| | |
| --- | --- |
| Matchday Sponsor | Matchball Sponsor |
| | |
For more on the Club's sponsors, click
here
.
---
SCORERS:
59 mins: Peter THOMPSON (Altrincham 0 Southport 1)
88 mins: Neil GIBSON (Altrincham 0 Southport 2)
---
REFEREE:
Mr. A. Taylor
---
ATTENDANCE:
---
TEAMS:
10.8.02
ALTRINCHAM
versus.
SOUTHPORT
3pm
Red & white striped shirts, black shorts & white socks
&nbsp
Yellow shirts with green trim, green shorts & socks
1.
Nick STEPHENS
1.
Kevin WELSBY
2.
Neil MURPHY
2.
Chris LANE
3.
Gary SCOTT
3.
Dean HOWELL
4.
Peter BAND
4.
John ROBERTSON
5.
Stephen ROSE
5.
Barry JONES
6.
Gary TALBOT (capt.)
6.
Marin CLARKE
7.
Simon WOODFORD
7.
Neil GIBSON
8.
Andy McDONALD
8.
Steve SOLEY (capt.)
9.
Chris YOUNG
9.
Peter THOMPSON
10.
Mike TURNER
10.
Marc LLOYD-WILLIAMS
11.
Danny MURPHY
11.
Stephen JONES
12.
Jason GALLAGHER
12.
Andy SCOTT
14.
Ian CRANEY
14
Steve WHITEHALL
15.
Danny FROST
15.
James CONNOLLY
16.
16.
Steve PICKFORD
17.
17.
Gary BAURESS
17.(gk)
Steve DICKINSON
BACKGROUND
Southport had won their first six friendlies of the pre-season before drawing their seventh at Hyde last week. For their part Altrincham had won just one of their six games to date.
---
SUMMARY
This was an entertaining game which was evenly matched in the first half. Southport stepped up a gear at the start of the second half and Peter Thompson fired them into the lead after 59 minutes. Altrincham had their chances to equalise before a goal four minutes from the end by Gibson sealed the victory for the visitors.
---
TEAM NEWS
The already small Altrincham pre-season squad was depleted by four departures during the week (Ward, Locke, Hevicon and Williams) and injuries to Mark Maddox and Chris Adams reduced those available to Bernard Taylor still further. Former Chester City defender Stephen Rose returned to partner Gary Talbot, whilst Simon Woodford started on the right of midfield and Mike Turner came in alongside Chris Young as the strike pairing. Gary Talbot was back after missing the Leek game and he captained the side in the absence of Rod Thornley.
Ian Craney was on the bench alongside Jason Gallagher, who had had 24 minutes of the game at Leek last Tuesday. Full-back Danny Frost was the third substitute for Altrincham. Southport included Europe's leading scorer of last season, Marc Lloyd Williams, from Bangor City and recent signing, goalkeeper Kevin Welsby from Leek Town.
---
MATCH REPORT
Left: Jason Gallagher and Simon Woodford leave the pitch after today's game.
Altrincham kicked off towards the Golf Road end on a cloudy but dry afternoon, after more than 24 hours of virtually continuous rain. Playing their usual 4-4-2, Alty had a new strike pairing in Young and Turner and a new central defence, comprising Rose and Talbot. After a fairly quiet opening period in which Southport enjoyed the majority of the possession, the first corner went to the visitors after three minutes. This was cleared and the first shot of note did not arise till three minutes later when Stephens comfortably held Jones's low effort. However, Danny Murphy, who had a good game, then jinked past two men before he shot wide of the target at the other end but he won a corner from a deflection (7 mins). Immediately after this, Altrincham had the ball in the net when Young won the ball, played it to Murphy and he fed Turner who struck it into the net, only to be ruled offside.
Neil Murphy, Alty's ex-Blackpool trialist at right-back, then played a superb 40 yard ball to Young, from whom Woodford received the ball and he swept in a low cross from the right which keeper Welsby just fell on as Turner closed in six yards from goal (8 mins). Good skill by Gibson then set him up for a pop at Stephens which hit Neil Murphy and rebounded to Lloyd-Williams whose shot was stopped by Stephens. The entertaining end to end play continued with Murphy setting off on a 30 yard run past two defenders which was stopped but, soon, the Alty player went up the left and passed to Young whose first-time lay off set up a fine shot from 22 yards by Peter Band which smacked off the top of the bar and out of play (12 mins).
Then Thompson got the better of Talbot only for Rose to sweep up the danger. Soon, after Rose and Soley had both received treatment following a hard tackle, Lloyd-Williams got free in the Alty box. Stephens made a fine block and followed up with a superb second save with his feet as the ball rebounded to another Southport player (19 mins). Shortly after this Southport won a corner but Alty, prompted from midfield by Andy McDonald and making good use of the lively Danny Murphy, gave as good as they got at this stage. Indeed an excellent ball from McDonald found Danny Murphy and he won a corner as Lane rushed to intercept. Southport's Thompson then got round Rose but his rising shot cleared the bar from 25 yards out. (29 mins). Then, after a Neil Murphy clearance had come to Lane the Alty defender made amends with a superb block on the Southport man's goalbound shot from the edge of the box. Jones then made a fine pass to Lloyd-Williams who took two strides into the box before shooting but Stephens made another excellent save, conceding a corner in the process on the Port left.
Southport then brought on "Sid" Pickford to replace the injured Soley, who promptly had an ice-pack placed on his right ankle (32 mins). The end to end play continued in a good spirit until a foul on Neil Murphy by the recently arrive Pickford led to a small fracas in which Thompson got himself needlessly involved (37 mins). Barry Jones then came off with a cut eyebrow to be replaced by James Connolly (37 mins). Next, Thompson threatened the Alty goal but Stephens was out quickly to kick clear. From the resulting long throw from the right, the ball bounced off Talbot but Thompson's snap shot from 8 yards was well over the bar. As Southport finished the half strongly, Rose was in smartly to see off Lloyd-Williams after the ball had skidded off Gary Scott's head to the Southport striker.
---
Half-Time: ALTRINCHAM 0 SOUTHPORT 0
---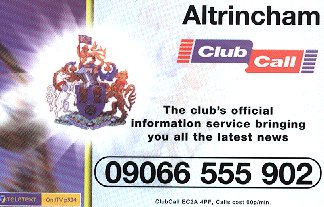 At half-time, Altrincham brought on Ian Craney in midfield for the hobbling Rose and this meant that Peter Band moved to centre-back. Craney almost immediately strode through two tackles, the last by Jones, and set up a Danny Murphy cross from the left which Turner headed narrowly over the bar. Pickford then shot well over the top at the other end as Southport began to get the upper hand (51 mins). However, after Murphy had jinked through a tackle and been tripped, Alty won a free-kick just outside the visitors' box but McDonald's free-kick came to Welsby (55 mins). Murphy set off on yet another jinking run past two players before his cross was taken off Woodford's toe. But then Southport advanced up their right side through Lane and his pass found Thompson, who opened the scoring with a firm shot which gave Stephens no chance (59 mins).
Immediately the scorer was taken off and replaced by Steve Whitehall, the former Chester City striker (60 mins). Southport continued to press but Gary Talbot and, then, Neil Murphy, broke up the next two attacks. Nick Stephens then missed his punch off a looping ball into the box but he recovered to gain possession. The Moss Lane side of the Golf Road end was extremely wet and when Neil Murphy slid in for a tackle a sizeable spray went up behind him. From this the Alty right back played an excellent ball forward for Murphy but the Southport defence held firm (63 mins)
Ian Craney soon put a 35 yard free-kick over the bar after a handball by a Southport player before a triple Southport substitution was accompanied by Alty's Mike Turner giving way to Jason Gallagher (64 mins). This meant that Danny Murphy moved up front. The Southport changes saw goalkeeper Welsby give way to the former Guiseley keeper, Steve Dickinson, and Robertson and Jones departed to be replaced by former Stalybridge men Gary Bauress and Andy Scott. The slippery ball caused Stephens a problem when a routine catch had to be taken at the second attempt as Southport remained on top. However, an excellent free-kick from the right by Neil Murphy (who is seen, left) was met by a flashing header from Woodford which the new keeper, Dickinson, did well to push over the bar for a corner.
Dickinson, too, had trouble with the ball, catching Young's corner at the second attempt. Alty came back into things and an underhit backpass by Andy Scott was chased inside the box by Danny Murphy who flicked it towards goal only for Dickinson to make a wonderful reaction save to keep the ball out (73 mins). However, Southport responded well and a fine pass by Gibson found Lane on his own in the Alty box. Nick Stephens beat out the Southport man's cleanly hit shot very well (74 mins). Peter Band and Gary Talbot were both playing well in the Alty defence and, indeed, it was Alty who enjoyed the better of the next few minutes but the nearest they came to an equaliser was a wide shot from Craney from 20 yards.
Southport then regained the initiative when Gibson turned well and his shot glanced off the top of the Alty cross-bar. Out of nothing the referee stopped the game and asked for both Craney and Gibson to be substituted for, presumably, some off the ball argument (80 mins). The game had been played in a good, competitive spirit and the "sin-binnings" seemed a little harsh in the circumstances. Southport responded by bringing back Robertson for their dismissed player whilst Alty sent on Danny Frost at right-back and moved Neil Murphy to midfield. Gallagher soon won Alty a corner, which Dickinson again needed two attempts to catch, from Young. The Southport keeper had further problems when he missed a cross from the left by Neil Murphy which led to another Altrincham corner.
Southport then won a corner of their own when Andy Scott's shot was deflected. Phil Wilson, the Southport manager now brought Gibson back onto the pitch in place of Connolly (84 mins) and a moment later Ian Craney came back on, bizarrely being put into attack, with Chris Young being taken off. However, this nearly paid dividends when Craney got into the box and Woodford almost finished off the move with an ambitious scissors kick at goal (87 mins). But it was Southport who were to have the final say when the returned Gibson got past Gary Scott on the Alty left and exchanged passes with Lloyd-Williams before driving the ball past Stephens to make it 2-0 to the visitors (88 mins). Although Craney did well in the last minute, turning smartly but shooting wide, the game ended with Southport the winners.
The pre-season has been difficult for Altrincham, with only one win in seven games. The loss of half a dozen players over the close season and the lack of cash to secure comparable replacements to some of the departed players has meant that manager Bernard Taylor and coach Andy May have a difficult job. In particular, there is a lack of firepower up front, especially as today when Rod Thornley is absent. Young put in plenty of effort but Turner had a fairly quiet match in attack. At the back, Neil Murphy impressed once more and Peter Band had a good game both in midfield and then in defence alongside the dependable Gary Talbot. Andy McDonald showed good skill in midfield and Danny Murphy had as good a game as he has had for some time, making a number of jinking runs, especially in the first half. With only a week to the start of the league season, it remains to be seen who will be added to the two signings to date (Band and McDonald).
---
Full-Time: ALTRINCHAM 0 SOUTHPORT 2
---
---