Match Report
---
ALTRINCHAM (0) 0 HARROGATE TOWN(2) 4
UniBond Premier League match,
played on Saturday, 17 August, 2002 at 3p.m.
---
---
SCORERS:
23 mins: Robbie WHELLANS (Altrincham 0 Harrogate Town 1)
38 mins: David DONALDSON (Altrincham 0 Harrogate Town 2)
80 mins: Dave MERRIS (Altrincham 0 Harrogate Town 3)
88 mins: Robbie WHELLANS (Altrincham 0 Harrogate Town 4)
---
REFEREE:
Mr. Patrick Dunn
---
ATTENDANCE:
552
---
TEAMS:
17.8.02
ALTRINCHAM
versus.
HARROGATE TOWN
3pm
Red & white striped shirts, black shorts & red socks
&nbsp
Yellow shirts, with black trim, yellow shirts and socks
1.
Nick STEPHENS
1.
Ashley CONNOR
2.
Stephen ROSE
2.
James TURLEY
3.
Chris ADAMS
3.
Paul SYKES
4.
Mark MADDOX
4.
Neil ASPIN
5.
Gary TALBOT
5.
Michael McNAUGHTON
6.
Andy McDONALD
6.
John FIELDING
7.
Danny MURPHY
7.
David DONALDSON
8.
Ian CRANEY
8.
Nick RICHARDSON
9.
Chris YOUNG
9.
Scott JACKSON
10.
Rod THORNLEY (capt.)
10.
Robbie WHELLANS (capt.)
11.
Ryan HEVICON
11.
Colin HUNTER
12.
Simon WOODFORD
12.
Dave MERRIS
14.
Jason GALLAGHER
14
Clint MARCELLE
15.
Mike TURNER
15.
16.
16.
Tony LENNON
BACKGROUND
This was Altrincham's first ever league meeting with Harrogate Town, last year's UniBond First Division champions and it was the opening match of the 2002-03 UniBond Premiership season. The game was played on a hot, sunny afternoon.
---
SUMMARY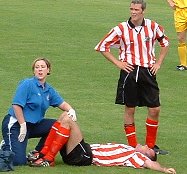 Altrincham's worst opening day result for many a year was compounded by the loss of Danny Murphy with a broken ankle and an injury to Ian Craney, who was unable to complete the last ten minutes of the game. Physio Anne-Marie Jones is seen, right, calling for a stretcher as Rod Thornley stands over the injured Murphy. Alty were slightly the better side in the opening 15 minutes before Harrogate began to get the upper hand. The visitors went ahead when Whellans knocked in the rebound after Stephens had saved well (23 mins).
They doubled the lead when Hunter and Donaldson were left unmarked and the latter scored (38 mins). Alty enjoyed plenty of second half possession but lacked punch at the forward end. Merris made it 3-0 when he poked the ball expertly past the exposed Stephens (80 mins). Craney limped off to leave Alty with ten men and Whellans then knocked in a rebound after Stephens had made a fine save (88 mins) to make it 4-0.
---
TEAM NEWS
Altrincham's small squad was deprived of two of its new players, Peter Band and Neil Murphy, through suspensions incurred whilst at their former clubs. They were also without the injured Gary Scott, who had failed a pre-match fitness test as well as Vernum Rowland and Neil Ryan. Both Chris Adams and Mark Maddox were less than 100% fit. Jason Gallagher was only fit enough to start on the bench. Alty had six players in their starting line-up who were not at the Club last season. The debutants were goalkeeper Nick Stephens, right-back Stephen Rose, midfielders Andy McDonald and Ryan Hevicon, plus striker Chris Young. Gary Talbot was also playing his first competitive match after returning to Moss Lane from a season and a half at Northwich. Harrogate included their Trinidad international and former Vitória Setúbal (Portugal) and Barnsley player, Clint Marcelle, in their squad. At number three for the visitors was Paul Sykes, who scored for Ossett Town against Altrincham in the UniBond Cup in January 2001.
---
MATCH REPORT
The game started more than two minutes early with Altrincham wearing their new team strip, which differs from last season's in featuring a welcome return to narrower stripes. Unfortunately the players numbers are not as clear as they might be and, as yet, the shirts bear no sponsors' name. There was also a change to red socks from the customary black. After the teams had changed ends, Altrincham attacked the 20/20 Hale End. Following a quiet opening, Harrogate gained an early corner on their right when Stephens sliced an attempted kicked clearance (3 mins). After this a cross in by Richardson from the left was headed at Stephens who caught the ball cleanly.
Craney initiated the first Altrincham move of note, with Thornley then sweeping the ball to Rose, whose ball into the box was cleared. Murphy was looking the most lively player for Altrincham, operating on their right flank and a ball from him was relayed well by Young for a stretching Thornley to get in a shot which keeper Connor saved well (8 mins). Fielding then had to be treated for an injury and ended up hobbling off for treatment and he was soon replaced by Merris (12 mins). Stephen Rose was looking composed at right-back on his debut for Altrincham and the home side soon won their first corner when Thornley, Craney, Murphy and Young combined well. Maddox headed the corner over the bar before an overhead pass from former Ossett Town man Jackson, set up Whellans for a volley which went well over the bar. After a Harrogate free-kick awarded against McDonald for a late challenge, Stephens caught a toe-poked shot from a Harrogate player (16 mins).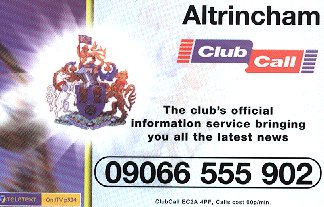 Although Altrincham had had the better of the opening quarter of an hour, Harrogate now began to enjoy more of the possession. However, as Adams broke up an attack and moved forward he was tripped and from the free-kick Altrincham won a corner on their left. Thornley's kick was cleared before a Harrogate response ended in offside. Then, Whellans and Merris played an accomplished one-two just outside the Altrincham box.
Stephens made a good save from the resulting shot by Merris, diving to his left, but he could not hold the ball and, as the Alty defence froze, the Harrogate captain shot the rebound past Stephens from close range for the game's opening goal (23 mins). Almost immediately after the re-start, Hevicon, who had had a quiet start on the left came over to the right and committed a bad foul on Hunter, some ten yards inside the Altrincham half. The former Blackburn trainee was rightly booked (24 mins). Things almost got worse for Altrincham when Maddox lost the ball to Whellans and a resulting shot from Richardson earned a corner. This was too long and from the clearance Danny Murphy challenged in the air some ten yards inside his own half. As he rose he seemed to collide with his Harrogate opponent's leg and landed in obvious pain. After brief treatment, a stretcher was summoned and he was carried off the pitch. Post-match reports suggested that he had fractured his right ankle (28 mins). Altrincham took some time to get Simon Woodford onto the pitch to replace the unfortunate Murphy (30 mins).
The goal seemed to have knocked the stuffing out of Altrincham and they showed very little threat for the rest of the half. Woodford did win a corner and Connor had to parry Thornley's flag-kick over the bar for a second corner. This time, Connor punched clear and Maddox ended up grounded by a collision in the Harrogate box. Before the Alty centre-back could recover his defensive position, Harrogate played a ball forward to the left where both Hunter and Donaldson had oceans of space. Hunter passed neatly inside to Donaldson who gave Stephens no chance of making a save as he put his side two goals ahead (38 mins).
Shortly afterwards, Hunter fed Merris whose thunderous shot came back off Stephens's left-hand post (40 mins) and from the rebound, a corner resulted on the left, which Stephens tipped over the bar. Harrogate were now well on top and from Richardson's feed, Jackson swivelled well to volley over the bar (41 mins). Altrincham's midfield were producing little and Young and Thornley up front were seeing little of the ball. As half time approached Thornley was just unable to keep Woodford's promising pass in play. The interval arrived to end a half which had started promisingly but had degenerated into a pattern of too many misplaced and sideways passes.
---
Half-Time: ALTRINCHAM 0 HARROGATE TOWN 2
---
Altrincham started the second half with a marked improvement on their play over the latter part of the first half. Indeed, after Talbot had come forward with the ball out of defence and found Thornley, the Alty striker played an excellent ball for Hevicon whose first-time left foot lob over the advancing keeper unfortunately also just cleared the Golf Road crossbar (47 mins). Harrogate then won a free-kick when Rose tripped Merris, who had skipped past him on the edge of the Alty box. Turley's free-kick was missed by Stephens but Jackson's diving header at the back post cleared the bar (50 mins). Altrincham soon won a free-kick of their own, also on the very edge of their opponent's box, when Hevicon was tripped as he went forward. McNaughton was rightly booked for the offence (53 mins). From Craney's free-kick, Young lifted the ball well over the target. At the other end, a sideways pass inside by Rose caused Maddox to lunge in and concede another free-kick on the edge of the Alty box. He was also booked for his pains.
The kick was driven into the wall (56 mins). Then, at the other end Craney did well to win the ball but his resulting shot was off-balance and wide. Altrincham continued to enjoy more of the ball but many of their moves were across the pitch rather than forward to their strikers. After Jackson had fouled Adams, Hevicon wasted a 30-yard free-kick by curling the ball directly into the Golf Road End, over the bar (61 mins). Thornley then induced Connor to fumble a ball from Adams but the danger was cleared. With Harrogate seemingly content with their two goal lead, Altrincham replaced Maddox, who has been carrying a knee injury, with Jason Gallagher who himself is returning from a long-term hernia injury. Gallagher went to right-back, with Rose moving to partner Talbot at centre-back (70 mins). Almost immediately, Harrogate won a corner and then, soon after this, Stephens had to be alert to tip over a cross cum shot from he visitors' left wing. Altrincham then switched strikers, Young giving way to Turner (73 mins).
McDonald was working hard in midfield but to no avail before Gallagher committed a fairly minor foul on Jackson. The Harrogate man reacted angrily and the referee allowed himself to be induced into booking the Alty man (77 mins). Thornley then got in a firm shot at Connor which he saved competently (79 mins) as the cause of recovering a two-goal deficit still did not look wholly beyond Altrincham. However, their fate was sealed two minutes later when a ball forward into the Alty half sprang the offside trap and found Merris in the clear to the right of goal. As Stephens rushed from his line towards the edge of his box, Merris expertly poked it to the right of the keeper with his left foot and the ball seemed to take an eternity to roll the remaining 15 yards into the bottom right corner of Stephens's net (80 mins).
When it appeared that things could not get worse for the hosts, Ian Craney went down off the ball with what looked like cramp or a dead leg. He was taken off and Alty had to continue with ten men. Harrogate then seemed happy to play out time on the left wing and corner but then Merris tripped Hevicon just outside the Harrogate box. Connor saved Hevicon's free-kick well (87 mins).
Then Hunter cut in from the left and fired in a low shot which Nick Stephens saved very well, one-handed, to his left. However, the ball rebounded out and Whellans was on hand to knock it back into the net for Harrogate's fourth goal (88 mins). There was still time for Alty to win a last minute corner but this was wasted and Altrincham were left to suffer their worst opening day defeat for many a year.
Altrincham's necessarily modest playing budget and the exodus of players such as Coburn, Hawes, Sertori and Hulme during the close season were factors which were always going to be difficult to overcome. However, Bernard Taylor and Andy May seemed to have gathered a decent squad during the pre-season and for the first fifteen minutes today it looked as if they would more than hold their own against newly promoted Harrogate. However, once again Alty's Yorkshire jinx struck and after they had fallen behind, they seemed to lose heart for the rest of the first half. The second half saw an improvement but a lack of incisive forward play from midfield gave Thornley, Young and Turner little possession to make use of. The bad injury to Danny Murphy and the loss of Ian Craney were further blows as Altrincham prepare to travel to last season's runners-up, Vauxhall Motors, on Tuesday night.
---
Full-Time: ALTRINCHAM 0 HARROGATE TOWN 4
---