Match Report
---
BLYTH SPARTANS (0) 0 ALTRINCHAM (0) 2
UniBond Premier League match,
played on Saturday, 31 August, 2002 at 3p.m.
---
SCORERS
51 mins Rod THORNLEY (Blyth Spartans 0 Altrincham 1)
89 mins Rod THORNLEY (Blyth Spartans 0 Altrincham 2)

---
REFEREE: Mr. Jim Devine (Middlesbrough)
---
ATTENDANCE: 528
---
BACKGROUND
Before this game Croft Park had been a happy hunting ground for Altrincham as they had not lost there in the four previous league encounters. Indeed, the 3-0 win last season was one of Altrincham's best performances of the season. However, the Robins came here today after a dreadful start to the season had seen them concede 12 goals and all of the points in the first three fixtures of the season. However, a 4-0 win last Monday over Gateshead gave hope that the corner had been turned. Blyth, meanwhile, had won their opening two fixtures and only lost the third, to Barrow, by a last-minute goal.
---
SUMMARY

Andy McDonald in action, with Andy Tunnicliffe (left) and Chris Young.

Despite a disappointing start which saw the game broken up by 19 free-kicks (excluding offsides) and four bookings (two apiece) in the first 32 minutes, this match developed into an incident-packed game with two red cards, a missed penalty and a bad injury to Peter Band, as well as the two goals. The second half was much better fare with Rod Thornley punishing keeper Gilmore, who throughout the game had been straying way outside his penalty area. Rod put alty ahead when he scored a fine lobbed goal from the left (51 mins). A minute later the zealous referee sent off Neil Ryan for alleged encroachment, after having booked him during the first half.
Alty withstood Blyth's attempts to make the extra man count but wasted a penalty a quarter of an hour from the end, when Gilmore recovered from conceding it to hold Thornley's weakly struck effort. Blyth themselves were reduced to 10 men five minutes or so from the end when Robson saw his second yellow, and a red, card after committing a foul then arguing about it. Another error by Gilmore gave Alty their second. The keeper came almost his right-side corner-flag and then attempted to play the ball to a colleague who was just outside his own penalty area. An alert Simon Woodford nipped in and got the ball to Thornley, on his right, and Rod knocked the ball into the empty net (89 mins). This was a fine performance by Altrincham in which everyone contributed their part but Rose and Thornley were especially on form.
---
TEAM NEWS
With their regular midfielders Ian Craney and Danny Murphy both still injured, Alty's only change saw Sean Smith give way to Andy Tunnicliffe on the bench. Blyth brought Lee Scroggins into their starting eleven to replace Keegan, who had been sent off in the opening match of the season.
---
TEAMS
BLYTH SPARTANS (green & white striped shirts, black shorts, white socks): 1. Paul GILMORE, 2. Graham PEPPER, 3. Andy MARTIN, 4. Philip BRUMWELL, 5. Richard FORSTER, 6. John HUTTON, 7. Gareth WILLIAMS, 8. Carl PEPPER (capt.), 9. Glen ROBSON, 10. Craig PERRY, 11. Lee SCROGGINS. Subs: 12. David McMAHON, 14. Steven STEWART, 15. Scott EMMERSON.
ALTRINCHAM (pale blue shirts, white shorts, black socks): 1. Andy MOORE, 2. Neil MURPHY, 3. Gary SCOTT, 4. Stephen ROSE, 5. Gary TALBOT, 6. Neil RYAN, 7. Jason GALLAGHER, 8. Andy McDONALD, 9. Peter BAND, 10. Rod THORNLEY (capt.), 11. Chris YOUNG. Subs: 12. Mark MADDOX, 14. Andy TUNNICLIFFE, 15. Simon WOODFORD.
---
MATCH REPORT
Jason Gallagher is treated as Craig Perry is booked for scything him down. Neil Murphy practises standing on one leg as Steve Rose, Gary Talbot and keeper Andy Moore look on.
Altrincham kicked off on a fine but slightly blustery afternoon, facing into the wind. The pattern of the opening stages was set with seven free-kicks being awarded in as many minutes, of which half might reasonably have been ignored by the referee. Blyth were having slightly the better of the opening stages before a scything tackle on Gallagher by Perry, after the Alty man had turned neatly out of defence past the Spartans' player, was rightly punished with a yellow card (see picture, 9 mins). After foul number ten of the game, a fairly mild one by Ryan, the referee booked the Alty midfielder, a caution that was to have serious consequences later in the game.
As the game stuttered on, Spartans' keeper Gilmore came well out of his goal, not for the first time, to dribble clear from Thornley (12 mins). Neil Murphy followed Ryan and Perry into Mr Devine's book after 14 minutes when he lost the ball and then baulked Perry as the Blyth player tried to get away from him. Brumwell drove the resulting free-kick, from 25 yards out on the left, well wide. The game continued in its stop-go fashion as the more or less even tally of fouls continued. After a lunging foot-up offence against Murphy by Robson, the Blyth striker became the fourth player to be booked after only 19 minutes of play.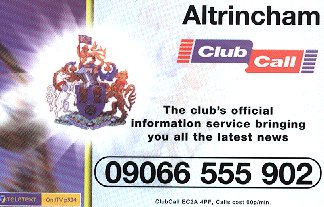 Player resumed after Murphy's leg had been treated. The best effort of the game so far then arose when a very high cross from the Alty right was missed by Gilmore and dropped out of the sky for McDonald whose free, but difficult, header went wide (21 mins). Blyth responded with Perry feeding Scroggins, whose well struck shot went narrowly wide of Moore's goal (22 mins). Mr Devine continued to blow his whistle at regular intervals before Perry and Scroggins again combined and Moore did well to smother the latter's firm low cross across the goalmouth from the left (25 mins). The sides were now fairly even in their play and the game's first corner finally arrived for Blyth off Talbot's head on the half-hour mark. Altrincham's defence had been far more organised than in the opening matches of the season, with Rose playing especially well, whilst the midfield was also pulling its weight. A foul on Gary Talbot marked the nineteenth such offence given by the referee after only 32 minutes but, thankfully, the frequency of free-kicks declined after this.
Following another of Brumwell's impressively long throws, Blyth won a corner on their left. This corner hit Murphy at the near post to produce a second flag-kick. This time Williams's corner was flicked on by Hutton at the near post to the unmarked Robson near the back post. Though the striker rose well, he headed over the bar with the net at his mercy (34 mins). Play immediately stopped as Peter Band was lying injured from the previous Alty attack, some 25 yards inside the Blyth half. As Band lay prostrate, a stretcher was summoned and the Alty midfielder was carried off shielding his face. As Band arrived in the dressing room a tannoy announcement called for any doctor in the crowd to come and assist the injured player. It subsequently emerged that he had suffered a bad injury to his lip which needed hospital treatment.
Band was immediately replaced by Andy Tunnicliffe. Andy was loaned to Alty last season by Manchester City but suffered a bad leg fracture in March against Hyde United in his first start for Altrincham, after a promising cameo as a substitute in the previous game (35 mins). Tunnicliffe slotted in on the left with Andy McDonald moving from there to central midfield, alongside Neil Ryan.
Alty then almost took the lead when good work by Gallagher on the right got the ball to Thornley in the box. His first shot was blocked and, from the rebound, another block stopped Rod's second goalward shot (39 mins). Immediately Rose had to be alert after Carl Pepper got past Gallagher and then Neil Murphy made a fine sliding tackle on Brumwell to end the following Blyth attack (40 mins).
At last the game was beginning to flow as the free-kicks dried up. Next Moore was out to the edge of his box to smother the ball from Robson but Alty countered with a good ball from Talbot to Thornley in the left corner. Rod's cross found Gallagher at the back post and Jason beat Martin but overhit his return cross to the left (41 mins). Gilmore then came out of his box yet again, to head clear before a Blyth attack ended with a good 25 yarder from Scroggins which was narrowly wide (43 mins). The increasingly eventful half ended with the game scoreless and each side having had a good chance to score; Robson's header over the bar for Blyth and Thornley's blocked double effort.
Half-Time: BLYTH SPARTANS 0 ALTRINCHAM 0
---

Chris Young rides on scorer Rod Thornley's back after the first goal.

The second half started with the sides continuing to be evenly matched before a foul by Perry, for backing into Talbot, produced a free-kick (48 mins). This free-kick ended in a 20 yard shot, wide, by Ryan before play stopped for Martin to be treated in his own box, away from play. Though a stretcher was produced, the defender recovered. Following a Blyth goalkick into touch inside Alty's half, the throw-in led to Scott playing a good ball forward for Thornley on the left of goal. Rod collected the ball well and moved slightly inside before unleashing a superb curling shot over and round Gilmore who, once more, was yards off his line. The ball found the net to give Alty the lead (51 mins).
But the celebrations lasted less than sixty seconds as Blyth won a free-kick just inside the Alty half. A Blyth player tried to take it instantaneously and drove the ball into the nearby Ryan who, arguably, had had no time to retreat. Mr Devine chose not to give Ryan the benefit of any doubt and showed him his second yellow card, followed immediately by the dreaded red. Even some of the Blyth fans in the stand found this decision harsh (52 mins) but the travelling Alty fans behind the Blyth goal immediately upped the tempo of their singing to encourage their team.
So, Alty had to re-arrange and Rod Thornley was left as the loan striker as Chris Young dropped back into midfield, where he performed well. The extra-man advantage signalled a spell of Blyth pressure with Williams making several runs up the right which were mostly diverted inside by Gary Scott. Williams did get in a fairly weak 20 yard shot but Moore held this, low down, at which point Blyth took off Perry and brought on the tall McMahon (56 mins). However, a couple of fouls on Talbot and Young combined with some misplaced passes helped Alty to keep Blyth at bay. But after allowing play to continue following a late lunge by Scott, inside the Blyth half, which had missed the Blyth player he was tackling, the referee stopped play to book the Alty left-back (59 mins).
After the next attack had been cleared, a cross from Brumwell on the right came off Scott to McMahon whose goalbound header from the edge of the box was brilliantly saved by Moore as he dived toward the foot of his left-hand post to concede a corner (61 mins). From the corner Forster headed wide as Blyth continued to apply pressure; Moore soon punched clear before Talbot cleared the next ball into the Alty box. Each side made a switch after 64 minutes, Alty taking off midfielder Tunnicliffe to bring on Maddox to assist the defence as Blyth brought on Stewart for Graham Pepper.

Thornley's penalty is saved by Gilmore.
When Moore's attempted throw out was deliberately blocked by McMahon, Mr Devine chose not to book the offender as he done earlier at such cost to Altrincham and Neil Ryan in a similar incident. The ref did however order the free-kick to be re-taken, as he also did with several throw-ins during the game. Up front, Alty's loan marauder Rod Thornley was making a nuisance of himself, his pace and quick turning causing some trouble to the Blyth central defenders.
As the Alty fans continued to sing, Scroggins drove a shot just over the bar from 20 yards (69 mins). Thornley then turned superbly and went on to win an Alty corner on the left, off Williams. This was cleared but then a foul on Rose by the already booked Robson earned the Spartan a lecture (71 mins). Blyth now brought on Emmerson for Scroggins (72 mins) before they won a corner from a long throw by Brumwell. From this Forster headed just wide from outside the box. As Alty continued to make use of Thornley on the break, the Alty striker picked up a Maddox pass and as he cut back from the by-line to the right of goal, Gilmore brought him down to concede a penalty (74 mins). Mr Devine opted for a yellow card for the keeper who then promptly saved Rod's underhit spot-kick, diving to his left (see picture above).
Alty soon won a corner from which Gilmore caught McDonald's kick. Thornley continued to spin the Blyth defence as Alty now looked well capable of at least holding onto their lead (80 mins). Talbot and Rose saw off Blyth's attempts to reply before a foul by Robson near the centre circle led to the Blyth man arguing with the referee who promptly sent him off for his second bookable offence (85 mins). Immediately, Alty replaced Gallagher by Woodford in midfield, just before the 4 minutes board was shown. Mr Devine then continued to court controversy as he gave handball against Blyth when a point blank clearance gave the Blyth man in question no chance of evading the ball.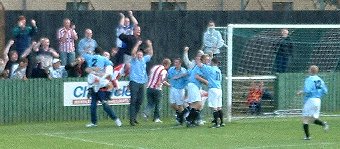 Alty fan Ian Rosendaal lifts up Neil Murphy (no.2) as Alty celebrate the second goal.
The incident-packed game was not yet over for, in the 89th minute, Blyth keeper Gilmore again came right out of his goal, this time almost to his own right corner flag. He attempted to clear the ball with a twenty yard diagonal pass forward towards the central edge of his penalty area. However, the alert Woodford seized on the wayward pass and just beat the intended recipient of the pass to the ball, getting it to his right to an unmarked Rod Thornley. Rod then drove the ball into the empty net as Gilmore tried vainly to recover his ground from the wing.
Before the final whistle sounded Mr Devine stopped play for a mysterious conversation with his linesman but Alty soon rejoiced at the end of a thoroughly deserved victory (see picture). This was a fine team performance but Stephen Rose and Rod Thornley were probably the main contenders had there been a man of the match award. Alty now face another stiff challenge on Tuesday when they host Burscough who are unbeaten, have yet to concede a goal and are managed by Shaun Teale, the former Aston Villa centre-back who is still turning out as a player for his new side.
---
Full-Time: BLYTH SPARTANS 0 ALTRINCHAM 2
---