Match Report
---
ALTRINCHAM 0
BURSCOUGH 0
UniBond Premier League match,
played on Tuesday, 3 September, 2002 at 7.45p.m.
---
| | |
| --- | --- |
| Matchday Sponsor | Matchball Sponsor |
| Milner Boardman | Terry Surridge |
SCORERS
None
---
REFEREE: Mr. C.L. Pawson
---
ATTENDANCE: 497
---
BACKGROUND
Burscough had made an unbeaten start to the season under Shaun Teale, their new player-manager. 38 year-old Teale's new charges had yet to concede a goal after four games this season. Shaun had begun his own playing career at Burscough before reaching the heights at Aston Villa. Altrincham had kept clean sheets in their last two games after conceding four goals in each of their first three fixtures this season.
---
SUMMARY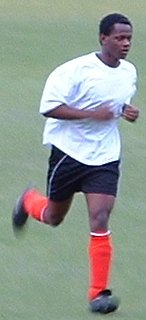 A draw was probably a fair result as Burscough maintained their unbeaten record and Alty recorded their third consecutive clean sheet, a feat not achieved by them in the league since October, 2000. The first half was marred by an injury to Andy McDonald after only 7 minutes. He had to be stretchered off, with what looked like an ankle injury, following a foul by Burscough's Bowen. Rod Thornley missed the best chance of the game after 82 minutes when he blasted over the bar from a headed lay-off by the impressive substitute debutant Adewale Ajetunmobi (right). Neil Murphy was named as Man of the Match. Alty drop to 16th.
---
TEAM NEWS
Peter Band was sidelined by his mouth injury incurred on Saturday, but Ian Craney was fit to start once more after missing the Blyth game. Into the squad came Adewale Ajetunmobi, a Nigerian striker with experience last season at our level in the Dr Martens Premier League at Hednesford Town, as well as at Chester City and in Scotland. Mark Maddox was not in the squad as Steve Rose and Gary Talbot continued their centre-back partnership, which has yet to concede a goal. Danny Murphy also remained sidelined by injury.
---
TEAMS
ALTRINCHAM (red & white striped shirts, white shorts, red socks): 1. Andy MOORE, 2. Neil MURPHY, 3. Gary SCOTT, 4. Stephen ROSE, 5. Gary TALBOT, 6. Neil RYAN, 7. Jason GALLAGHER, 8. Ian CRANEY, 9. Chris YOUNG, 10. Rod THORNLEY (capt.), 11.Andy McDONALD. Subs: 12. Simon WOODFORD, 14. Andy TUNNICLIFFE, 15. Adewale AJETUNMOBI.
BURSCOUGH (Green shirts and socks, white shorts): 1. Matthew TAYLOR, 2. Jeff UNDERWOOD, 3. Ryan BOWEN , 4. Shaun TEALE, 5. Joe TAYLOR, 6. Carl MACAULEY, 7. John LAWLESS, 8. Marvin MOLYNEUX, 9. Kris McHALE, 10. John NORMAN, 11. Gary MARTINDALE. Subs: 12. Andy BARLOW, 14. John BLUCK, 15. Mike SAWTELL.

---
MATCH REPORT
Burscough kicked off towards the 20-20 (Hale) End and the first incident of note saw Craney make a good interception and play the ball for Thornley who ran out of space before he could make a cross from the right as the ball ran over the by-line. After an Alty free-kick for a foul on Murphy, Burscough won a corner (4 mins). For Altrincham, Craney started the game well with a number of impressive interceptions but play was soon halted after McDonald had been fouled by Bowen. The Alty man had won possession and was jinking past a defender about 25 yards from goal, when he was clearly brought down by Bowen, who escaped without a booking. For the second consecutive game a stretcher was needed for an Alty player as McDonald was carried off after treatment to what appeared to be his right ankle (7 mins). Ryan put the resulting free-kick over the bar.
Before Alty could get their substitute organised, Lawless prompted a move which ended with the booed Bowen volleying just wide. Then, Woodford came on to restore Altrincham to eleven men (8 mins). A foul on Craney by Molyneux soon followed before Neil Murphy made a fine headed interception to stop McHale advancing on Alty's goal.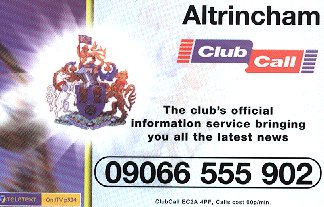 Underwood next won Burscough another corner, on their right after getting to the by-line, before a rising shot from 35 yards out on the right touchline by Molyneux was calmly watched over the crossbar by Moore in the Alty goal. As Burscough continued to press they won another corner. Altrincham seemed to be put out of their stride by the loss of McDonald and at this stage they were second best. The Burscough defence was also proving as firm as its record this season had suggested whilst in midfield they were finding their men well with quick interchanges of passing. However, Ian Craney soon sparked an improvement for the home side, firstly with a 20-yard shot which went wide (15 mins). He then dispossessed Molyneux with a fine tackle before getting in a shot on target at Taylor. Craney's third piece of action in as many minutes saw him interchange passes with Ryan before shooting off balance to win an Altrincham corner on their left (17 mins).
Ryan, who had a good game in midfield, sent his firmly hit in-swinging corner just under the near post bar where a defender headed it to his left for a second corner, this time on the Alty right. This corner, again by Ryan, found Talbot and he headed it back across goal where Rose got in a header which dropped easily for Taylor to field. A trip by Rose, 25 yards from his own goal, earned a free-kick which Lawless struck directly at Moore (19 mins). Alty then put together a good move which ended with Rose finding Woodford who in turn relayed the ball via Scott to Craney whose well struck 20-yard curler went narrowly over the bar (21 mins). Rod Thornley and Chris Young in the Alty attack were being firmly shackled by Burscough and at this stage were getting little sight of goal. After Talbot had caught Martindale about 30 yards from goal, the referee allowed play to continue before booking the Alty centre-back when the next dead ball arose (25 mins). Gary had committed a foul a little earlier too, so presumably Mr Pawson decided that he had to step in (25 mins).
Alty soon won a corner and following this, Woodford neatly headed the ball over an opponent which led to Gallagher's feed to Young whose shot went to the Burscough keeper. Altrincham were now enjoying a good spell and won a corner through Scott's efforts on the left. Again Ryan swung his corner in just under the Burscough cross bar and, again, Burscough just managed to get it away before a foul by Joe Taylor on Thornley gave Alty a free-kick near half-way (31 mins). Ryan continued to do well in midfield but his shot from 20 yards was well over the bar (34 mins). Craney was then penalised for what looked like a good tackle just outside his own area but Martindale put the free-kick comfortably over the bar (36 mins). Play was now end to end but when Chris Young tried to latch onto a Talbot pass into the Alty attack's left corner he was booked for a challenge from the rear (41 mins). Soon afterwards Ryan committed a trip on Molyneux which conceded a free-kick but which escaped further censure. Alty finished the half well with Craney winning a corner on the left (44 mins).
---
Half-Time: ALTRINCHAM 0 BURSCOUGH 0
---
The second half started with the sides again trading attacks. The best early chance came when Norman turned well but shot well over the bar when clear, from 15 yards (50 mins). Gallagher attempted a couple of runs up the Alty right which were blocked off before Bowen was booked after a foul on Thornley, after which he had shown dissent. This went down well with the Alty crowd who had booed his every touch in the first half for his tackle which had put McDonald out of the game (53 mins). Again it was Burscough who came the closer to scoring when they advanced up the left and Lawless's low shot was tipped wide by a good dive from Moore, to concede a corner. Before this could be taken, Craney, still not fully fit, gave way to Andy Tunnicliffe, who is himself returning from a leg fracture (60 mins). Andy went up front alongside Thornley with Young being instructed by coach Andy May to "do Craney's job" in midfield. As on Saturday, Young was again to perform creditably in midfield.
Soon, Gary Scott cut in well from the left and played a pass for Thornley who had the ball taken off this toes by a defender. Woodford then embarked on a fifty yard diagonal run which took him from the left touchline to the right side by-line but a Burscough goalkick was the result. In between he had exchanged passes with Young and Thornley. Burscough now enjoyed some pressure with Lawless spraying the ball about well from midfield to win a corner. Following this, Bowen's cross produced a header by Teale which Moore saved. Then, a Burscough flick-on evaded Talbot down the centre and set McHale in on goal but he shot wide when he should have hit the target. The striker then sat down until play was stopped to allow him treatment.
Alty now replaced a slightly hobbling Gallagher by Adewale Ajetunmobi (79 mins), whose arrival meant that Tunnicliffe moved out of the front line into right midfield. After deflecting out a clearance for a throw, Ajetunmobi's first real touch on his debut was an electric burst of speed which took him past Teale on the right edge of the box as the entertaining flow of attack and counter-attack continued. Next, a low cross from the right by Thornley was volleyed well over by Ajetunmobi but he had done well to get in a first-time shot in the first place (81 mins). Altrincham were now enjoying a good spell and it was the sub Ajetunmobi who then laid on Alty's best chance of the game. He rose well to nod down a cross from Scott, from a Woodford feed. The ball dropped down invitingly for Thornley, advancing towards goal inside the left side of the penalty area. Rod's determination to get full power on his shot seemed to distract him from keeping the ball down and it powered well over the bar with only the keeper to beat (82 mins). Soon Ajetunmobi's pace forced keeper Matthew Taylor to clear for an Alty throw-in, before Burscough took off McHale and brought on Bluck (83 mins).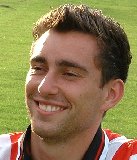 A wayward pass across his own defence by Talbot almost caused problems but Murphy did well to clear the danger. The referee then curiously stopped play for Underwood to go 20 yards to retrieve his boot and then to allow him to put it back on and re-tie the laces. The final effort of the game was a free-kick to Burscough awarded against Talbot after a tussle with Norman. Molyneux put the free-kick well over the Golf Road terrace roofing (89 mins) before Neil Murphy (left) was announced as Man of the Match. Although the game ended goalless, it had been entertaining and the result underlined Altrincham's progress since the start of the season. Shaun Teale, for his part, has done an excellent job in organising his Burscough side who are strong at the back and quick on the break.
---
Full-Time: ALTRINCHAM 0 BURSCOUGH 0
---