Match Report
---
ALTRINCHAM (0) 4
HYDE UNITED (0) 1
UniBond Premier League match,
played on Saturday, 7 September, 2002 at 3p.m.
---
| | |
| --- | --- |
| Matchday Sponsor | Matchball Sponsor |
| Assembly Techniques | Andrew Shaw |
SCORERS
59 mins: Peter BAND (Altrincham 1 Hyde United 0)
68 mins: Andy McDONALD (Altrincham 2 Hyde United 0)
73 mins: Dominic CROOKES (Altrincham 2 Hyde United 1)
86 mins: Neil RYAN (Altrincham 3 Hyde United 1)
90 mins: Chris YOUNG (Altrincham 4 Hyde United 1)
---
REFEREE: Mr. G.W. Foulkes
---
ATTENDANCE: 696
---
BACKGROUND
Hyde had lost their previous three games whilst Altrincham were unbeaten in their last three and had not conceded a goal in the process. There had been heavy showers before the game but the match was played in bright and dry conditions.
---
SUMMARY
Long odds would have been offered against the final 4-1 scoreline after a goalless first half in which Hyde had twice hit the woodwork and had had another effort cleared off the line, whilst Alty had not won a single corner. Without leading scorer Rod Thornley (on England duty), it was ex-Hyde captain Peter Band who opened the scoring for the home side after 59 minutes when he finished off a move which he had started.
Andy McDonald made it two after persistence by Chris Young had won possession (68 mins). Hyde deservedly pulled one back when Dominic Crookes drove home a 20 yarder (73 mins). The decider was Neil Ryan's penalty (86 minutes) after Dave Swanick had fouled Gary Scott, who had made a fine run into the box. In the last minute Chris Young netted the fourth from a Talbot free-kick taken from his own half. Stephen Rose was named Man of the Match.
---
TEAM NEWS
Peter Band, who missed the midweek game with a mouth injury which he had suffered last Saturday, was passed fit to play and captained Altrincham for the first time as he lined up against his former club. Alty striker Adewale Ajetunmobi, who had made an impressive late appearance against Burscough in midweek, was absent at a wedding in London. Also missing was Rod Thornley, who was on masseur duties for England's friendly against Portugal this afternoon.
Andy Tunnicliffe, who broke his leg early in the corresponding fixture last season, was on the bench for Alty, along with Mark Maddox and Jason Gallagher who was the man to step down for Band's return. Danny Murphy also remained sidelined by injury but warmed up with the team and is expected to be available for selection next week. Also warming up was Richard Acton, the former Hyde keeper, who has joined Altrincham. Hyde included some familiar faces to Alty fans. Dave Swanick was at right back, Anthony Hargreaves was up front and former Alty Reserve Lee Evans was also a starter.
---
TEAMS
ALTRINCHAM (red & white striped shirts, black shorts, red socks): 1. Andy MOORE, 2. Neil MURPHY, 3. Gary SCOTT, 4. Stephen ROSE, 5. Gary TALBOT, 6. Neil RYAN, 7. Simon WOODFORD, 8. Peter BAND (capt.), 9. Chris YOUNG, 10. Ian CRANEY, 11.Andy McDONALD. Subs: 12. Mark MADDOX, 14. Jason GALLAGHER, 15. Andy TUNNICLIFFE.
HYDE UNITED (Yellow shirts and socks, white shorts): 1. Peter CROOKES, 2. Dave SWANICK, 3. Rob WOODHEAD, 4. Dominic CROOKES (capt.), 5. Steve NOLAN, 6. Mike LOMAX, 7. Richard EYRE, 8. Lee EVANS, 9. Steve FOSTER, 10. Anthony HARGREAVES, 11. Dave NOLAN. Subs: 12. Tom BROOKS, 14. Lee MADIN, 15. Ged SMITH.

---
MATCH REPORT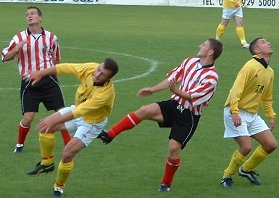 Left: Gary Scott clears the ball during the first half, as Neil Ryan looks up and a Hyde man looks the other way.
Altrincham kicked off towards the Golf Road End and, in the absence of Thornley, midfielder Ian Craney started up front with Chris Young. After less than 30 seconds Neil Murphy got in a 25 yard shot which went over the bar, after Woodford had got round Swanick on the left and relayed the ball, via Ryan, to the Alty right-back. Indeed, Altrincham had the better of the opening few minutes, with Woodford being much involved on the Alty left. After five minutes Neil Murphy slid in to tackle Foster, whose dramatic writhing convinced the referee to book the Alty defender, before the Hyde midfielder recovered full use of his limbs after treatment from the Hyde physio.
Hyde's player-manager Dave Nolan then shot wide from 20 yards before Ryan had a shot blocked for Alty (7 mins). Peter Band soon got on the end of a Young and Craney move up the left and had two stabs at goal from within the box, both of which were beaten out by Peter Crookes and his defence (8 mins). Then Dave Nolan got in a good, low shot from the Hyde left which Moore parried but, as the ball ran behind him towards the line, a defender swept up the danger (9 mins). Indeed Moore was now the busier of the keepers as twice in quick succession he had to be out of his goal to kick clear. For Altrincham, Ian Craney was showing some good touches and turns but, overall, the game was a little lacklustre at this stage.
Hyde threatened when Hargreaves's chip to Eyre was put over the bar from 20 yards (18 mins). Foster won the first corner of the game after 20 minutes, off Rose. This came out to Foster and, though Moore saved his shot, the keeper conceded a second corner. After this, a break by Craney ended in his shot wide of goal at the other end. Craney then fed Woodford, whose shot was blocked. Soon afterwards, Hyde won another corner on their left and following this, a cross from Eyre set up Hargreaves for a free header from eight yards which he headed badly wide, to the left of goal (25 mins). Hyde were now looking the better side, after the hosts had started the better. In response, Woodford was switched to the right and McDonald moved to the left for Altrincham.
But almost immediately Hyde nearly opened the scoring when, first, Dave Nolan gathered the ball to the right of goal and drove a firm shot against Moore's left upright from the outer edge of the area and, then, from the rebound Richard Eyre, the former Macclesfield player, drove the ball strongly against the centre of the crossbar (27 mins). A third Hyde effort then cleared the bar comfortably. Altrincham survived this triple piece of luck but were now looking a little shaky with two mis-headers in as many minutes from the otherwise exemplary Gary Talbot.
As Leigh RMI's former Alty keeper, Stuart Coburn, watched the game and chatted to the Hyde substitutes, McDonald had a shot blocked before Woodhead's effort met a similar fate for Hyde. After Woodford had won a throw, the same player got the ball to Band whose overhead effort went narrowly wide of Crookes's right post (37 mins). Next, Craney had a shot blocked and Woodford drove the rebound narrowly over the bar from inside the box, to the right of goal (42 mins) as Alty improved before the interval. Rose then broke up a Hyde break-away and also a subsequent attack before the half-time whistle went on a contest which had not yet reached any great heights of entertainment. A tight second half between two mid-table sides looked to be on the cards.
---
Half-Time: ALTRINCHAM 0 HYDE UNITED 0
---
The second period started with a foul on Woodford, from which Ryan sent the free-kick directly to keeper Crookes (46 mins). Then Ryan and Woodford combined well for Band to flick a first-time header just over the bar (47 mins). Foster then had a long effort, which was well off target before Eyre and Evans combined well for Dave Nolan to shoot low at goal where Moore held his shot well from 20 yards. At the other end, as Young closed in, Peter Crookes seemed to have gathered a through ball, only to drop it and cause some concern to his defence before a goal-kick resulted (48 mins). Following a foul by Scott, Hyde put a free-kick over the bar.
Then, off the ball, Young went down for treatment to his left ankle which had to completed off the pitch. The crowd was fairly quiet at this stage as it awaited some excitement. The Robins' fans' hearts soon missed a beat when the already-booked Murphy slid in for a tackle on Foster but Mr Foulkes chose just to lecture the full-back, possibly being influenced by Foster's over-reaction once again. Hargreaves made a hash of the free-kick, putting the ball straight into the crowd. Alty now had Craney back in midfield, with Band pushed further forward, and this paid off when Band won a 50-50 bouncing ball on halfway and passed to McDonald. McDonald played a fine return ball forward to the advancing Band who drove the ball past Crookes for the opening goal (59 mins).
Hyde responded well with Foster chipping the ball forward to Evans whose shot was parried by Moore, but Talbot cleared the loose ball as it ran behind the keeper (61 mins). Lomax then almost charged down a kick clear by Moore and following this Eyre shot over the bar. Hargreaves soon won his side another corner on the right whilst Alty had yet to win a corner for themselves.
Nevertheless, Ian Craney embarked on a good run thorough the centre, past Steve Nolan, but Lomax's clearance hit Craney only to rebound out for a goalkick (65 mins). At this point Jason Gallagher came on for Simon Woodford (65 mins). From Murphy's header, McDonald beat his man well but put his shot wide from the left of goal (66 mins). A move started by the Alty keeper, via Band, Gallagher and Ryan, seemed to have broken down but Young chased a Hyde defender to the by-line to the right of the Hyde goal and his firm challenge won the ball, without being penalised. He got the ball back into the box via Gallagher, Band and Ryan, whose pot at goal found McDonald only a few yards out to the left of centre, from where he knocked the ball home for his first Alty league goal (68 mins). In fairness, a two-goal margin was a little flattering. However, it almost got worse for Hyde as Band hooked his foot round Lomax to get in a shot which Crookes saved well (69 mins).
After Madin had come on for Hargreaves (72 mins), Dave Nolan's shot was blocked but came out to Crookes. From outside the penalty area, the former Stalybridge man drove it strongly, through a crowded box, into Moore's bottom right hand corner as the Alty keeper dived in vain to stop it (73 mins). It was the first goal Moore had conceded in his Alty career after 343 minutes of action.
Hyde now brought on Ged Smith for Woodhead (74 mins) but Altrincham attacked again with a cross bouncing off Band's chest towards goal. Murphy put a free-kick into Crookes's arms after a foul on Young, who had a strong second half. Then Andy Tunnicliffe came on in place of Craney (83 mins). The ex-Manchester City man went up front with Young as Band now played in a deeper position, in the hole between midfield and defence. After a foul on Madin by Murphy, Foster shot just over the bar (83 mins). Gary Scott then won the ball well some 70 yards from goal on the Alty left. He advanced and exchanged passes with Young before entering the left-hand side box where he was clearly brought down, about 12 yards out, to the left of the net, by his former Alty team-mate Dave Swanick. The referee awarded what was a clear penalty, for which Swanick was booked.
In the absence of Rod Thornley, it was Neil Ryan who strode up to convert the spot kick cleanly for only his second goal in Alty colours (84 mins). Just after this, Steve Rose was announced as Thresher Man of the Match for another fine performance alongside Gary Talbot in central defence.

Above, Ryan, Moore, Talbot, Band and McDonald leave the pitch at the end of the game.
With just two minutes to go, Altrincham finally won a corner though this was cleared. However, Tunnicliffe was fouled soon afterwards inside his own half. Gary Talbot's free-kick from about 15 yards inside his own half was aimed into the middle of the Hyde box where Tunnicliffe made enough of a nuisance of himself with his challenge for the ball for it to drop conveniently for Young, to his right, to volley home from about 12 yards (90 mins). It was also Young's first goal in Alty colours.
Soon afterwards, Mr Foulkes brought proceedings to an end and for the fifth time in seven matches this season, Altrincham had been involved in a game in which one side or the other had scored four goals. Altrincham had finished the game strongly but Hyde can count themselves unfortunate to have lost so heavily. Whilst Rose deserved his Man of the Match award, Peter Band was also a strong contender.
---
Full-Time: ALTRINCHAM 4 HYDE UNITED 1
---