Match Report
---
WAKEFIELD & EMLEY (1) 2 ALTRINCHAM (1) 1
UniBond Premier League match,
played on Tuesday, 10 September, 2002 at 7.45p.m.
---
SCORERS
17 mins: Darren DAY (Wakefield & Emley 1 Altrincham 0)
34 mins: Peter BAND (Wakefield & Emley 1 Altrincham 1)
57 mins: Simeon BAMBROOK (Wakefield & Emley 2 Altrincham 1)

---
REFEREE: Mr. Jonathan MOSS
---
ATTENDANCE: 318
---
BACKGROUND
Emley had changed their name to Wakefield & Emley since last season, to reflect that their home ground was now at the Wakefield rugby league stadium. Despite the pitch being used by Leeds United Reserves as well as Wakefield & Emley and the Wakefield Super League team, it was in superb condition. Last season Altrincham had lost 1-2 and, indeed, had lost the previous four league encounters against Emley home and away.
---
SUMMARY
A fast-moving Wakefield & Emley side emerged the deserved winners of this entertaining game. After a four-minute stoppage whilst Emley's Andy Wilson was stretchered off with ligament damage, the home side almost immediately took the lead through Day's 20 yard shot (17 mins).
Peter Band equalised for Alty off the upright (34 mins) and the Robins seemed to have weathered a strong opening to the second half by Wakefield when Nicholson's run set Bambrook up for what proved to be the winner (57 mins). Rod Thornley's diving header near the end was a good chance for an equaliser but Alty created few other clear openings in the second half. Alty drop to 12th
---
TEAM NEWS
Rod Thornley returned after being on England masseur duties at the weekend, with Simon Woodford dropping to the bench, along with the still unfit Ian Craney. Jason Gallagher came back into the starting line-up but there was no place in the squad for Andy Tunnicliffe. There was no sign of Adewale Ajetunmobi, the pacey Nigerian whose short appearance against Burscough had suggested some promise. Still out injured was Danny Murphy.
---
TEAMS
WAKEFIELD & EMLEY (Claret & blue shirts, white shorts and claret socks): 1. Paul Cuss, 2. Steve Nicholson (capt.), 3. Ryan Crossley, 4. Andy Wilson, 5. Steve Smith, 6. Paul David, 7. Darren Day, 8. Rodney Rowe, 9. Simeon Bambrook, 10. Mickey Reynolds, 11. Rudi Coleano. Subs: 12. Lincoln Adams, 14. Miles Thorpe, 15. Robert Tonks.
ALTRINCHAM (Red & white striped shirts, black shorts, black socks): 1. Andy MOORE, 2. Neil MURPHY, 3. Gary SCOTT, 4. Stephen ROSE, 5. Gary TALBOT, 6. Neil RYAN, 7. Jason GALLAGHER, 8. Peter BAND, 9. Chris YOUNG, 10. Rod THORNLEY (capt.), 11. Andy McDONALD. Subs: 12. Mark MADDOX, 14. Ian CRANEY, 15. Simon WOODFORD.
---
MATCH REPORT
Altrincham got off to a nervy start, with a misheader by Rose, a hoof into the stand by Talbot and an unconventional low punch clear by keeper Andy Moore from a Wakefield & Emley cross, all in the first three minutes. Emley had come out of the blocks quickly with Smith soon showing great pace and not a little skill on the left wing. Things did not go Alty's way when Wilson fouled Thornley, for although the linesman flagged for an offence, the referee over-ruled him and allowed play to continue (4 mins). However, Alty had an early half chance when Thornley got the ball to Gallagher but Jason was only able to hook the awkwardly bouncing ball just off target (5 mins).
Nevertheless, the visiting supporters continued to give their side good vocal encouragement from behind the goal. At the other end, Scott soon recovered as Bambrook got behind him, but a corner was conceded to Wakefield. After this was cleared Ryan wasted a free-kick by taking it too quickly. Play then stuttered as no fewer than seven successive throw-ins came about, five of them to Alty's Neil Murphy on their right side. The sequence ended when Murphy won a corner off David on the right. Ryan's corner was half cleared but Murphy played it back into the box where Talbot's header reached Cuss's arms. Cuss's prodigious kick found Reynolds, another fast Wakefield & Emley man, but his eventual shot, after a one-two on the left with Smith, ended up with keeper Moore in the Alty goal (13 mins).
Alty won a free-kick some 22 yards out but as Murphy waited to take it the ref called over Talbot and Wilson to lecture them about some jostling inside the Emley box. The free-kick was cleared but Wilson twisted awkwardly and went down. It was immediately clear that he had a serious leg injury but though the referee almost immediately called for a stretcher, it took some time to arrive. Then, the unfortunate defender had to have his legs tied together before being stretchered off. Fortunately, it subsequently emerged that the damage was to his ligaments and not a fracture, as it had first appeared (14 mins). After the four minute stoppage for this injury, Robert Tonks came on as the Emley substitute. Rose broke up the next two attacks as he and Talbot continued to make a good start in the heart of the Alty defence.
Peter Band then lost possession in midfield and Smith broke on the left. Talbot headed clear his cross but the ball came to Day, about 25 yards out, slightly left of centre. Murphy threw himself across the path of Day's shot and blocked it well. Fortunately for the Wakefield & Emley man the ball came back to Day and this time he curled a fine drive into the net past Moore's right hand to give his side the lead (17 mins). However, Alty soon won a corner through Thornley's efforts on the right. Talbot won the corner, taken by Ryan, but Rose could only hook the ball well wide with his left foot. Two more Alty corners soon followed, the latter one being caught by Cuss.
Thornley was then brought down by Tonks, 20 yards out, for which the Emley man simply received a lecture from Mr Moss who, throughout the game, generally preferred an admonishing lecture to a yellow card. Ryan drove the free-kick into the wall. But despite this period of Altrincham pressure, Emley were ever dangerous on the break and nearly doubled their lead when the Alty defence, not for the last time, allowed a ball to come through the middle. This left Bambrook with a clear run at goal. Moore was out quickly to drive Bambrook right but he got past the keeper and clipped a shot towards goal. Fortunately, the alert Rose had hared back and managed to clear the ball, some three yards from the goal-line, for an Emley corner on the right, which was badly wasted.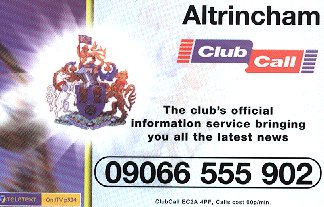 The entertaining play continued with Alty now on the back foot as, first, Scott had to concede a corner and, then, another ball forward split the Alty midfield and set Tonks free but he shot wide (32 mins). Play stopped as David was lectured for a foul on Ryan near half-way. Rose took the free-kick from the right and Talbot flicked it forward. Band latched onto the loose ball and, from about ten yards, lashed it into the net off the upright to level the scores (34 mins).
Thornley then beat two men to win an Alty corner as the visitors enjoyed their best spell of the game, though play was end to end. Band nearly scored a spectacular second goal when his impressive scissor kick, on the turn, flashed across goal from right to left just before five minutes of added time was signalled. Talbot made a fine interception from Smith, to concede a corner to Wakefield & Emley. This was delayed for treatment by the Alty physio to the Emley captain, David. The home physio was still dealing with the injury to Wilson in the home dressing room. Another Emley corner resulted after Thornley's great turn was undone by his misplaced pass to Reynolds on the Emley right. Half-time came with the scores still level after a very entertaining first 45 minutes.
---
Half-Time: WAKEFIELD & EMLEY 1 ALTRINCHAM 1
---
Emley started strongly in the second half and soon Talbot was in action making important interceptions. Smith and Reynolds then combined well but a resulting header went over the bar (50 mins). Next, Rowe set Tonks advancing up the middle but, with only the advancing Moore to beat, he got caught in two minds and dragged his effort well wide of the goal (51 mins). With better finishing, Wakefield could have had the game sewn up by now. Alty's best effort at this stage was a Gallagher shot over the bar.
The second half was to be punctuated by free-kicks so lacked the fluidity of much of the first period. From one of these free-kicks, by Rose, Young almost got on the end of the defender's 50 yard ball but a goalkick resulted (54 mins). Further free-kicks were traded before the impressive Emley captain, Nicholson, collected the ball and surged through central midfield from his own half.
He got the ball through the centre to Bambrook who drove it low past the Alty keeper, Moore, to restore his side's lead (57 mins). The goal had come just as Altrincham had begun to get some possession after Emley's good start to the second half. It could have got worse soon afterwards when Bambrook got free up the left but his cross was poor and ran to Moore. After an Emley corner, Band was fouled and before this kick was taken, Ian Craney came on to replace Gallagher in right midfield (62 mins).
The game continued with Wakefield & Emley having the upper hand and with intermittent stoppages for free-kicks. Neither Young nor Thornley was given much opportunity to escape the home defence. Alty did win two successive corners, the second one being ended by an Alty offence in the penalty area. The Altrincham defence then almost got in a mess when Talbot lost possession to Rowe after a short pass from Moore, who was himself under pressure from an attacker. Fortunately, Rowe's shot was blocked point-blank by Moore. Now, Emley replaced Rowe by Lincoln Adams, to add yet another speedy player to their line-up (77 mins). Almost immediately Adams got behind Scott and it took a smart rush from his line by Moore to smother the ball. The Alty keeper needed brief treatment after Adams had accidentally caught him in this incident. Then, an error by Ryan "forced" Rose into a late tackle on Adams which earned the Alty centre-back a yellow card (78 mins). Bambrook drove the free-kick from 25 yards into the defensive wall as Emley comfortably held their lead.
Scott and Coleano then clashed heads and the Alty man needed treatment before a dropped ball restarted the action. There was a further stoppage for treatment to Crossley before Bambrook made progress on the left and got past Talbot before Rose stepped in to concede a corner. Thornley soon won a corner for Altrincham to relieve the pressure but Ryan's effort caused no threat to goal. Alty belatedly brought on Simon Woodford, with Ryan being taken off (85 mins) just as a five minutes of added-time board was displayed. Altrincham then had a glorious chance to snatch an equaliser when a fine cross from the left found Thornley steaming in unmarked at the back post.
Rod flung himself at the ball and a goal seemed certain but he misdirected his diving header past the post (86 mins). Before play ended Rose had to leave the pitch briefly for treatment to a bleeding nose and Smith earned a late yellow card for tripping Thornley (88 mins). With Rose off the pitch the next Emley break saw Gary Scott alone faced by three attackers but fortunately a poor pass across goal allowed Moore to smother the ball once more. Alty had one last chance when, with Rose back on the field, a free-kick taken by McDonald for a foul on Band 25 yards out led to Rose's header which was just tipped over the crossbar by Cuss, who had otherwise been rarely troubled in the second half (90 mins).
Defeat against Emley has become a regular feature in the Altrincham calendar over the last three seasons. The second half performance by Emley had been strong and Altrincham could not complain at the final outcome. After gradually coming to terms with the early pace of Smith and Reynolds on the flanks, the centre of the Altrincham midfield and defence parted once or twice to give Emley chances to add to their tally. Up front, Thornley was well shackled and Young, though he produced some good shielding and lay-offs, is not an out and out striker so Altrincham had few very clear scoring chances. Altrincham now travel to Ashton, hoping to get back on the winning trail after this first reverse in five games.
---
Full-Time: WAKEFIELD & EMLEY 2 ALTRINCHAM 1
---