Match Report
---
LANCASTER CITY (1) 3 ALTRINCHAM (0) 0
UniBond Premier League match,
played on Tuesday, 1 October, 2002 at 7.45p.m.
---
SCORERS
27 mins: Steven MILLER (Lancaster City 1 Altrincham 0)
76 mins: Paul HADDOW (Lancaster City 2 Altrincham 0)
84 mins: Brian BUTLER (Lancaster City 3 Altrincham 0)

---
REFEREE: Mr. David COMMINS
---
ATTENDANCE: 325
---
BACKGROUND
Both sides had made indifferent starts to the season. Lancaster had already suffered several heavy home defeats and Alty had won just once away. Last season saw two pulsating games between the sides at the Giant Axe; a controversial 1-1 draw in which Carl Furlong was sent off and the 4-1 FA Cup replay win by Altrincham. By coincidence the referee tonight, David Commins, was the man who had sent off Furlong in the above game- and his red card was in use again tonight. Alty wore their "unlucky" orange kit, first worn in a UniBond defeat at Frickley last November, then twice worn in Reserve defeats in January and March of this year.
---
SUMMARY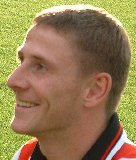 Altrincham went down to their fourth consecutive league defeat in a game whose result was shaped by the harsh sending off of Gary Scott (right) for a late tackle on half-way after 63 minutes. The referee who dismissed him was Mr Commins, the same man who sent off Carl Furlong at the Giant Axe last season.
City took the lead after 27 minutes whilst Altrincham were down to ten men as Rose received treatment off the pitch. For the third consecutive league game it was a 25 yard shot from in front of goal which undid the Robins. After Scott's dismissal Lancaster naturally enjoyed much more of the game and scored again through Haddow (76") and Butler (84") though Alty did have several chances cleared off the line during the game. Altrincham have now dropped to 20th and have won just 7 of their last 32 competitive matches, (8 out of 40 if the pre-season games are counted). Apart from Scott's red card, Alty also had to substitute Rose and Maddox through injury.
---
TEAM NEWS
Compared with last Saturday's FA Cup starting line-up, Alty were without the suspended Neil Murphy, the injured Danny Murphy and Jamie Phoenix (sent off in that game). As a consequence, Andy McDonald, Chris Young and Ian Craney all regained their starting places. On the Robins' bench was right-back Matthew Duffy, a new recruit from the Rochdale FC Academy, but Alty coach Andy May was not present as he was reportedly on an FA course. Mark Maddox played again at right-back, with Gary Scott at left-back. Lancaster were without regular keeper Mark Thornley and were also missing striker Brian Welch.
---
TEAMS
LANCASTER CITY (Pale blue and white shorts, white shorts and socks): 1. Andy SPEIGHT, 2. Andy FENSOME (capt.), 3. Graeme ATKINSON, 4. Paul SPARROW, 5. Farrell KILBANE, 6. Jimmy LOVE, 7. Steven MILLER, 8. Paul HADDOW, 9. Andy WHITTAKER, 10. Michael YATES, 11. Kevin HOLLIDAY. Subs: 12. Phil BROWN, 14. Brian BUTLER, 15. Chris PERKINS.
ALTRINCHAM (Orange shirts, black shorts and socks): 1. Richard ACTON, 2. Gary SCOTT, 3. Mark MADDOX, 4. Stephen ROSE, 5. Gary TALBOT, 6. Neil RYAN, 7. Ian CRANEY, 8. Peter BAND, 9. Chris YOUNG, 10. Rod THORNLEY (capt.), 11. Andy McDONALD. Subs: 12. Jason GALLAGHER, 14. Matthew DUFFY, 15. Adewale AJETUNMOBI.
---
MATCH REPORT
Lancaster kicked off towards their club house end and the opening few minutes were evenly contested. However, Miller won the first corner for Lancaster after 5 minutes when the ball went out, off McDonald, on the Lancaster right. From the corner, a superb header from the back of the box was headed cleanly off the line by the excellently positioned Mark Maddox at the keeper's left post. But then Thornley broke away immediately to the other end and turned his marker inside out but his goal-bound shot was deflected off the line by a Lancaster defender for an Alty corner. It was to become a game of many goal-line clearances. From the Alty corner the ball came out to McDonald who blasted it high and wide of the target (6 mins). Lancaster were then caught offside twice, the first offence saving Talbot's embarrassment after he had completely missed his header. Haddow then burst into the Alty box but Band dogged his strides and did enough to put the Lancaster man off his shot (12 mins). Shortly after this, from a Lancaster corner, the shaven headed Kilbane headed wide as the game settled into an entertaining pattern.
Lancaster won their third corner of the game following Fensome's long throw. Love's long shot was deflected to Miller, who won the flag-kick, which was taken by Holliday, but cleared. A foul on Young gave Alty a free-kick 40 yards out before which the referee lectured Kilbane and Maddox. The Lancaster man had grabbed a handful of Maddox's shirt as the free-kick was about to be taken and Maddox had shaken himself free. From the free-kick by Rose, Alty won a corner on their left. Ryan's kick was a good inswinger but only a goalkick resulted off Talbot. There was then another little incident when Young and a defender had words, before Band was fouled to yield another Alty free-kick (18 mins). From Rose's kick, an Alty corner resulted. There had now been six corners, three to each side (20 mins). The end to end play continued and Lancaster won a free-kick in the right corner of their attack, some 15 yards from the Alty by-line after a foul by Maddox on Miller. Before this could be taken Rose needed treatment to a shoulder injury and had to leave the pitch for further attention.
McDonald slotted back into the left-back position to cover for him as Maddox moved inside to centre-back. As Rose walked round the perimeter to come to the side of the pitch to return to the match, the free-kick was taken. It was half-cleared and ran, off McDonald, to Miller, some 25 yards from goal slightly to the right of centre. The Lancaster man fired an excellent curling shot into the top centre of the Alty net and keeper Acton will have been disappointed not to have at least got a hand to it (25 mins). For the third successive league game, Alty had been more than holding their own before going behind to a 25-yarder from roughly the same spot.
Then a Talbot back-pass caught Acton off balance and the keeper conceded a needless corner, which was taken from the right by Holliday. Acton caught this at the second attempt and from his good throw out Craney put in a fine cross which Young met well but his header looped to Speight in the City goal (30 mins). Thornley then got clear to the left of goal but his shot was deflected out for a corner on the right (31 mins) as the game remained balanced. Following Ryan's corner, Craney shot well over the bar. The ailing Rose then had to be replaced because of his shoulder injury and debutant Matthew Duffy came on to take his place at centre-back (31 mins).
Then the Lancaster keeper completely missed a high ball from the Alty right and it bounced over him to Band, who headed goalwards from an acute angle but, once more, the ball was cleared by a defender as it moved gently towards the line. Young then got in an under-hit shot before Talbot mis-headed the ball sideways which allowed a Lancaster shot, which went wide of goal (33 mins). Both defences were looking less than rock solid. Craney then had a 25 yard shot which Speight saved comfortably. After a foul on him by Whittaker, Maddox grabbed and upended the Lancaster man as he threatened to get behind him. Alty got the free-kick but both men were spoken to (36 mins). Lancaster next won a corner, which was cleared, before a Talbot free-kick, for a foul on Band, came to Thornley. He fed the unmarked Craney with a cross from the left.
Craney, towards the back post and less than ten yards out opted to try and bring the ball under control instead of shooting and the chance disappeared as he miscontrolled it (39 mins). Thornley continued to cause problems by running at the Lancaster defence, but without Danny Murphy, Alty lacked much penetration on the flanks. Band too, was winning a lot of flick-ons but no one was getting on the end of them. The half ended with the game as open and even as the 5-4 tally of corner kicks to Lancaster suggested.
---
Half-Time: LANCASTER CITY 1 ALTRINCHAM 0
---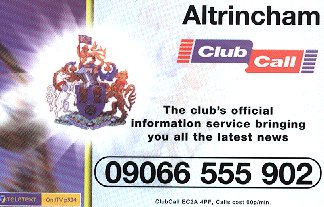 Altrincham came out from their half-time break well before the officials, the opposition or, indeed, the bell had been rung to denote the end of the interval. During their break they had changed formation so that Peter Band now went up front with Rod Thornley whilst Chris Young moved back into midfield. The change had an immediate effect as Thornley, Young, Scott and Craney combined to feed Band. His shot from the by-line was lashed in at Speight who beat it out at his near post. However, the ball was judged to have been out of play for a goal-kick before Band's shot (46 mins).
Then, Whittaker belied his years with a smart turn which left Maddox in his wake in the Lancaster right side of the box. Whittaker's firm shot from a wide angle was beaten out well by Acton. Once more, play switched again to the other end where Thornley's fine advance up the inside left channel ended with a ball across the six yard line which Band was only a whisker from turning into the net with his outstretched leg. After Whittaker's foul on Band, Ryan's free-kick found Talbot's head but the save was comfortable for Speight (49 mins). Altrincham's lively start to the half continued when, from Duffy's punt upfield, Band, Thornley and Young combined, with the last named's low cross being met superbly on the volley by McDonald. His flashing, low shot from the left of the box hit the keeper as he dived to his left and stayed out of the net (51 mins).
After this high point for McDonald he was lectured by Mr Commins for a foul in the centre-circle. Immediately after play resumed, the speedy Miller got free on the right wing and McDonald pulled him back and quite rightly was booked (53 mins). Young, who was making an impression in midfield, then beat Love and the ball ended up, via Craney and Scott, back with Craney who struck it on the volley. He placed the ball rather than hitting it with all his power and Speight saved it well, to his left (55 mins).
Alty had now had at least three good chances in the opening quarter of an hour of the half. A fourth one arose soon afterwards when Thornley found Band and his looping header had to be cleared off the line (58 mins). Then, with play stopped for a goalkick, Ryan was booked, presumably for a word out of turn (60 mins). But worse followed when Gary Scott went for a tackle on the half-way line on the Alty right. He was late and caught Holliday's leg. The player went down and the adjacent Lancaster bench went up. Mr Commins went to talk briefly with his linesman Mr Hughes, and then promptly showed Scott a straight red card (63 mins). Whilst a yellow card was merited, it did not seem to be a sending-off offence. Scott was a player who had not offended previously in this game and throughout last season he picked up just two yellow cards in 53 appearances.
Alty then made a change, bringing on Gallagher for Ryan (63 mins) before, a minute later, Perkins replaced the injured Holliday for City. Gallagher soon gave away an unnecessary corner which Acton just palmed over the bar to concede another, Lancaster's eighth of the match. This was cleared but Lancaster were mow making the extra man tell and from a free-kick Yates put in a good, curling shot which went just wide. Miller was now replaced by Brian Butler (68 mins) just before Duffy made a fine interception inside his own box. A looping cross from the right by Lancaster saw Whittaker bundle Acton out of the way to head the ball and a free-kick was given to Altrincham (70 mins).
Whittaker then missed badly when he misconnected with a right-wing cross and scooped the ball over the bar. Altrincham now replaced the limping Maddox by Ajetunmobi (72 mins). The young Nigerian slotted into the right side of midfield. Soon, Thornley advanced well into the right edge of the box where he was wrestled down by Kilbane. Mr Commins gave the free-kick to Alty just outside the box but booked the Lancaster centre-back (74 mins). Following Young's free-kick, Duffy's shot was blocked for a corner. After a subsequent Lancaster corner had been cleared by Talbot, Lancaster soon came back at the Robins up the right and a cross found Haddow unmarked in the centre of the box from where he drove the ball home to make it 2-0 (76 mins).
Altrincham were still battling as Thornley won a corner. Young's kick was met by a fine header from Talbot which Speight saved very well and a defender completed the clearance (77 mins). It was not Altrincham's night as on another occasion they might well have scored four times with the shots they had tonight. A good run by Ajetunmobi ended up a blind alley before Whittaker was booked for a foul on Duffy (78 mins). Lancaster made their final change when Whittaker was withdrawn in favour of Brown (80 mins). After this Yates took the ball forward before a low cross came in from Perkins on the left and Butler made it 3-0 (84 mins).
Altrincham had yet another unconverted chance soon afterwards when Band's fine work ended with a cross to Thornley at the back post but Rod could not hit the target (85 mins). After three minutes of added time had seen a rising shot by Love clear the bar, the game ended with Altrincham losing their fourth successive league match. 3-0 was certainly a flattering score to Lancaster as Altrincham created a host of chances and were a good match for the home side till the sending off. Before that incident a one-goal margin or a draw seemed the most likely outcome between two evenly matched sides who were both prone to defensive lapses and misplaced passes from midfield.
---
Full-Time: LANCASTER CITY 3 ALTRINCHAM 0
---