Match Report
---
ALTRINCHAM (1) 3 STALYBRIDGE CELTIC (1) 3
UniBond Premier League Match,
played on Saturday, 5 October, 2002 at 3p.m.
---
| | |
| --- | --- |
| Matchday Sponsor | Matchball Sponsor |
| Boardman, Conway | Francis Heald |
SCORERS
11 mins: Rod THORNLEY (penalty) (Altrincham 1 Stalybridge Celtic 0)
36 mins: Chris DENHAM (Altrincham 1 Stalybridge Celtic 1)
47 mins: Chris YOUNG (Altrincham 2 Stalybridge Celtic 1)
62 mins: Andy McDONALD (Altrincham 3 Stalybridge Celtic 1)
63 mins: Kevin PARR (Altrincham 3 Stalybridge Celtic 2)
75 mins: Nathan WHARTON (Altrincham 3 Stalybridge Celtic 3)
---
REFEREE: Mr. T. Massey
---
ATTENDANCE: 897
---
BACKGROUND
The sides had not met in the league for two years due to Celtic's promotion to the Conference in 2001. Neither side had started this season well and whilst Alty lay 20th, Celtic were only three points ahead. Celtic had yet to win away whilst Alty had not won in their last four league games - nor scored in their last three.
---
SUMMARY
Altrincham allowed a 3-1 lead to slip, with all three Celtic goals being back-post headers from balls played across the face of goal. A Rod Thornley penalty, conceded by Bowker's foul on Thornley himself, put Alty ahead (11 mins). Chris Denham equalised after 36 mins from a left-wing cross. Chris Young drove home Alty's second (47 mins) before McDonald hooked in a third (62 mins).
Stalybridge's Parr scored with a stooping header a minute later before Wharton headed home from Denham's cross (75 mins) to make it 3-3. The match at times threatened to boil over and there were five bookings and there should have been more, those for Alty being received by Ryan and Young.
---
TEAM NEWS

With Gary Scott, Neil Murphy and Mark Maddox all injured, the Alty defence today included Matthew Duffy, from Rochdale FC, for his starting debut at left-back, whilst Jason Gallagher returned from injury at right-back. Richard Acton continued in goal in place of Andy Moore, who must consider himself unfortunate to have lost his place after some good performances earlier this season. Danny Murphy also returned to the side from injury at the expense of Andy McDonald, who was on the bench. Simon Woodford also remains injured whilst Jamie Phoenix, sent off on his full debut in the last Alty home game, has been released by the club.
So, today Alty started with Peter Band up front to accompany Rod Thornley, whilst Thornley's previous strike partner Chris Young played in midfield, which many would say was his best position. On the bench was newcomer Chris Barton (right), who had apparently been playing football in the Barrow area before joining Alty this week. He became the 26th player to be named in an Altrincham league match squad this season in just the 12th game of the season.
Celtic included former Alty centre-half Terry Bowker in their line-up. Also included were former Lancaster City players Colin Potts and Kenny Mayers, though the latter was only on the bench. Former Leigh players David German and David Ridings and the ex-Southport striker Phil Eastwood also started for Celtic.
---
TEAMS
ALTRINCHAM (Red & white striped shirts, black shorts, red socks): 1. Richard ACTON, 2. Jason GALLAGHER, 3. Matthew DUFFY, 4. Stephen ROSE, 5. Gary TALBOT, 6. Neil RYAN, 7. Ian CRANEY, 8. Chris YOUNG, 9. Peter BAND, 10. Rod THORNLEY (capt.), 11. Danny MURPHY. Subs: 12. Andy McDONALD, 14. Chris BARTON, 15. Adewale AJETUNMOBI.
STALYBRIDGE CELTIC (Yellow shirts, blue shorts, yellow socks): 1. Craig DOOTSON, 2. Darren BOWMAN, 3. David GERMAN, 4. David RIDINGS, 5. John ROBERTSON, 6. Terry BOWKER, 7. Colin POTTS, 8. Kevin PARR (capt.), Marcus HALLOWS, 10. Phil EASTWOOD, 11. Jerome FITZGERALD. Subs: 12. Chris DENHAM, 14. Nathan WHARTON, 15. Kenny MAYERS.

---
MATCH REPORT
Stalybridge kicked off towards the 20/20 (Hale) End on a dull, but breezy afternoon. Within 20 seconds a Celtic player had cleared the ball out of the ground for the first stoppage in the play. The opening stages were fairly routine till Alty won their first corner off German. Though Talbot got to Ryan's corner kick, a goal-kick resulted to Celtic. The first shot of the game took nine minutes to arrive and even then it was very wide by Fitzgerald. Gallagher then saved Alty's blushes after Eastwood had got behind Rose on the right. Eastwood passed to Hallows and Gallagher flung himself in front of his shot. Hallows hit the rebound over the bar when he should have done better (10 mins). Following Acton's goalkick Thornley got onto the ball just outside the left corner of the box and as he got past Terry Bowker, the former Alty centre-back pulled Thornley down to concede a fairly clear spot-kick.
Thornley sent Dootson to the keeper's right and put the ball into the other side of the net (11 mins). It was Alty's first goal in a league game for 337 minutes. The goal pepped up the Robins and soon Craney fired a shot across goal from the right after Thornley and Gallagher had combined, following a throw in front of the Family Stand (13 mins). Murphy then beat his man to win a corner on the left. This was cleared and Potts broke forward on the right, feeding Eastwood, who beat Duffy but his cross went to the back post where Fitzgerald could only win a corner. This ended up with Acton (15 mins). Duffy then had a very ambitious 30 yard shot from the left which was yards wide of the target as Altrincham now enjoyed marginally the better of the game. Alty were closer to the target when Thornley found Murphy and the latter's fine shot produced an excellent save by Dootson, to his left, pushing the ball away for a corner on the Alty right. This led to another corner but Dootson gathered this.
After Hallows had got past Duffy into the outer central area of the Alty box, Rose made a fine but firm tackle on Hallows to clear the danger. However, the striker remained on the ground and after protracted treatment had to be stretchered off and an ambulance was summoned. Chris Denham, the former Stand Athletic goalscorer, came on as substitute (22 mins). Another good Alty move followed when Thornley, Band and Craney combined, with Craney finally heading the ball wide (24 mins). Mr Massey gave several curious decisions in this game, one of them being a foul against Murphy after Bowker had clearly fouled Band. Eastwood then set up Potts for a clear shot but his underhit effort allowed the exposed Acton to save (27 mins).
Thornley made an equally unsuccessful attempt to score moments later when he was played in on the keeper after Band had picked up a poor pass from a Celtic midfielder. Rod drove his shot at Dootson's legs and the ball was cleared. Jason Gallagher had to head out to concede a corner soon after this but Band cleared the corner kick. The lively Denham then shot narrowly wide (33 mins) before Ryan and Parr had a set-to in the centre circle. Ryan appeared to be fouled, but did not win a free-kick and then he and Parr laid hands on each other before other players came rushing in (see picture above). Both players were booked. Celtic were given the resulting free-kick. Following the free-kick the ball was allowed to cross the Alty goal in the air from the left to the back post where, from an acute angle, Eastwood headed towards goal with Acton and his defence flat-footed and Denham got the final touch to equalise (36 mins). After a foul on Murphy near the half-way line by Ridings, the Celtic man was booked by the referee as the temperature of the game rose (37 mins).
Indeed, Young and Ridings were to have a number of spats as the game wore on. Ridings it was, too, who got into a fracas as he tried to stop Duffy taking an Altrincham throw a couple of minutes later. Following the throw, Duffy got in a good cross from the left which found Murphy at the back post but, though he directed his header towards goal, he was judged to have done so from beyond the by-line (40 mins). The half ended with Stalybridge pressing but it was Alty who had the best late chance when a Craney feed reached Thornley, but he fell over on the edge of the box.
---
Half-Time: ALTRINCHAM 1 STALYBRIDGE CELTIC 1
---
Half-time witnessed a keenly fought 5-a-side game on the pitch between young teams from St Ambrose College and Altrincham Preparatory School. Tesco had kindly sponsored the game which is part of an eight-team tournament to be played at Moss Lane home games. The match was later settled in a penalty shoot which St Ambrose won.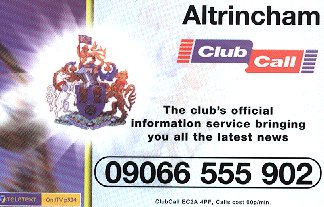 The half started well for Altrincham when Ryan curled an effort just over the bar from 25 yards (46 mins). But then a Rose free-kick from 40 yards out was only half cleared by Celtic and Chris Young drove it back into the net from 20 yards to restore Alty's lead. After conceding three similar goals in recent league games, it was good to see Altrincham themselves scoring in this way (47 mins).
Potts, the former Lancaster winger, then pushed over Young and play stopped for treatment to the Alty man. After the free-kick, a ball over the head of Duffy led to a 25 yard shot from Potts, which Acton saved well. Stalybridge now enjoyed quite a bit of possession as they sought an equaliser. Rose made another good clearance before Potts won a free-kick for Celtic given against Talbot, 22 yards out. From the free-kick Parr's diving header was only narrowly wide at the back post. Alty's defending of aerial crosses to the back post left a lot to be desired today (55 mins). Alty then replaced Duffy, who appeared to have a groin strain, with McDonald. This change led to Ryan going to left back as McDonald took over in right midfield (55 mins). Then Acton had to come out to kick the ball into the stand where a rebound almost struck his injured colleagues Mark Maddox, Neil Murphy, Gary Scott and Simon Woodford sitting in the crowd.
The troublesome Potts then tripped Band on half way but, soon, Talbot had to be alert to cut out a Stalybridge attack as the hour mark arrived. But Talbot then missed a subsequent ball and the chasing Ryan was all over Denham to stop him advancing. Mr Massey gave the free-kick but chose not to caution the already booked Ryan. Potts's free-kick from 25 yards was held by Acton. A foul on Craney soon followed and Young's free-kick from 25 yards found Talbot's head. His knock on towards the back post was retrieved by Thornley and Andy McDonald hooked the ball back in to the net to make it 3-1 (62 mins). A minute later, a foul by Young gave Potts another free-kick opportunity but his effort was saved by Acton at the cost of a corner on the left.
The Alty keeper and defence again allowed the corner-ball, from Eastwood, to reach the far post, via Bowker, where a stooping Parr nodded it home from very close range (63 mins). Soon after this a rough challenge by Denham earned him a booking, with Thornley being the victim (64 mins). From a throw-in, Potts and Parr combined for the latter to curl the ball only narrowly wide of goal (66 mins). Danny Murphy was then injured in a tackle with Bowman and both needed treatment - but Danny came off the worse, being carried off on a stretcher. He was replaced in midfield by debutant Chris Barton (67 mins). Alty's Young was then booked for a foul on Ridings on the half-way line (68 mins) before Thornley was penalised for a tackle. Potts's free-kick came out to Denham who curled it narrowly wide but won a corner for an apparent deflection. Gallagher cleared the corner and soon afterwards, the same Alty man won his side a corner at the other end. This was cleared before Parr was again in the thick of things, committing a trip for which he was penalised but not even lectured. As with Ryan earlier in the game, the referee seemed loathe to produce a second yellow card.
Celtic now made a double change with Wharton and the ex-Lancaster captain, Kenny Mayers, coming on for Potts and Fitzgerald (74 mins). Within a minute, Celtic had equalised. After a Band shot had been blocked, the ball came to Denham on the right. From 25 yards out he curled a well-flighted cross towards the back post where, for the third time in the game, Celtic scored with a close-range header. This time the scorer was Wharton rather than Eastwood to whom it was initially credited (75 mins). Stalybridge now sensed what had earlier seemed an unlikely victory and pressed forward. Young and Parr had yet another spat which went unpunished as the game looked like it might get out of control. Alty had now pushed Craney forward and moved Band back into midfield and Craney soon cut in from the left but curled his shot over the Celtic bar (78 mins). Then a defensive error by Celtic set Thornley running freely at goal.
He seemed in two minds whether to shoot or pass and ended up shooting well wide across the goal (79 mins). Craney then set up a Band shot which was blocked. Although Celtic also continued to press forward, another half-chance fell to Alty when Band passed to Barton who attempted a scissor-kick shot but it did not come off (82 mins). McDonald and then Rose cleared Celtic attacks before Barton sent a rising shot over the Celtic bar from 25 yards (83 mins). Celtic won a corner which Gallagher cleared before Thornley fed Band, who went past one defender before a second dispossessed him on the edge of the box. There was next a stoppage for three-way treatment to Gallagher, McDonald and German. Just after three minutes to go had been signalled, Stalybridge won a corner which ended with German shooting a full 20 yards wide to the annoyance of his bench. There was still time for Bowker to knock over Thornley inside the box, though Rod perhaps went down a little too easily to convince the referee of an offence (88 mins). Thornley resumed after treatment and was soon announced as Man of the Match. Other likely candidates would have included Rose, Band and Young.
Altrincham will have been disappointed at letting slip a two-goal lead. Given the injury-ravaged squad, the performance overall was good but the loss of all three goals to back-post headers will give coach Andy May plenty of food for thought about the understanding between his keeper and defenders. Alty's next game is on Tuesday at home to a resurgent Vauxhall Motors, who have already beaten Altrincham 4-0 this season at Rivacre Road.
---
Full-Time: ALTRINCHAM 3 STALYBRIDGE CELTIC 3
---