Match Report
---
ALTRINCHAM (0) 0 VAUXHALL MOTORS (1) 2
UniBond Premier League Match,
played on Tuesday, 8 October, 2002 at 7.45p.m.
---
SCORERS
5 mins: Terry FEARNS (Altrincham 0 Vauxhall Motors 1)
80 mins: Danny COLLINS (Altrincham 0 Vauxhall Motors 2)
---
REFEREE: Mr. P. Tierney
---
ATTENDANCE: 455
---
BACKGROUND
Altrincham had lost the away fixture at Vauxhall's Rivacre Park 0-4 in August. Since then Vauxhall's form had been indifferent until a recent revival had seen them both winning and scoring goals- only Accrington have scored more this season. Altrincham started the game with just one point gained from their last five league matches.

Tonight's game saw the renaming of the Family Stand at Moss Lane as the Blue Cannon Family Enclosure. Blue Cannon are a Hale Barns recruitment firm who are now sponsoring the stand, for which the Club extends its thanks. They also sponsored tonight's match. In the crowd, after paying at the turnstile, was Lincoln City's former Hyde United striker, Simon Yeo.
---
SUMMARY
Altrincham were overrun in the first half by a fast and organised Vauxhall side who should have been at least three up at the interval. However, at the break they only led by a fifth minute goal from Terry Fearns, who scored after getting past Peter Band on the Alty right touchline. A minute after the interval Gary Talbot was sent off for pulling back Fearns and, as he was the last defender, the acting Alty captain was shown a red card.
Curiously, Alty played better with only ten men but after Acton had performed heroics to keep the score down, Danny Collins headed home a corner ten minutes from the end. Acton was named Man of the Match. Alty have fallen to 20th in the table and have now lost four times to Vauxhall in the League in the last 15 League games that they have played!
---
TEAM NEWS
The changes had to be rung again in the Altrincham line-up. Rod Thornley was absent at a Downing Street reception for the England international XI, to which he is masseur. Defender Matthew Duffy, who made his debut on Saturday was omitted but into the side came the newly re-signed Kevin Hulme whilst Chris Barton made his full debut after an appearance as a substitute on Saturday.
Andy McDonald remained on the bench, as he is carrying an injury, and was joined there by Adewale Ajetunmobi, who has yet to make a start for Alty, and newcomer Stuart Fenna who was formerly in Stockport County's Youth team (1999-2000). Missing were injured defenders Neil Murphy, Mark Maddox and Gary Scott, as well as injured midfielder Simon Woodford.
Hulme played up front, partnered initially by midfielder Ian Craney. Barton was in midfield. Peter Band therefore moved to centre-back, forcing Rose to the left-back berth. Gary Talbot was captain in Thornley's absence.
---
TEAMS
ALTRINCHAM (Red & white striped shirts, black shorts, red socks): 1. Richard ACTON, 2. Jason GALLAGHER, 3. Stephen ROSE, 4. Peter BAND, 5. Gary TALBOT (capt.), 6. Neil RYAN, 7. Chris BARTON, 8. Chris YOUNG, 9. Kevin HULME, 10. Ian CRANEY, 11. Danny MURPHY. Subs: 12. Adewale AJETUNMOBI, 14. Andy McDONALD, 15. Stuart FENNA.
VAUXHALL MOTORS (Pale yellow shirts and socks, pale blue shorts): 1. Andy RALPH, 2. Rob LAWTON, 3. Wayne McDERMOTT, 4. Phil BRAZIER (capt.), 5. Matt HADDRELL, 6. Danny COLLINS, 7. Steve ASPINALL, 8. Kevin LYNCH, 9. Terry FEARNS, 10. Nicky YOUNG, 11. Peter CUMISKEY. Subs: 12. Kevin THOMPSON, 14. Carl NESBIT, 15. Nick WELTON.

---
MATCH REPORT
Vauxhall got off to an impressive start with Cumiskey on the left and Lawton on the right using their skill and pace to give the Alty defence a torrid time. The first real threat came when Nicky Young executed a superb turn past Talbot and forced Acton to a full length save (2 mins). However, Craney responded with a fine turn of his own in the Vauxhall box and though he ended up on the deck no offence was seen by Mr Tierney (3 mins). Craney's effort was to be about as good as it got for Alty in the first half as Vauxhall took charge of proceedings. Soon, Fearns picked up a ball on his team's left wing, about 25 yards out, and turned speedily past Band to advance on goal. As he entered the box he drove the ball past Acton to open the scoring (5 mins).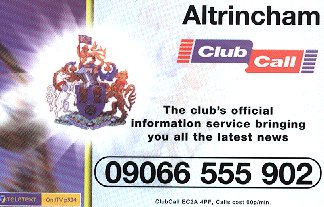 Almost immediately Lawton outpaced Rose, who is no slouch, and from the right got in a fast cross which Young headed onto the top of the bar. With Alty on the back foot, Lynch then got in a shot but it went well over the bar. Alty coach Andy May shouted to his team "Let's start!" and few could argue with his sentiments. A foul on Hulme by Haddrell gave Alty a free-kick but nothing came of Ryan's effort, which was overhit into touch. A bouncing ball then eluded the Vauxhall defence but Craney could only shoot well wide from 25 yards as a consequence.
Vauxhall continued to exert pressure whilst Alty were doing little more than clear their lines before another attacking wave came at them. Aspinall soon got in a low shot which hit a defender before Fearns again advanced on the left. He got the ball via Lynch to Young, who missed a good chance from an unmarked position in the centre of the box. He knocked the ball wide, to Altrincham's relief (14 mins). Altrincham continued on the back foot and had another narrow escape after 22 minutes when Fearns made a great turn past his marker before also rounding the advancing Acton but he had been driven wide and could only find the side netting with his shot.
At last Alty got to the other end but keeper Ralph was out smartly to clear before Hulme could reach the ball and the Alty man conceded a free-kick in the process (23 mins). Only Acton, Murphy and Gallagher seemed to be showing any spark for Alty at this stage. Fearns again executed a fine turn past Talbot but Band covered the danger well to concede the first corner of the game. It was surprising that it had taken 28 minutes to arrive, given the volume of Vauxhall pressure. Nicky Young then missed another chance when he volleyed a difficult ball over from 8 yards after finding himself totally unmarked once more (32 mins).
At last Alty forced some action at the other end when a Ryan free-kick obliged Ralph to punch clear to Murphy but Danny's volley went well over the target (35 mins). Gallagher then had to head out to concede a corner from a Cumiskey cross. From the corner Acton tipped the ball over for Vauxhall's third flag-kick of the game. Alty finally won a corner of their own when Craney turned smartly past Collins from a Rose pass. As half-time approached Alty began to get a toehold on the game but the Motormen nevertheless won another corner after 43 minutes. This was cleared by Barton but a shot came back from this, which went well over the bar. Alty somehow got to half-time trailing by just the one goal but it could easily have been three or more.
---
Half-Time: ALTRINCHAM 0 VAUXHALL MOTORS 1
---
Before Altrincham could find their feet in the second half, a ball through the middle found Fearns racing through behind Talbot. Before the Vauxhall man could get the ball under control, Talbot pulled his opponent down by the arm, just outside the penalty area, as Acton rushed out to close down the danger. Referee Tierney had little option but to send off the Alty captain, who handed his armband to Peter Band (46 mins). This was Altrincham's fourth red card in 15 games played this season. Young struck a superb free-kick which Acton saved equally well, tipping the ball round the post to his left for a corner. Alty now had Danny Murphy up front with Hulme, as Craney reverted to a more accustomed midfield role. Neil Ryan went to left-back after the sending off to allow Rose to revert to his customary centre-back berth in place of Talbot.
Vauxhall forced another good save, low down, from Acton when Cumiskey fed Young. The one-way traffic continued as Cumiskey next got in a firm shot across goal. Soon afterwards Brazier got forward and he, too, shot firmly across the face of the Alty goal (53 mins). Acton then held an effort by Lawton before Vauxhall won their sixth corner of the night off Ryan, on their right side. Despite their dominance, the visitors did not make their extra man tell as ruthlessly as their first half performance had suggested they might. Indeed, Altrincham themselves came reasonably close to an unlikely equaliser when Murphy beat a defender but shot across goal after combining well with Craney (60 mins).
A foul by Collins on Hulme earned him a lecture and gave Ryan a free-kick 35 yards out. Band rose well to meet this at the back post but Ralph punched his header clear for a corner. From this, taken by Young, Hulme headed just over the bar as Alty came the nearest yet to a goal (62 mins). Soon, however, Lynch sent in a powerful shot at the other end which Acton beat out for a Vauxhall corner on their right. After this had been cleared the next threat was the marauding Lawton's shot across goal from the right (66 mins). Mr Tierney again showed tolerance when Nicky Young unceremoniously barged Jason Gallagher across the touchline as the Alty full-back raced past him.
A free-kick resulted but it earned just a lecture for the offender (68 mins). Soon afterwards Gallagher did get in a good cross from the right but it was cleared and Vauxhall were soon winning another corner at the other end. Barton cleared this from near the right upright before Cumiskey shot well over from long range (72 mins). Aspinall then sent the ball over Gallagher to the advancing Cumiskey and his dipping shot was expertly tipped over the bar by the busy Acton for a corner, from which Acton again had to save well from Lynch to concede to the visitors' their tenth flag-kick of the game.
Mr Tierney finally got out his book for Collins after he had tripped Young (74 mins). There was then a curious incident when the visitors' keeper's punt came to Barton, near his own penalty area. As it dropped from the sky, Barton stumbled and handled the ball. A free-kick was given and Barton was lucky not to suffer any more punishment than that. Nicky Young drove the free-kick from 25 yards over the bar. After Haddrell had fouled Murphy, Chris Young's free-kick tempted Hulme to try an overhead shot but he succeeded only in kicking Nicky Young's throat for which he required treatment. As this occurred, Danny Murphy came to his own bench to use a spray on his thigh and he made clear to the management that he was not moving freely before rejoining the game (75 mins). Acton soon produced another top-drawer save to tip a shot from Cumiskey round the post for a corner after McDermott had advanced well up the left (79 mins).
From the left, the corner went to the back post, with neither Acton nor his defenders coming to meet it, and Collins had a simple header into the net to make it 2-0 and stifle Alty's hopes of a snatched, but undeserved draw (80 mins). Immediately after the restart a Vauxhall player tried a looping shot from his own half which Acton just managed to catch over his head as he back-pedalled. Then McDermott fed Lynch for a 25 yard shot which produced the save of the night from Acton, as he plucked it out of the top corner, to concede a corner on the Vauxhall right (81 mins). Barton then stopped the advancing Lawton with a good tackle and Craney made a promising run up the inside left channel to deliver a cross which Hulme could not quite reach (83 mins). A trip on Craney yielded a free-kick soon afterwards but the ball ended up from this with the visitors' keeper. Peter Band had to head out to concede the 13th corner of the night to Vauxhall (84 mins) as the visitors dominated once more.
Just as the tannoy announced three minutes of added time, Alty belatedly introduced debutant Stuart Fenna into right midfield, with the crocked Murphy leaving the fray (87 mins). It was far too late to have any effect on the game and the final whistle went with Altrincham fortunate to have escaped with just a two-goal defeat. The fact that Vauxhall won 13 corners to Alty's 2 summed up the visitors' dominance and that imbalance was despite Vauxhall not winning a single corner in their best spell of the game during the opening 28 minutes. Alty travel to Guiseley on Saturday hoping that the FA Cup can bring some cheer to their up-and-down season which opened with three heavy league game defeats, was followed by four matches without defeat, and now sees a run of six league games in which just one point has been gleaned. Richard Acton was a deserved Man of the Match but he would have preferred to celebrate by finishing on the winning side, a treat he has yet to have whilst playing for Altrincham in the UniBond Premier League.
---
Full-Time: ALTRINCHAM 0 VAUXHALL MOTORS 2
---