Match Report
---
GUISELEY (2) 2 ALTRINCHAM (0) 1
FA Cup 3rd Qualifying Round match,
played on Saturday, 12 October, 2002 at 3p.m.
---

ALTRINCHAM's FA CUP SPONSORS ARE 20/20 RESEARCH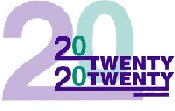 ---
SCORERS
4 mins: Ryan SENIOR (Guiseley 1 Altrincham 0)
27 mins: Mark STUART (Guiseley 2 Altrincham 0)
67 mins: Peter BAND (Guiseley 2 Altrincham 1)

---
REFEREE: Mr. Chris REEVES (Beverley)
---
ATTENDANCE: 428
---
BACKGROUND


Pictured above is our last visit to Guiseley on 1 May 1999, with Alty warming up before a 2-0 defeat. The players seen (l. to r.) are Andy Lovelock, Chris Timons, Leroy Chambers, Paul Ellender, Ricky Harris, Gary Talbot, coach Graham Heathcote, Paul Robertson, Danny Adams, Phil Power, Simeon Hodson, Ged Kielty and Mick Carmody.

Guiseley have won only one league game this session; but it was 7-0 against Bishop Auckland. Alty's record at Nethermoor is poor. They lost 4-0 there in the FA Trophy in 1995-96 and in the UniBond Premiership lost 2-0 away in 1998-99 and drew 2-2 in 1997-98. Last season Alty Reserves' game in March at Guiseley was postponed due to potholes in the pitch but when it was played, in May, Alty lost 7-1! Today, the redrained pitch was in excellent condition despite heavy rain before the game. Guiseley started the match in next to bottom position in the UniBond First whilst Alty were four off the bottom of the Premier Division.
---
SUMMARY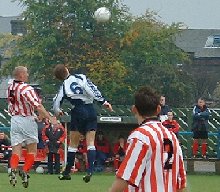 Seen right is Gary Talbot (no.5) competing with Guiseley's David Cooke (no.6), as manager Bernard Taylor (standing on the touchline between the two players), coach Andy May (standing on a bench, far right), and Neil Murphy (no.2) look on.

Any hope that the FA Cup would rescue Altrincham's faltering season disappeared against a more determined Guiseley side today. A poor first-half performance from Altrincham saw them fall two goals behind due to defensive errors. The first came after Talbot missed a through ball and Acton hesitated, allowing Senior to lob the Alty keeper after just four minutes. The second came from a corner conceded after an error by Rose. The corner was headed out to ex-Southport man, Stuart, who drove it home.

Alty dominated the second half and Band headed home a McDonald cross after 67 minutes. Three minutes later Talbot headed home but the goal was ruled out for a foul on the keeper. Alty, without a recognised striker in their squad, spurned a number of other chances during the game. They have now won just 8 games in 43 league, cup and pre-season matches since last March and have yet to take anything from a game this season in which the opposition has scored first.
---
TEAM NEWS
Without Rod Thornley, (in Slovakia with the England team), having released Adewale Ajetunmobi and in the absence of the injured Danny Murphy, Alty's squad included no recognised striker today. So when, on the way to Guiseley this afternoon, the Alty supporters' coach passed Dickie Landon and his current Radcliffe Borough team-mates waiting by the roadside in Hale Barns for transport to their FA Cup tie at Colwyn Bay, it was tempting to stop and ask the former Alty striker to hop on board.
As it was midfielders Peter Band and Ian Craney were the makeshift attacking duo. However, Alty were able to welcome back Neil Murphy, Andy McDonald and Gary Scott to their starting line-up. But the Alty management were unable to name a substitute goalkeeper or even a fifth substitute outfield player for this tie which underlines the thinness of the playing resources at the Club at present. Indeed, the bench comprised the less than fit Mark Maddox and three players with just one Alty start between them. In Thornley's absence, Gary Talbot captained the side.
Guiseley included a very familiar face to Alty fans in the shape of their left-back, Clive Freeman. Clive will always be famed for his 1992 BBC Goal of the Season, scored in the FA Cup against Chester. He has added a few pounds in weight since then and is now the Guiseley assistant manager. Also in the Guiseley side was Mark Stuart who was the scourge of Altrincham when playing for his former club Southport in the Conference in 1999-2000.
---
TEAMS
GUISELEY (White shirts with blue trim, navy shorts and socks): 1. Chris HILL, 2. James NETTLETON (capt.). 3. Clive FREEMAN, 4. Gary SHAW, 5. Simon TREVITT, 6. David COOKE, 7. Richard CHATTOE, 8. David HENRY, 9. Ryan SENIOR, 10. Andy WATSON, 11. Mark STUART. Subs: 12, Lee REILLY, 14. Peter SUMNER, 15. James SHUTT (gk), 16. Kevin NEWHOUSE, 17. Clayton FLOWER.
ALTRINCHAM (Red & white striped shirts, white shorts and red socks): 1. Richard ACTON, 2. Neil MURPHY, 3. Gary SCOTT, 4. Stephen ROSE, 5. Gary TALBOT (capt.), 6. Neil RYAN, 7. Jason GALLAGHER, 8. Chris YOUNG, 9. Peter BAND, 10. Ian CRANEY, 11. Andy McDONALD. Subs: 12. Mark MADDOX, 14. Andy TUNNICLIFFE, 15. Chris BARTON, 16. Stuart FENNA.
---
MATCH REPORT
The Altrincham supporters' coach was delayed by an accident on the M62 near Bradford which meant that they arrived at Nethermoor just minutes before kick-off. They had barely got into the ground when Guiseley took the lead. A high punt up the middle was misjudged by Gary Talbot and bounced over him to Ryan Senior. As Acton debated whether to come out or not, Senior lobbed him expertly, with the Alty keeper marooned in no-man's land inside the penalty area (4 mins). The game continued in a fairly uneventful manner with neither side carving out any clear chances. Alty were seeing plenty of the ball but Guiseley were defending solidly. However, after Scott's good ball forward to Craney on the left, Gallagher met the latter's cross well and his header was goalbound until it struck Peter Band in the penalty area (14 mins).
Band himself then missed a sitter when he received McDonald's low cross from the left. Unmarked, Band screwed his shot well wide of the keeper's right post from about 10 yards (15 mins). Band was almost in on goal a few minutes later but his poor first touch allowed the ball to run to Hill (18 mins). However, Craney soon won a corner on the right, the first of the game, but this was cleared. Altrincham continued to enjoy more of the possession as Guiseley defended in depth. But another defensive lapse was to lead to the home side doubling its lead.
Rose seemed to have plenty of time to clear a ball forward in the Guiseley inside-left channel. However, he waited for the ball to come to him and Senior got to it first. In the clear, in the left edge of the box, Senior fired in a firm shot which struck Acton's head as he closed the striker down, and rebounded for a Guiseley corner. The corner was headed towards goal but cleared out to the edge of the Alty box by Murphy, where Stuart gathered it and drove a low shot through the box and into the net to make it 2-0, to the delight of the home crowd (27 mins). To match Alty's mood, it now started to rain heavily. Nothing much arose in the way of goalmouth incident until McDonald got in a fine shot from the left which Hill did very well to tip over his bar for a corner (34 mins). Ryan's inswinging corner evaded the keeper but a defender headed it off the line. A minute later Scott advanced on the left to win Alty's third corner of the half, which Hill palmed away to safety, though rather unconvincingly (35 mins).
Guiseley were limited to breakaways at this stage but Senior did turn well on one of these forays but shot wide. A fourth Alty corner followed soon afterwards and then a Band shot from a Craney flick had Hill at full stretch on the outer edge of his box. The keeper gathered the ball at the second attempt (41 mins). Acton then slipped whilst taking a free-kick some 40 yards out of his goal but the Guiseley attempt to lob him as he raced back was weak. Guiseley then won a free-kick on their right. From this the ball came off Rose, facing his own goal, and only just cleared the Alty crossbar (43 mins). The corner that this produced was followed by a second immediately afterwards for Guiseley. Guiseley finished the half strongly with Stuart feeding the menacing Senior whose curling shot from the left was saved by Acton (44 mins). Alty went off to regroup after a thoroughly disappointing first half performance.
---
Half-Time: GUISELEY 2 ALTRINCHAM 0
---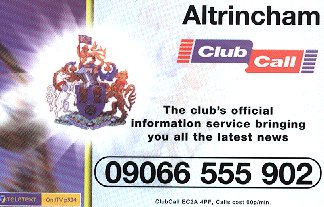 As Guiseley were made to re-take the kick-off for the second half by the referee, Alty coach Andy May regained his unusual vantage point, standing on top of a bench at the far side of the dugout occupied by manager Bernard Taylor. As in the first half the first goal chance fell to the home side. Henry found himself running unattended at goal, up the centre of the pitch. As Acton came out to the edge of his box, the Guiseley man opted to put the ball to the left of the keeper and he steered it wide of the net. Had he chosen to put it the other side of Acton, he must almost certainly have scored (48 mins). Alty then brought on Andy Tunnicliffe on the right flank in place of Jason Gallagher (50 mins). Henry then got past two Alty men and fed Stuart who in turn found Senior, who was offside (56 mins).
Guiseley continued to soak up whatever Altrincham could muster in the way of attacks. But Altrincham began to improve on their first half display, with Tunnicliffe getting some change on the right wing and producing some crosses. From one of these he found Band in the box but the former Hyde man mistimed his jump and the ball skimmed off his head rather than going towards goal (61 mins). After more ineffectual pressure, Altrincham finally produced a goal. It came when Ryan found McDonald on the left, (and these two were as good as anyone today in the Alty side). McDonald curled the ball expertly into the box and Band rose to head home from a fairly central position, slightly towards the back post (67 mins).
After Senior had fed Henry for a weak shot at Acton, Alty pressed for the equaliser. A foul on Tunnicliffe by Stuart was half cleared but led to a corner won by Ryan on the left off Nettleton. From the corner, Talbot headed firmly into the net but the referee ruled out the goal for a foul on the keeper by Craney (70 mins). An Alty throw on the left was half cleared and the ball ended up with Ryan, who shot high over the goal from 20 yards. Altrincham were now well on top. Soon, from Ryan's feed, Band shot from 20 yards and the ball beat the keeper but just cleared the bar as well (74 mins). Then Ryan and Murphy combined for Band to shoot. This was blocked and came out to Tunnicliffe whose shot from the right produced a good save, at the second attempt, by Hill (76 mins). It was one-way traffic now but the goal would not come for Alty.
Craney then won a corner taken by Ryan which Talbot met but headed wide. A skilful drag back by Rose, who like Talbot, was now pressing forward, led to a superb curling shot by the young centre-back. The ball was heading towards the top corner when Freeman appeared in the box and headed it out for a corner. From Ryan's corner Freeman again headed out but this time he almost out the ball into his own net (83 mins). Ryan then got into the box and found Talbot but the cross was hit hard and Talbot could not turn it into the net (84 mins). Still the equaliser would not come and Guiseley broke up the rhythm with a substitution of Senior by Reilly (87 mins).
Guiseley then had their first chance for many minutes which arose after Cooke won the ball from Scott, who was left on the ground.
From Cooke, Stuart found Henry at the back post, to the right of goal. Acton reacted quickly and rushed out to save Henry's shot with his legs (88 mins). The resulting corner was cleared. Newhouse then came on for Guiseley's Cooke, who had played well in midfield (89 mins) and the clock ticked away to 90 minutes. Defeat today cost Altrincham a £10,000 prize plus the chance of future FA Cup riches. The game was lost by a poor first half and by the failure to take all but one of the chances which arose throughout the game. The season now looks like its main objective will be to climb away from the relegation zone, with just the FA Trophy and the UniBond League Cup now remaining as potential respite from the weekly quest for points.
Alty now travel to Burscough on Tuesday, before entertaining Whitby next Saturday. Burscough have proved fallible in recent games after an unbeaten start to the season but they still lie fifth and boast a miserly defence which will need more guile to overcome it than Alty showed today. Meanwhile, Whitby are the form team of the UniBond Premier, having won 7-1 today, away at Frickley to take them to third place in the league table.
---
Full-Time: GUISELEY 2 ALTRINCHAM 1
---