Match Report
---
BURSCOUGH (0) 0 ALTRINCHAM (1) 3
UniBond Premier League match,
played on Tuesday, 15 October, 2002 at 7.45p.m.
---
SCORERS
14 mins: Jason GALLAGHER (Burscough 0 Altrincham 1)
81 mins: Ian CRANEY (Burscough 0 Altrincham 2)
85 mins: Ian CRANEY (Burscough 0 Altrincham 3)

---
REFEREE: Mr. G.W. Foulkes (Liverpool)
---
ATTENDANCE:
---
BACKGROUND
After Monday's dismissal of manager Bernard Taylor, this was Altrincham's fans' first opportunity to see how the players would react to the off the pitch changes and the managership of Graham Heathcote.
After a 7-game unbeaten start to the season in which no goals were conceded, Burscough had, more recently, not won in their last four games and conceded seven goals in those matches. Meanwhile, Alty were without a win in their last eight league and cup games and in the current UniBond Press Release top the "Failed to Score" chart with 7 goalless league performances this season. However, a good omen was that the referee was Mr G. Foulkes, who officiated in the Altrincham v Hyde game which Alty won earlier this season.
---
SUMMARY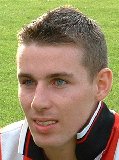 In their first game under Graham Heathcote's managership, Altrincham put in an excellent team performance to withstand a lot of Burscough pressure. They also suffered the early loss of Danny Murphy through injury as they became the first side to win this season at a ground where the home side had only previously conceded one goal during the league campaign.
Fielding the returning Chris Adams and debutant Sean Smith (right), Altrincham scored from their first real attack after 14 minutes when Jason Gallagher netted from close range after Ian Craney's shot had been parried. Determined and organised defending kept Burscough at bay until Ian Craney scored two cracking goals in the last ten minutes to make it 3-0 to Alty. This was a vastly improved performance compared with Saturday's Cup exit at Guiseley, (who incidentally lost 5-0 at Witton last night).
---
TEAM NEWS
For the third successive game Alty were without Rod Thornley, (with the England team once again), but the departure of Bernard Taylor also appeared to have triggered the absence of the recently re-signed Kevin Hulme. However, the only new face in the starting line-up was midfielder Sean Smith, who had been at Moss Lane since pre-season but had not been used other than twice sitting on the bench.
Returning to Altrincham was Chris Adams, who had been released earlier this season, whilst also about to return to Altrincham is young defender Vernum Rowland, who had gone to Flixton and Nantwich Town earlier this season. Adams replaced Neil Murphy in a defence still lacking the suspended Gary Scott, whilst Smith came in for McDonald in midfield. Stephen Rose moved to midfield to replace Chris Young and Mark Maddox partnered Gary Talbot in central defence. For Young it was the first Alty league game that he had not started all season. Up front Peter Band was partnered by Danny Murphy.
Burscough were still without the former Morecambe striker, John Norman, who suffered a quadruple fracture of the eye-socket earlier this season. Player-manager Sean Teale otherwise played essentially the same team which had given Burscough such a good start to this season.
---
TEAMS
BURSCOUGH (Green shirts and socks, white shorts): 1. Matthew TAYLOR, 2. Jeff UNDERWOOD, 3. Ryan BOWEN (capt.), 4. Shaun TEALE, 5. Joe TAYLOR, 6. Paul BURNS, 7. Mike SAWTELL, 8. Marvin MOLYNEUX, 9. Peter WRIGHT, 10. John LAWLESS, 11. Gary MARTINDALE. Subs: 12. Michael WHITE, 14. James MORTON, 15. Steve BROWN.
ALTRINCHAM (Red & white striped shirts, black shorts, red socks): 1. Richard ACTON, 2. Neil RYAN, 3. Chris ADAMS, 4. Mark MADDOX, 5. Gary TALBOT (capt.), 6. Stephen ROSE, 7. Jason GALLAGHER, 8. Ian CRANEY, 9. Peter BAND, 10. Danny MURPHY, 11. Sean SMITH. Subs: 12. Neil MURPHY, 14. Andy TUNNICLIFFE, 15. Chris YOUNG.
---
MATCH REPORT
Burscough kicked off with the wind behind them on a gusty but dry night. Altrincham were soon under pressure as Gallagher conceded an early free-kick but from this a half-clearance came to Teale who hit it at least 40 feet over the bar and out of the ground (1 min). Burscough soon also won a corner off Talbot as they dominated the opening stages. It soon became clear that Danny Murphy was lame and he was substituted after just eight minutes by Andy Tunnicliffe, who operated on the right of midfield. Burscough, as when they came to Moss Lane earlier this season, were playing a fluent and pacey game and it was against the run of play when from their first real attack, Altrincham took the lead.
The goal came from excellent work on the left by Sean Smith who found Craney in the outer part of the box, left of goal. Ian got in a fine, low shot, which the keeper, going to his left, could only parry. Jason Gallagher reacted quickly and just beat a covering defender to knock the ball into the unguarded net from close range (14 mins). It was Jason's first goal since the league win over Gateshead in September last year. It was also only the second goal conceded by the mean Burscough defence at home this season.
Soon after the goal, Alty won their first corner on the left. Though Ryan found Talbot from the corner, Gary could not get enough purchase on his header to trouble the keeper unduly. John Lawless was looking particularly impressive for the Linnets as he ran at the Alty defence and midfield but Alty sub Andy Tunnicliffe was also beginning to make a nuisance of himself by chasing down the opposition. Sean Smith was also doing well on the left, winning possession several times and finding his colleagues with his passing. For all their possession and pace, Burscough were not creating shooting opportunities as the Altrincham midfield and defence were playing in a much more organised fashion than last Saturday. Adams, in particular, was showing passion and commitment on his return to the side at left-back.
The nearest Burscough came was when Burns shot just over the bar from 20 yards (21 mins). Rose, too, was playing well in an unaccustomed central midfield position. However, Burscough continued to threaten with a neat passing move which ended when the ball ran to Acton off Martindale. Then a cross narrowly evaded a Burscough head in the Alty box (25 mins) before they won a corner. This caused some consternation as Acton had two attempts to punch clear but the keeper was awarded a free-kick for a foul on him. Ryan needed treatment after seemingly being caught by his own keeper in this melee.
Alty's relatively few attacks were not getting much change out of the Burscough back four marshalled by the vocal ex-Aston Villa defender, Shaun Teale. After a Talbot clearance had hit a Burscough man, Chris Adams had to concede a corner to Burscough, their third of the game. A fine header by Maddox cleared the danger from this (32 mins). Another Burscough attack ended with Martindale shooting wide. After Bowen had caught Rose with a late tackle on the half-way line, the Burscough captain was booked by Mr Foulkes (36 mins). Following treatment, Rose resumed. Alty's determination was epitomised by Andy Tunnicliffe winning several headers in this game against defenders much taller than he is but he and Peter Band were unable to create any clear openings on the breakaway. Band, for his part, was tracking back and covering a lot of ground. Another excellent Maddox clearance was soon followed by a fine turn by Wright whose shot was deflected out for another Burscough corner on their left. This was immediately followed by a corner on their right (39 mins). There was then an amusing moment as the Burscough coach yelled from the bench to his substitutes to "get warmed up and stop yapping" as they chatted away near the corner flag!
A goalmouth melee then saw Gallagher clear well as Sawtell advanced. Next, Tunnicliffe and Gallagher led a breakaway up the Alty right which foundered when Band went to ground on the left under a challenge. However, Alty soon won their second corner of the half, which ended up with a Burscough goalkick (43 mins). Finally, Teale curled a 25 yard free-kick just over the bar before half-time arrived.
---
Half-Time: BURSCOUGH 0 ALTRINCHAM 1
---
Each side made a half-time change with Ryan, who had needed first-half treatment, replaced by Neil Murphy at full-back and Brown replacing Bowen, the Burscough captain. Connor took over as the Linnets' captain for the second half. The half started with three early throw-ins for Alty and Gary Talbot getting away, not for the first time, with holding a Burscough forward. Burscough resumed their pressure on Alty and Alty's Band was a fairly isolated figure at the other end as Tunnicliffe also dropped back. However, Alty now began to get more into the game and a good move, initiated by Smith winning possession, led to Craney having his shot blocked by a fine save by Burscough keeper, Matt Taylor.
Peter Band drove in a firm shot from the rebound which was also kept out (52 mins). Ian Craney then won the ball ten yards inside his own half and, had Underwood not nipped in to take the ball on the half-way line, Ian would have had a free 50 yard run at goal. Tunnicliffe and Smith were also contesting well but Lawless got in a 20 yard dipping shot which was only narrowly wide, but which Acton had covered (55 mins). Neil Murphy, then Maddox, made good clearances from the next attacks, the latter executing a superb tackle in the process (57 mins). After a foul on Teale, Lawless's well-struck free-kick in the swirling wind was caught very cleanly by Acton (60 mins). Acton then caught well another effort from Lawless which dipped at the keeper's feet. Acton was soon busy again, punching clear as Burscough again lay siege to the Alty goal.
During a stoppage to allow the referee to lecture both Adams and a Burscough player, Sean Smith received treatment for cramp or a leg injury (70 mins). Smith soon returned to the pitch after hobbling off and was unlucky to get booked soon afterwards when his push on Lawless earned him a caution (74 mins). Alty now brought on Young for Gallagher (75 mins). Gary Talbot soon got a talking-to for timewasting before Brown's 30-yard shot just cleared the net as the watchful Acton swung from the cross bar to see it over (77 mins). Brown also soon won a corner from a cross after good work by Lawless. This was cleared and Band, who had come back deeply to defend, was fouled in the aftermath. Band trotted back upfield and from the free-kick he headed the ball on well. Ian Craney, who controlled the ball superbly, evaded a challenge and drove the ball firmly over the keeper to dip into the top-right corner of the net for an excellent goal (81 mins). It was Ian's first goal of the season.
Alty then had a great chance to score a third when Craney broke free and unselfishly passed the ball to his right to the unmarked Tunnicliffe. To his dismay, Tunnicliffe hit the ball into the side netting. But the heart had gone out of Burscough now and another break saw Young feed Craney who again did brilliantly to drive the ball home from the edge of the box and make it 3-0 to the visitors (85 mins). Burscough had only conceded one league goal at home all season before tonight.
Craney's night was spoilt soon afterwards when he picked up his first booking of the season for unnecessarily kicking the ball away (87 mins). As if to celebrate Alty's win, a firework display started outside the ground as the game drew towards the final whistle. Burscough will have been disappointed that so much effort produced nothing. A three-goal defeat was a little harsh on them but they paid for not creating clear goalscoring openings after much of their promising approach work.
This was Alty's best display this season since the fine win at Blyth and their first victory in nine league and cup games. One swallow does not make a spring but the clear signs tonight were that Altrincham's league season could be back on the rails even if it is too late to do anything in the FA Cup.
---
Full-Time: BURSCOUGH 0 ALTRINCHAM 3
---