Match Report
---
ALTRINCHAM (1) 2 WHITBY TOWN (0) 1
UniBond Premier League Match,
played on Saturday, 19 October, 2002 at 3p.m.
---
SCORERS
42 mins: Rod THORNLEY (penalty) (Altrincham 1 Whitby Town 0)
63 mins: Craig VEART (penalty) (Altrincham 1 Whitby Town 1)
65 mins: Peter BAND (Altrincham 2 Whitby Town 1)
---
REFEREE: Mr. I. Bonney
---
ATTENDANCE: 620
---
BACKGROUND
Alty were looking to build on their fine midweek win at Burscough in their first game under Graham Heathcote. This had followed eight league and cup games without a win. However, Whitby, lying fourth in the league would be a tough test even if they had only just gained their first away win of the season. The fact that that was by 7-1 at Frickley was a clear warning of the Yorkshire visitors' firepower. Whitby manager Harry Dunn was forced to watch from the directors' box, as he is still on crutches after an operation on his leg some weeks ago.
---
SUMMARY
Altrincham made it six points out of six under Graham Heathcote's managership with this narrow win over high-flying Whitby Town. Whitby shaded the first half before Rod Thornley won and converted a penalty just as the 3 minutes of added time board was displayed. Alty played better in the second half but another penalty restored parity when Ryan was penalised after Acton had missed a cross.
Veart scored for Whitby from the spot (63 mins). Peter Band almost immediately made it 2-1 when he skilfully hooked home a Thornley cross (65 mins). Acton made two magnificent saves to keep out Whitby and Zoll drove a fine shot against the upright but Altrincham held on for a win.
---
TEAM NEWS
Rod Thornley was back after missing three games due to his masseur duties with England and he replaced Danny Murphy, who had been injured at Burscough in midweek. Gary Scott remained suspended whilst on the bench Andy McDonald replaced Neil Murphy.
Whitby included keeper David Campbell, who has returned to the club after a spell at Gateshead. He has been swapped with ever-present young Whitby keeper Adam Dowell. Craig Veart, the former Spennymoor midfielder was brought into the Whitby side, when Thomas Reid injured himself in the warm-up. Also in the side was Stefan Zoll, the tall French student striker acquired from Pickering Town, and Aaron Wilford, another youngster, who had scored a hat-trick at Frickley last week. On the bench was Craig Skelton formerly at Altrincham and Blyth Spartans.
---
TEAMS
ALTRINCHAM (Red & white striped shirts, black shorts, red socks): 1. Richard ACTON, 2. Neil RYAN, 3. Chris ADAMS, 4. Mark MADDOX, 5. Gary TALBOT, 6. Stephen ROSE, 7. Jason GALLAGHER, 8. Ian CRANEY, 9. Peter BAND, 10. Rod THORNLEY (capt.), 11. Sean SMITH. Subs: 12. Andy TUNNICLIFFE, 14. Andy McDONALD, 15. Chris YOUNG.
WHITBY TOWN (Blue shirts with white, red and black band, blue shorts and socks): 1. David CAMPBELL, 2. Craig VEART, 3. Richard DUNNING, 4. Michael LAWS, 5. Graham WILLIAMS, 6. Ben DIXON, 7. Steven SWALES, 8. Graham ROBINSON (capt.), 9. Aaron WILFORD, 10. Stefan ZOLL, 11. Alex GILDEA. Subs: 12. Lee URE, 14. Thomas REID, 15. Craig SKELTON.

---
MATCH REPORT
With the Golf Road choir in full voice, Altrincham kicked off towards that end of the ground. A ball forward found Zoll in the far right who had sprung the offside trap, and from his cross Gary Talbot had to head over his own bar to concede a corner, which was taken by Veart. This was cleared. Alty's best early threat was a ball forward from Adams which Campbell got to just before Thornley (5 mins). A mis-header by Gildea gave the ball to Thornley but Dixon cleared it from Gallagher to give Alty a corner (6 mins). The corner was cleared and following a throw-in Maddox slid in to tackle Dixon as a Whitby colleague underhit a pass to him. Maddox arrived late and caught the Whitby man, who needed treatment and Maddox was rightly booked (6 mins).
Soon another Whitby player needed the physio after a 50-50 challenge in centre field with Band. A wide back-header by Talbot caused Acton to step over the right side of the penalty area to concede a free-kick near the by-line. This was laid back to Veart who sliced his effort very high over the goal from 25 yards out (11 mins). Alty picked up another booking when Rod Thornley's characteristic attempt to block a hoof forward from the back caught an opponent to prompt the Whitby physio's third appearance (13 mins).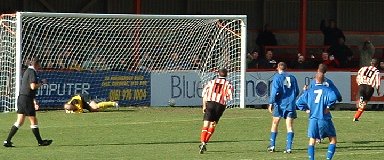 Alty next won a corner and Craney's resulting shot from a Thornley pass was deflected. Ryan's corner from the left was an inswinger which Campbell dropped. Talbot knocked it back across goal but a defender cleared the danger (19 mins). Band's persistence on the left won another corner, their third, but Ryan put it straight into the side netting. Just after Talbot had committed what his manager yelled was a "silly foul", the heavens opened (21 mins). Smith then got in an excellent tackle on Swales on half-way which left the Whitby man to hobble off the pitch for a spray to his leg. Whitby then missed the game's best chance to date when a free-kick from their left, 35 yards out, was headed on by Robinson across goal to Wilford. He slid the ball wide of the target when he should have tested Acton (24 mins). Whitby were now looking the better side, playing the ball around crisply. With the rain pouring down Craney tried to find Thornley but Laws got to the ball first. Just after this the rain stopped before Maddox was penalised for a foul on Zoll on the Whitby right (33 mins).
Soon after this Gildea shot from 30 yards and Acton was grateful to see it whistle past his post (35 mins). Talbot was doing well at the heart of the Alty defence and saw off the next attack, with an initial header and then a kicked clearance. There was then a fracas when Ryan was fouled near half-way. Ryan reacted as his opponent and he appeared to be interlocked on the ground (41 mins). Both Ryan and Gildea were lectured before play resumed. Not long afterwards, Craney played a ball to Thornley who pushed the ball forward as he advanced into the left of the Whitby box, where he was baulked by Robinson. Rod went down and a penalty was awarded which he himself got up to convert, sending the keeper the wrong way as he put the ball into the bottom right corner of the net (see picture).
Between the award and the conversion, the "3 minutes" board was shown for added time (42 mins). As usual Rod celebrated with a cartwheel. Soon afterwards Thornley's header won Alty's fourth corner of the half and from a Band feed a mishit Thornley shot produced a fifth flag-kick just before the half-time whistle. From this, Talbot met the ball but headed over the bar as Alty finished the half strongly, though their lead was perhaps not wholly deserved at this stage as Whitby had had plenty of possession and missed the best chance of the half.
---
Half-Time: ALTRINCHAM 1 WHITBY TOWN 0
---
Play resumed after a half-time 5 a side game between Heyes Lane and Navigation Road primary schools. Heys Lane won 3-0.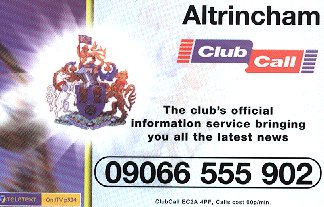 Alty started well with Band and Craney showing good touches in the opening minutes of the second half. Rose then found Adams advancing on the left but the left-back's cross was too high for his colleagues (48 mins). After Band had been fouled 25 yards out Smith took the free-kick which Talbot met but his header went wide (49 mins). McDonald was summoned from the touchline by Graham Heathcote to prepare to come on as Alty continued to show better form than they had in the first half.
After Alty had made a meal of clearing a Whitby attack, the visitors won a corner off Maddox's clearance. Veart's short corner was cleared before a bout of ping-pong in the Whitby box led to a Craney effort falling to Band who stabbed it wide from a difficult chance (55 mins). Wilford then cut in past Maddox and fired in an excellent curling shot from the left which went just over the crossbar of Acton's goal (56 mins). Mr Bonney gave a number of curious decisions and one of them saw Gallagher penalised for what looked a clean interception. At this point Lee Ure replaced Dixon for Whitby and McDonald finally came on for Gallagher (56 mins)/
A fine ball forward from Rose, whose recent move to midfield does not seem to have upset his high level of performance, found Thornley. He, in turn, found Band who drove a shot across goal (58 mins). Alty were now well on top and the crowd responded with further songs from their repertoire. Whitby won a corner just after the hour mark. They then got back into the game just when it had appeared that Alty were in control as a penalty was awarded to them. A cross by Swales was dropped by Acton and came to Ure on the Whitby left, inside the box.
The referee spotted a handball by Ryan and pointed to the spot. He also booked Ryan which seemed a little harsh considering he had not even lectured the offender who conceded the Altrincham penalty in the first half. Although Acton guessed correctly, he just failed to keep out Veart's low drive which entered the net in more or less the same spot as Thornley's first-half spot-kick (63 mins). Altrincham made the perfect response, restoring their lead just two minutes later. This goal came after Smith's throw-in on the left was followed by Thornley's cross and Band dealt with the high, bouncing ball by hooking it left-footed into the net for a very well-taken goal (65 mins).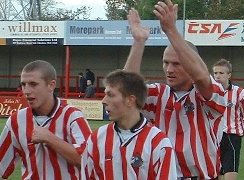 Left: Ian Craney, Andy Tunnicliffe, Gary Talbot and Stephen Rose leave the pitch today.
After the goal McDonald and Thornley conspired to win a corner on the left. From Ryan's kick, Band stretched to head it at the back post but the danger was cleared. Band, who was playing impressively, won his side a free-kick in the left corner (70 mins) which Campbell only held at the second attempt from Ryan. Whitby were far from finished and Zoll picked up the ball and ran past defenders across the edge of the box before firing in a firm right foot shot which came back off Acton's right upright (72 mins).
Gildea put the resulting loose ball over the bar. After Adams had been treated for an injury by a new male Alty physio, Craney and Gildea were then involved in a melee near the centre line into which several players waded. Craney and Gildea were both booked (76 mins) but the free-kick went to Altrincham. The balance was redressed when Ryan was harshly penalised for a tackle on Ure moments later. Whitby now pressed for a late equaliser and handball by Adams gave them a free-kick just outside the right side of the Alty box near the by-line. Acton punched this off Robinson's head. Not much later, Smith was penalised deep in the Whitby half at which point Alty made a double change. Tunnicliffe replaced Smith and Young came on for Ryan. Rose moved to right-back as Young went into central midfield (81 mins).
A fine ball by Rose found Thornley and from his cross Band headed wide under pressure (83 mins). Young was soon in action keeping out Wilford before Talbot conceded a corner to Whitby (84 mins) but Tunnicliffe responded by winning his side a corner immediately after this. Ure then got round Maddox and fired in a shot which Acton held well (86 mins). With Thornley flattened in the Whitby half, the referee allowed play to continue but Whitby's attacking move was stifled. Thornley was then treated for an ankle injury but resumed. With the 4 minutes board having been displayed, the sides traded attacks. From one of these Veart found Robinson whose firm header was brilliantly turned round the post one handed by Acton, diving to his left.
From the corner the ball came out to Veart whose thirty yard thunderbolt was even more spectacularly saved by Acton, who tipped the ball upwards one-handed as he dived. From the resulting corner Acton got in a punch but Laws got in a header which cleared the bar (88 mins). Before the final whistle, Rod Thornley was named as Man of the Match but Acton's late heroics and Band's ninety-minutes of effort were also worthy of note. This was a deserved but hard-earned win underlining the improvement shown at Burscough last Tuesday.
Alty have now taken six points this week and have climbed to the heady heights of seventeenth in the table. They have no midweek game so the next tests for Graham Heathcote and his team are two more matches against top-end opposition, when Wakefield and Emley visit Moss Lane next Saturday and we travel to Worksop the following weekend.
---
Full-Time: ALTRINCHAM 2 WHITBY TOWN 1
---