Match Report
---
ALTRINCHAM (0) 0 WAKEFIELD & EMLEY (0) 1
UniBond Premier League Match,
played on Saturday, 26 October, 2002 at 3p.m.
---
| | |
| --- | --- |
| Matchday Sponsor | Matchball Sponsor |
| | NVR Interiors & Maintenance |
SCORERS
57 mins: Rob TONKS (Altrincham 0 Wakefield & Emley 1)
---
REFEREE: Mr. A.J. Greaves
---
ATTENDANCE: 602
---
BACKGROUND
After two consecutive wins against top-five sides, Altrincham were again pitted against a team from that level. This was Alty's first game with Dalton Steele as Assistant Manger to Graham Heathcote.
---
SUMMARY
After a reasonably balanced first half, Altrincham went down to Rob Tonks's 57th minute shot from just outside the box. They could not complain too much at the result, their sixth consecutive defeat in games against Emley who, as always, were well organised at the back and in Wilson had a lively presence in midfield. Alty lost both Gallagher and Murphy to recurrences of injury inside the first 25 minutes of the game. The Robins' best chance came late on when Peter Band got free after an error by Paul David. Band's first effort was saved and he was then bundled off the ball in the aftermath. Peter is seen (right) during today's game.
---
TEAM NEWS
Alty were without three regular defenders, namely the suspended duo of Gary Talbot and Gary Scott plus the injured Neil Ryan. Making his first start of the season was 17 year-old Vernum Rowland, who has just returned to Altrincham from Nantwich Town. Stephen Rose reverted to centre-back to replace Talbot, whilst Rowland replaced Ryan at right-back. Matthew Duffy got a recall to the bench after missing the last three league games. Wakefield & Emley were welcoming back a number of previously injured players but were still without striker Simeon Bambrook.
---
TEAMS
ALTRINCHAM (Red & white striped shirts, black shorts, red socks): 1. Richard ACTON, 2. Vernum ROWLAND, 3. Chris ADAMS, 4. Mark MADDOX, 5. Stephen ROSE, 6. Danny MURPHY, 7. Jason GALLAGHER, 8. Ian CRANEY, 9. Peter BAND, 10. Rod THORNLEY (capt.), 11. Sean SMITH. Subs: 12. Andy McDONALD, 14. Andy TUNNICLIFFE, 15. Matthew DUFFY.
WAKEFIELD & EMLEY (Claret & blue shirts, white shorts, claret socks): 1. Paul CUSS, 2. Steve NICHOLSON (capt.), 3. Ryan CROSSLEY, 4. Mark WILSON, 5. Rob TONKS, 6. Paul DAVID, 7. Darren DAY, 8. Miles THORPE, 9. Rodney ROWE, 10. Craig GOMERSAL, 11. Nicky WOOD. Subs: 12. Lincoln ADAMS, 14. Michael REYNOLDS, 15. Lee RYAN.

---
MATCH REPORT
Wakefield & Emley (Emley for short), kicked off towards the 20/20 End but after just a minute's play it was Altrincham who had won the game's first corner, on their left. Craney's flag-kick resulted in an Emley goalkick. A punt from Cuss then bounced over Rowland and found Gomersal to the left of goal but his cross was cleared. Wilson and Crossley then combined for Emley, Gomersal ending the move with a shot which went only narrowly over the bar from 25 yards (7 mins). Murphy was posing Alty's best threat at this stage, over on the left wing.
After another long ball had evaded Rowland, Maddox was forced into a stretching header which set up an Emley shot which Acton saved very well, at the cost of a corner on the Emley right. Next a run by Band was halted and the lively Wilson fed Tonks for a shot which ran weakly to Acton from 22 yards (19 mins). At this point Jason Gallagher came off to be replaced by Andy McDonald in right midfield. Within seconds, McDonald had got in a shot, which was blocked, after Craney's feed to Thornley had led to the Alty striker cutting expertly inside his marker. Alty were forced into their second change, after just 23 minutes, when Murphy was replaced by Tunnicliffe. Neither Murphy nor Gallagher had appeared to pick up knocks during the game, so they had presumably succumbed to recurrences of their persistent injuries of this season.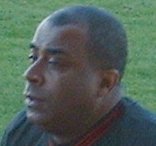 Left: New Altrincham Assistant Manager, Dalton Steele.
Once the substitution had been made, Gomersal got in a 25 yard crack at goal which Acton saved well. Then, following a fairly innocuous foul 25 yards out by Rose, the Alty defender was booked (30 mins). Nicholson's free-kick just cleared both wall and crossbar. Although possession was fairly even, Altrincham continued to give the ball away and were not creating openings at the Emley end. Rod Thornley was being well policed and Peter Band was battling hard in the air against the strong Emley defence. After Crossley had won a free-kick, 20 yards out on their left, Day shot firmly at goal but Acton held it at the second attempt (35 mins).
The home side's best chance of the game so far came when Band, Thornley and Craney combined for Thornley to prompt a fine save from Cuss, to his left (37 mins). Emley were soon back at the other end where Maddox did well to clear up the danger. Five minutes before the break, Rowe won a corner off Rowland and Wilson's kick came out to Day, who shot over the bar. Rowe himself also shot over the bar soon afterwards from 20 yards before Band won his side a corner just before the interval. This was caught by Cuss but there was time for Alty to go close to scoring when a neat turn by Thornley gave McDonald a shot which whistled inches wide of Cuss's left upright (44 mins). As half-time came, Alty had battled well but it looked as if a draw would be a good result for the home team against such strong opposition.
---
Half-Time: ALTRINCHAM 0 WAKEFIELD & EMLEY 0
---
With the sun still shining, Alty started the second half and, as in the first half, the home side won an early corner, through McDonald (47 mins). However, the best effort of the second half to date came when Wilson fed Thorpe who advanced and put in a shot which went just over Acton's bar (50 mins). Emley soon won a corner but this led to an Alty free-kick in their own penalty area (52 mins). After Tonks had scythed down Craney, he did not even receive a lecture from Mr Greaves, in marked contrast to the harsh booking of Rose in the first half. From Rowland's pass Thornley next got in a rising shot which, like so many today, just cleared the bar from 20 yards (55 mins).
After an Alty free-kick for a foul on Rowland by Wilson had come to nothing, Emley took the lead. Wilson, Crossley and Gomersal were all involved before the ball broke a little fortunately for Tonks who poked the ball past Acton, just inside the keeper's left post, from just outside the box (57 mins).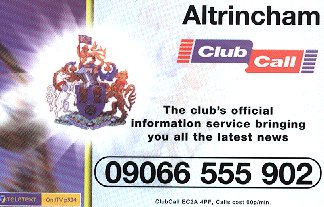 Almost immediately, Tunnicliffe was felled by Wood, who was booked by the referee. Craney's free-kick deflected off David before a strange 50 yard back pass by Maddox forced Acton to rush out to kick clear. The clearance went to an Emley player who attempted to lob the retreating Acton from 60 yards but the ball went wide (60 mins). Mr Greaves annoyed the Alty fans by failing to spot a foul on Band as Alty fought to get an equaliser without creating many openings.
Emley then won a corner off Maddox on their right. This was cleared before three successive headed passes by Emley ended with Day putting the ball over the bar (66 mins). Then Rose, Band and Thornley combined through the middle and got the ball to Craney inside the box. He controlled the ball well on his thigh but shot disappointingly wide, to the keeper's right. Soon, Alty won a corner, but Craney wasted this by putting the ball onto the roof of the net directly from the flag-kick. This signalled Alty's third change when substitute Tunnicliffe was himself replaced by Matthew Duffy. Duffy went to centre-back, releasing Rose to go into midfield (68 mins).
McDonald was showing some good touches for Alty and via Rowland, he got the ball to Thornley. Rod found Craney who turned well before curling his shot over the bar (70 mins). After Rose, Craney and Thornley had combined, an Emley defender sliced his clearance but the danger was cleared up. After 74 minutes, David allowed a ball to run back to the advancing Cuss, who tried unsuccessfully to dribble past Band. Unfortunately the ball rebounded out for a goalkick (74 mins). After Craney had been penalised, Ryan replaced Rowe for the visitors (77 mins). Following treatment to Rose, play resumed and David slipped, allowing Band a free run into the box, in a central position. His first shot was too near the keeper who made a useful save as he advanced from his line. In the resulting melee Band went down under Cuss's challenge but the referee had nothing to do with the calls for a spot-kick (82 mins).
Soon after this, a free-kick by Acton found Thornley stealing in on goal but his diving header went wide (83 mins). Duffy had to make a good stop to prevent Ryan's advance before obstruction by David on Craney yielded a free-kick to Altrincham in a central position 25 yards out. There seemed to be some confusion over who was to take this and in the end, a promising free-kick situation led to nothing (87 mins). Ian Craney was named the Alty Man of the Match on a day when no one person particularly stood out for the home side. For Emley, Wilson was a constant thorn in the Altrincham side. All in all, not a classic, but Emley just about deserved the points.
After 16 games, Altrincham have yet to start two consecutive league matches with the same line-up and, in all 29 players have been used this season. Suspensions and injuries caused changes to be made today, both before and during the game and it is not altogether surprising therefore that consistency has been a commodity in short supply. Altrincham travel to Worksop next Saturday for another tricky game but hopefully Scott, Ryan and Talbot will be available again and it is to be hoped that both Murphy and Gallagher will have got over their injury problems.
---
Full-Time: ALTRINCHAM 0 WAKEFIELD & EMLEY 1
---