Match Report
---
WORKSOP TOWN (0) 1 ALTRINCHAM (2) 2
UniBond Premier League match,
played on Saturday, 2 November, 2002 at 3p.m.
---
SCORERS
40 mins: Rod THORNLEY (penalty) (Worksop Town 0 Altrincham 1)
42 mins: Rod THORNLEY (Worksop Town 0 Altrincham 2)
72 mins: Andy TODD (Worksop Town 1 Altrincham 2)

---
REFEREE: Mr. D. Ford
---
ATTENDANCE: 754
---
BACKGROUND
Worksop lay third and Alty eighteenth before this game but Alty had won on their last two visits to Sandy Lane.
---
SUMMARY
Altrincham won 2-1 at Worksop for the third successive year thanks to two goals in two minutes from Rod Thornley. The first, a penalty, was won by Ian Craney when the home keeper tripped him (40 mins). Then Thornley headed home a Craney cross after 42 minutes. After a fairly even first half Worksop enjoyed most of the second half territorial advantage but the Altrincham defence gave them few openings. It took a dubious penalty awarded against Scott for a foul on Roberts for them to get back into the game. Todd converted the spot-kick (72 mins). In a match played in pouring rain Alty held on for their third win against top four opposition in the last four games.
---
TEAM NEWS
With Gallagher and Murphy out injured, Alty welcomed back both Gary Scott and Gary Talbot from suspension. Peter Band was moved into midfield, with Ian Craney joining Rod Thornley up front. Rose and Rowland played in midfield, Rose in the centre and Rowland on the right. Worksop had Ryan Davies making his 150th appearance and on the left had the in-form Andy Todd. Up front was prolific ex-Tamworth striker, Darren Roberts. However, the most familiar face for Alty fans was their ex-captain Steve Hawes, in the Worksop midfield.
---
TEAMS
WORKSOP TOWN (All yellow): 1. Dave McCARTHY, 2. Andy SMITH, 3. Ryan DAVIES, 4. Steve HAWES, 5. Brian LINIGHAN, 6. Darren BEESLEY, 7. Gavin SMITH, 8. Linden WHITEHEAD, 9. Darren ROBERTS, 10. Gary TOWNSEND, 11. Andy TODD. Subs: 12. Adam MULLER, 14. Richard PEACOCK, 15. Carl SMITH.
ALTRINCHAM (Red & white striped shirts, black shorts, red socks): 1. Richard ACTON, 2. Gary SCOTT, 3. Chris ADAMS, 4. Mark MADDOX, 5. Gary TALBOT, 6. Stephen ROSE, 7. Vernum ROWLAND, 8. Peter BAND, 9. Ian CRANEY, 10. Rod THORNLEY (capt.), 11. Sean SMITH. Subs: 12. Andy McDONALD, 14. Andy TUNNICLIFFE, 15. Matthew DUFFY.
---
MATCH REPORT
Mark Maddox competes for the ball as referee Ford blows his whistle and Rose (6) and Smith (11) look on, with Dalton Steele on the touchline (far left).
Altrincham kicked off as the rain fell on an already floodlit Sandy Lane pitch. After just sixty seconds Ian Craney won the game's first corner on the Alty left, off Andy Smith. It took Worksop a couple of attempts but they cleared Craney's corner before a free-kick arose when Whitehead chopped down Band from behind. Thornley's free-kick was caught by McCarthy without too much problem (3 mins) as Alty started brightly, urged on by the singing of their supporters who boosted the gate to Worksop's largest of the season so far (754). Scott was then penalised before a Maddox interception signalled Worksop's upping of their work rate. For the first of many times this afternoon, Acton kicked straight into touch from his goal area.
Then Rose, Thornley and Craney combined well for Thornley, slightly off balance, to get in a curling but not very powerful shot from the left, which McCarthy saved (10 mins). The dangerous Todd then got behind Scott and as Acton advanced to close him down, the Worksop man sent a poor shot very wide of the goal when he really should have scored (12 mins). However, Alty immediately won their second corner of the game through Thornley (12 mins). McCarthy punched this upwards rather than outwards and from Adams's ensuing cross Rowland sent in a shot cum cross from the right which the keeper did well to knock out for Alty's third flag-kick of the match, on their left (14 mins).
Band won the corner ball in the air and knocked it back to Thornley who headed wide under pressure. The end to end play continued with Steve Hawes and Andy Smith combining well, leading to a Worksop free-kick when Adams fouled Gavin Smith on the right. The free-kick was cleared out to Hawes who lashed it against the cross bar and his follow up was well saved by Acton, to his left (15 mins). Undeterred, Alty went down to the other end and won their fourth corner, taken by Craney. Talbot won the ball but it ran to McCarthy. Craney then showed quick feet to dance round two opponents and was only stopped by a foul from which Sean Smith hit the free-kick straight to the keeper (18 mins). A Whitehead header then ran to Acton at the other end, as the rain continued.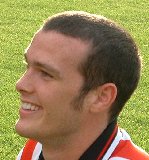 Rod Thornley
An Adams foul on Whitehead and then a foul on Craney allowed the sides to trade early free-kicks. Townsend and Todd then combined for Roberts to head narrowly wide of the Altrincham goal (22 mins). Then Acton allowed Roberts's 25 yarder to squirm out of his hands and run out for a corner, Worksop's first, after 24 minutes. With the surface getting soft, a number of errors broke up play and on the half-hour Maddox was booked for a foul on Todd.
Band got away with a poor clearance from the free-kick and soon afterwards Hawes got in another well struck shot, which was blocked. Worksop won another corner, taken by Beesley from which Hawes volleyed wide (37 mins). Not for the first time, Whitehead was all over Craney and conceded a free-kick. This was taken by Rose but Band was penalised as he headed wide (38 mins). Then Rose played a fine ball forward and Craney ran clear of the defence slightly to the right of goal. As he entered the box, keeper McCarthy took his feet away and a penalty was awarded to Altrincham. Surprisingly, the keeper was not even spoken to, never mind booked by the referee. Thornley sent McCarthy the wrong way, and put the ball to the keeper's left to record his 11th goal in 15 games this season and his fourth penalty conversion of the campaign.
Rod has now hit 51 goals in 80(+1) appearances for Altrincham. After the restart a good ball from Rowland set Thornley free on the right but Linighan saw him off. After Scott had fouled Todd, the Worksop free-kick was cleared to Craney. He advanced 30 yards or more up the middle of the pitch into the Worksop half before playing a fine cross to his left where Thornley, advancing towards the back post, headed the ball down into the net to make it 2-0 to the visitors (42 mins). There was time for Townsend to shoot miles over the bar before the interval. Worksop could count themselves a little unlucky to be two behind as the first half had been well balanced.
---
Half-Time: WORKSOP TOWN 0 ALTRINCHAM 2
---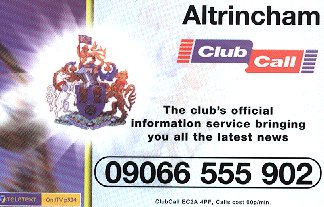 Worksop came out strongly in the opening stages of the second half. A Gavin Smith header soon curled over the bar as Acton covered its trajectory (46 mins). Altrincham were hemmed in their own half as Roberts shot over the bar from 22 yards on the left (50 mins). Acton again kicked into touch as Alty failed to relieve the Worksop pressure. Gavin Smith won a corner which was wasted. Acton then had to rush out of goal to clear before Adams slid in for a tackle which left him and his opponent injured. From the resulting freekick Worksop headed wide (52 mins).
A Worksop corner soon followed and from this Thornley almost broke clear but lost his footing as he turned expertly past his marker. Another Worksop corner soon followed before an Alty breakaway saw Thornley feed Band for a header which went well wide (56 mins). Worksop won their third corner in as many minutes off Maddox, which was cleared to Hawes whose blast struck Talbot on the head, leaving the centre-back in need of first aid.
Rowland gained some relief when he beat his man and advanced on the right, the ball running on to Craney. He beat a defender before sending a measured chip which just cleared the angle of upright and crossbar (60 mins). Sean Smith was then tripped by Andy Smith, who was booked by Mr Ford (60 mins). The Worksop defence was briefly at sea but they got the ball clear at the cost of a corner, which Craney took as the rain poured down. Alty then had a close escape as a cross by Davies was watched by Acton but had to be cleared off the line by a defender. Altrincham were having difficulty keeping possession and Maddox was drawn into a foul in a central position some 22 yards out. Hawes curled this free-kick over the bar (65 mins).
Peter Band set his colleagues a fine example as he battled to keep out Worksop. The Alty defence was doing well too, keeping Acton well protected as Worksop pressed forward. Worksop then brought on Peacock for Andy Smith (70 mins). The home side got back into the game in unusual fashion when a cross from their right saw Scott challenge Roberts near the centre of the goal area. Surprisingly Mr Ford awarded a penalty for what looked a far from clear-cut foul on the Worksop striker. Todd replicated Thornley's penalty, sending Acton the wrong way (72 mins).
The referee soon had to lecture the Worksop bench for unnecessarily throwing on replacement balls whenever one went out of play and at one stage two were in Acton's hands. On a rare break Craney had a shot blocked after Thornley had sent Rowland on an overlap up the right.
}Worksop soon won another corner which again led to a long distance shot from Hawes, which hit someone and was deflected clear. Steve seems to have improved his shooting accuracy since leaving Moss Lane (77 mins)! However, his team-mate Todd then fired in a shot that was so wide it threatened the corner flag rather than Acton's net. With Alty largely penned back, Acton yet again punted a goalkick into touch. As the minutes ticked away Thornley almost got clear on a breakaway but ran into a defensive wall. The home crowd started drifting away well before the added time board was shown. This showed a surprising five minutes of additional time.
Altrincham saw this out without too many alarms. Indeed the last real chance of the game saw Craney feed Thornley and McCarthy had to be down smartly to smother the ball at Thornley's feet (89 mins). Steve Hawes was named Man of the Match for Worksop but Todd was probably as much of a menace to the Altrincham defence, on the left flank. For Altrincham this had been a fine team performance, with the defence and midfield battling well to keep out a lot of second half pressure. Band, Craney, Rose and Thornley all played well as did the back four. Smith put in some excellent tackles in midfield whilst Rowland showed some good application and forward movement especially in the second half. A measure of their effectiveness was that Acton had few direct shots to save.
---
Full-Time: WORKSOP TOWN 1 ALTRINCHAM 2
---