Match Report
---
GAINSBOROUGH TRINITY (1) 2 ALTRINCHAM (0) 1
UniBond Premier League match,
played on Saturday, 9 November, 2002 at 3p.m.
---
SCORERS
20 mins: Lee ELLINGTON (Gainsborough Trinity 1 Altrincham 0)
55 mins: Rod THORNLEY (Gainsborough Trinity 1 Altrincham 1)
81 mins: Lee ELLINGTON (Gainsborough Trinity 2 Altrincham 1)

---
REFEREE: Mr. I. Knee (Wakefield)
---
ATTENDANCE: 467
---
BACKGROUND
---
SUMMARY
Altrincham did not play well in a lacklustre first half but Gainsborough were not a lot better and it took a magnificent volleyed goal from Lee Ellington to separate the sides at the interval. Altrincham equalised after 55 minutes when Maddox hooked on a Rose pass to Thornley, who scored neatly at the back post. Peter Band got clear minutes later but did not hit the target when one-on-one with home goalkeeper, Richardson. However, Alty then had the better of the game until Trinity's Ellington found some space just outside the box and drove home a slightly mis-hit shot, low to Acton's left (81 mins). Although Talbot headed against the outside of the post in the last minute, it was Altrincham's under-par first-half which ultimately cost them the game.
---
TEAM NEWS
Gainsborough included two ex-Altrincham players, Chris Timons and Lee Ellington in their line-up. A third Gainsborough ex-Robin, Colin Alcide, had been allowed to join Exeter City earlier in the week. Making his second "debut" for Trinity was former Lincoln, Huddersfield and Plymouth centre-back Richard Logan, who returned to The Northolme this week. Altrincham fielded an unchanged side for the third successive game, whilst injured players Jason Gallagher, Danny Murphy and Neil Ryan watched from the main stand.
---
TEAMS
GAINSBOROUGH TRINITY (All blue): 1. Barry RICHARDSON, 2. Darren KNOWLES (capt.), 3. Dan BROWN, 4. Richard LOGAN, 5. Chris TIMONS, 6. Luke STATON, 7. Alex CALLERY, 8. Paul ESHELBY, 9. Lee ELLINGTON, 10. Phil STANT, 11. Richard LUCAS. Subs: 12. Dean WALLING, 14. Mark ANDERSON, 15. Chris SHAW.
ALTRINCHAM (Red & white striped shirts, black shorts, red socks): 1. Richard ACTON, 2. Gary SCOTT, 3. Chris ADAMS, 4. Mark MADDOX, 5. Gary TALBOT, 6. Stephen ROSE, 7. Vernum ROWLAND, 8. Ian CRANEY, 9. Peter BAND, 10. Rod THORNLEY (capt.), 11. Sean SMITH. Subs: 12. Andy McDONALD, 14. Andy TUNNICLIFFE, 15. Matthew DUFFY.
---
MATCH REPORT
After Friday's torrential rain, the pitch at the Northolme was nevertheless in good condition as the teams changed ends, leaving Altrincham to kick-off, playing towards the bright, low sun. The game started slowly with Smith sidefooting well over the bar from 20 yards from a Band lay-off after four minutes. Band soon needed treatment for a facial injury (5 mins) before Trinity won the first corner of the game, off Maddox, on the Trinity right. The short-corner was wasted. Craney then won Alty a free-kick which was cleared and then Scott fell as he headed a long punt backwards to his keeper but fortunately the header found Acton (7 mins). Eshelby then won a corner off Talbot, which Scott headed out (10 mins). The best chance to date came when Rowland and Craney combined and Thornley played the ball on well to Craney whose cross rolled across the face of goal, as Band closed in (12 mins).
Chris Timons was then penalised for mauling Ian Craney but soon Trinity had a good chance of their own. Knowles found Ellington in space and his lay back to Lucas ended with the Trinity number eleven spooning his shot way over the bar (17 mins). After an Alty move involving Craney, Rose, Scott and Band had broken down, Trinity's Callery advanced up the Trinity right. His cross into the Alty box found Ellington who executed a superb scissor-kick volley which gave Acton no chance as it flashed into the net, to the keeper's right from about 12 yards (20 mins).
Above: Richard Acton retrieves Ellington's shot from the net, as Maddox, Scott and Talbot head forward for the restart.
From the restart, Chris Adams had to make a fine saving tackle on Ellington inside Alty's penalty area. This gave Gainsborough their third corner of the match as the home side got on top. Rose was lectured for a trip on Brown, 25 yards out from goal, in a central position. From this, the player-manager, Phil Stant, rattled the Alty crossbar (25 mins). Soon afterwards Acton fluffed a low shot from Eshelby which escaped from his grasp but rebounded to safety (30 mins). Altrincham were not finding their men and were clearing their lines with untargeted clearances, repeatedly giving away possession in the process. A fourth Trinity corner soon arrived, won by Ellington. Talbot got this clear but his side at this stage were causing the Gainsborough defence little concern. Finally, however, Altrincham won their first corner, through Thornley's harrying of Chris Timons (39 mins). Craney's corner led to nothing as the keeper was awarded a free-kick.
Another Gainsborough corner soon followed as Graham Heathcote and Dalton Steele got increasingly animated on the Alty bench, with the linesman being the main recipient of their advice; "shut up" was the assistant referee's considered response. Knowles fed Eshelby who contrived to get behind Maddox, but Talbot made an excellent covering tackle, which gave Trinity corner number six of the half. This was half-cleared by Talbot but a cross came back in to Ellington who fed Eshelby, who put his header over the bar of the gaping Altrincham goal (43 mins).
Next, a ball over the top beat Talbot and Ellington attempted to chip the advancing Acton, but failed to get enough height on his effort to beat the Alty keeper (43 mins). Timons then caught Band in the face with his hand and the Alty man once more needed treatment to his head. After Timons, too, had had treatment, the referee gave the former Alty captain a talking to for his raised-arm challenge. From the resulting free-kick by Adams, Alty won only their second corner of the game, which was cleared. Just before the end of a first-half which lasted for 51 minutes, Craney got into the box and, not for the first or last time, was clearly held by Logan, but the referee failed to see this and, instead, it was Logan who then went down to get treatment to his leg. The half had been generally disappointing with Altrincham, in particular, not really finding their rhythm.
---
Half-Time: GAINSBOROUGH TRINITY 1 ALTRINCHAM 0
---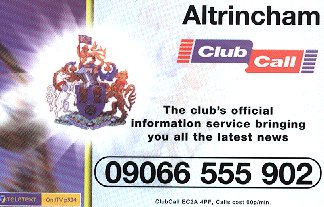 The second half started with Alty on the backfoot. Soon, the game descended into a few minutes of stop-start action as three bookings came in as many minutes. Rowland was the first into the book for a trip on Ellington, who had turned well in midfield thirty yards from goal (51 mins). Then Knowles was booked for trying to block an Acton kick illegally (53 mins) and, finally, Stant tripped Craney to earn the third caution (54 mins). Thankfully, the game picked up almost immediately as Alty scored.
A Scott ball into the penalty area was cleared out to Adams on half-way. The ball then came to Rose whose ball forward was hooked on by Maddox, about 20 yards from goal, to Thornley at the back post. The Alty captain finished neatly from close range to make the score 1-1 (55 mins). Immediately, Alty withdrew Rowland and sent on McDonald (55 mins).
Trinity soon won a corner from which Timons headed over the bar (57 mins). Alty then had a golden chance to go ahead when Brown dawdled over the ball and Band dispossessed him about 25 yards out. Band advanced on the Trinity keeper but from the right of goal the Alty man shot comfortably wide of the keeper's right post (58 mins). Then Ellington caught Adams badly, though accidentally, and the Alty man needed treatment (58 mins). Next, Acton inexplicably stopped a loose ball which was running out for an Alty goalkick and as a result his side lost possession and Smith ended up being booked for what looked a fairly innocuous tackle on half way (60 mins).
The game still lacked real flow but Altrincham now enjoyed some dominance. Craney got onto a high ball from Rose and got in a shot even though he was being held by Callery. A Scott back pass then bobbled badly causing Acton some problems as he kicked clear. Andy McDonald began to make an impact on the game as Altrincham looked the more likely to score. A Rose free-kick almost found Talbot in the box but his attempted, ambitious scissor kick failed to connect. Thornley then got in a testing low cross from the right which keeper Richardson cut out well. Alty manager Graham Heathcote had another go at the officials after a throw-in decision before the silver-booted Shaw replaced Callery for Gainsborough (66 mins).
Altrincham almost scored soon after this when McDonald fed Craney, who cut in from the right and hit the side netting. Then Timons felled Craney 25 yards out. Thornley hit his free-kick into the wall. (73 mins). However, Rose had to be alert to stop the dangerous Ellington at the other end as the home side came back into things. Eshelby then shot well over the bar from 20 yards (77 mins). It was nevertheless a little out of the blue when Trinity scored their second goal. Stant and Shaw had combined well but Scott had done well to head clear to the right of his own goal. However, the ball soon came back to Ellington, just to the left of goal, just outside the penalty area. Although the Trinity man appeared to miskick his shot, it had enough power and direction to beat Acton, low to his left (81 mins).
At this point Ellington was announced as Man of the Match before two fouls, by Craney and Maddox, allowed Trinity to maintain their impetus. There was then some silliness when, following a fine forward header by Rose, Thornley collided with keeper Richardson as they chased the ball and two home defenders precipitated an unnecessary melee around the Alty captain (86 mins). A Gainsborough corner came soon after this before a silly trip by McDonald made him the third Alty player to be booked (88 mins). Alty then won a corner. From Carney's kick Talbot rose well at the back post and headed against the outside of the upright (89 mins). After allowing so much additional time in the first half it was surprising that Mr Knee played just one minute overtime in a second half which had been littered with stoppages and substitutions.
Altrincham looked to have been heading for at least a point for much of the second half but were undone by Ellington's late goal. However, it was the lacklustre first-half performance which probably cost them the game as they failed to test a Gainsborough side which was far from dominant and had not won in its previous six league games. Had the Robins played for the full 90 minutes as well as they did for the half hour after their equaliser, the outcome could have been very different.
---
Full-Time: GAINSBOROUGH TRINITY 2 ALTRINCHAM 1
---