Match Report
---
ALTRINCHAM 0 BRADFORD PARK AVENUE 0
UniBond Premier League Match,
played on Tuesday, 12 November, 2002 at 7.45p.m.
---
| | |
| --- | --- |
| Matchday Sponsor | Matchball Sponsor |
| ROBINSON PRESERVATION | CHINA AIRLINES |
SCORERS
None
---
REFEREE: Mr. D. Whitby
---
ATTENDANCE: 495
---
BACKGROUND
Bradford had never won at Moss Lane on five previous visits but could have gone clear at the top of the UniBond Premier League had they won tonight. Altrincham went into the match lying 16th after two narrow defeats to Barrow and Gainsborough.
---
SUMMARY
This was a very entertaining goalless draw which, after an even first half, saw considerable pressure from Bradford in the latter stages which Alty absorbed well to allow few clear openings to the visitors. Alty included two Youth players Steve Lunt and John McEvoy on the bench, as well as Vernum Rowland, who started the game. Indeed, 17 year-old Lunt went close with a rasping shot just after joining the game, seven minutes from the end. Gary Talbot was Man of the Match.
---
TEAM NEWS
Altrincham brought in Andy McDonald on the left of midfield for his first start in eight league games; Sean Smith was the player to give way. Making their debuts on the bench were two Youth team players, Stephen Lunt (17), a local lad whose Alty connections go back to the age of 11 when he scored at Moss Lane whilst playing in a schools' competition during the half-time break of a Conference match.
Fellow Youth teamer Jon McEvoy is a Cheshire Colleges and County squad midfielder. With 17 year-old Vernum Rowland starting the game, there were three teenagers in the Alty squad but the injured Danny Murphy, Jason Gallagher and Neil Ryan remained sidelined. Alty welcomed back to the bench physio Gary Thompson, who had been at Leigh RMI this season, in place of Anne-Marie Jones.
Bradford included their former Bayern Munich keeper, Lutz Pfannenstiel, who had made his BPA debut at Moss Lane last season. Another familiar face in their side was left-winger Rory Prendergast, who spent some years at Emley.
---
TEAMS
ALTRINCHAM (Red & white striped shirts, black shorts, red socks): 1. Richard ACTON, 2. Gary SCOTT, 3. Chris ADAMS, 4. Mark MADDOX, 5. Gary TALBOT, 6. Stephen ROSE, 7. Vernum ROWLAND, 8. Ian CRANEY, 9. Peter BAND, 10. Rod THORNLEY (capt.), 11. Andy McDONALD. Subs: 12. Andy TUNNICLIFFE, 14. Stephen LUNT, 15. Jon McEVOY.
BRADFORD PARK AVENUE (Yellow shirts with black and red hoops, yellow shorts and socks): 1. Lutz PFANNENSTIEL, 2. Matt DALY, 3. Martin JAMES, 4. Danny WALSH, 5. James STANSFIELD, 6. Graham MITCHELL, 7. Robbie PAINTER, 8. Wayne BENN (capt.), 9. Andy HAYWARD, 10. Jason MAXWELL, 11. Rory PRENDERGAST. Subs: 12. Phil LINDLEY, 14. Richard TRACEY, 15. Phil ATKINSON.

---
MATCH REPORT
After a minute's silence in memory of Albert Allen, a long-time supporter and owner of the Cresta Court Hotel, Bradford kicked off towards the 20/20 End. Within the first minute a neat move by Alty up the left involving Rowland, Craney, Thornley and McDonald ended with Adams's ball into the box which Band headed wide as he was jostled in the air by Stansfield, the former Ossett Town stopper. Prendergast replied instantly with a low cross from the left across the Alty box before Craney fed Thornley, who got past his man on the right but saw his cross headed clear.
The lively end to end start then gave way to a few minutes of more scrappy football before Bradford won a free-kick for a foul by Rowland. From this, on the BPA left, the ball skimmed off Maxwell's head, just wide of goal (12 mins). A punt forward then set Thornley free on the Alty left and his neat pass inside to Craney was undone by the midfielder's uncharacteristic lack of control inside the penalty area. Thornley was popping up all over the pitch as he chased energetically for possession but, at this stage, Altrincham's passing was not all it might have been whilst Bradford were finding their men with more certainty.
However, the Alty defence was playing well, keeping Acton well protected. Alty then began to apply some pressure with a cross from Thornley being just too high for the hardworking Band and, next, Craney beat Benn before Alty won a throw. Craney soon did well again, clipping a ball into the box, which just reached Pfannenstiel before Thornley arrived (20 mins). Further throw-ins and a free-kick for a foul on Thornley by Mitchell followed but no clear shooting chances arose for the Robins until McDonald drifted past two opponents and found Adams whose cross led to a blocked effort from Rowland. The ball then came to Band, who fed Talbot whose shot, from an awkwardly bouncing ball, went over the bar from 15 yards (25 mins). Thornley was again felled by Mitchell but Mr Whitby showed leniency throughout, awarding a free-kick and delivering a lecture rather than a booking. Bradford got Adams' resulting free-kick clear.
Bradford then had a good chance when Prendergast got behind Scott on the visitors' left and his cross was knocked on by Painter to Hayward but the former Frickley man's firm shot rose narrowly over the bar from the right of goal (27 mins). Following a throw won by Prendergast, Walsh's shot was deflected out for the game's first corner, on the Bradford right (30 mins). Acton got a less than clean punch onto the ball but it was enough to clear the danger. The Alty keeper soon had to be alert to get to an underhit Adams back-pass. Alty responded with an attack of their own as the flowing football continued. Then, after Rowland had won the ball well, he found McDonald, on the left, and from his lay-off Rose fired in an excellent shot from a central position outside the box which just cleared the Bradford bar (31 mins).


Left: Man of the Match, Gary Talbot.
Adams then initiated another Alty move which led to his side's first corner of the game when McDonald's shot was deflected following a Thornley feed (33 mins). Craney mis-kicked the corner before Maddox received treatment to a leg injury in his own area (34 mins). Following this, Craney soon surged past Stansfield but Walsh got in a covering tackle. Alty then won a second corner when Band's effort from an Adams ball was knocked out of play. Altrincham were now enjoying a good spell and Pfannenstiel had to back-pedal anxiously when he misjudged an Adams cross, but a defender cleared the danger for the Yorkshiremen (38 mins). Following a snap shot from Thornley, which Pfannenstiel saved comfortably, Maddox had to limp off, to be replaced by Andy Tunnicliffe as Stansfield received a lecture from the referee for yet another foul by him on Thornley (40 mins).
A minute later, BPA also made a change, with Painter being replaced by Richard Tracey, the former Macclesfield man, who scored against us in 2000/01 when playing for Gateshead. Rose was now in Maddox's place in the back four as Stansfield committed another foul, this time on Band, but again escaped with just a free-kick awarded against him and no caution (42 mins). The half ended with Bradford coming back into the game but the score remained blank as the half-time whistle went. Altrincham had played well and there did not appear to be anything like a 14-place league-table gap between the sides.
---
Half-Time: ALTRINCHAM 0 BRADFORD PARK AVENUE 0
---
Alty started off the half with Rod Thornley racing forward into the left corner and then Andy Tunnicliffe got in a cross from the same part of the pitch, which yielded a throw. Tunnicliffe went close a few minutes later when Rose and Scott combined for Band to feed the Alty left-flanker. His fine, low shot flashed narrowly wide of the goal from 20 yards out on the left (49 mins). With both the home and away fans in good voice, the game was halted for treatment to Rose, following which Acton put his deadball kick straight into touch (52 mins).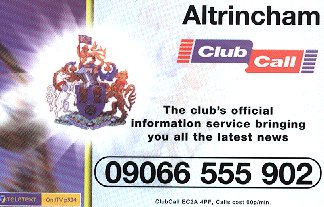 Ten minutes into the half, Bradford won a corner on their left, taken by Prendergast. Talbot had to clear this off the line before a shot at the other end by Rowland took a huge deflection which went unnoticed by the match officials who awarded a goalkick much to Graham Heathcote's amazement. The fiery Prendergast and Peter Band then had a little spat which led to a lecture from the referee before Bradford won another corner. Adams then set Thornley and Band running through the middle of the Bradford defence with Pfannenstiel deflecting the ball out for what should have been a corner but which was ruled out for offside (62 mins).
Following this lively Alty break, Bradford won their fourth corner of the match, yet again on the left, won by Tracey off Talbot from a break by Prendergast. Soon afterwards, Stansfield headed narrowly wide at the back post from a cross by Prendergast as the visitors now asserted themselves. Following a throw, Prendergast got in another good cross which Hayward, at the back post, hit into the side-netting. Thornley replied by getting past Pfannenstiel at the other end but the ball ran free to a defender to clear and give Alty their third corner of the match, on the right. A subsequent attack ended with another foul by Stansfield, this time against Band (67 mins). Despite the end to end nature of much of the game neither keeper had had a lot to do in the way of dealing with direct shots.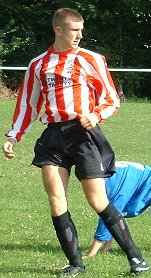 Craney then did well, turning and shooting smartly to win Alty another corner. This was cleared and Bradford responded with an attack of their own as the end to end play continued. However, Bradford soon applied some concerted pressure which won them five corners in eight minutes. From the second, Hayward headed well over the bar but that was the most danger that came from any of them. With Alty on the back foot, they brought on 17 year-old striker Steve Lunt (seen left) for his first-team debut, replacing midfielder Vernum Rowland (83 mins).
Within seconds, Thornley made progress on the left and fed Lunt who struck an excellent shot across goal from an acute angle. Soon afterwards, Tunnicliffe fired in another shot from the left which Pfannenstiel saved. Then the lively Tunnicliffe was flattened by Daly after the Alty man had neatly taken the ball past the defender in the centre of the Bradford half. Daly became the first and last name to enter Mr Whitby's notebook (88 mins). Altrincham finished the stronger having weathered Bradford's sustained pressure in the preceding fifteen minutes.
For the sixth time in seven league games Altrincham had been up against top of the table opposition and they have emerged with a creditable ten points from these matches. Bradford's draw put them level with Accrington at the top of the table but Altrincham dropped one place to 17th. As well as marking the introduction of Youth players Lunt and McEvoy to the first-team squad, this game was also notable as the first league match this season in which Altrincham did not pick up any bookings. Gary Talbot was a deserved Man of the Match for the second home game in succession but there were quite a few other good performances as well tonight in the Altrincham team.
---
Full-Time: ALTRINCHAM 0 BRADFORD PARK AVENUE 0
---