Match Report
---
ALTRINCHAM (1) 1 GAINSBOROUGH TRINITY (0) 1
UniBond Premier League Match,
played on Saturday, 16 November, 2002 at 3p.m.
---
| | |
| --- | --- |
| Matchday Sponsor | Matchball Sponsor |
| | |
SCORERS
43 mins Peter BAND (Altrincham 1 Gainsborough Trinity 0)
79 mins Phil STANT (Altrincham 1 Gainsborough Trinity 1)
---
REFEREE: Mr. K.J. Mattocks
---
ATTENDANCE: 576
---
BACKGROUND
For the second successive Saturday Altrincham were playing Gainsborough; the Lincolnshire side won 2-1 last Saturday at The Northolme in a closely fought game. Gainsborough had yet to win a league game away from home.
---
SUMMARY
In a disappointing first-half Altrincham took the lead just before the interval with a fine headed goal by Peter Band from a Rod Thornley cross from the left (43 mins). Gainsborough pressed strongly in the second half and Alty's rhythm was disrupted by the departure of the injured Talbot. After applying sustained pressure, Trinity equalised directly from a 22-yard free-kick by Stant, after a foul by Craney (79 mins). A draw was a fair outcome.
---
TEAM NEWS
Altrincham were without the injured Mark Maddox, but Danny Murphy and Jason Gallagher were fit to return to the bench after each had missed the last four league games. Andy Tunnicliffe made his full league debut, on the left of midfield, after seven substitute appearances, whilst Steve Rose moved from midfield to centre-back to replace Maddox. Peter Band started up front with Rod Thornley. Gainsborough had the same eleven as last week apart from the silver-booted Anderson, who came into the starting line-up for Staton. Former Robins, Chris Timons and Lee Ellington both started for Trinity.
---
TEAMS
ALTRINCHAM (Red & white striped shirts, black shorts, red socks): 1. Richard ACTON, 2. Gary SCOTT, 3. Chris ADAMS, 4. Stephen ROSE , 5. Gary TALBOT, 6. Andy McDONALD, 7. Vernum ROWLAND, 8. Ian CRANEY, 9. Peter BAND, 10. Rod THORNLEY (capt.), 11. Andy TUNNICLIFFE. Subs: 12. Jason GALLAGHER, 14. Stephen LUNT, 15. Danny MURPHY.
GAINSBOROUGH TRINITY (All blue): 1. Barry RICHARDSON, 2. Darren KNOWLES (capt.), 3. Danny BROWN, 4. Richard LOGAN, 5. Chris TIMONS, 6. Richard LUCAS, 7. Alex CALLERY, 8. Paul ESHELBY, 9. Lee ELLINGTON, 10. Phil STANT, 11. Mark ANDERSON. SUBS: 12. Neil ALLISON, 14. Chris SHAW, 15. Jermain RICHARDS.
---
MATCH REPORT
After changing ends, Altrincham kicked off towards towards the 20/20 End and, within a minute, had won a free-kick for a trip on Thornley, near half-way on the left. This came to nothing and soon, Ellington, playing on the left, went past Rowland but Scott swept up the danger. There followed a couple of throws and a free-kick for a trip on Craney, for which Lucas was given a lecture, in what was a stuttering start to the game. Trinity's third foul in the first six minutes, this time by Stant, gave Adams a free-kick from 45 yards out on the left. He found the head of Band but the ball dropped easily for Richardson in the visitors' goal.
Timons then immediately committed another foul, on Band; from this Craney won and then took a corner on the Alty left. From this, Band was penalised for "climbing" (8 mins). At the other end, a misplaced back-header from Talbot forced Acton to concede a corner. This was half cleared to Eshelby, who fed Callery, but he screwed his effort very wide as Rowland closed him down (9 mins). Stant soon won a second Gainsborough corner, off Rose, which Callery took, from the left. This was half cleared but from Knowles's subsequent cross, Timons headed comfortably over the bar (12 mins). Despite this action, both sides were losing possession with regularity as the game struggled to attain a flow.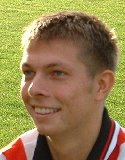 Left: Andy Tunnicliffe, man of the match.
Things got better when a superb ball forward by Talbot got Thornley running in behind Logan. Richardson did well to beat out the shot and when the ball came back to Thornley, a corner resulted off a defender, on the Alty left. This was caught by Richardson. At the other end, Stant got to the by-line behind Rowland but Alty got a goalkick. Band and Thornley then combined well and when Thornley's ball in from the left was half-cleared, McDonald thumped it over the bar from 20 yards, in a central position.
There was then one of those unfortunate incidents, which always amuse the crowd, when linesman, Mr Denton, was struck in the face by a Gainsborough ball, and needed treatment (26 mins). Scott then saw off Ellington, whose wide role in this game did not seem to play to his attacking strengths. McDonald was showing commitment in midfield and he won a free-kick which Acton took from inside his own half. Rowland and Scott then combined with Band to feed Thornley, whose shot struck Timons to earn a corner, Alty's third, on the right. Craney wasted this by putting the ball straight out of play at the back post. After Scott had held Ellington, Callery's free-kick was cleared by Tunnicliffe.
Adams then fed Thornley on the left and he won another Alty corner. Craney and Adams combined over this but nothing came of it. Trinity's player-manager, Phil Stant, next picked up a ball from Callery to the left of goal and went past two or three Alty men, as he moved towards centrefield, near the edge of the box. Stant's chip, to the keeper's right, had Acton scurrying but it narrowly missed the target (35 mins).
The errors continued from both sides with the oddest being a corner conceded by Rowland from a ball played towards his own goal along the Alty right touchline, from 25 yards out. From this Alty had a let-off when Stant's near-post header hit Tunnicliffe, who had positioned himself well on the goal-line (39 mins). Band and Thornley continued to put in plenty of effort and running up front for Altrincham but their next goal effort came from Rowland who lashed a loose ball from Callery just wide of the target from the right of goal (41 mins). Then from amidst the generally disappointing tone of the game came a goal of quality. Adams fed McDonald whose ball forward saw Timons confronting both Band and Thornley, on the Alty left about 35 yards out.
Timons's attempted tackle saw the ball rebound for Band who fed Thornley, to his left. As Rod advanced, Peter headed for the goalmouth and when an excellently flighted cross came in from Thornley, Band leapt through the air to plant a superb, firm header past the exposed goalkeeper from about 10 yards out (43 mins). From the restart Gainsborough lost possession and the marauding Thornley again got free on the left but, without support in the centre, Rod shot wide. Rowland then did well to set up a Scott cross but Richardson caught this cleanly. Just before half-time Stant won a corner off Talbot. Acton's punch from Callery's corner was not totally effective and came to Eshelby who was fouled by Craney. From the inswinging Trinity freekick in the right corner of their attack, Acton held the ball at the second attempt (45 mins).

---
Half-Time: ALTRINCHAM 1 GAINSBOROUGH TRINITY 0
---
At half-time Alty replaced Rowland in right-midfield by Danny Murphy, who was returning after injury. From an early Tunnicliffe cross Thornley drove a shot just wide of the keeper's right post (46 mins). Soon, Band won an aerial challenge against Richardson, from a cross by Thornley 35 yards out on the right, but the referee gave the keeper a free-kick which he did not seem to deserve. Trinity then went close when Eshelby advanced on their right. He played it back to Knowles and eventually Ellington got to the by-line with a neat turn of speed but he lashed his shot from an acute angle high across the face of goal (50 mins).
Play was of a better standard in this half, so far. Stant then got in behind the Alty defence and even got past Acton but he was not quick enough to finish his chance before the Alty defence cleared the danger for a corner on the Trinity left (53 mins). This was cleared and Band, Craney and Thornley broke away, only for Thornley to be pulled back just outside the Trinity box by Logan. A free-kick was given but no further action taken against the centre-back. As the free-kick was being lined up, Talbot came to the touchline for treatment to his left leg. Thornley hit the free-kick into the wall but the follow-up won a corner through a deflection off Logan. Craney's corner was half-cleared to Tunnicliffe who fed Craney for a goalbound lash at goal from 20 yards which hit a defender to give Alty another corner (56 mins).
Thornley then advanced on goal only for Richardson to beat him to the ball as Altrincham enjoyed their best spell of the game. Logan once more took Thornley out of the game but again escaped any punishment other than a free-kick. This came out to McDonald who shot very high over the bar from 35 yards. Play stopped for Band to receive treatment to his head before Tunnicliffe made a fine tackle on half way only to concede an undeserved free-kick and, even more surprisingly, strong censure from the the referee (60 mins). At this point, Talbot limped off to be replaced by Gallagher. Band now moved back into defence and from this point Altrincham seemed to lose their impetus.
After a foul by Lucas, Craney wasted a free-kick by taking it too quickly before Rose saw off a Stant advance. Then, Gallagher broke well and fed Thornley who in turn got the ball to Craney whose shot won a corner on the right. From this, Rose's header found Thornley but he could not turn his effort past Richardson. Anderson then went down in the Alty box as Adams challenged. The referee gave a corner which Tunnicliffe cleared at the near post at the cost of a second corner. Gainsborough were now applying some pressure as Altrincham were restricted to breakaways. Another Trinity corner soon followed and after this a cross by Callery saw Ellington's diving header brilliantly tipped up, and over his bar, by Acton, for a Corner, Trinity's fourth inside five minutes.
Scott then tackled Anderson in the box and a small fracas developed, presumably because the Trinity man was felt to have dived. The referee gave no penalty and subsequently lectured both Anderson and Stant. The Trinity pressure continued as Stant got into the box but his shot was well blocked by Adams at the cost of another corner. Although a Thornley breakaway forced Richardson to dribble clear into his own corner, Trinity's pressure was ominous for the home side. So, it came as no surprise when they equalised. the goal came when Craney fouled Eshelby just as the midfielder was about to shoot from 22 yards. The free-kick, in a central position, was driven to the left of the Alty wall by Stant and straight into Acton's right-hand corner of the net for the equalizer (79 mins).
Two minutes later Callery chipped a shot just over the bar following a throw-in but Thornley did cause some concern to the visitors when Adams played him in behind Logan. The home side now rallied a bit as Scott and Craney combined and Murphy got on the end of Craney's chip but his header was well saved (86 mins). In the final minute Tunnicliffe set Murphy running and he was brought down on the Alty left touchline, about 30 yards out by Chris Timons. Mr Mattocks now produced his book when it was too late to matter and cautioned the former Alty captain (90 mins). Andy Tunnicliffe was named Man of the Match.
Overall, the game was not the most entertaining ever to be seen at Moss Lane but a draw was probably a fair outcome. Altrincham seemed to lose their way after having to reorganize to accommodate the injury to Talbot. The return of Murphy and Gallagher after long lay off was good to see but it meant that they needed time to play themselves back into match fitness. The Alty defence played well and McDonald and Craney had their moments in midfield, Band as ever showed plenty of effort and Thornley, especially in the fist half, was as energetic as ever. Alty now move on to a League Cup match against Hyde on Monday night.

---
Full-Time: ALTRINCHAM 1 GAINSBOROUGH TRINITY 1
---