Match Report
---
ALTRINCHAM (1) 1 FRICKLEY ATHLETIC (0) 0
UniBond Premier League Match,
played on Saturday, 23 November, 2002 at 3p.m.
---
| | |
| --- | --- |
| Matchday Sponsor | Matchball Sponsor |
| KIMBERLEY PROPHET | POLYMER PROCESSING MACHINERY LTD. |
SCORERS
33 mins: Rod THORNLEY (Altrincham 1 Frickley Athletic 0)
---
REFEREE:
Mr. D.F. Mort
---
ATTENDANCE:
582
---
BACKGROUND
This match marked the half-way point of Altrincham's league season. Without a league win in their last four matches, Altrincham were trying to prevent Frickley climbing above them by winning at Moss Lane.
---
SUMMARY

Ian Craney attempts to thread his way through the Frickley defence, with Rod Thornley (no.10) and Jason Gallagher looking on as Frickley skipper Mark Hancock moves in for a tackle.
This narrow but deserved win for Altrincham has taken them up two places in the League. Rod Thornley, fresh from his audience with the Queen in midweek, skilfully headed the goal from a well-flighted McDonald free-kick after 33 minutes to exact retribution on Frickley's Jackson, who had fouled the Alty captain to the left of goal. After a fairly even first half, in which Altrincham missed several chances and Acton made a crucial save, Altrincham had most of the attacks in the second period. With sharper finishing, the win would have been more comfortable.
---
TEAM NEWS
Altrincham brought back Simon Woodford after he had missed twelve league matches following a workplace accident. For the first time he started up front rather than in wide midfield, alongside Rod Thornley, who was back after his absence at Buckingham Place with the England team last Monday. Jason Gallagher was fit once again but Danny Murphy could play no part today.
Neil Ryan was also still sidelined through injury as was Gary Talbot. Another player returning to the squad was Sean Smith, who was on the bench after missing the last two league games. Youth-team striker Steve Lunt was also on the bench, along with Andy Tunnicliffe. Peter Band played at centre-back rather than up-front, with Stephen Rose in midfield. In his programme notes Graham Heathcote alluded to new arrivals on the horizon at Moss Lane. In the crowd were former Alty man Anthony Hargreaves, recently released by Hyde and sporting the most striking blue bandanna ever seen at Moss Lane, and Paul Taylor, the Alty defender whose career was ended by injury last season.
Frickley included the former Barnsley player Curtis Bernard.
---
TEAMS
ALTRINCHAM (Red & white striped shirts, black shorts, red socks): 1. Richard ACTON, 2. Gary SCOTT, 3. Chris ADAMS, 4. Mark MADDOX, 5. Peter BAND, 6. Stephen ROSE, 7. Jason GALLAGHER, 8. Ian CRANEY, 9. Simon WOODFORD, 10. Rod THORNLEY (capt.), 11. Andy McDONALD. Subs: 12. Stephen LUNT, 14. Sean SMITH, 15. Andy TUNNICLIFFE
FRICKLEY ATHLETIC (White shirts, with black trim, blue shorts and socks.): 1. Mark SAMWAYS, 2. Duncan RICHARDS, 3. Chris GOWEN, 4. Craig ELKIN, 5. Anthony JACKSON, 6. Paul MARQUIS, 7. Mark HANCOCK (capt.), 8. Lee MORRIS, 9. Andy EVANS, 10. Curtis BERNARD, 11. Chris NEWTON. Subs: 12. Nigel HENSTOCK, 14. Phil SHARPE, 15. Mark HINE
---
MATCH REPORT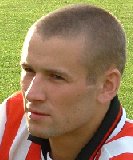 After heavy morning rain, the pitch was soft but the game itself was played out in bright, dry conditions. Alty kicked off towards the Golf Road End. After just a minute, Frickley's Morris lost possession and Ian Craney got to the by-line to cross the ball from the right where Woodford (seen, right) headed narrowly over the bar from a central position. Morris did better soon afterwards, robbing McDonald as he dwelt on the ball, but Adams cleared up the danger. Alty soon had another chance when Thornley got onto Acton's clearance and found Craney in space. Sadly, the midfielder shot tamely across goal from left to right (4 mins). Woodford was then caught narrowly offside as he threatened to get in at goal on the right before Scott found Craney who flicked the ball on smartly to Woodford, whose cross from the right was met by a stooping header by Thornley in the centre-left of the box.
This header found Craney, who drove a fine, left-foot shot against Samways's right post from 20 yards (8 mins). At the 20/20 End, a low cross from the right by Morris was easy for Acton. Following a foul on McDonald by Elkin, Thornley drove a free-kick from 20 yards into the wall and from the rebound, Rod found Adams, whose cross found Woodford at the back post but he directed his header wide (12 mins). After these four early chances for Altrincham, Frickley themselves went close after 14 minutes when Gowen initiated an attack up the left from which Williams found Evans in the Alty box, but the striker shot wide of Acton's right upright. Acton put the resulting goal-kick straight into touch (15 mins).
The first corner of the game resulted from Craney's endeavour following a McDonald pass on the right. Craney's poorly flighted corner luckily came back to him off Maddox and ran eventually to Thornley who won a left-side corner . Again, Craney's delivery was poor. Not long after this Maddox did well to clear from Bernard before Rose earned a lecture for a trip on Morris, 40 yards from the Alty goal. Maddox cleared the free-kick into touch (23 mins). Graham Heathcote was less than happy with his side at this point but things got no better when Jackson flattened Thornley near the Alty right touchline, 10 yards inside the Frickley half. After treatment for Thornley, Adams's looping free-kick was held by Samways at the second attempt.
Next, Rose played a loose back pass which gave Frickley an unnecessary corner on their left which was eventually cleared. In retrospect, the turning point of the game came after 29 minutes when from Richards's and Elkin's build-up, Williams drove a firm shot at goal from the right, just outside the box, only for Acton to make a magnificent diving save low down by his right post. Evans was then caught offside as Frickley enjoyed a bit more of the game. However, after Adams had found Thornley on the left, the Alty man was laid low for the second time by Jackson who escaped again without a booking. However, his side paid a price for his rash challenge, towards the Alty left touchline, 20 yards out. From the free-kick, taken by McDonald, Thornley found some space and flicked an expert header looping past the keeper and into the net to give Alty the lead (33 mins).
Following the restart, an error by Jackson gave Craney a shot which he put weakly into Samways's hands. A foul by Adams on Evans earned the defender a lecture and Frickley a free kick. Adams redeemed himself by clearing Richards's free-kick with a fine diving header. Then Maddox cleared well, at the cost of a corner award for Frickley. Acton alarmingly slipped over as the corner came in but after being half-cleared the ball ended up in the Alty keeper's arms. Frickley now applied some pressure and after Acton had cut out Elkin's cross, when he had got past Gallagher, Williams then got past Rose and the ball came from Gowen's cross to Evans. The striker drove a golden chance to equalise past the post, to Acton's right, when he should have hit the target from 12 yards or so (40 mins). Frickley won a late corner off Maddox but this was cleared as Alty held onto their narrow, but merited, lead at the interval.

---
Half-Time: ALTRINCHAM 1 FRICKLEY ATHLETIC 0
---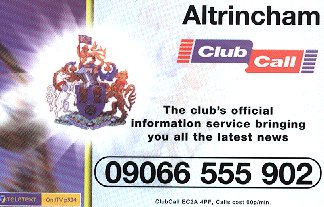 At half-time, a Tesco Extra schools' 5-a-side match was played in which Altrincham Prep. School beat Hale Prep 1-0.
When the second half started Newton got behind Adams but wasted his opportunity with a poor pass but then McDonald responded with a fine through ball for Woodford which the striker was unable to gather cleanly. Following a Gallagher cross which was half-cleared, Alty won an early corner on the right. This time it was taken by Adams rather than Craney, who pointedly took no second-half corners after his disappointing first half efforts (49 mins). Samways caught Adams's effort at the near post.
Rose and Scott, both of whom had good games, cleared two potential Frickley attacks before a foul on Thornley won a free-kick 23 yards out from goal on the left. Adams's well-taken kick found Maddox, who stretched to head the ball just over the bar (53 mins). Soon after this Thornley went down under an Elkin challenge but the referee was not impressed and play continued. 17 year-old Steve Lunt now came on to replace Woodford up front for Alty (54 mins), as ex-Stalybridge striker Andy Evans received treatment. After a visitors' free-kick had been cleared, Thornley latched onto a very poor clearance by Frickley and advanced into the box but his shot was well saved by Samways. The ball came straight back in from Gallagher's low cross from the right for Lunt to get in a close range shot but the Frickley keeper made an excellent point-blank save to frustrate the Alty striker (58 mins).
Then Band played a ball to Thornley on the left and he won a corner as he tried to find Lunt with a cross. McDonald took this corner but yet again it was a poor Alty flag-kick, going low and weakly to a defender. Jackson then tripped McDonald and again escaped personal punishment as he conceded a free kick 20 yards out to the left of centre. From this, Maddox got the ball to Lunt whose shot on the turn was blocked by Samways. Henstock now replaced the concussed Evans for the visitors (61 mins) and two minutes later Gallagher gave way to Tunnicliffe on the Alty right. Jackson committed another foul, felling Thornley, who lost his boot in the process, and this time even the referee had had enough and belatedly booked the Frickley man (65 mins). Hemstock began to make an impression but Scott tidied up the danger with a neat back-header to Acton, who had seen little second-half action.
From an Adams ball, Craney then turned well but his shot, as he fell, went over the target (67 mins). Next, from Craney's cross from the right, Alty won another corner, taken by McDonald. Adams and Tunnicliffe then combined well but the ball ran to Samways as Thornley arrived and executed a prodigious jump over the keeper's body (69 mins). Altrincham continued to press and another corner followed as the game approached the final quarter of an hour. McDonald, who had a good game, then fed Thornley and his shot from the left edge of the box went narrowly wide of goal (78 mins). Thornley had another chance soon afterwards when a rushed clearance struck him. He advanced into the box and got hold of his shot but it rose over the bar, then a minute later he had his third chance in a two minute spell. This time, a fine ball forward set him up for a great lob, just over the bar (80 mins).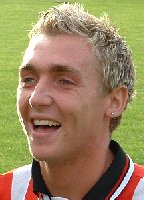 Craney gave away a free-kick at the other end as Bernard was being driven sideways across the pitch, 30 yards out from Acton's goal, this led to a second free-kick against Adams, which was overhit and went for a goal-kick. (82 mins). McDonald then prompted another Alty chance when he advanced well up the left and fed Thornley, whose cross was headed wide by Lunt from close range (84 mins). Craney then got in a shot straight at Samways, from Thornley's pass (85 mins) before a low McDonald cross was held by the keeper as Lunt arrived on the scene. After this, Tunnicliffe won an Alty corner on the right as Alty continued to dominate. In the two minutes of added time, McDonald found the side netting with a low shot from the left just as he was named Man of the Match. With Scott down injured, Band lashed the ball out of play and when play resumed Craney shot well off target from 25 yards. This was a deserved win which was made the tighter by Altrincham's failure to take at least half a dozen presentable chances. At the final whistle a sequence of four league games without a win sudenly became a run of three league games without defeat!

---
Full-Time: ALTRINCHAM 1 FRICKLEY ATHLETIC 0
---