Match Report
---
BRADFORD PARK AVENUE (0) 0 ALTRINCHAM (1) 1
F.A. Trophy Round Two match,
played on Saturday, 30 November, 2002 at 3p.m.
---
SCORERS
8 mins: Rod THORNLEY (Bradford Park Avenue 0 Altrincham 1)

---
REFEREE: Mr. ? (Sheffield)
---
ATTENDANCE: 437
---
BACKGROUND
Alty had lost heavily on their previous visit to the Horsfall Stadium, last season, but the sides had played out an entertaining goalless draw at Moss Lane earlier this season. BPA lay second in the league table whilst Alty lay 16th at kick-off.
The game was played in steady rain more or less throughout and, in the second half, the visibility closed in quite markedly whilst the pitch became very heavy. Considering his Alty connections, it was surprising to see Angus Loughran ("Statto") sponsoring an away rather than a home game.
---
SUMMARY
Alty manager Graham Heathcote peers into the second half gloom and rain.
A fine all-round performance by Altrincham saw them come away from the Horsfall Stadium with a win from this FA Trophy 2nd Round tie. Rod Thornley got the decisive goal after just 8 minutes when he shot well from 12 yards after a pass by Gallagher from the right, which had followed good work by Craney.
The second half was played in dreadful conditions with heavy rain making the pitch a gluepot and visibility being seriously reduced. Despite a lot of Bradford pressure Alty had the better chances and twice struck the crossbar as they played a breakaway strategy with marked success. Bradford's main threat came from Prendergast on the left but after early second-half Bradford pressure, Altrincham weathered the closing stages fairly comfortably.
---
TEAM NEWS
Altrincham welcomed back Gary Talbot to central defence, which allowed Peter Band to play further forward behind Rod Thornley, who was supported by Ian Craney. Also returning to the starting line-up was Sean Smith, for his first start in five games on the left of midfield. Simon Woodford and Andy McDonald were missing from the side that played last Saturday, though Woodford was on the bench. Still out injured were Danny Murphy, Vernum Rowland and Neil Ryan. Kurt Edginton, who was last season's cover keeper, made his first appearance in an Alty squad this season.
In the pouring rain, all of the crowd huddled in the main stand, leaving the other three sides vacant apart from a small number of Bradford officials in the changing room complex on the far side of the pitch. Bradford fielded the same line-up as last Saturday except that Painter replaced Lindley.
---
TEAMS
BRADFORD PARK AVENUE (All white, with a green hoop on shirts): 1. Lutz PFANNENSTIEL, 2. Richard TRACEY, 3. Martin JAMES, 4. Danny WALSH, 5. James STANSFIELD, 6. Graham MITCHELL, 7. Robbie PAINTER, 8. Wayne BENN (capt.), 9. Andy HAYWARD, 10. Jason MAXWELL, 11. Rory PRENDERGAST. Subs: 12. Phil LINDLEY, 13. Matt BOTWOOD, 14. Ian RICHARDS, 15. Richard ATKINSON, 16. Anthony BINGHAM
ALTRINCHAM (Red & white striped shirts, black shorts, red socks): 1. Richard ACTON, 2. Gary SCOTT, 3. Chris ADAMS, 4. Mark MADDOX, 5. Gary TALBOT, 6. Stephen ROSE, 7. Jason GALLAGHER, 8. Ian CRANEY, 9. Peter BAND, 10. Rod THORNLEY (capt.), 11. Sean SMITH. Subs: 12. Steve LUNT, 13. Kurt EDGINTON, 14. Jon McEVOY, 15. Andy TUNNICLIFFE, 16. Simon WOODFORD.
---
MATCH REPORT
Bradford kicked off with the rain falling steadily on a pitch which already looked a little worn and soft. The hosts had the better of the opening stages and won a corner off Gary Scott, on their left flank, after 3 minutes. An Altrincham free-kick from half way by Adams then bounced over everyone to the BPA keeper, the colourful ex-Bayern Munich man Lutz Pfannenstiel (5 mins).
Following a Bradford throw by Stansfield, Ian Craney won the ball well and then advanced up the centre across the half-way line, before feeding Jason Gallagher with an accurate pass as he was advancing to his right. Jason was judged to have sprung the offside trap but Pfannenstiel closed him down quickly as he advanced into the box and Gallagher instinctively played the ball inside, to his left, where he found Rod Thornley in the outer half of the penalty area, slightly left of centre. Rod still had a lot to do but controlled the ball well before driving it past a retreating defender and into the net for a goal (8 mins).
Mark Maddox and Gary Talbot continued to see off the Bradford probings whilst Gary Scott was being kept busy by the constant feeding of Rory Prendergast on the Bradford left. Acton got down well to save a Bradford shot after 10 minutes and shortly afterwards play stopped as the referee made the Alty goalkeeper remove his necklace! Bradford continued to press but Alty, and Thornley in particular, were looking dangerous on the break. Smith, who showed a lot of commitment in midfield, almost got Thornley free after 14 minutes but Rod was flagged offside. Then, following an Acton punched clearance, Gallagher fed Craney on the right but his shot was blocked on the edge of the box.
Prendergast then got past Scott, though whether entirely legally was open to question, and from his cross from the left Painter found himself clear on goal. He shot badly wide of Acton's post, to the keeper's left (17 mins). Bradford's Benn then won a corner on their right side which Acton missed completely but which a defender cleared, only for Thornley to be caught offside. With Band marauding behind Craney and Thornley, Altrincham were looking well organised and manager Graham Heathcote needed to shout few corrective orders from the sidelines. After Rose had cleared well, the ball came via Craney to Smith whose fine pass set Thornley in on goal but Pfannenstiel saved well at the cost of a corner to Altrincham on their right (22 mins).
Adams's corner and follow-up were both cleared before a foul by James on Gallagher, 30 yards from the Bradford goal earned him a booking (23 mins). From Maddox's free-kick the ball came back to Rose who ballooned his effort well over the target from 25 yards. Rod Thornley was now hobbling badly and holding the small of his back or top of his left hip. He hobbled to the bench but then played on without treatment. The steady rain now momentarily eased before Maddox was felled and emerged covered in mud from the top of his head downwards. Prendergast won his side a corner soon after the half-hour mark before Gallagher was fouled, to give Alty a free-kick in the right corner of their attack. Pfannenstiel mispunched Smith's freekick but it was cleared.
Thornley was still hobbling when Talbot and Craney linked to set Rod clear on the keeper to the left of goal. Rod got in a decent shot which the keeper saved rather fortunately with his legs but a fit Alty striker might well have given the goalie no chance (35 mins). Alty had now had three very good goal chances in the game. Smith then caught Benn after the ball had gone and was lectured by the referee (37 mins). Stansfield's freekick was cleared by Acton to Thornley, who found Craney. he made a great turn past a defender before firing a shot just wide of goal (38 mins).
Talbot and Maddox continued to make a number of excellent clearances in the Alty defence whilst Adams and Scott kept the flanks reasonably quiet at this stage. Considering his earlier lecture, Smith was lucky to escape a booking when he fouled Walsh. The rain was now heavier once more and beginning to lie on the surface in some parts of the pitch. When Maxwell pushed over Band he could perhaps consider himself unlucky to receive a yellow card. From Maddox's freekick, Thornley won a clean header which went just wide of the keeper's left post (44 mins). Half-time arrived with Altrincham deservedly ahead; despite early Bradford pressure and the menace of Prendergast, the visitors had created four or more good chances.
---
Half-Time: BRADFORD PARK AVENUE 0 ALTRINCHAM 1
---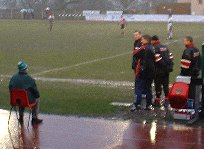 During the second half, Alty physio Gary Thompson offered a vocal Bradford fan, who had been shouting comments from the stand throughout the game, a chair by the touchline so that he could more easily get his message through to the players. The picture shows the fan taking up Gary's offer as the Alty bench look on.
As play resumed, Gary Scott was now sporting a large bandage on his right hand. With the incessant rain and the failure of one of the three bulbs in a floodlight at Acton's end of the pitch, it began to be difficult to see clearly to the far corner of the pitch. However, it was evident that Prendergast had won an early corner over there (47 mins). Soon, Craney won Altrincham a corner at the other end, on the left but when he himself took it, he struck it too deeply across goal.
Following a Stansfield throw, Gallagher fed Band who attempted to break through the centre but the ball stuck in the mud. Following a foul by Scott a Bradford freekick from their left side was headed over the Alty bar by a BPA player. (51 mins). The Altrincham fans sang loudly to keep their team going as the rain lashed down and conditions became increasingly gloomy. Indeed, many Alty fans were as concerned that there would be an abandonment as that their side would concede a goal. After Acton had sent a clearance directly into touch, there was a stoppage for Mitchell to be treated. Acton fielded a poor cross by Hayward but then punted it into touch once again (55 mins)!
Bradford were having the better of things this half as Altrincham defended resolutely. However, on the break, Thornley was pulled up for offside but continued on and lobbed the keeper to "score" only to earn himself a booking (59 mins). A few minutes later a fine breakaway initiated by Adams saw Rose advance well and chip a shot only narrowly over the bar as Altrincham once again showed a more incisive touch than Bradford (60 mins). Smith then advanced well up the left but the keeper gathered his cross (63 mins). However, Bradford soon advanced up the left and a cross came out of the gloom which Maxwell headed against the upright as he came in at the back post (69 mins). The rebound was put out for a corner to Bradford.
Soon another left wing cross came in but this one was headed over by Maxwell. Rose was showing a lot of endeavour in midfield and indeed all round the Alty team were battling well. Following a freekick 35 yards out by Adams, from the left, Band headed firmly onto the crossbar and only a corner resulted for Altrincham. Again Craney overhit the flagkick.
After 76 minutes Altrincham replaced Gallagher by Steve Lunt, who joined Thornley up front. Visibility continued to worsen as Altrincham gave Bradford little sight of their goal. A dramatic five trills of the whistle by the referee heralded the booking of Stansfield and the award to Altrincham of a freekick, though it was not clear what his offence had been (81 mins). Then as Lunt closed down Pfannenstiel, the German keeper sliced the ball into touch. Soon after this Acton was lucky to avoid censure when his supposed kick to a colleague for a throw seemed to be deliberately kicked into the crowd. The referee simply looked pointedly at his watch. From a free-kick taken soon after this by Maddox Thornley advanced to the right of goal and put in a fine chip shot from 18 yards which beat the keeper but struck the crossbar and went over the goal (85 mins).
Altrincham were now looking well capable of at least holding their lead to the end. They made a late change bringing on Woodford for the still ailing Thornley (88 mins). After playing an unannounced three minutes or so of added time, the whistle went to herald Altrincham's progress into round three of the FA Trophy and to earn them £1,000 in prize money.
Many of Alty's best performances this season have been either against top of the table teams or/and away from home - this was both. The whole team played well today with Thornley outstanding in counter-attacking mode and Ian Craney, especially in the first half, lending him great support. Band and Rose did well in midfield whilst Maddox and Talbot were strong at the back and Jason Gallagher had his best game since returning from injury. With FA Cup glory already impossible and our League position being less than healthy, a run in the Trophy offers the Altrincham team their last chance of some glory in the 2002-03 season.
---
Full-Time: BRADFORD PARK AVENUE 0 ALTRINCHAM 1
---