Match Report
---
COLWYN BAY (1) 2 ALTRINCHAM (0) 1
UniBond President's Cup 1st Round match,
played on Tuesday, 10 December, 2002 at 7.45p.m.
---
SCORERS
42 mins: Carl FURLONG (Colwyn Bay 1 Altrincham 0)
47 mins: Carl FURLONG (Colwyn Bay 2 Altrincham 0)
83 mins: Colin WEBSTER (o.g.) (Colwyn Bay 2 Altrincham 1)

---
REFEREE: Mr. Ian Faulkner
---
ATTENDANCE: 115
---
BACKGROUND
Colwyn Bay had been two minutes away from defeating Radcliffe Borough in the UniBond Challenge Cup 2nd Round when a Niell Hardy equaliser sent the tie to extra time, which the Welsh side lost and which consigned them to the President's Cup. For their part, Alty had "qualified" for the President's Cup by losing at home to Hyde United in the Challenge Cup.
The game was played on a bitterly cold night but Old Colwyn thankfully did not experience the biting easterly winds that were blowing in Altrincham this evening. The Llanelian Road pitch looked in good condition for what was the Bay's first home game for more than a month.
---
TEAM NEWS
Altrincham rested seven regular first-teamer regulars (Acton, Maddox, Craney, Scott, Rose, Smith and Thornley) whilst Ryan, Rowland and Murphy remained sidelined by injury. In fact, six of the Altrincham starters tonight had started two or fewer previous games for the Robins this season (Edginton, Shuttleworth, McEvoy, Robinson, Lunt and Tunnicliffe), whilst Killeen, (on the bench), had not played previously at all for the first team. Indeed, the squad contained three teenage Youth team players (Lunt, McEvoy and Killeen).
Kurt Edginton kept his place in goal after deputising well for Acton at Marine last week. Barry Shuttleworth started his first game since his return to Altrincham and Andy McDonald returned to partner him in midfield. The versatile Peter Band started this time at the back, leaving Steve Lunt and the on-loan James Robinson (from Crewe Alex.) up front.
The Bay also started without some regulars; Deiniol Graham, Lee Coathup and Marc Limbert were all on the bench. Returning in goal was Boswell, who has just recovered from a knee operation. Ex-Alty man Carl Furlong was captain of the Bay side. Former Alty defender Stuart Scheuber featured on the front of the Bay programme but he was not on view tonight as he has now moved on to Flexsys Cefn Druids in the League of Wales. The referee, Ian Faulkner from Liverpool, was also not unknown to Altrincham fans as he had run the line at Alty's FA Cup 2nd Round match against Darlington last season.
---
TEAMS
COLWYN BAY (All sky blue, with maroon edging on shorts and shorts): 1. M. BOSWELL, 2. Colin WEBSTER, 3. Adie MOODY, 4. Glen GRAHAM, 5. Colin CATON (capt.), 6. A. JONES, 7. J. STANNARD, 8. R. WILLIAMS, 9. Carl FURLONG (capt.), 10. Lee KISSOCK, 11. James McILVOGUE. Subs: 12. Deiniol GRAHAM, 14. Marc LIMBERT, 15. Lee COATHUP.
ALTRINCHAM (Red & white striped shirts, black shorts, red socks): 1. Kurt EDGINTON, 2. Jason GALLAGHER, 3. Chris ADAMS, 4. Peter BAND, 5. Gary TALBOT (capt.), 6. Barry SHUTTLEWORTH, 7. Jon MCEVOY, 8. Andy McDONALD, 9. James ROBINSON, 10. Steve LUNT, 11. Andy TUNNICLIFFE. Subs: 12. Simon WOODFORD, 14. Luke KILLEEN, 15. Ian CRANEY.
---
MATCH REPORT
Colwyn Bay started the stronger but the only excitement in the first few minutes was a low shot from Kissock, who got behind Talbot to fire in a shot which Edginton held comfortably (3 mins). Belying their troubled league position, the Bay were passing neatly and looking solid at the back where their player-manager Colin Caton organised things in front of restored keeper, Boswell. Indeed, the keeper also kept his defence on their toes with plenty of vocal instructions throughout the game. Alty's Lunt and Robinson combined neatly after nine minutes but the ball ran to Boswell before any real danger threatened. After treatment to a Carl Furlong injury, Altrincham then began to settle down and McEvoy got in a cross from the right but Boswell caught this (11 mins).
Stannard, on the Bay right was showing some good skill and pace to keep Adams exercised. Lunt then got in a good cross from the Alty left, which came back to McDonald who curled his shot wide of Boswell's left post from 20 yards (12 mins). Boswell then came out smartly to stop Lunt (16 mins) as the visitors looked as if they might now gain the upper hand. However, a foul by Band gave the Bay a free-kick just outside the box in a central position and Kissock's low free-kick took a marginal deflection to give the Bay the first corner of the game, on their left (20 mins).
Gallagher cleared this but Jones fired in a long range shot from the resulting loose ball but his effort went narrowly wide of Edginton's right post. A fine interception by Adams then sent Shuttleworth running forward and, via Robinson, the ball came to McEvoy whose cross won Alty their first corner, on the right (23 mins). Band got to Adams's inswinging corner and the ball then seemed to come off a defender onto the Bay upright to the keeper's left, but it was then cleared.
Play was now end to end and Gallagher had to make an important tackle in the box after McIlvogue had got past Band and into the box. After McDonald had been felled, the victim took a free-kick from 25 yards out. This glanced wide, off Band's head (25 mins). Stannard continued to threaten for the Bay and his cross from the right found Furlong whose lay-off was cleared by the defence. A fine ball over the defence by Gallagher then set up Robinson for a first-time shot which went narrowly wide of Boswell's right post (32 mins). Next, Furlong got round Band but his shot was blocked and Kissock put the rebound well over the cross bar (38 mins).
Soon, a flick-on through the centre by Lunt set up Robinson for another shot at goal but his firm shot from 20 yards went just wide, once more, to the keeper's right (39 mins). A foul by McDonald on Williams led to a Bay free-kick which Jones put well over the bar from 25 yards (40 mins). The even play looked to be producing a goalless first half when Stannard again advanced up the right. His shot was blocked by a defender but the ball ran free and left Furlong with a fairly easy chance from close range, which he converted by knocking the ball just inside Edginton's right post (42 mins). The two minutes of added-time board was soon shown but Furlong still had time before the interval for a good run past two defenders but the ball was eventually cleared.
---
Half-Time: COLWYN BAY 1 ALTRINCHAM 0
---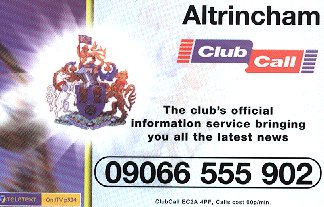 Having succumbed to a goal just before the break, Altrincham then conceded a second two minutes after the restart and, once more, the scorer was Carl Furlong, who had left Moss Lane under a cloud last season following his sending off in the Cheshire Senior Cup Final. The second goal came when Kissock took advantage of an error by Adams, on the Alty left, and the Bay man's effort came back off the cross bar to the waiting Furlong who gently nodded the ball into the vacant net from close range (47 mins). Furlong then missed a sitter immediately afterwards when good work by Kissock and Stannard saw Carl completely miss the latter's cross in front of an inviting goal.
Soon, Furlong was in action again, racing for a ball which was running to Edginton and which the Alty keeper had to be smart to reach before the marauding Bay striker (52 mins). Kissock soon sent a snap shot over the bar as the home side dominated proceedings at this stage (55 mins). Next a Bay free-kick for a foul on Furlong saw the ball put well over the Alty goal. Alty now changed things with a double substitution by which Simon Woodford came on, along with Ian Craney. They replaced Andy Tunnicliffe and Jon McEvoy (58 mins).
Jason Gallagher was now lectured for a foul on Stannard, who received treatment by the left touchline. Nevertheless, Jason was soon penalised again for holding Furlong on the half-way line (61 mins). The Bay's Williams then hobbled off precipitating a humorous slanging match between the linesman and Graham Heathcote. The linesman forced the injured player to return to the field so that he could be formally substituted by Marc Limbert, the former Alty winger, but the Alty manager told the referee's assistant what he thought of his decision, before the official told him to "Get back in your kennel (63 mins)!".
Colwyn Bay soon won a corner on the right which Band cleared only for Jones to drive in a low shot, which went well wide (63 mins). As yet, Alty had not troubled the Bay keeper at all in the second half but Peter Band was now playing in midfield rather than at the back to add some punch to Alty's forward movements. Steve Lunt then needed treatment after coming off worse in an aerial challenge and had to hobble off with a leg injury to be replaced by his teenage Youth team colleague Luke Killeen, who came on for his first-team debut (69 mins).Three minutes later Alty got in their first true shot at goal of the second half when McDonald and Craney conspired to feed Robinson for a shot which went narrowly wide (72 mins).
A lecture was then picked up by McIlvogue for a trip on Craney as he raced through centre-field but Shuttleworth put the free-kick well over the bar from 25 yards (73 mins). Alty were now playing with just three at the back, (Adams, Gallagher and Talbot), as they sought to get into the game. Craney's arrival had added some urgency to midfield and he got in a shot from 25 yards from a McDonald feed. Gallagher then advanced up the right and Killeen got in a shot which was just over the bar.
At last, Altrincham were applying some pressure (80 mins). However, a Furlong shot at the other end caused Edginton to grab the ball, on his knees, at the second attempt. Bay now brought on Deiniol Graham for Kissock (82 mins) but, within a minute, Alty had a goal. It came when Killeen played a fine ball forward to Woodford on the right. Woodford attempted a cross which was blocked but at the second attempt he got the ball across the goal where Webster inexplicably, but seemingly deliberately, headed the ball back across his keeper and into the corner of his own net from near the six yard line (83 mins). However, Bay responded well by winning a free-kick from 35 yards but this was hit badly wide. Then a much better effort came in from Deiniol Graham, who had got behind Gallagher on the Bay left, and forced Edginton to a good save at his near post, which yielded a corner.
Alty nearly redeemed themselves when Killeen, on the left, fed Robinson who struck a fine, low shot across goal from 22 yards which cannoned off the foot of Boswell's left post and rebounded to safety (85 mins). After a foul on Woodford, who needed treatment, Craney's free-kick went into Boswell's arms. The four-minute board was now shown as Gary Talbot added his height to the Alty attack. Furlong nearly capitalised on the gaps at the back as he outpaced Gallagher through the middle but the ball ran on to Edginton. The Bay held out without further alarms to knock Altrincham out of the UniBond President's Cup and leave them with just the FA Trophy as a possible route to cup glory this season.
So, Altrincham have still not won a match this season in which the opposition has scored first. With such a new side of new signings and youth players, it was not surprising that Altrincham did not fire on all cylinders during this game. However, the game gave Graham Heathcote the opportunity to run his eye over more of his squad members and he will have gained a better idea of who might be included in the line-up for Saturday's game at in-form Stalybridge Celtic.
---
Full-Time: COLWYN BAY 2 ALTRINCHAM 1
---