Match Report
---
STALYBRIDGE CELTIC (2) 2 ALTRINCHAM (0) 0
UniBond Premier League match,
played on Saturday, 14 December, 2002 at 3.00p.m.
---
SCORERS
17 mins: Gary SCOTT (own goal)(Stalybridge Celtic 1 Altrincham 0)
37 mins: Gregg PEARCE (Stalybridge Celtic 2 Altrincham 0)

---
REFEREE: Mr. G. Foulkes
---
ATTENDANCE: 857
---
BACKGROUND
Stalybridge had recently surged up the table and were the form team of the Division, lying second in the League, whereas Altrincham were fifteenth. The game was played on a good surface but in very dull conditions with drizzly rain which got increasingly heavy as play progressed.
---
SUMMARY
An impressive Celtic side made life difficult for Altrincham in the first half especially. They went ahead from an own goal by Gary Scott, who converted Potts's cross from the right (17 mins). Indeed, the Celtic winger was to go on to be the deserved Man of the Match. The second goal also came from a cross from the right when German outwitted Thornley to get on the end of a short corner and drive in a cross which Pearce firmly headed home after 37 minutes. Alty brought on Shuttleworth and Robinson at half time but immediately lost Gary Talbot on a stretcher, necessitating a third change. Though Alty played better in the second period, Celtic finished strongly to run out comfortable winners.
---
TEAM NEWS
Altrincham's side was less inexperienced than the one fielded at Colwyn Bay last Tuesday in the President's Cup. Youth team striker Steve Lunt has now joined the injury list and none of his Youth team colleagues featured today. Lunt will be out for three weeks but long-term absentee Danny Murphy hopes to be back in action on Boxing Day. Richard Acton returned in goal after his suspension. Stalybridge fielded the same team as in their last league game. The referee was Mr Foulkes, who had officiated at Burscough in our league victory there this season.
---
TEAMS
STALYBRIDGE CELTIC (Blue shirts with white trim, blue shorts and socks): 1. Craig DOOTSON, 2. Dave GERMAN, 3. Danny CALDECUTT, 4. Earl DAVIS, 5. Gregg PEARCE, 6. Danny HOOPER, 7. Darren BOWMAN, 8. Kevin PARR (capt.), 9. Kenny MAYERS, 10. Phil EASTWOOD, 11. Colin POTTS, Subs: 12. Chris DENHAM, 14. Nathan WHARTON, 15. Jerome FITZGERALD
ALTRINCHAM (Red & white striped shirts, black shorts, red socks): 1. Richard ACTON, 2. Gary SCOTT, 3. Chris ADAMS, 4. Mark MADDOX, 5. Gary TALBOT, 6. Stephen ROSE, 7.Jason GALLAGHER, 8. Ian CRANEY, 9. Peter BAND, 10. Rod THORNLEY (capt.), 11. Sean SMITH. Subs: 12. James ROBINSON, 14. Barry SHUTTLEWORTH, 15. Andy TUNNICLIFFE.
---
MATCH REPORT
Stalybridge started well and after little more than sixty seconds, Richard Acton made a fine double-block from Eastwood after good work by Bowman and Mayers but the whistle had already gone for offside. The gloved Colin Potts, the former Lancaster City wide man, soon began to show his pace on the Celtic right. However, Alty won the game's first corner when Davis had to be alert to head off Thornley as he chased a fine through ball from Craney. Adams wasted the corner with a poor, low and short effort. Smith then took a free-kick for Alty and Band's flying header from this went well over the bar (8 mins).
Play was now fairly even but Potts discarded his gloves and set about giving Adams a busy time in the Alty left-back berth. Hooper and Mayers, the former Lancaster centre-back, next combined to feed Eastwood who brought the ball down well but put his shot well over the bar. As Jason Gallagher received treatment for a head knock, the floodlights came on to brighten the very gloomy afternoon. German, Bowman and Potts were combining well up the right and when Potts got past Adams, Maddox had to be alert to nip in and concede a throw. German, Mayers and Potts then linked well and the winger's cross, driven low across the box from the right, was turned into his own net by the stretching and retreating Scott, from close range (17 mins).
Ian Craney was looking the most constructive of the Alty players and after a neat turn by Smith, Craney beat two men and found Gallagher, only for the offside flag to go up. Rod Thornley was getting little possession from the well marshalled Stalybridge defence as the home side now had the upper hand, with Potts on the right the major threat. Scott nearly scored a second own goal when he had to retrieve a misheader by Talbot, but his own header went narrowly wide of the upright to give Stalybridge a corner on their left, from which an offside followed (28 mins). Alty then created their best chance of the half when Adams got up the left and found Craney who in turn laid the ball off for Thornley. His low shot from the edge of the box was blocked.
Soon afterwards Craney, too, had a goalbound shot blocked. An Alty free-kick from 35 yards by Smith found Band but the ball ran on to Dootson in the home goal. Soon, however, Band was having to execute a diving header in his own penalty area to give Celtic another corner, which was cleared by Gallagher. Alty were now under sustained pressure from Stalybridge, with the German-Bowman-Potts triumvirate on the right side being the main threat. Another Celtic corner came, off Rose, on their right. Thornley was slow to see German advance past him to receive the short-corner and he was too late when he did chase back to stop the former Leigh right-back from whipping in a cross which Pearce headed firmly home, from a position towards the back post, to double Celtic's lead (37 mins).
Half-Time: STALYBRIDGE CELTIC 2 ALTRINCHAM 0
---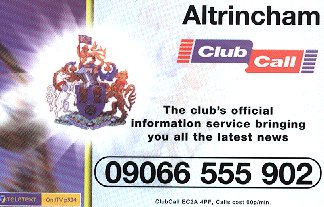 Alty manager Graham Heathcote changed things around at the interval, withdrawing Gallagher and Adams and bringing on Robinson (up front) and Shuttleworth (at left-back) instead. Alty started the half well with a freekick for a foul on Craney leading to a shot by Smith, which was blocked, and then Craney put the follow-up wide, to the right of goal. Before play could resume, Talbot had gone down and almost immediately a stretcher was called for- but it took some time to come. However, as he was carried off on it with a leg injury, the Alty defender was well enough to sit up on it and acknowledge the supporter's generous round of applause (47 mins). Andy Tunnicliffe came on and Peter Band went into the defence. Rose and Tunnicliffe then got Robinson running at goal but he spooned his shot badly wide and high from 22 yards.
Potts now tried his luck with Shuttleworth, who fouled him, but Alty were having more of the ball than in the first half, especially on the left flank. A Stalybridge corner soon followed and from this Potts's fine cross just evaded everyone as it flashed across goal (55 mins). Eastwood began to show his skills and got in two shots which were blocked, the latter being a 25 yarder which Acton saved well (61 mins). After Eastwood had fed Potts, Maddox was judged to have tripped him right on the very front edge of the Alty box. The Alty man was booked (62 mins) and Eastwood put in a low freekick which Acton dived to his right to save fairly comfortably.
The rain was now fairly steady but the introduction of Shuttleworth on the Alty left had produced more impetus from that quarter. Alty then got a freekick on the edge of the penalty "D" when Davis was all over Tunnicliffe. Smith drove the freekick wide of the wall and the goal (65 mins). Robinson soon got the ball to Craney on the left-centre of goal and his skilful jink past a defender set him up for a fine shot which Dootson saved magnificently, diving to his left, to concede a corner on the Alty right. Shuttleworth's corner was cleared amidst an uncharacteristic sequence of miskicks and misheaders by the Celtic defence.
Band was now moved forward to midfield, with Rose slotting in at the back, Shuttleworth then won Alty a free-kick off Potts on the edge of the Alty box as the Robins enjoyed a good spell. Thornley was in evidence now on the left wing but generally he was subdued today by the Celtic defence. However, Stalybridge were to finish strongly. They won a corner 12 minutes from the end off Maddox, from which Maddox himself nearly headed into his own net, Acton having to back-track to tip the ball over the bar for a second corner, on the left. Virtually all of the Stalybridge corners were taken short and this was no exception.
Celtic then used up some time bringing on, firstly, Denham for Mayers (81 mins) and then Wharton for Hooper two minutes later. Between these changes Shuttleworth made a fine saving tackle after Eastwood had got free just over the half-way line. Denham soon got on the end of an Eastwood cross but Acton saved well from point blank range (84 mins). Nevertheless, Alty did win a late corner through Thornley, off Caldecutt, but this was cleared. Robinson was then very clearly manhandled by Davis inside the Stalybridge box but referee Foulkes gave nothing. As the game progressed through the three minutes of added time, Stalybridge won a final corner on the left but they could not add to their first-half goals.
Stalybridge were clearly the better side but Alty did show a marked improvement in the second half. The defeat dropped them two places in the league and with no fixture next week, the Robins will be anxious to take some points from the double-header against Droylsden over the Christmas and New Year period.
---
Full-Time: STALYBRIDGE CELTIC 2 ALTRINCHAM 0
---