Match Report
---
ALTRINCHAM (2) 3 DROYLSDEN (0) 1
UniBond Premier League Match,
played on Thursday, 26 December, 2002 at 3p.m.
---
| | |
| --- | --- |
| Matchday Sponsor | Matchball Sponsor |
| Autotech & Crawford Car Sales | Ark Veterinary Surgery |
SCORERS
23 mins: Ian CRANEY (Altrincham 1 Droylsden 0)
44 mins: Dave GARDNER (Altrincham 2 Droylsden 0)
58 mins: Ian CRANEY (Altrincham 3 Droylsden 0)
64 mins: Neil HALL (penalty) (Altrincham 3 Droylsden 1)
---
REFEREE:
Mr. D.G. Kellett
---
ATTENDANCE:
715
---
BACKGROUND
This was the first league home game at Moss Lane for almost five weeks and only the third league match for the Robins in that period. Despite the inaction, Altrincham's injury crisis had worsened in the intervening period, with Rod Thornley undergoing an operation last weekend and Gary Talbot also ruled out for three weeks or more. However, Danny Murphy was fit once again.
---
SUMMARY
Altrincham wished their fans a Merry Christmas before today's match (see picture) and then presented them with a fine performance and three points against a Droylsden side which, nevertheless, enjoyed a lot of possession. Altrincham debutant Dave Gardner had a fine game on the right flank as did Craney, Maddox and Band but Barry Shuttleworth lifted the Man of the Match award. A finely placed shot by Craney opened the scoring (23 mins) before a 25 yard Gardner shot took a huge deflection off Farley to loop into the net for the second just before the interval.
Band set up Craney for the third (58 mins) before a foul by Adams allowed Hall to net from the penalty spot for the visitors (64 mins). Alty played some fine football on the break but further chances went begging.
---
TEAM NEWS
Danny Murphy returned for his first league start in nine games, whilst Dave Gardner made his "debut" after signing from Salford City. Dave had played one game for Alty in the Conference three seasons ago. With Gary Talbot injured, Chris Adams moved to centre-back, allowing Barry Shuttleworth to emulate Gardner by also making his second League "debut", following his recent return to Moss Lane from Accrington.
Peter Band started up front with Murphy, with Gardner on the right flank. In the absence of Rod Thornley, Mark Maddox captained the side. Rod was present at the game but was still limping after his recent operation. Richard Acton was restored in goal after Kurt Edginton had filled in so capably in the last two games. Neil Ryan and Vernum Rowland were also still out injured, as was Simon Woodford who completed 45 minutes for Flixton last weekend.
Droylsden included two former Robins, Adam Farley and Steve Porter, but there was no place for two other ex-Alty players, James Glendenning and Stuart Locke, though both were present at Moss Lane today.
The referee, Mr Kellett was a good omen for Altrincham as we had convincingly won the last three games in which he had officiated for us.
---
TEAMS
ALTRINCHAM (Red & white striped shirts, black shorts, red socks): 1. Richard ACTON, 2. Gary SCOTT, 3. Barry SHUTTLEWORTH, 4. Mark MADDOX (capt.), 5. Chris ADAMS, 6. Stephen ROSE, 7. Danny MURPHY, 8. Ian CRANEY, 9. Peter BAND, 10. Dave GARDNER, 11. Sean SMITH. Subs: 12. Jason GALLAGHER, 14. Andy McDONALD, 15. Andy TUNNICLIFFE
DROYLSDEN (Yellow shirts, with blue trim, blue shorts and socks.): 1. Paul PHILLIPS, 2. David KERR, 3. Danny WARNER, 4. Adam FARLEY, 5. Garry BURKE, 6. Chris O'BRIEN, 7. Steve PORTER, 8. Neil HALL, 9. Wael NAZHA, 10. Ged MURPHY, 11. Jimmy HAARHOFF. Subs: 12. Gavin SALMON, 14. Paul CHALLINOR, 15. Alex KEVAN.

---
MATCH REPORT
After Altrincham had kicked off Droylsden won a first-minute corner when Shuttleworth cleared from the speedy former Leeds United man, Jimmy Haarhoff. The corner was half-cleared but soon a cross came in which Droylsden captain Burke failed to convert as he missed his header in front of goal (2 mins). At the other end, Danny Murphy nearly got on the end of a cross from the right before Dave Gardner made his first contribution to the game which was an impressive surge up the right flank. Murphy was looking lively after his lay-off and he soon exchanged passes with Band for the latter to drive a shot from right of goal just over the bar (8 mins).
Soon afterwards, Band sprang the offside trap and got in a shot at the near post which Phillips beat out to concede a corner to Altrincham on their left. Before this could be taken the referee lectured the keeper for something he had said (9 mins). Droylsden were soon up at the other end and a move up the left ended in a cross to O'Brien but he did not get hold of his shot, which ran to Acton. Gardner soon did well again, forcing Warner to concede a free-kick in the right corner. However, the new man made a poor effort of the dead-ball kick. As the floodlights came on, Kerr received treatment for a knock but soon afterwards he had to hobble off to be replaced by Alex Kevan, the former Burnley Reserves' skipper (17 mins).
Ian Craney was the next to threaten, getting into the Droylsden box, before Farley cleared the danger. Then Murphy advanced before running into Burke. Droylsden now enjoyed some pressure as the game continued to be evenly balanced. However, it was Altrincham who took the lead when Craney fed Murphy to his left. Craney received the ball back from Murphy before neatly sidestepping a challenge and placing a finely judged shot from 15 yards, low into the bottom corner of the net past the keeper's left hand (23 mins).
Droylsden soon won a corner on the left, but this led to a free-kick for the Robins (27 mins). Maddox was doing well in the Alty defence and Adams, in an unaccustomed central defensive position, was also looking comfortable. After a challenge on Scott had gone unpunished, Adams was pulled up for a trip just outside the Alty box, to the right but Porter's free-kick was cleared (33 mins). Droylsden continued to enjoy some possession but, on the break, Rose found Gardner but the new man hesitated and the opening was gone (34 mins). Shuttleworth then did well to clear another Droylsden attack featuring Haarhoff, Ged Murphy and the lively Kevan.
After a foul by Craney, Acton failed to gather Porter's free-kick and Maddox had to be alert to head off the line as the ball headed towards the top corner of the Alty net. A corner resulted for Droylsden (36 mins). Smith then produced a fine tackle on Ged Murphy to keep the Bloods at bay before a free-kick taken by Gardner led to Danny Murphy feeding Craney, who delayed and missed his chance. Droylsden then made their second substitution of the first half as Salmon came on for Ged Murphy (40 mins).
Altrincham soon carved out a golden chance for Murphy. This came about when Adams and Rose got the ball to Craney who did well to find Band. Band found Murphy, to his left, with a clear view of goal but Danny knocked his shot badly wide from 15 yards (42 mins). Persistence by Band then led to Gardner getting the ball, only for him to be chopped down by Farley, who was duly booked (43 mins). Shuttleworth's inswinging freekick found Gardner and from Shuttleworth's resulting cross Phillips and O'Brien crowded out Danny Murphy as he came in for a header. Next, Maddox fed Gardner, who exchanged passes with Scott before shooting from 25 yards or more. His firm shot hit Farley and looped over Phillips to find the back of the Droylsden net and double Alty's lead (44 mins).

---
Half-Time: ALTRINCHAM 2 DROYLSDEN 0
---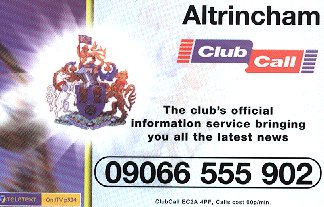 After an entertaining schools' five-a-side game during the interval between Unicorn Athletic and Ashton on Mersey JFC, play resumed with Gary Scott soon needing treatment as an early corner was conceded to Droylsden (46 mins). Scott hobbled off with a knee-tendon problem as play resumed, the corner being cleared by Rose. After first emerging with the wrong shirt number on his back, the Alty substitute, Jason Gallagher, then had to be recalled a second time after he had gone onto the pitch without completing the touchline formalities with the assistant referee (47 mins). Smith then came close when Phillips knocked the ball to him but the Alty man's shot was blocked, before Craney won a corner when his effort skied off Farley.
Craney was now partnering Murphy up front with Band operating impressively in midfield. Kevan then tripped Gardner before Phillips saved from the same player (53 mins). At the other end, O'Brien's firm shot rose just over the bar from 30 yards. However, Gardner was soon impressing again, getting past two defenders in a tight corner to the right of goal, before undoing his good work with an overhit cross (57 mins). Next, Band won possession well, some 30 yards out, and fed Craney, ahead of him. Craney advanced into the box and finished well from a central position, under a defender's challenge, to give Alty a three-goal lead (58 mins).
Alty had a scare soon afterwards when Adams's header almost went past his own keeper but Acton did well to stop the ball one-handed. Droylsden continued to enjoy a fair amount of possession and when Nazha received the ball in front of goal, Adams lunged in and conceded a penalty. Hall sent Acton the wrong way, putting the ball to the keeper's right, low down (64 mins). Haarhoff was then very late in tackling Adams in midfield soon after the restart. Rose then picked up a booking when he arrived late on Kevan (67 mins). Porter soon needed treatment for what might euphemistically be termed a lower abdomen injury, whilst Danny Murphy received treatment for cramp.
Stoppages for treatment and free-kicks broke up the game's rhythm at this stage; Smith's foul on Kevan being the next incident, followed soon after by a foul on Craney. A fine cross from Shuttleworth on the left then found Band in space and, though he hung in the air well, his header went downwards and Phillips was not too seriously troubled in saving it (71 mins). Another stoppage came when Acton and Salmon collided, the Droylsden man coming off the worse as the keeper gathered the ball.
Altrincham were now soaking up the Droylsden pressure and playing on the break. From one such break Murphy fed Gardner who was tripped as he got behind the last man, Farley, but the referee saw no offence in this. Had he done so Farley may well have "walked" as he was the last man. As play carried on, Droylsden won a corner on their left. Porter then hobbled off to be replaced by Challinor (74 mins). Burke got in a free header from the corner but the ball cleared the bar. Alty then replaced Murphy with McDonald (74 mins). Droylsden continued to press but on the break Gardner found Craney who outpaced Farley but slid his low shot narrowly wide of Phillips's right post as the keeper advanced towards him (79 mins).

There was then a couple of minutes of excitement as, first, Band misplaced the ball but was then gifted back possession before Nazha got in a 20 yarder at the other end which produced a good save from Acton. Gardner responded by advancing onto the Droylsden box before shooting over the bar (79 mins). From the next attack the ball came out to Rose who cleanly hit a shot from 25 yards which Phillips did superbly to beat out to his right (80 mins). Gallagher then advanced up the right, only to be fouled by Burke, as Altrincham, applied pressure. Another chance came Alty's way soon afterwards when Gardner again made good progress up the right and his cross was headed narrowly over the bar by McDonald as he stretched for the ball (82 mins). Further pressure induced Salmon to foul Band for which he was booked (83 mins).
Just after the "4 minutes" board had been shown, Andy Tunnicliffe replaced a now limping Gardner, who left to a generous round of applause after a very impressive debut (87 mins). Alty were now well in control and it took a foul by Challinor to stop Craney 35 yards out. The final effort of the game was a low shot from Gallagher, on the right, which came off Farley for a corner as he came across in front of Phillips. As the match ended Barry Shuttleworth (pictured after the game) was somewhat surprisingly named as Man of the Match. The left-back had played well but, for their impact on the course of the game, Gardner, Craney or Band seemed more likely candidates for the award.
Alty have now lost just one of their last six league games despite being ravaged by injury. In Gardner they seem to have a very useful acquisition and for the side to score three goals without leading scorer Rod Thornley in the side will have pleased the Alty manager. Before the return fixture at the Butcher's Arms on New Year's Day, Alty travel to Colwyn Bay on Saturday.
---
Full-Time: ALTRINCHAM 3 DROYLSDEN 1
---