Match Report
---
COLWYN BAY (2) 2 ALTRINCHAM (0) 3
UniBond Premier League match,
played on Saturday, 28 December, 2002 at 3p.m.
---
SCORERS
26 mins: Deiniol GRAHAM (Colwyn Bay 1 Altrincham 0)
36 mins: Deiniol GRAHAM (Colwyn Bay 2 Altrincham 0 )
52 mins: Peter BAND (Colwyn Bay 2 Altrincham 1)
61 mins: Ian CRANEY (Colwyn Bay 2 Altrincham 2)
85 mins: Andy McDONALD (Colwyn Bay 2 Altrincham 3)
---
REFEREE:
Mr. Andrew Hutchinson (Great Sutton)
---
ATTENDANCE:
447
---
BACKGROUND:
Colwyn Bay had beaten Altrincham 2-1 eighteen days earlier in the President's Cup, on a freezing cold night in front of a small crowd of diehards. Today saw Colwyn Bay's second highest gate of the season witness this League match played on a dull but dry afternoon on a pitch whoch had been well watered by recent rain.
---
TEAM NEWS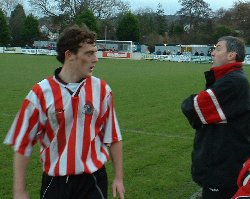 Barry Shuttleworth, with Graham Heathcote, during today's game.
Colwyn Bay had beaten an experimental Alty side in the recent UniBond President's Cup encounter and it was another unfamiliar Altrincham team which lined up today at Llanelian Road. Top scorer Rod Thornley was out injured, as was centre-back Gary Talbot, fellow central-defender Mark Maddox was suspended, whilst Gary Scott had not recovered from the tendon injury suffered on Boxing Day.
So, Chris Adams, who himself had to pass a late fitness test, played in an unaccustomed central defensive role, alongside Peter Band. Danny Murphy was making only his second start after a long injury lay-off, whilst Dave Gardner and Barry Shuttleworth were both making only their second starts in an Alty league game. Craney and Murphy started the game as Alty's front men. To add to this unaccustomed team formation, Jordan Burke was making his Alty debut after a transfer this week from NW Counties' side Flixton. Neil Ryan was a welcome but surprise inclusion on the bench after missing the last ten league games through injury.
The Bay's player-manager Colin Caton named himself on the bench, but the familiar ex-Altrincham faces of Marc Limbert and Carl Furlong were both in the starting line-up. Carl was the Bay captain whilst Peter Band assumed this role for Alty in the absence of Thornley and Talbot. The Bay, who had unluckily surrendered a two-goal lead on Boxing Day against Ashton, were without James McIlvogue and Colin Webster today.

---
TEAMS
COLWYN BAY (All sky blue, with maroon edging on shorts and shorts): 1. Matthew BOSWELL, 2. Jason JONES, 3. Alun EVANS, 4. Glen GRAHAM, 5. Adie MOODY, 6. A. JONES, 7. J. STANNARD, 8. Marc LIMBERT, 9. Carl FURLONG (capt.), 10. Deiniol GRAHAM, 11. Anton LALLY. Subs: 12. Lee KISSOCK, 14. Lee COATHUP, 15. Colin CATON.
ALTRINCHAM (Red & white striped shirts, black shorts, red socks): 1. Richard ACTON, 2. Jason GALLAGHER, 3. Barry SHUTTLEWORTH, 4. Chris ADAMS, 5. Peter BAND, 6. Stephen ROSE, 7. Dave GARDNER , 8. Ian CRANEY, 9. Jordan BURKE, 10. Danny MURPHY, 11. Sean SMITH. Subs: 12. Neil RYAN, 14. Andy TUNNICLIFFE, 15. Andy McDONALD.

---
MATCH REPORT
The first action of note was a low shot from the left by Limbert, which went wide of Acton's left post (3 mins). However, Alty almost opened the scoring when, from a Gallagher feed, Gardner got past Moody on the right and put in a good cross which Murphy rose to head onto the crossbar, with Colwyn Bay keeper Boswell beaten (5 mins). Altrincham now enjoyed the upper hand with newcomer Burke showing skill and firmness in the tackle in central midfield.
Glen Graham, too, was tackling well and he halted Murphy's threatening advance after a feed by Rose (11 mins). Following a Gallagher throw-in on the right, Craney got in a spontaneous poke at goal which only narrowly cleared the bar as the visitors looked the more likely to score in the early stages. Gardner then won a corner off Jason Jones on the left (15 mins). Gardner and Shuttleworth produced a short corner routine but the ball was cleared and soon afterwards play stopped for treatment to Furlong inside the Alty box (18 mins). Soon afterwards, Burke got in a firm shot from 20 yards which Boswell did well to parry away (19 mins). The ball came to Band towards the back post, and he swivelled well to return the ball across the Bay goal where Burke mishit his shot to give away a goalkick. After a foul on Burke by Jones, Adams's free-kick yielded a corner for Altrincham on the left. It was therefore against the run of play when Colwyn Bay scored. A ball out of the Bay defence found the pacy Stannard who lobbed it expertly over the retreating Adams, for Deiniol Graham who was heading into the box in a right-central position. The ex-Manchester United player lobbed the ball neatly over Acton, who was well off his line, to open the scoring (26 mins).
The first of six bookings in the game followed soon after when Glen Graham felled Danny Murphy. There was then a bizarre double hand-ball in the Bay box, with first Jones and then a team-mate, seeming to be lucky to avoid a penalty award against them- much to the Alty bench's annoyance. All Alty got was another corner. From this Band challenged well and the ball dropped for Smith who shot badly over from 12 yards (28 mins). Bay now began to put Alty on the back foot and a header from Graham had to be headed clear by Adams as it neared the line, with Acton motionless (31 mins). Limbert and Furlong then exchanged passes for Limbert to fire in a low shot from 20 yards which was only just wide of Acton's left post (32 mins).
After a free-kick for a foul by Smith, Stannard found Furlong who drove in an excellent shot which Acton saved very well to his right (33 mins). Alty were now on the defensive and when a back pass came to Acton the keeper had ample time to clear but mishit his kick, low, to Furlong some 35 yards out. The Bay captain coolly controlled the ball before finding Graham, ahead of him. Graham shot home firmly from the left of centre to double his side's lead (36 mins). By now, Chris Adams was hobbling badly and as the Alty bench prepared Ryan as a substitute, Graham fed Stannard who put in a fast aerial cross to the back post where the alert Gallagher headed it out of play as an attacker closed in behind him. However, an offside decision was given. Following the resulting free-kick Band advanced well and Smith got in a good shot that was only narrowly wide of the upright to the keeper's right.
Ryan now came on as Adams limped off (40 mins). This brought about the first change to the Alty back four as Rose moved back and, in all, eight different faces were to appear in the Alty back-line before the game was over! Alty continued to look shaky as Gallagher and Shuttleworth made successive errors. However, there was time for some Gardner trickery on the right flank to cause Evans to foul him and become the second Bay player to be cautioned (44 mins). From Rose's free-kick, Boswell caught the ball well off Band's forehead. A half that had started well for Altrincham ended with defeat staring them in the face against a now confident Colwyn Bay side.
---
Half-Time: COLWYN BAY 2 ALTRINCHAM 0
---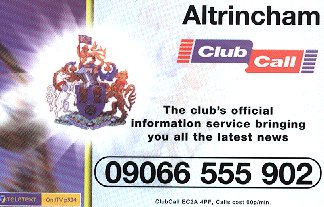 The Bay kicked off the second half and enjoyed the better of the opening moments. However, Peter Band was now playing further forward as Ryan and Rose played in the back line. From Rose's pass, the ball came to Burke, to the left of goal some 20 yards out. His well-hit shot seemed to strike a defender and then was parried by the keeper before looping to the back post where Band had a fairly straightforward job to nod the ball home for Alty's opening goal (52 mins). Carl Furlong was then booked for what must have been a verbal offence (53 mins) before play stopped for treatment to Boswell after he and Murphy had collided.
Alty were now looking more lively than before the break and soon Band and Shuttleworth combined to set up a Burke shot which went well over the target from 20 yards (56 mins). Shuttleworth had now pushed forward into left midfield, with Sean Smith dropping to left-back as manager Graham Heathcote showed his tactical awareness. However, Bay threatened again when Limbert got in a shot which came back to Graham, who was tackled in the nick of time at the cost of a corner on the Bay right (59 mins). Limbert was again allowed too much space and got in a low shot at goal. Following this Shuttleworth and Limbert were involved in a tussle and the Bay man became his side's fourth player to see a yellow card (59 mins).
Following the resulting free-kick for Alty, ten yards inside their own half, Gardner and Band combined well and the ball came to Craney, just outside the box in a central position. He fired a superb volley into the top of the Bay net, to the keeper's right, to level the scores (61 mins). For the second successive game, the By had let a two-goal lead slip. A minute later Craney and Lally had a minor set-to and the Alty midfielder was booked (62 mins). With Band and Murphy now up front Alty won a free-kick 30 yards out. As Gardner stood over the dead ball, Shuttleworth drove the ball comfortably wide with a left-footed inswinger (63 mins). Following a Bay free-kick forty yards out, by Limbert, the ball came to Moody whose well struck effort forced a great parry round the post by Acton, going to his left, to concede a corner (65 mins).
Acton punched the corner out only for Graham to head the ball back over the bar as the Bay came back into things after Alty's two-goal burst.
However, Gardner was now getting more change out of the Bay defence than in the first half and when Gallagher fed Shuttleworth for a surge up the middle, his pass found Gardner on the overlap on the right wing. He produced an excellent low and hard cross which Murphy, sliding in at the back post, only just failed to convert as the ball sped in front of him. Ryan then produced a good bit of covering play when he blocked a shot by Limbert, who had got behind Gallagher and onto a pass from Graham. The Bay then came close again when Evans and Limbert combined on the left and from Graham's cross the ball passed just over Furlong's head as Acton remained on his line. A goalkick resulted.
Jason Gallagher then got forward to win his side a right-side corner (71 mins) which Shuttleworth wasted but soon after from the latter player's throw-in Ian Craney got in a lob from the left which went behind the Bay goal (72 mins). Boswell soon had to rush out of his area, where he lost possession, but a defender hacked the ball clear as Alty looked for a winner.
A fine ball from Craney set Gardner clear on the right once more but his cross was cleared. Shuttleworth then got up the left and his cross for Peter Band elicited another strong shout from the Alty supporters behind the goal for handball but, once more, Mr Hutchinson wanted nothing to do with the appeal. Band was soon hacked down from behind by Jason Jones who became the fifth Bay player to be booked (75 mins). From the free-kick Band fed Gardner, who shot weakly wide. Bay now brought on Kissock for their goalscorer Deiniol Graham (76 mins). Lally then got past two Alty players to win a corner as Ryan lay injured. After treatment to his right leg, Ryan hobbled off and from the corner Furlong sent a firm header over the bar. Alty now replaced Ryan by McDonald prompting yet another change of formation as Burke now dropped into central defence (77 mins).
Alty's back four was now Gallagher, Rose, Burke and Smith - only one of whom, Gallagher, had started the game in defence. The Bay were now looking strong and as Dave Gardner attempted to relieve the pressure he was fouled and picked up the ball as he fell.
The referee decided no foul had occurred and penalised the Alty man for handball. Dave was fortunate that his verbal response to the referee went unheard by the officials (83 mins)! However, he was a much happier man soon afterwards when Band flicked on a header to Murphy, who found Gardner on the right. Gardner did well as he got to the by-line with keeper Boswell forced to back track after starting to come to meet the Alty winger. Gardner put in a well directed cross which found the incoming McDonald at the back post where he stooped to head the ball into the unguarded net to secure Alty's win (85 mins). Graham Heathcote responded with yet another shuffle as Peter Band reverted to the back four and Burke moved back into midfield where he soon needed treatment for a knock.
Alty now replaced Danny Murphy with Andy Tunnicliffe (87 mins) as the 3-minutes of added-time board was displayed. Limbert got in a firm low shot which Acton saved well. There was still time for Craney to have a shot blocked and for Furlong to make a forty yard run through midfield before Sean Smith cleared the danger.
The whistle went to signal Alty's second win of the Christmas season and to give them a record of only one defeat in their last seven league games.
Considering the game started with Alty lacking three of their regular back four and their leading scorer this was an excellent team performance. Injuries to Adams and Ryan have done nothing to ease the manager's selection problems for New Year's Day but the versatility of so many players as shown today is a good omen for the future. Rod Thornley, so long seen as Altrincham's only potential goalscorer must even be beginning to worry that he will not get his place back after injury- the team has got six goals in two games without him! All three recent additions to the side- Shuttleworth, Gardner and Burke - performed well today, whilst "older" hands such as Craney, Rose and Band were also in excellent form.
---
Full-Time: COLWYN BAY 2 ALTRINCHAM 3
---