Match Report
---
ALTRINCHAM (0) 3 LANCASTER CITY (0) 0
UniBond Premier League Match,
played on Saturday, 4 January, 2003 at 3p.m.
---
| | |
| --- | --- |
| Matchday Sponsor | Matchball Sponsor |
| Brian Flynn & Terry Rowley | Snockers Restaurant |
SCORERS
82 mins Dave GARDNER (Altrincham 1 Lancaster City 0)
84 mins Chris ADAMS (Altrincham 2 Lancaster City 0)
89 mins Own Goal (Altrincham 3 Lancaster City 0)
---
REFEREE:
Mr. K.W. Haycock
---
ATTENDANCE:
604
---
BACKGROUND
Altrincham came into the game after two successive wins over Christmas but had yet to win three league matches on the trot this season, whilst Lancaster were unbeaten in their last five away league trips.
Despite the sharp frost last night and the rain of last week, the pitch was in excellent condition. Watching the game was ex-Alty keeper Stuart Coburn, on a day off from Leigh RMI.
---
SUMMARY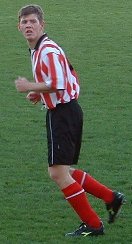 A relatively quiet game was transformed in the second half when the last eight minutes yielded three goals from Altrincham. Firstly, Dave Gardner got on the end of a Chris Adams cross from the left in the 82nd minute to score at the near post and, two minutes later, Gardner returned the compliment with a fine cross from the right to Adams who ran in from the left to score a good goal. Gardner appeared to score again in the 89th minute from Burke's feed, after good work by Craney, but after the match the goal was declared to be an own goal. In any case, Gardner was rewarded with the Man of the Match award. This was the third successive match in which Altrincham have scored three goals and won, leaving them tenth in the table. Jordan Burke (pictured today, right) had another fine match in midfield. Alty are now 10th in the updated table.
---
TEAM NEWS
Alty restored the now fit Gary Scott to right-back and Mark Maddox returned from suspension at centre-back; he was also captain today. Steve Lunt returned to the squad after injury and was on the bench with Jason Gallagher and Andy McDonald. The injured Neil Ryan, as well as Sean Smith and Andy Tunnicliffe, were absentees from the squad today. Alty were also still without injured regulars Rod Thornley and Gary Talbot. Barry Shuttleworth moved into left-midfield allowing Adams to revert to left-back after his curtailed appearance in central defence at Colwyn Bay last week. Alty started with Danny Murphy and Ian Craney up front. Steve Rose partnered Maddox at the back, with Jordan Burke starting in central midfield.
Lancaster included their two recent signings; Marcus Hallows and Jamie Udall up-front and at centre-back respectively. Leading scorer Andy Whittaker was not included, presumably due to the same injury which kept him out last week.
---
TEAMS
ALTRINCHAM (Red & white striped shirts, black shorts, red socks): 1. Richard ACTON, 2. Gary SCOTT, 3. Chris ADAMS, 4. Mark MADDOX (capt.), 5. Stephen ROSE, 6. Jordan BURKE, 7. Dave GARDNER, 8. Ian CRANEY, 9. Peter BAND, 10. Danny MURPHY, 11. Barry SHUTTLEWORTH. Subs: 12. Jason GALLAGHER, 14. Steve LUNT, 15. Andy McDONALD.
LANCASTER CITY (White shirts, with black trim, white shorts and black socks.): 1. Mark THORNLEY, 2. Andy FENSOME, 3. Paul HADDOW, 4. Jamie UDALL, 5. Farrell KILBANE (capt.), 6. Jimmy LOVE, 7. Paul RIGBY, 8. Brian BUTLER, 9. Marcus HALLOWS, 10. Michael YATES, 11. Graeme ATKINSON. Subs: 12. Chris BENNETT, 14. Phil BROWN, 15. Stephen MILLER.

---
MATCH REPORT
After a minute's silence to mark the death of longstanding Altrincham supporter Roy Champion, the game got under way in fairly unexceptional manner with both sides sharing free-kicks for minor fouls in the first five minutes. The Golf Road choir was in good voice as Altrincham attacked their end. Burke showed one of the game's first examples of skill with a neat chip forward but this ran to 'keeper Thornley before Gardner could latch onto it in the centre of the box (8 mins). Soon after Alty, who were enjoying the better of the game at this stage, almost scored.
Following a throw on the right by Scott, Craney executed a neat turn and his cross from the right brought a prodigious leap from Barry Shuttleworth in front of goal but his header struck the inside of Thornley's right post, rebounded across goal and was cleared (10 mins). Moments later Shuttleworth was felled by the shaven-headed Kilbane and then the Lancaster defender drove the ball, after the whistle had already gone, and it struck the Alty man's head from close range. After treatment to Shuttleworth, Gardner's resulting free-kick to the right of goal found Craney who appeared to be impeded, but play continued.
Alty won the game's first corner when Danny Murphy took the ball off Udall, who recovered and booted the ball over the roof of the terracing after the corner had been conceded. Shuttleworth's in-swinging corner from the right came out to Burke, whose well struck shot was blocked almost at source, 20 yards out. Following a Lancaster free-kick in their own half the ball came to Fensome and then Atkinson, who won his side's first corner, on their left (13 mins). However, a foul in the box meant the corner came to nothing but Acton then drove his goalkick straight into touch as the game struggled to find its rhythm. Lancaster were now beginning to settle down and enjoyed some possession, winning another corner after 17 minutes, off Maddox's fine covering tackle on the Lancaster right. Band headed the corner clear to Butler, whose shot rose comfortably over the bar.
Play continued fairly unremarkably till another fine turn by Craney, who had an excellent game, saw him evade Udall and get in a shot which came to Gardner, who won a corner on the right flank. Udall was having trouble settling in on his return to his former club after a spell at Leigh RMI. Thornley just got a hand to Shuttleworth's corner which took the ball across goal. A cross came back in from the left and Murphy's header caused some disarray in the Lancaster box before the ball was cleared to Shuttleworth, whose shot rose over the bar (23 mins).
Jimmy Love then nipped smartly in front of Acton as he came out for a low ball but his cross from the left was cleared. Rose and Maddox were looking a solid pairing in the Alty defence whilst newcomer Jordan Burke was again looking useful in midfield. Gardner was then body-checked by Kilbane after a pass from Murphy. Shuttleworth's free-kick produced a corner, off Haddow, on the right. Soon, another error by Udall, followed by a clearance by Kilbane which hit an Alty player, saw Lancaster under further pressure but the game lacked a moment of inspiration from either side to bring it fully to life.
Lancaster soon came close to a goal when Butler got to the by-line and crossed from the right where Hallows tried to knock it in but only a corner resulted on the Lancaster right; this was soon followed by Butler winning a second corner. After this, Adams got a lecture for a foul on Love. From the resulting free-kick, from 25 yards out and centrally positioned, Yates's effort hit Scott to give Lancaster their third flag-kick in as many minutes. However, this only led to an Alty free-kick and, indeed Band soon threatened at the other end before a defender headed the ball away from in front of the keeper, Thornley. Adams then needed treatment after a strong tackle whilst Fensome also received assistance for an unrelated injury.
Burke and Gardner then combined and the latter's cross hit Haddow, with a corner resulting despite the Golf Road End's calls for a penalty for handball. Band received a lecture, presumably for over-protesting about the alleged handball. Finally, Gardner's corner came to Craney at the back post and from point blank range his shot was forced out for another Alty corner, on the left. Peter Band was now assuming a more forward position, with Murphy, as Alty gained the upper hand. A trip by Rigby, from behind, on Shuttleworth gave Alty a free-kick 25 yards out which Gardner put comfortably over the angle of upright and crossbar to the keeper's right and this was to prove the last significant action of the half (45 mins).
---
Half-Time: ALTRINCHAM 0 LANCASTER CITY 0
---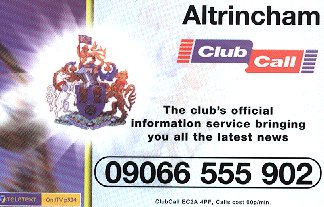 Altrincham started the second half well and had the ball in the net after 47 minutes when Band got on the end of a good run, up the right, by Gardner and forced the ball through, rather than round, Thornley and into the net. However, the linesman on the far side had flagged for a marginal offside decision against Band. After a punt by Acton, Gardner played a ball forward for Craney, who had not read his intention, and a goalkick resulted (49 mins). Atkinson then felled the lively Gardner from behind, just inside the Alty half. However, Love soon got in a 30 yard shot at Acton which he elected to palm out for a corner rather than catch near his right upright. Offside was given following the corner before another good run by Gardner from a skilful diagonal ball played by Rose ended in a cross which Shuttleworth headed firmly at goal for Thornley to save well (52 mins).
Scott, Band, Craney, Burke and Shuttleworth were all involved in the build up to Alty's next effort; a fine, low shot from Craney which Thornley saved well at full stretch to his right (53 mins). Alty were now well on top. They soon won a corner when Maddox's ball forward was expertly chested on by Band to Murphy whose cross, aimed at Craney, produced the flag-kick. From this corner, Thornley seemed to punch the ball onto his own near post but a foul was awarded against Band in the aftermath. Murphy then ghosted past two opponents before the game entered a slightly scrappy phase as the hour mark arrived.
The next good effort came from Craney, from a Rose feed. Craney's volley, as he fell, went narrowly wide of the goal to the keeper's right from 12 yards (65 mins). Soon Band and Craney set Shuttleworth free on the left but his cross was disappointing and came to Thornley (66 mins) before Steve Lunt came on to replace Murphy (67 mins). Almost immediately, Lunt seized on an error by Udall but Band was unable to capitalise on the pass from the substitute. Lancaster then won a corner at the other end when Scott did well to head clear a cross from Rigby from the right. The game's first booking came when Fensome tripped Gardner as he threatened to by-pass him on the Alty left (69 mins). Gardner's free-kick from the left was overhit.
Almost immediately a trip by Craney on Butler, as he advanced thirty yards through the centre of the pitch, brought the Alty midfielder his fourth yellow card of the season (71 mins). Following treatment to Rigby, who had injured himself stopping Lunt, Lancaster brought on Bennett and Miller for Rigby and Yates (73 mins). The referee stopped play after 77 minutes and came across to the Alty manager on the touchline. Rather than to have words with Graham Heathcote, he had merely stopped the action to take a drink from the Alty bench's bottled water! A foul on Shuttleworth in his own half on the left touchline, led the Alty man to retaliate with a push. Bennett, the offender, was booked and, after treatment, Shuttleworth also saw yellow (79 mins).
Altrincham continued to dominate the second half and after Adams, Band and Shuttleworth had fed Lunt, the young striker found Craney whose hard shot was deflected and forced a good save from Thornley to his left (80 mins). Then, another Adams-initiated attack got Lunt free to the left of goal. His cross found Gardner in the centre of the goalmouth but he somehow failed to make the necessary connection to turn the ball in and with this miss, it seemed the game was destined to end goalless. But Alty continued to press and from Craney's blocked shot, Burke's well-hit effort was well saved. However, a goal finally arrived when Adams got the better of Butler on the Alty left and sent in a deep cross from the left to the back post where Gardner ambitiously volleyed the ball at goal from about 12 yards, well to the right of the net.
Thornley must have been taken by surprise for all he could do was help the ball into the back of his net by his left upright (82 mins). Immediately afterwards Thornley had to be smart to beat Craney to Lunt's pass before a miskick by Acton from a back pass went to Hallows but the Alty keeper recovered enough to concede no more than a corner on the Lancaster left. This was cleared and Gardner broke away from halfway and headed towards the right of the Lancaster goal. His excellent cross was turned in at the back post by Adams, who had made up an enormous amount of ground to get on the end of the cross in the Lancaster goalmouth.
It was the left-back's first ever goal for his club in his 46th appearance (84 mins) and the Altrincham postman showed his delight by immediately running to the home fans on the Popular Side of the pitch. Altrincham were now in total control and after Gardner had driven a 25 yard free-kick into the wall another free-kick soon followed on the right for a foul by Kilbane on Scott. The "4 minutes" board was now shown and in the added time Gardner put in a good, deep cross from 30 yards out on the right from which Band won a corner on the Alty left. As time ticked away Craney showed yet more excellent ball control to bring the ball across the outer edge of the Lancaster box from the left before finding Burke. He threaded through a low diagonal ball forward and slightly to his left where Gardner seemed to turn it into net from close range, towards the back post (89 mins). However, after the match the goal was officially credited to a defender as an own-goal, though the Non-League Paper, like me, thought it was Gardner's!
A game which had threatened to end in a disappointing goalless draw had been transformed in the second half when Altrincham's sustained pressure finally got its reward in the final ten minutes. This was Alty's third consecutive win and, more surprisingly in the absence of leading scorer Rod Thornley, it was their third successive three-goal haul. It has been a very merry Christmas and New Year for Altrincham which has seen them climb from the relegation area into the top half of the table as their last six league matches have yielded five victories. The recent arrivals of Shuttleworth, Burke and Gardner have brought fresh impetus and skill to the side whilst the injury-hit regulars have responded admirably by turning in some excellent performances, often when playing out of their true position. Dave Gardner, with a hand in all three goals, deservedly won the Man of the Match award but there were a number of other likely candidates today.

---
Full-Time: ALTRINCHAM 3 LANCASTER CITY 0
---