Match Report
---
ALTRINCHAM (3) 3 KETTERING TOWN (2) 3 a.e.t.
Altrincham won 5-3 on penalties.
FA Trophy 3rd Round replay match,
played on Wednesday, 22 January, 2003 at 7.45p.m.
---
SCORERS
6 mins: Gez MURPHY (Altrincham 0 Kettering Town 1)
35 mins: Barry SHUTTLEWORTH (penalty) (Altrincham 1 Kettering Town 1)
38 mins: Sean SMITH (Altrincham 2 Kettering Town 1)
40 mins: Gez MURPHY (Altrincham 2 Kettering Town 2)
44 mins: Danny MURPHY (Altrincham 3 Kettering Town 2)
66 mins: Craig NORMAN (Altrincham 3 Kettering Town 3)
---
REFEREE:
Mr. Jim TATTAN
---
ATTENDANCE:
436
---
BACKGROUND:
After last week's 1-1 draw at Rockingham Road, this replay was played in a gusty wind before a very disappointing gate of only 436 - just 8 more than had watched the previous night's Manchester United FA Youth Cup game on the Moss Lane pitch. Those who gave this game a miss will now be regretting it!
---
TEAM NEWS
Altrincham fans arrived to be greeted by the news that captain and leading scorer Rod Thornley as well as the impressive Dave Gardner were missing from their line-up. However, Barry Shuttleworth was back to fitness and Gary Talbot and Steve Lunt were also sufficiently recovered to start on the bench. Danny Murphy came back into the starting line-up. Peter Band led the attack, supported by Murphy and Craney.
For Kettering, Mark Haran replaced the injured Shaun Murray in what was otherwise the same side which played against Altrincham last week. The referee, Mr Jim Tattan, had run the line in the Altrincham v Darlington FA Cup tie last season.
---
TEAMS
ALTRINCHAM (Red & white striped shirts, black shorts, red socks): 1. Richard ACTON, 2. Gary SCOTT, 3. Chris ADAMS, 4. Stephen ROSE, 5. Mark MADDOX (capt.), 6. Jordan BURKE, 7. Danny MURPHY , 8. Ian CRANEY, 9. Peter BAND, 10. Sean SMITH, 11. Barry SHUTTLEWORTH. Subs: 12. Jason GALLAGHER, 13. Kurt EDGINTON, 14. Gary TALBOT, 15. Andy TUNNICLIFFE, 16. Steve LUNT.
KETTERING TOWN (All yellow) : 1. Ian BOWLING, 2. Martin MATTHEWS, 5. Lee HOWARTH (capt.), 4. Mark HARAN, 6. Craig NORMAN, 3. Brad PIERCEWRIGHT, 15. Wayne DIUK, 18. Scott GOODWIN, 14. Niall INMAN, 9. Gez MURPHY, 32. Victor ASOMBANG. Subs: 29. William GOURLAY (gk), 27. Simon PARKER, 19, Carl SHUTT, 24. Steffan DANCY, 23. Michael McKENZIE.
---
SUMMARY
Altrincham deservedly beat Kettering 5-3 on penalties in tonight's pulsating FA Trophy 3rd round replay after the scores were level, 3-3, at the end of both normal and extra time. Gez Murphy headed Kettering ahead from a corner (6 mins), before a clear foul on Craney won a penalty which Shuttleworth converted (35 mins). Sean Smith drove home a fine second goal for Alty three minutes later but Gez Murphy converted another corner two minutes later. Then a fine Scott cross was headed home by Danny Murphy after 44 minutes. Kettering had their best spell in the middle part of the second half and a fine shot by Norman made it 3-3 (66 mins). Alty then got on top again but the game went to a shoot-out. Man of the Match Ian Craney, Barry Shuttleworth, Chris Adams, Jordan Burke and Mark Maddox all converted their spot-kicks but Inman fired the second Kettering penalty wide to give Alty victory 5-3. Alty had hit the woodwork twice in the second half and had got behind the keeper three times in the first half to underline that their win was well deserved. All this was achieved without captain and leading scorer Rod Thornley and recent star-man Dave Gardner, both of whom were injured.
---
MATCH REPORT
After changing ends, Altrincham kicked off towards the 20/20 (Hale) End, with the gusty wind behind them. Acton made a good early catch from a high cross and then, at the other end, a fine Shuttleworth cross from the left was just diverted by Piercewright as Danny Murphy arrived behind him in front of goal. The game's first corner resulted, on the Alty right (3 mins). Kettering keeper Bowling fumbled the corner and it came out to Alty captain Mark Maddox whose overhead kick sailed over the bar. Following a foul by Adams, Howarth sent in a free-kick from 40 yards, out on the Kettering right. This was deflected out for a Kettering corner, which was poorly taken but when the ball ran out of play again, Mr Tattan awarded another corner, again from the right. This time, the ball was struck higher, by Goodwin, and Gez Murphy rose ahead of Richard Acton to head home the opening goal of the contest (6 mins).
Altrincham came very close to an equaliser soon afterwards when Burke won the ball and Smith relayed it to Band, who hooked it past the advancing Bowling. As the ball drifted goalwards it was pursued back towards the Kettering net by Bowling, Band, a defender and Danny Murphy. The keeper got to it first and unconventionally punched it over his own bar as he faced his own net. This gave Alty their second corner, which Bowling caught (10 mins). Band was showing a lot of menace as he chased down forward balls from his team-mates and, soon, from one of these Bowling mis-kicked a clearance but he evaded punishment. Meanwhile Mr Tattan was riling the home ground with some questionable decisions and this served to animate the vocal home supporters and motivate the team. Kettering won their third corner, which Acton caught at the second attempt. Indeed, it was from set pieces that the visitors' main threat was to come tonight. Otherwise, the Altrincham back four coped very well in keeping Kettering at bay though manager Graham Heathcote was showing some concern at the conceding of needless fouls.
Another mis-kick from Bowling, who had an unhappy first half, led to an Alty throw and then a free-kick, following which Bowling had to rush out to head clear from the marauding Band (19 mins). Soon afterwards, Craney got the better of Bowling and the ball came to Danny Murphy, whose shot was blocked by a defender to concede a corner, which was Alty's third and the sixth of the game. After Mr Tattan had lectured Band for something, the corner was taken and, again, Bowling dropped the ball. Mr Tattan soon further annoyed the home crowd when he missed a handball by Howarth (26 mins). Bowling then dropped a Smith shot and the ball had to be hooked wide by a defender for a corner; this was the third time so far that Altrincham had got behind the keeper only for the ball to be scrambled away. The corner from the left came to Craney, beyond the back post, but his shot was hooked wide of Bowling's left post. Altrincham continued to press with balls over the Kettering defence which took advantage of the gusty wind but, first, a Bowling catch from Band and then an offside stopped the next two attacks. Kettering's response saw Gez Murphy feed Goodwin for a blocked shot.
Alty finally got the breakthrough when a ball from the left found Craney just inside the Kettering box. As he controlled the ball he was clearly brought down by Goodwin and Mr Tattan pointed to the spot. Without regular penalty-taker Rod Thornley, it was Barry Shuttleworth who stepped up and sent Bowling the wrong way with a low penalty, to the keeper's right (35 mins). Despite the small crowd, the atmosphere was now vibrant as Altrincham continued to press forward. A long cross from the left, by Adams, was well met by Murphy's head and the ball came out from Haran to Sean Smith, just outside the box. The young midfielder drove the ball, low, past Bowling to give Altrincham the lead (38 mins).
However, Kettering soon won a corner on the left and in a goalmouth scramble, Gez Murphy scored an equaliser (40 mins). Both the visitors' goals had come from corners, as had their goal in the match last Tuesday. The excitement was not over, however. Following a fine tackle by Maddox, and good work by Band, a cross from Adams found Danny Murphy but he was penalised. Moments later, however, a well-judged ball forward from Burke in centre-field found Scott progressing up the right. The right-back's finely struck cross found Danny Murphy who rose well, ahead of his marker, to restore Altrincham's lead from close range with a firm header into the net (44 mins). Half-time arrived with Altrincham deservedly ahead and the crowd catching its breath after four goals in a nine-minute spell. All three Alty goals had come from players who had not previously scored this season.
---
Half-Time: ALTRINCHAM 3 KETTERING TOWN 2
---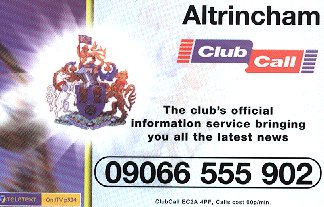 After an early Kettering attack, Altrincham had, first, Danny Murphy and then Ian Craney crowded out as they attacked the Golf Road End. Gez Murphy then endeared himself to the home fans by impeding Acton as he attempted to clear the ball before a good bit of work by Craney led to Band winning a free-kick on the edge of the penalty "D" for a foul by Inman. Shuttleworth's well-struck left footed, curling free-kick, beat Bowling but came back off the cross bar (50 mins) and led to an Alty corner. Following this, Danny Murphy lifted a shot narrowly over the bar. Maddox and Burke then combined to stop a Gez Murphy advance before a mix-up between Norman and his keeper saw Bowling advance behind his team-mate who headed the ball beyond the stranded keeper. However, Norman was alert enough to recover the situation. Altrincham were now on top again and Jordan Burke was showing good commitment in midfield. From his pass Ian Craney superbly wrong-footed the defence and fired in an excellent curling lob from 22 yards, slightly left of centre, which struck the outside of the keeper's left upright (55 mins). As Sean Smith was treated for an injury, Kettering brought on teenager Michael McKenzie for Brad Piercewright (56 mins).
Kettering's best effort of this period was a 25-yarder from Diuk which went narrowly wide of the goal (63 mins). However, the visitors now began to enjoy more possession but when McKenzie, on the right, found Norman, some 30 yards out there seemed little imminent danger. But, the Kettering midfielder cut inside and skilfully evaded a challenge before planting an excellent shot into the Altrincham net from 25 yards (66 mins). Gez Murphy then won his side a corner as the visitors now looked the more threatening of the sides but Diuk's long range effort, well wide of the target, was their best effort of the next few minutes (70 mins). Nevertheless, Bowling had to be alert to beat Band to a through ball and, in clearing the danger, a defender was injured and needed treatment. Norman then found Howarth on the right but the defender's shot only found the side-netting at Acton's near post (74 mins). At the other end, a fierce 30-yarder from Burke forced a diving save from Bowling (76 mins) before a curling effort from Howarth forced Acton to back-pedal as the ball just cleared his bar (77 mins). Following a hand-ball by Maddox, Kettering wasted a free-kick from 25 yards by hastily driving it into the wall.
After 20 minutes of Kettering being the stronger side, Altrincham raised their game again for the final ten minutes. Adams prompted an attack from which Smith's final pass just evaded Danny Murphy, then Craney won the ball and made himself space for a shot which Bowling saved (81 mins). Next, Band's shot from a Craney feed, came to Murphy whose shot was blocked by Bowling but the Alty man was, in any case, given offside. At this point Sean Smith limped off to be replaced by Gary Talbot. This meant that Rose moved forward to midfield as Talbot joined Maddox at the back (82 mins). An Ian Craney shot, which went over the bar (87 mins), and then a Danny Murphy blocked shot underlined Altrincham's strong finish to normal time. Murphy's effort produced the home side's sixth corner, to match the visitors' half-dozen flag-kicks. The last real chance fell to Maddox whose instinctive stab at a loose ball saw the ball rise well over the target (88 mins). Extra-time now arrived and this would be a strong test of Altrincham's fitness, which has been an area on which Graham Heathcote and Dalton Steele have concentrated much effort since their appointment in October.
---
90 Minutes: ALTRINCHAM 3 KETTERING TOWN 3
---
Kettering brought on Dancy for Goodwin as extra-time started. The visitors won a corner on their right which Alty scrambled clear before a fine run by Craney ended in a rising shot which Bowling caught from 20 yards (97 mins). Alty then brought on Jason Gallagher for Danny Murphy, who had had a very good game after his recent absences with injury. Bowling next took an Adams cross off Band's head as Alty got on top once more. However, Kettering won another corner (102 mins) before the break in extra-time. In the final period of extra time Altrincham won a corner on the left (111 mins). From this, taken by Shuttleworth, Talbot got to the ball but could not steer it at goal. Kettering then won their ninth corner of the night before Altrincham replaced a hobbling Stephen Rose by young striker Steve Lunt (116 mins). This meant that the versatile Peter Band went into defence. Alty soon won a corner through Craney's good work and this led to a shot by Shuttleworth which was blocked (118 mins). With just a minute left, Kettering took off Asombang who, unlike last week, had had little impact on this game. His replacement was Simon Parker (119 mins) but the game now went to a penalty shoot-out.
---
120 Minutes: ALTRINCHAM 3 KETTERING TOWN 3
---
The penalties were taken at the Golf Road End, with Altrincham taking the first. They proceeded as follows:
Ian Craney - Altrincham 1 Kettering 0.
Wayne Diuk - Altrincham 1 Kettering 1.
Barry Shuttleworth - Altrincham 2 Kettering 1.
Niall Inman - Inman turned and ran in strongly but shot comfortably wide of Acton's left post. Altrincham 2 Kettering 1.
Chris Adams - Chris blasted the ball home. Altrincham 3 Kettering 1.
Gez Murphy - Murphy sent Acton the wrong way. Altrincham 3 Kettering 2.
Jordan Burke - Burke's low shot found the corner as the keeper guessed correctly and dived, low, to his right. Altrincham 4 Kettering 2.
Craig Norman - Norman again sent Acton the wrong way. Altrincham 4 Kettering 3.
Mark Maddox - Mark coolly clinched the match with a controlled shot, low to the keeper's left. Altrincham 5 Kettering 3.

The Altrincham team ran to their cheering supporters to celebrate whilst the unfortunate Inman was left to rue his penalty miss. Although it is always hard to lose in such circumstances, Kettering could not really complain at the outcome over the 120 minutes of play tonight. Ian Craney was named as Man of the Match; after a quiet opening he had become increasingly influential. However, once more, this was a fine team effort from an Altrincham side which has now lost only three times in its last 14 outings and two of those were in UniBond Cup matches. Altrincham now meet Aylesbury United in Round Four on 1 February at Moss Lane. These sides met in 1988/89 when Aylesbury enjoyed a season in the Conference and Altrincham won both those games. Aylesbury, like Alty, now lie in mid-table of the sixth rung of the Pyramid - in their case in the Ryman Premier Division.
---
Final Score: ALTRINCHAM 3 KETTERING TOWN 3, a.e.t.
Altrincham won 5-3 on penalties.
---