Match Report
---
ALTRINCHAM (0) 0 AYLESBURY UNITED (1) 1
FA Trophy 4th Round match,
played on Saturday, 1 February, 2003 at 3p.m.
---
SCORERS
41 mins: Fiston MANUELLA (Altrincham 0 Aylesbury United 1)
---
REFEREE:
Mr. S.J. BRATT
---
ATTENDANCE:
732
---
BACKGROUND:
This was Aylesbury's first visit to Moss Lane since their sole season in the Conference in 1988-89. They are now in the Ryman Premier and, like Altrincham in the UniBond Premier, lay 13th in the table at kick-off today. Despite snow in the south-east of the country the game went ahead in sunshine on a very good, though softish, surface. Aylesbury were well supported, with their fans mainly taking up residence on the Popular side.
---
TEAM NEWS
Rod Thornley, Alty's captain and leading scorer, was not fit enough to make the squad; nor was Neil Ryan. However, Gary Talbot was able to resume at centre-back and his partner, Mark Maddox, assumed the captaincy once more. Sean Smith was reduced to the bench with Barry Shuttleworth operating in left-midfield. Ian Senior made a welcome return to Moss Lane as substitute goalkeeper in the absemce of Kurt Edginton. Aylesbury's Craig Maskell had recovered from injury to start for The Ducks.
---
TEAMS
ALTRINCHAM (Red & white striped shirts, black shorts, red socks): 1. Richard ACTON, 2. Gary SCOTT, 3. Chris ADAMS, 4. Mark MADDOX (capt.), 5. Gary TALBOT, 6. Stephen ROSE, 7. Dave GARDNER , 8. Ian CRANEY, 9. Peter BAND, 10. Jordan BURKE, 11. Barry SHUTTLEWORTH. Subs: 12. Sean SMITH, 13. Ian SENIOR (gk), 14. Tony SULLIVAN, 15. Jason GALLAGHER, 16. Danny MURPHY.
AYLESBURY UNITED (Green shirts with blue trim, white shorts and socks) : 1. Lee WORGAN, 2. Greg WILLIAMS (capt.), 3. Alex STANLEY, 4. Daniel GORDON, 5. Richard HORNER, 6. Steve McGRATH, 7. Gareth RISBRIDGER, 8. Fiston MANUELLA, 9. Kezie IBE, 10. Craig MASKELL, 11. Joe BAKER. Subs: 12. Adam CAMPION, 14. Chris BANGURA, 15. Rory HUNTER, 16. Matt ROLFE, 17. Mark BURGESS.
---
SUMMARY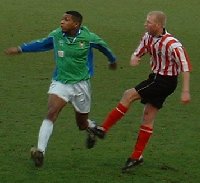 Chris Adams clears from Kezie Ibe this afternoon.
This was a match that Altrincham should have won but they wasted numerous chances and fell behind to a rare Aylesbury shot just before the interval. The Ducks took the lead in the 41st minute when the Altrincham defence failed to clear the third of three successive corners properly and Manuella struck a powerful shot from 12 yards. In the second half, Altrincham continued to have the better of the play and opportunities were spurned to draw level; however, the team was hampered by four injuries (Shuttleworth, Burke, Scott and Murphy) which reduced them to ten men for the last 15 minutes after all three substitutes had been used.
---
MATCH REPORT
The teams emerged together for the kick-off from the centre-line tunnel; why Altrincham and opponents have to appear from separate entrances in our UniBond matches is one of life's little puzzles. Aylesbury had slightly the better of a fairly uninspiring opening few minutes which were punctuated by a succession of throw-ins on the Popular Side. Altrincham had Band up front, supported by Craney, with Stephen Rose in midfield, as Talbot returned to the back-line. A move, initiated by Gardner, sparked Alty into belated life after 6 minutes.
The ball from Gardner came, via Scott, to Craney who advanced on the right and crossed into the box, where Peter Band was crowded out and a goalkick resulted. Soon afterwards Burke was fouled and from the free-kick, 25 yards out and central, Craney tapped the ball to Gardner whose shot nearly crept in as the keeper tipped it around his right post for a corner on the Alty left (7 mins). Band was now causing the Aylesbury defence some problems but Horner saw off his next advance. After Shuttleworth had lost the ball and then fouled his opponent, Aylesbury were awarded a free-kick some 20 yards inside their own half on their right.
This was taken by Gordon but the team-mate to whom he had directed it along the ground, some twenty yards away in centrefield, was asleep and Peter Band nipped in to take the ball and advance on the Aylesbury keeper. Though Band kept ahead of the chasing defence, he steered the ball wide of the post as well as of the advancing Worgan, a young Wimbledon goalkeeper on loan to Aylesbury. After this miss, McGrath sliced a back pass to his keeper to give Alty another corner, on the left.
Another sliced Aylesbury clearance soon followed as the Robins now clearly gained the upper hand. A blocked Band shot produced corner number three for Altrincham but Gardner's kick led to a goalkick to the visitors (14 mins). Worgan then mis-kicked a clearance as the Aylesbury defence looked a little shaky at this stage. The visitors did get forward soon afterwards but Stanley's cross from the left was caught low down by Acton (16 mins). Craney was showing some neat turns and, from one of these, his shot was blocked and came out to Adams, who fed Burke who lost possession (18 mins). "The passing has got to get better," shouted manager Heathcote in response to this. From an Acton clearance Band fed Craney for a fine lob which went just wide as the chances continued to come for the Robins (19 mins). Then Burke was hurt in a collision and needed treatment to his head.
As this happened, the visiting captain, Williams, took the opportunity to give his side some tactical instructions. Following a foul by Band, Aylesbury won their first corner after 22 minutes. This ran off McGrath for an Alty goal-kick. Craney continued to pose problems for Aylesbury in midfield and when he was fouled 25 yards out, Gardner struck the free-kick just over the bar (26 mins). Then Gardner broke up the right and delivered a cross which the stretching Band only just failed to reach with his outstretched leg inside the penalty area (28 mins). Acton at the other end was relatively unemployed but Alty now had Shuttleworth limping and he had to be replaced by Sean Smith on the left flank after 31 minutes.
Smith was soon involved, finding Band, before the ball came out to Maddox, who with a clear sight at goal shot well over the crossbar from the edge of the box (32 mins). Then Burke played Craney into the box and it took a fine save from Worgan to keep the ball out. Smith then chased to the by-line to cross for Band whose shot cleared the bar but it seemed only a matter of time before Altrincham would score. However, Aylesbury now began to come into the game and won three successive corners bewteen the 39th and 41st minute. The first was half cleared by Acton to Maskell who got it to Baker and his shot was sliced out by Maddox for the second corner.
This led to a header by McGrath which must have come off an Alty player as a third corner was awarded, from the right. This corner, by Maskell, was not cleared at the first attempt but Talbot then seemed to have hooked it away only for it to fall to Manuella on the edge of the box and he drove the ball home to put Aylesbury ahead against the run of play (41 mins). They held their lead to the interval without any major alarms as Altrincham left the field rueing their hatful of missed chances.
---
Half-Time: ALTRINCHAM 0 AYLESBURY UNITED 1
---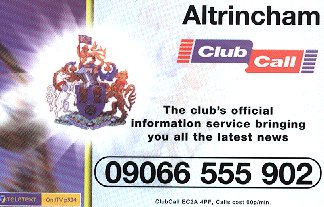 Altrincham brought on Sullivan at the break for Burke who had taken a blow to the head in the first half. Aylesbury drew first blood, however, with Maskell shooting narrowly wide (46 mins). But then Craney and Gardner combined and from the latter's chip, Band headed over the bar. Gardner, who was not at his best this afternoon, then got past his marker but shot well wide (48 mins). Next, Scott fed Band, who appeared to be impeded in the box, but play continued to Craney who lifted the ball just over the bar from 18 yards (49mins).
Alty then survived a shout for handball in their box by Maddox before Band found Rose and Adams on the left. Adams's fine cross led to a firm shot from Craney which hit the advancing keeper, who then gathered it as it rebounded off his body. There was soon a long stoppage for treatment to Stanley's leg (54 mins). Next, another curling Adams ball saw Sullivan prevent the keeper from gathering cleanly and Band got in a shot from the loose ball which he put over the bar (55 mins) from the edge of the box. Then a prodigious 40-yard header from deep in his own half by Talbot found Sullivan who ran at the keeper who made another fine save (56 mins).
The referee annoyed the home ground when he did nothing after Craney seemed to be fouled in the Aylesbury box and he annoyed them even more when he allowed extensive treatment to Manuella who eventually sloped off the pitch seemingly extremely lame, but curiously for one apparently so badly injured without any assistance whatsoever from his physio who walked off several paces ahead of him. As the home crowd booed him, Manuella remarkably, but predictably, returned to the field full of life just seconds later. Scott then got in a tangle trying to clear a through ball and injured himself in the process as Acton ran out to smother the ball.
As Scott was treated, the limping Stanley gave way to Burgess for Aylesbury. Scott resumed with a small plaster on his head. Stanley then advanced on the left and Acton made a meal of his shot, but Adams was on hand to clear the danger. Adams was then in evidence further forward, battling to win a throw deep in the opposition half. This led to a corner following which Risbridger survived an appeal for handball above his head.
Altrincham then got in on Worgan once more with Band and Sullivan exchanging passes only for Sullivan's shot to be finely saved as the keeper dived to his left (66 mins). Aylesbury than had a chance as Baker got in a shot but he should have made better contact and Acton saved routinely. More woe for Alty followed as Gary Scott hobbled off to be replaced by Danny Murphy. Within seconds, Murphy challenged on the left by-line for an aerial ball and ended falling heavily on the perimeter track in front of the Main Stand. Play continued with Danny off the pitch as physio Gary Thompson dealt with the clearly distressed Murphy, who appeared to have injured his leg in his fall.
As Alty played on with ten men, Williams got in a shot from the Aylesbury right from 22 yards which cannoned back off Acton's left post (72 mins). Alty picked up their third head injury (after Burke and Scott), when Adams and Stanley collided and both needed treatment in centre-field. The play in this half was now broken up with stoppages for injuries and substitutions. After missing four minutes' playing time and a couple more of treatment time for Stanley, Murphy hobbled back on but was clearly a passenger (73 mins). He lasted only another minute before heading for the dressing room and Alty were condemned to play the last fifteen minutes with ten men. This left them with just three at the back, one of whom, Maddox, then got booked for a check on Gordon. The Alty captain could have few complaints about it.
The resulting Aylesbury free-kick, from 25 yards out, hit the Alty wall. Then Risbridger committed a very high foul on Adams near halfway and the Alty defender reacted by going eye to eye with the offender. A bizarre piece of refereeing saw Mr Bratt not only fail to rush in to ensure the eyeballing did not spill over into a scuffle, he actually deliberately slowed down to watch the scene develop from several paces away. He also took no action against the offender (81 mins). A cross from the lively Baker then led to Ibe looping a header onto the top of the net but he won a corner in the process (82 mins). Acton missed the corner and another corner followed on the visitors' left; Acton got this one clear. After a subsequent poor effort at goal from Ibe, the striker stayed down in the Alty box and needed lengthy treatment for what looked like cramp. When he eventually hobbled off, he was immediately substituted by Bangura (83 mins). Gardner made then made a rare second half run but was fouled and McGrath was booked for his challenge.
The referee announced six minutes of added time for all the second-half injury stoppages but the Altrincham bench, with a large stopwatch clock to hand to support their case, protested that this was not enough. Ian Craney then found his way into the book, picking up his fifth booking of the season and therefore a ban (85 mins). With only three at the back and Talbot pushed forward, Aylesbury now found some space but were caught offside twice. Despite a free-kick for a foul on Craney after a blocked shot by Sullivan, Alty could find no way through for the equaliser. As the game entered its final minute, Ian Craney was named as Alty Man of the Match whilst keeper Worgan would have been Aylesbury's leading candidate. The Ducks brought on Hunter for Baker with seconds remaining as the ten men of Altrincham battled to the end, but to no avail.
An afternoon that had started with hopes of a good Trophy run, ended not only in defeat but also with at least four significant injuries and an impending suspension. All in all, not a good afternoon for Altrincham but good luck to Aylesbury for Round 5!
---
Final Score: ALTRINCHAM 0 AYLESBURY UNITED 1
---