Match Report
---
ALTRINCHAM (1) 3 BLYTH SPARTANS (1) 2
UniBond Premier League match,
played on Saturday, 8 February, 2003 at 3p.m.
| | |
| --- | --- |
| Matchday Sponsor | Matchball Sponsor |
| PRIESTLEY & PARTNERS | GILL KEOWN |
---
SCORERS
19 mins: Tony SULLIVAN (Altrincham 1 Blyth Spartans 0)
21 mins: Scott EMERSON (Altrincham 1 Blyth Spartans 1)
51 mins: Mark MADDOX (Altrincham 2 Blyth Spartans 1)
80 mins: John HUTTON (Altrincham 2 Blyth Spartans 2)
82 mins: Steve LUNT (Altrincham 3 Blyth Spartans 2)
---
REFEREE:
Mr. D. Whitby
---
ATTENDANCE:
548
---
BACKGROUND:
After last week's disappointing defeat in the Trophy to Aylesbury United, Altrincham were hoping to continue their good league form against Blyth, who are now managed by Paul Baker following John Charlton's dismissal which had occured since our last meeting, which Alty won at Croft Park in August. Today's game was played in dry conditions but on a very dull afternoon.
---
TEAM NEWS
Rod Thornley, Alty's captain and leading scorer, was again not fit enough to make the squad; nor was Neil Ryan or Danny Murphy. So, Mark Maddox assumed the captaincy once more. Sean Smith was reduced to the bench as Barry Shuttleworth operated in his place in left-midfield. Peter Band was also missing as he was finally serving his suspension for the red card received against Hyde United nearly 12 weeks ago, on 18 November. Blyth had new signing Gary Innes on the bench, along with player-manager Paul Baker.
---
TEAMS
ALTRINCHAM (Red & white striped shirts, black shorts, red socks): 1. Richard ACTON, 2. Gary SCOTT, 3. Chris ADAMS, 4. Mark MADDOX (capt.), 5. Gary TALBOT, 6. Stephen ROSE, 7. Dave GARDNER , 8. Ian CRANEY, 9. Anthony SULLIVAN, 10. Jordan BURKE, 11. Barry SHUTTLEWORTH. Subs: 12. Jason GALLAGHER, 14. Stephen LUNT, 15. Sean SMITH.
BLYTH SPARTANS (Yellow shirts with green shorts and socks) : 1. Phil NAISBETT, 2. Colin MORTON, 3. Andy MARTIN, 4. Phil BRUMWELL, 5. Richard FORSTER (capt.), 6. Justin KEEGAN, 7. Gareth WILLIAMS, 8. John HUTTON, 9. Glen ROBSON, 10. Scott EMERSON, 11. Craig PERRY. Subs: 12. David MCMAHON, 14. Gary INNES, 15. Paul BAKER.
---
SUMMARY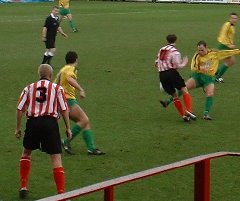 Chris Adams looks on as Barry Shuttleworth contests with the Blyth midfield for possession.
Without Rod Thornley and Danny Murphy (both injured) as well as Peter Band (suspended), Altrincham secured the points with a late winner from 17 year-old Steve Lunt - his first league goal. In fact, all three Alty goals came from players who had not scored in the league this season. Alty started well and Anthony Sullivan's low drive gave them a deserved lead (19 mins) before Blyth equalised when Emerson got the better of Talbot two minutes later. Alty then went off the boil and the game descended into a scrappy affair.
But Alty's centre-backs combined six minutes after the interval when Gary Talbot did well to get on the end of an Adams free-kick and, though his own effort was blocked, Gary managed to find Mark Maddox who bundled the ball home from close range. Hutton equalised, against the run of play, after 80 minutes with another drive from the edge of the box. However, Spartans will feel that the goal which beat them after 82 minutes from Steve Lunt should have been ruled out. Ian Craney seemed to foul the Blyth keeper in the air as a ball was played in by Burke and, from the rebound, Lunt scored at the second attempt. Alty are now 11th in the table and have now lost just 1 league game in their last 10.
---
MATCH REPORT
Before the kick-off, Alty chairman Geoff Goodwin presented Ian Craney with a bottle of champagne to mark his being called up to the England semi-professional side to play Belgium in Ostend on Tuesday.
As Blyth kicked off, Alty were defending the 20-20 End. Possession was soon lost and Alty got in the first shot when Jordan Burke shot wide as the ball bobbled, after a pass from Rose, inside the first minute. Just seconds later Alty squandered an even better chance when Sullivan got clear and, from the right, his pass found Shuttleworth in space only some six yards or so from goal. However, the cross somehow got under the Alty midfielder's feet and he failed to get any kind of shot at goal before the ball was cleared. Sullivan was looking much more nimble than on his recent debut, having now gained some match fitness after a period on the sidelines at Southport.
He next chased down a poor back-pass which keeper Naisbett kicked clear, the ball deflecting off the incoming Sullivan (3 mins). In these early stages Blyth were looking distinctly shaky at the back. Alty missed another good chance when from Adams's pass, Burke, to the left of goal found Gardner beyond the back post. However, Gardner slid his shot across goal for a Blyth goalkick (6 mins). It was beginning to seem like a reprise of the Aylesbury match, with chances going begging. However, Blyth were angry at the referee who had allowed play-on following an offside flag earlier in the build up. Next, a Gardner run led to a Burke header at goal as Altrincham continued to enjoy the better of the game, though Ian Craney was strangely quiet for the Robins.
Soon, a Burke shot, which narrowly went over the bar from 15 yards, maintained the pressure (16 mins). Then an Ian Craney pass up the middle of the pitch found Sullivan, who was allowed to turn and shoot by Forster. Sullivan drove the ball low, from the edge of the box, past the keeper's right hand to record his first goal for Altrincham in only his second league start (19 mins). Sullivan ran to the bench to receive his accolades.
The lead was not to last and after Adams had headed clear an initial threat from Brumwell, who had got past Rose, Emerson then got round Talbot to the right of goal, just inside the Alty penalty area. The Spartans' no.10 went on to drive the ball past Acton from 8 yards, to the right of goal (21 mins) with what was his side's first real shot. Following this, Naisbett had to rush out of his area to dribble a through-ball out for a throw-in. Bolstered by their goal, Blyth now began to get into the game before play stopped for protracted treatment to Craney's left knee after he had been fouled (26 mins).
The resulting free-kick by Rose was caught by Naisbett off Maddox's head. The game now became scrappy with a number of aimless aerial balls from both sides and little fluid movement. Blyth won the game's first corner after 30 minutes before there was a stoppage for treatment to Scott, who had conceded it and had hurt his head in the process. With Scott off the pitch receiving more treatment, the corner was cleared by Acton before play stopped again, for treatment to Keegan. Play resumed with a bounce-up on the centre-spot.
Alty manager Graham Heathcote shouted to his team to "Get back on your game" as the scrappy play continued. Gardner won the ball well in his own half and ran at the defence but this came to nothing. Craney then got past Naisbett to the right of goal but his cross into the box was easily cleared as no Alty player was in sight. Alty finally won a corner when Williams headed out Rose's cross but this came to nothing. Robson then caught Acton, late, after the Alty keeper had fielded a through ball, low down, just inside the box (40 mins). After the 4 minutes of added time board had been shown, play stopped for treatment to Emerson. Soon after play had resumed Robson played a neat through ball up the middle for Emerson, who was fouled from behind by Adams. The Alty left back was perhaps fortunate only to see a yellow card as he was arguably the last man in the defence (44 mins). Half-time arrived with the modest crowd hoping for better fare in the second half after a first period which had begun well but gone off the boil.
---
Half-Time: ALTRINCHAM 1 BLYTH SPARTANS 1
---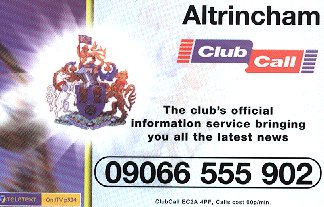 The second period began with a neat turn but poor shot from Craney whose effort ballooned many feet over the target from 30 yards out (46 mins). Craney than embarked on a breakaway down the middle of the pitch and when he was tripped by Hutton, it was no surprise to see the offender booked. Both Alty central defenders went up for the resulting freekick, taken by Adams, from the right-centre, about 30 yards out. Adams's left-footed, curling freekick found Talbot at the right-hand post and, though his header was blocked, the ball came back to him and he managed to get it across the face of goal to Maddox, who knocked it home from close range in the centre of the goalmouth (51 mins).
Following this, a Scott foul gave Blyth a free-kick, followed soon after by another for holding, by Craney. These were cleared as the game again went through an uninspiring few minutes. However, Gardner won a corner after 56 minutes. Forster cleared Gardner's flag-kick but the ball came to Shuttleworth whose chip found Talbot who rose well to head at goal, but Naisbett saved (57 mins). Altrincham were now beginning to dominate without carving out clear openings. However, it was Blyth who won the next corner. After this had been cleared, Shuttleworth did well and found Sullivan, who in a very promising position, failed to control the ball and Williams cleared his side's lines (62 mins).
Robson then earned a lecture for a foul on Scott. Following Maddox's freekick, Gardner got past Williams to get in a fine shot which Naisbett saved well, low down (64 mins). Alty were now trying to get Lunt onto the pitch but the ref waved play on and Alty temporarily abandoned their change of manpower. After a Blyth corner had been cleared, Steve Lunt finally got on, to replace Tony Sullivan, who left the pitch to generous applause (67 mins). At the same time McMahon came on for Robson for the visitors. Almost immediately a good ball from Shuttleworth found Lunt but his first touch allowed the defence to clear the threat. Emerson then threatened for Blyth and he found Hutton, but the latter shot very wide of goal (68 mins). Emerson soon won a rather dubious free-kick on the edge of the Alty box but this was cleared.
Nevertheless, a couple of minutes later Scott conceded a corner as Blyth went after a leveller. However, Garner soon forced Forster to concede a corner at the other end, but Shuttleworth's inswinger from the right was cleared by Martin. Soon afterwards, Craney turned well and fired in a good shot which the keeper only gathered at the second attempt. Gardner then got clear up the right but chose to shoot for the near post when a pass to Craney and Lunt, advancing into the goalmouth, were probably better options in the centre. Gardner found only the side netting (74 mins).
Maddox was then glad to see the ball run through to Acton after his air-kick but Altrincham were continuing to apply most of the pressure, at the other end, with Lunt, Craney and Gardner each stifled in turn by the Blyth defence over the next few minutes. However, it was Blyth who then equalised. Williams advanced from half way and, via a couple of passes, the ball came to Hutton who fired home from the edge of the box in a central position (80 mins). Blyth immediately changed personnel with Innes making his debut in place of Perry. Soon afterwards, a ball forward from Burke led Craney to challenge the keeper in the air and though the Alty man seemed to impede the keeper, play continued and the ball came to Lunt, to the left-centre of goal inside the box.
Though his first effort was blocked, the young Altrincham striker made no mistake from the rebound to record his first league goal for his local club (82 mins). The Blyth fans were convinced the goal should have been disallowed for a foul on their keeper, as was Naisbett himself who made his feelings known after he had received treatment. However, it was Keegan whose complaints got him into Mr Whitby's notebook. Alty now introduced Smith instead of Shuttleworth (85 mins) as Blyth pressed forward for an equaliser. Three minutes of time were added and with just two of these left, Gallagher came on for Burke (88 mins). Mark Maddox was named Man of the Match as Alty held out for the final whistle. Though the balance of play meant the result was a fair one, the disputed manner of the third goal was unfortunate. However, the result meant that Alty climbed into the top half of the table and recorded their fourth win in their last five unbeaten league games.
Though Maddox was the popular recipient of the Man of the Match award, it was a game in which no one player particularly stood out. One of the most encouraging aspects for Altrincham was to see Sullivan looking more menacing as he regains match fitness and he and his colleagues will no doubt have jokingly reminded their injured captain and leading scorer, Rod Thornley, that this was the sixth occasion that the side had scored three or more goals in a league match without him, whilst they have only done so twice when he has played!
---
Final Score: ALTRINCHAM 3 BLYTH SPARTANS 2
---