Match Report
---
GATESHEAD 0 ALTRINCHAM 0
UniBond Premier League match,
played on Saturday, 15 February, 2003 at 3p.m.
---
SCORERS
None

---
REFEREE: Mr. R. Tiffin (Houghton-le-Spring) (Great Sutton)
---
ATTENDANCE: 264
---
BACKGROUND:
This was a clash between two of the form-teams of the UniBond Premiership, with Altrincham third and Gateshead sixth in the form guide over the last eight league matches.
---
TEAM NEWS
Altrincham were without Peter Band and Ian Craney who were both suspended, whilst Rod Thornley, Danny Murphy and Neil Ryan all remained sidelined by injury. This meant that only Mark Maddox from the 14-man squad who played for Alty in the corresponding fixture at Gateshead last April was in the squad today! Jason Gallagher made a return to the Alty side for his first league start since December but Alty manager Graham Heathcote was obliged to watch from the stand rather than the dugout as he had, apparently, been banned from the touchline for crossing swords with a referee earlier this season. He deployed Gardner as Sullivan's strike partner but the detailed coaching had to be left to Dalton Steele at pitchside.
On Friday, IC Newcastle's site had quoted Gateshead manager Derek Bell as saying "that there are serious fitness doubts about skipper Gareth McAlindon, midfield man Neil Shotton and defender Ben Cattanach. McAlindon hurt a knee during the win over Alfreton, while Cattanach has had food poisoning and Shotton is suffering from a leg injury. 'We are down to the bare bones', said Bell". In fact, only Shotton missed this game.
---
TEAMS
GATESHEAD (White shirts and socks, black shorts) : 1. Jon KENNEDY, 2. Steve HARRISON, 3. David MORGAN, 4. Ben CATTANACH, 5. Rob JONES, 6. Paul THOMPSON, 7. Kenny CRAMMAN, 8. Gareth McALINDON (capt.), 9. Willie MOAT, 10. Michael DICKINSON, 11. David COLVIN. Subs: 12. Neil BLADES, 14. Dale TELFER, 15. Graeme WAIND.
ALTRINCHAM (Red & white striped shirts, white shorts, red socks): 1. Richard ACTON, 2. Gary SCOTT, 3. Chris ADAMS, 4. Mark MADDOX (capt.), 5. Gary TALBOT, 6. Stephen ROSE, 7. Jason GALLAGHER, 8. Sean SMITH, 9. Tony SULLIVAN, 10. Dave GARDNER, 11. Barry SHUTTLEWORTH. Subs: 12. Jordan BURKE, 14. Steve LUNT, 15. Andy TUNNICLIFFE.
---
SUMMARY
Above: Sean Smith watches an aerial ball, as Dave Gardner, Stephen Rose and Jason Gallagher stand by on the raked pitch at Gateshead's International Stadium. In the background is a pile of discarded artificial running track, removed preparatory to re-surfacing.
Altrincham gained a well-deserved point, despite the absence of Peter Band, Ian Craney, Danny Murphy, Neil Ryan and Rod Thornley. Indeed, this was their first away draw in the league this season. A poor playing surface made flowing football difficult, but a draw was probably a fair result, although Altrincham had the better chances, mostly created by Dave Gardner.
---
MATCH REPORT
The game got off to a quiet start as the players attempted to come to terms with the difficult surface. The International Stadium is used by Gateshead Thunder for rugby league as well as Newcastle United Reserves and Gateshead FC for football and the combined, heavy usage has clearly taken its toll on the surface which had little grass on it. The surrounding running track and long-jump run ups had been stripped out awaiting re-laying and this work meant that this was to be one of the last Gateshead FC games played at the stadium this season as they have applied to finish the season at South Shields FC whilst the athletics work is completed.
The earlier stages saw three separate clearances by Alty defenders cannon off opponents to cause potential threats to the visitors' goal but nothing actually resulted from these errors. From the first such incident Moat seized on Maddox's clearance but his attempt at a lob over Acton was poor and wide (2 mins). Then, Adams's clearance hit Thompson who fed Dickinson, but the recently signed ex-Carlisle striker shot badly wide from the edge of the box (7 mins). Next, another Maddox clearance was charged down by an opponent but Adams cleared the danger (7 mins). Altrincham showed their first signs of attacking life when a Sullivan flick almost found Gardner but, overall, the game was pretty poor fare at this stage (8 mins). Soon afterwards, however, Sullivan got in the first meaningful shot on target, a 25 yarder which Kennedy held comfortably (11 mins). Gardner was now beginning to show some skill on the Alty right and he was to go on to give left-back Morgan a trying afternoon.
Gateshead won the game's first two corners, in fairly quick succession, but these came to nothing, the second being struck low and very short into the side netting (20 mins). Then a wonderful clearance from Maddox up the centre of the pitch found Sullivan but his attempted lob of Kennedy from 20 yards was saved by the keeper (21 mins). Soon, a move from Gateshead ended when Harrison fed McAlindon on the right. His lob from 25 yards found Acton off his line and slow to judge the arc of the ball, which dropped behind him and came back of his right upright; however, offside had been given in the process (25 mins). A foul by Shuttleworth on Thompson saw the Alty midfielder booked (27 mins). Acton held McAlindon's resulting free-kick well, low down. A Gateshead passing move, started by Harrison, which was initially forced back into the home half before coming forward again, ended when Harrison was again involved. He fed Thompson who glided past Shuttleworth into the box but his shot, as he fell, needed a good block by Acton to keep the ball out (28 mins). Play then switched to the other end where Gardner and Rose combined and the ball came out to Shuttleworth, outside the Gateshead box. Though he chested the ball down well, his follow-up shot was very high, over the target (29 mins).
A fine tackle by Maddox on Dickinson underlined how the defences were on top in this game but from the Alty captain's clearance, Gardner got free but, without any support, he was driven into a blind alley and lost possession. Gary Talbot too was proving solid in the Alty defence whilst Jones, the former Spennymoor defender, and Cattanach were equally resilient at the other end. After a very late offside flag when Jones's prodigious forward header landed behind the Alty back four, Alty went up to the other end and won their first corner (32 mins). This only produced a Gateshead goalkick after Gardner's kick went deep and Talbot could only get a glancing touch on it. Maddox broke up the next home attack but Gateshead pressed again and a passing move involving Harrison, Moat and Thompson only ended when Barry Shuttleworth took the ball painfully in the stomach, but he played on without treatment (34 mins). Play was now fairly even but there were few goalmouth incidents to enliven the crowd. Nevertheless, the Altrincham fans were in fine voice and the Gateshead supporters responded.
Colvin executed a neat turn and shot but the ball went over the bar before an underhit pass by Harrison to Cattanach in central midfield, forty yards out, allowed Gardner to nip in and advance on goal. Gardner was driven to his right but still got in a shot which Kennedy did not field cleanly. Smith had followed up intelligently and got to the rebound but the keeper managed to knock it away for Harrison himself to complete the clearance (37 mins). Smith then won possession well, twice in quick succession, in midfield but nothing came of this. More menacing, however, was an excellent forty yard ball forward from Adams, which found Gardner in space in the box. However, the Alty man failed to gather the bal cleanly and the chance disappeared (42 mins). No trainer had been needed throughout the game so far, so Mr Tiffin needed to add just one minute of additional time before the first half came to an end.
---
Half-Time: GATESHEAD 0 ALTRINCHAM 0
---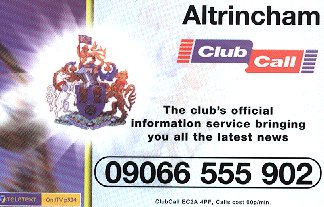 Gateshead won an early second-half corner (47 mins) and enjoyed the better of a fairly scrappy opening to the second period in which Altrincham were largely confined to their own half. It was not until the 55th minute, when Gardner skipped past two opponents that Altrincham began to move forward with any purpose in the second half. After a foul on Gallagher, Adams and Talbot re-executed the same free-kick routine which had brought about Mark Maddox's goal last week against Blyth. Adams sent a curling left-foot kick from the right of centre, where he found Talbot coming in towards the right post to head the ball back towards the centre. This time the ball came to Rose, but he could not keep down his shot at goal (57 mins).
A through ball then found Dickinson in the clear at the other end, but Acton made a fine finger-tip save to the attempted lob, but the offside whistle was belatedly sounded in any case. Mark Maddox was then booked for a foul 30 yards from his goal (61 mins) as Gateshead again came at the visitors. Alty now made a change, replacing Sullivan by Steve Lunt up front (64 mins). Almost immediately a heading error by Talbot from a ball forward by Moat let in Dickinson but Acton made a wonderful save, tipping the striker's shot onto the crossbar from where it came back into play and was cleared by Maddox as Colvin closed in.
After booking Maddox and Shuttleworth for fouls which were not the worst in the world, Mr Tiffin overlooked a wild hack at Gardner by the otherwise commendable Jones and did not even award a free-kick. Acton then came out well to smother Moat's intended pass for Dickinson (67 mins). Gardner now stepped up a gear and left Morgan trailing as he got to the right by-line. His low cross found Lunt but the teenage striker was unable to get a clean strike on the ball and keeper Kennedy saved well from close range (70 mins). Lunt was then caught offside as Alty now got the upper hand.
Gardner again went past Morgan and not for the first time the left-back tried to grab hold of the Alty man as he did so. This time, Mr Tiffin produced a yellow card for the Gateshead defender. Alty continued to press and Gardner almost played in Smith only for the defence to crowd out Alty's young midfielder (74 mins). Lunt then put a header wide after Smith, Shuttleworth and Gardner had been involved in the build-up (75 mins). In fact this was now the most entertaining phase of the game. Next Gallagher headed on to Gardner but this time the winger's cross was poor. Gateshead responded with a weak shot from McAlindon after Morgan's long throw from the left (80 mins).
After Scott had shepherded the ball out, he and his colleagues were surprised to see that a corner and not a goal-kick had been awarded. This was followed by a second corner for Gateshead which Acton punched clear. After Gardner had won a throw-in the Alty right corner, Jordan Burke came on to replace Jason Gallagher in midfield (86 mins). Alty continued to finish the stronger of the two sides and from Adams's free-kick following a foul on Smith, the ball ricocheted around the Gateshead box before being cleared (88 mins). Altrincham won only their second corner of the game in the last minute but this simply produced a Gateshead goalkick when an Alty head flicked the ball out of play.
The second half had brought more entertainment than the first. Overall a draw was a fair outcome but the standard of play was undoubtedly affected by the poor pitch. Altrincham have now lost just one league game in their last eleven and can travel to fifth-placed Whitby next Saturday with some confidence, especially with Band and Craney having completed their suspensions by then and, hopefully, some of the injured players also having returned to fitness.
---
Full-Time: GATESHEAD 0 ALTRINCHAM 0
---