Match Report
---
ALTRINCHAM (1) 2 WORKSOP TOWN (2) 4
UniBond Premier League match,
played on Saturday, 1 March, 2003 at 3p.m.
| | |
| --- | --- |
| Matchday Sponsor | Matchball Sponsor |
| CJM Transport | Sarah Rowley |
---
SCORERS
13 mins: Ian CRANEY (Altrincham 1 Worksop Town 0)
20 mins: Linden WHITEHEAD (Altrincham 1 Worksop Town 1)
36 mins: Linden WHITEHEAD (Altrincham 1 Worksop Town 2)
57 mins: Adam MULLER (Altrincham 1 Worksop Town 3)
65 mins: Barry SHUTTLEWORTH (penalty) (Altrincham 2 Worksop Town 3)
84 mins: Matthew CAUDWELL (Altrincham 2 Worksop Town 4)
---
REFEREE:
Mr. A.W. Dean
---
ATTENDANCE:
738
---
BACKGROUND:
This was Alty's first home game for three weeks and in that time the Moss Lane pitch had been heavily sanded by Manchester United, whose Reserves use the ground. Alty had won the away fixture with Worksop earlier this season, thanks to two goals from Rod Thornley. Guests at today's game included representatives of Trafford Borough Council. The Altrincham team were wearing a sponsor's logo for the first time this season, that of chairman Geoff Goodwin's company Go Goodwins Coaches.
---
TEAM NEWS
Captain and leading scorer Rod Thornley was again unfit; he has now played only 3 of the last 14 games. The other long-term absentees were Neil Ryan and Danny Murphy, whilst Jordan Burke was also out of action today. It was good to see Sean Smith well enough to watch the match from the stand after his recent horrific car crash and a collection was held for him which raised over £270. On his 30th birthday Mark Maddox captained the side, which include Dave Gardner whose knee injury had made him a doubtful starter.
Youth team midfielder Jon McEvoy joined his youth team-mate Steve Lunt on the bench, along with Anthony Sullivan. Worksop included former Alty captain Steve Hawes and also Matty Caudwell, who has been out injured recently. Those who attended the famous Doncaster Rovers v Alty game in the Conference in 1999 will remember Caudwell from that night as one of those who subjected the Robins' defence to a siege.
---
TEAMS
ALTRINCHAM (Red & white striped shirts, black shorts, red socks): 1. Richard ACTON, 2. Gary SCOTT, 3. Chris ADAMS, 4. Mark MADDOX (capt.), 5. Gary TALBOT, 6. Stephen ROSE, 7. Jason GALLAGHER, 8. Ian CRANEY, 9. Peter BAND, 10. Dave GARDNER, 11. Barry SHUTTLEWORTH. Subs: 12. Anthony SULLIVAN, 14. Stephen LUNT, 15. Jon McEVOY.
WORKSOP TOWN (All blue) : 1. Dave McCARTHY, 2. Ryan LUDLAM, 3. Mark BARNARD, 4. Steve HAWES, 5. Gavin SMITH, 6. Darren BRADSHAW, 7. Krystof KOTYLO, 8. Linden WHITEHEAD (capt.), 9. Andy TODD, 10. Adam MULLER, 11. Matthew CAUDWELL. Subs: 12. Gary TOWNSEND, 14. Darren ROBERTS, 15. Carl SMITH.
---
SUMMARY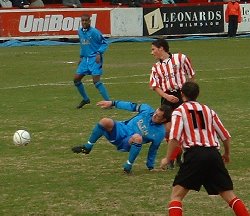 Barry Shuttleworth watches as Dave Gardner is challenged by Worksop captain and double-goalscorer, Linden Whitehead.
Worksop gained revenge for Alty's win at Sandy Lane this season as they became the first team to win at Moss Lane in the league since Bonfire Night and the first to score more than twice against the Robins since Graham Heathcote took over as manager - ironically in a week when Alty had won the UniBond Best Defence award! However, it was Alty who scored first when Craney finished well from an acute angle after good work by Gardner and Band (13 mins). The visitors equalised when Whitehead found space to volley home a cross from the left (20 mins). The Tigers took the lead when Whitehead repeated the act after 36 minutes as he capitalised on slack marking. Alty had lost Peter Band in the first half and had to remove captain Mark Maddox at the interval through injury. Worksop scored again, against the run of play, when Muller headed home from a right wing cross (57 mins) before a foul on Talbot gave Alty a penalty which Shuttleworth converted well for the second game running (65 mins). Alty pressed for an equaliser but on the break the impressive Caudwell got clear to drive past Acton from the left (84 mins).
---
MATCH REPORT
Altrincham kicked off in sunshine, towards the Golf Road End, and within 20 seconds Ian Craney got in a shot at goal, which went well wide, following a feed by Adams and Shuttleworth from the left. The game's opening stages were fairly even, with play openly moving from end to end and referee Dean allowing the game to flow. Worksop won the game's first corner, on their right, which Acton punched clear. Alty responded with a fine cross from Gardner which McCarthy just caught ahead of the incoming Peter Band (9 mins). Steve Hawes was having a good start to the game with some good runs and skilful passing. When Band went down injured, the speed with which Anthony Sullivan put on his substitute's shirt suggested that Band was carrying a pre-match injury and that "Tino" was expecting to make an appearance. However, for the time being, Band played on - to almost immediately good effect. A foul by Ludlam on Adams yielded a free-kick to Alty 22 yards out. Shuttleworth's free-kick was initially cleared, to Gardner. His chip forward to Band, inside the box to the right-centre of goal, led to the Alty no.9 knocking the ball deeper into the box to Ian Craney. Though wide of goal, to the right, Craney lashed the ball into the net from a sharp angle (13 mins).
Worksop replied by winning a corner soon after the restart, from which a header gave Alty a goalkick. Altrincham were looking reasonably comfortable but when Muller got inside Gary Scott, just inside the edge of the Alty box, on the Tigers' left, the ball came across the penalty area from another Worksop player to Whitehead, in space, some 15 yards out, slightly right of centre. The Worksop captain drove a low volley cleanly past Acton's right hand to equalise (20 mins).
Worksop soon won their third corner but Alty's next effort came when Rose screwed a shot wide from the edge of the box after good work from Gardner and Shuttleworth (23 mins). Rose was then on the receiving end of a kick on the head from Whitehead which earned the Worksop captain a lecture (28 mins). Worksop were now starting to gain the upper hand as Band came off the pitch to be replaced by Sullivan at the sharp end of the Alty team (32 mins). Meanwhile, Caudwell was causing problems on the Worksop left, whilst Todd, too was making a nuisance of himself in attack. A cross from the left then saw Whitehead head narrowly wide before Maddox had to hobble off to be treated for a leg injury. This meant that Rose had to drop to centre-back from midfield. After his lively start Gardner was now a little quieter and it was the visitors who looked the more likely to score. However, the goal when it arrived was a disappointment to the Alty manager for it came from sloppy defending. A free-kick, taken on the Worksop left, drew the Alty defence en masse towards the near post, only for Whitehead to find himself in oceans of space in the right of the penalty box. In almost a carbon copy of his first goal, the Worksop captain drove a low shot from 15 yards into the net, which it entered near Acton's right post (36 mins). Maddox was now back on the pitch but his side were conceding a number of free-kicks as the visitors posed further danger. As the interval approached Alty did create a good chance when from Gardner and Sullivan's work, Craney gathered the ball well but put in a poor shot wide of goal from the edge of the box (41 mins). A bad foul by Rose on Todd, near the centre line, led to a deserved booking for the Alty man (42 mins). After Gallagher had inadvertently halted an Alty move by falling over, Worksop broke away and from Todd's pass, the former Northwich defender, Mark Barnard, shot wide of Acton's left post when he should have hit the target (44 mins). Half time came and part of the pitch was given over to a schools' five-a-side game between St Ambrose and Heys Lane.
---
Half-Time: ALTRINCHAM 1 WORKSOP TOWN 2
---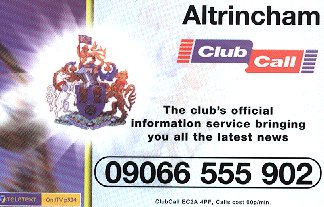 At half-time Mark Maddox was unfit to continue and Steve Lunt came on, joining Sullivan up front. Gary Talbot assumed the captain's role as Maddox's 30th birthday ended on a low note. A sliding tackle by Rose was harshly penalised by Mr Dean but it was Alty who enjoyed the better of the second period's opening stages. Gardner soon got past Barnard into the box but elected to shoot rather than pass inside and he could only find the side-netting (54 mins). It had now started raining as Caudwell won another corner for Worksop, which was cleared, and the following cross by Hawes was headed wide of the Alty goal. Alty finally won their first corner through Lunt (56 mins).
Taken short, this led to a cross by Gardner which McCarthy caught. Gallagher then got forward on the right and fed Gardner, who advanced into the box where his shot hit Smith's back to give Alty another corner, on the right. Gardner's corner came to McCarthy as Alty now looked the more likely side to score. But it was not to be. A good break by Hawes, up the inside right channel, led to a cross from the right which was nodded left to Muller who sent a gentle header into the net from close range at the back post (57 mins). Soon Worksop won a corner when Whitehead was again given too much space and got in a shot which was deflected out of play (58 mins).
A second corner immediately followed off Gallagher. The third goal knocked some of the stuffing out of Altrincham and the home side's second goal actually came quite unexpectedly. It arrived after a speculative up and under by Scott was headed back by Smith to his keeper, who had to react quickly and kick the ball, which went out for a corner. This was quickly taken and in the penalty area Gary Talbot was clearly pushed over by Whitehead. For the second game running, and once more in the 65th minute, Talbot had won a penalty. History repeated itself further when Shuttleworth strode up and, as at Whitby, drove the ball into the net as the keeper went to his left.
The goal ignited the crowd and they roared their team on for an equaliser. However, it was Worksop who won two more corners as the rain now got heavier (69 mins). Mr Dean strangely chose not to book Ludlam for felling Gardner but the Alty man was soon involved in a good move with Scott and Sullivan which ended with Talbot hitting a cross from the right into the ground. The ball bounced up and forced McCarthy into an acrobatic one-handed tip over his crossbar. From Adams's corner, Todd inadvertently headed towards his own goal-line but a defender cleared the ball off the line (70 mins).
Altrincham were now doing well but Hawes got in a shot which won his side another corner at the other end. This was cleared before Garner was pushed over by Barnard, who was not penalised. Gardner must have passed a comment, for Mr Dean booked the Alty man rather than the original offender (74 mins). It was Gardner's third successive booking in league games and the fourth of his short Alty career. Like Stephen Rose who was Alty's other booked player today, Gardner now lies just one yellow card from suspension. Mr Dean had to get his book out again soon afterwards when Kotylo committed a bad foul, from behind, on Lunt.
Play was now end to end, once more, before play stopped for a Worksop injury (76 mins). Worksop soon won another corner on the left which Talbot half cleared only for Kotylo to shoot well wide (78 mins). Sullivan next fed Gardner whose low, driven cross won his side a corner. This was quickly taken and came out to Rose who volleyed over the bar from 15 yards (80 mins). Worksop surprisingly withdrew Hawes, who had a good game, and brought on Carl Smith (80 mins).
After a further Alty attack by Craney, on the breakaway, Whitehead fed Caudwell on the left. Caudwell got round Gary Scott to the left of the Alty goal and buried a fine shot past Acton from 12 yards or so. Worksop's finishing today was impressive (84 mins). Alty's best chance in the closing stages was a curling freekick from 20 yards by Shuttleworth which McCarthy saved well, low down, near his left post (86 mins). The rain was now getting heavy as Sullivan's poor shot marked Alty's last effort at goal (90 mins).
Worksop were deserved winners today but Altrincham's performance was disrupted by the loss of both Band and Maddox during the game, to add to the absences of Thornley, Murphy, Smith and Ryan. No Man of the Match was announced but for Alty Gary Talbot played as well as anybody. Up front, the side seemed largely reliant on Gardner, with Sullivan having a quiet game and the midfield and full-backs only rarely getting forward. Defeat today saw Alty drop two places to twelfth.
---
Final Score: ALTRINCHAM 2 WORKSOP TOWN 4
---