Match Report
---
BARROW (2) 4 ALTRINCHAM (0) 0
UniBond Premier League match,
played on Tuesday, 4 March, 2003 at 7.45p.m.
---
SCORERS
25 mins: Steve HOUSHAM (Barrow 1 Altrincham 0)
31 mins: Mark HUME (Barrow 2 Altrincham 0)
64 mins: Steve HOUSHAM (Barrow 3 Altrincham 0)
83 mins: Steve GAUGHAN (penalty) (Barrow 4 Altrincham 0)

---
REFEREE: Mr. C. Bainbridge (Penrith)
---
ATTENDANCE: 881
---
BACKGROUND:
For the third year running the Barrow v Altrincham game was played in pouring rain though tonight's gusty downpours were nothing as compared with the deluges in the last two years' fixtures between these sides at Holker Street. Barrow came into the game on a 10-match unbeaten run in the league whilst Alty had just lost their first game in eight, to Worksop Town. Barrow had never done the double over Altrincham since the Cumbrians lost their league status in 1972 but they had already won at Moss Lane this season to set up the possibility of breaking their jinx.
TEAM NEWS
Altrincham were severely under-strength for tonight's game, with both Mark Maddox and Peter Band failing fitness tests after being injured on Saturday and therefore joining Thornley, Smith, Burke and Murphy on the absentee list. So, Altrincham brought into the squad three youth team players who had not previously started a league game between them. Steve Lunt, of course, had already been a league substitute on seven occasions this season, but neither Francis Evans nor Jon McEvoy had any first team experience other than in a couple of UniBond cup matches. Steve made his first league start tonight whilst Francis and Jon initially joined Neil Ryan on the bench.
Neil had not started in a league game since 19 October 2002, thorugh injury, though he had made a sub appearance at Colwyn Bay in December. Anthony Sullivan was restored to the starting line-up for his fourth league start of the season and Gary Talbot took over as captain with Steve Rose partnering him at the back in Maddox's absence. Jason Gallagher played in an unaccustomed left-wing position whilst Barry Shuttleworth moved into central midfield to join Ian Craney.
Barrow keeper Simon Bishop was suspended so, making his Barrow debut, was on-loan Luke Weaver, Carlisle United's third-choice keeper. However, Weaver (23) had once been a £250,000 purchase by Sunderland so he had some pedigree. Mark Salmon, Graham Anthony and Neil Tarrant were out injured. 18 year-old Michael Kewley, a local lad just released by Preston North End, was making his debut on the bench.
---
TEAMS
BARROW (All blue) : 1. Luke WEAVER, 2. Simon SHAW, 3. Scott MAXFIELD, 4. Lee WARREN, 5. Mark HUME (capt.), 6. Steve GAUGHAN, 7. Steve HOUSHAM, 8. Trevor TEARNEY, 9. Ian ARNOLD, 10. Steve RIDLEY, 11. Grant HOLT. Subs: 12. Mike KEWLEY, 14. Andy HILL, 15. Mike ROBINSON.
ALTRINCHAM (Red & white striped shirts, black shorts, red socks): 1. Richard ACTON, 2. Gary SCOTT, 3. Chris ADAMS, 4. Stephen ROSE, 5. Gary TALBOT (capt.), 6. Barry SHUTTLEWORTH, 7. Dave GARDNER, 8. Ian CRANEY, 9. Anthony SULLIVAN, 10. Steve LUNT, 11. Jason GALLAGHER. Subs: 12. Jon McEVOY, 14. Francis EVANS, 15. Neil RYAN.
---
SUMMARY
An injury-weakened Alty side conceded four goals for the second time in a week, but Barrow were flattered by the winning margin. Altrincham, without Band, Maddox, Thornley and Murphy, included three teenagers in their squad. To add to their woes, Alty also lost Gardner, injured, after half an hour.
Against the run of play Barrow scored in the 25th and 31st minutes. The first was scored by Housham with a header from a corner, the second was a tap-in by Hume following a free-kick. Altrincham got in four excellent long range shots in the second half before Scott's attempted interception from a Barrow corner left Housham with another tap-in on 64 minutes. After 83 minutes, Talbot fouled Holt to allow Gaughan to score from the spot.
---
MATCH REPORT
Despite the makeshift appearance of the Altrincham side, they had the better of the first 25 minutes after the game had inexplicably kicked off more than three minutes late, in swirling rain. Jason Gallagher made a good early impression with a couple of good interceptions and he went on to have a good first half, winning more than his fair share of aerial balls as well as working hard. Steve Lunt won Alty an early corner, taken from the right by Dave Gardner, which Barrow's debut-making keeper caught impressively in the air. Altrincham continued to play well and almost went ahead after eight minutes when a Gary Scott interception on the right led to Dave Gardner taking up the ball.
He played it to Craney who chipped an excellent shot over the keeper from the right of goal but his lob drifted past the far post and just out of reach of the incoming Lunt at the back post. The game was then punctuated by a series of minor offences and free-kicks. One of these free-kicks, taken on the left by Gardner, almost found the incoming Steve Lunt's head but it ran on to Weaver (14 mins). The rain had now stopped for a moment and the visiting Altrincham fans took advantage by going through their chants.
After their slow start, Barrow began to pick up and after Scott had lost possession to Ridley, Acton had to be out smartly to smother the ball before Arnold, the shaven-headed former Southport man, could take advantage (20 mins). Another fine interception by Gallagher saw him immediately tripped by Shaw but Sullivan wasted the free-kick on the left front-edge of the Barrow box by curling his effort comfortably over the bar (22 mins). At this point Dave Gardner had to leave the fray and he hobbled round from the far side of the pitch, clearly unable to continue.
As he made his way back to the bench, Arnold got past Rose and Talbot had to concede a corner, Barrow's first, on their right. As the crowd awaited the corner, Alty brought on Jon McEvoy for his league debut in place of Gardner. McEvoy had just got into his right-side position when Maxfield's corner came across and an unmarked Housham headed home from close range in front of the centre of the goal (25 mins). Even Barrow's excellent Holker Street Newsletter said "Altrincham started the more brightly and it was somewhat against the run of play when Housham gave Barrow the lead". Worryingly, Alty have started to concede a lot of goals from corners recently.
After an Alty attack had broken down Holt got in a shot which was blocked, and was then cleared by Rose. Barrow now got on top for the first time in the match but Arnold mishit their next effort from close range and the ball ran to Acton's arms. "Get the marking sorted" shouted Alty manager Graham Heathcote to his team. Immediately McEvoy committed a foul which earned the teenager a rather harsh booking on his debut (30 mins). From the free-kick, taken by Gaughan on the left about 25 yards out, the ball seemed to be deflected as it was driven in and Acton made an instinctive save but could only knock the ball upwards. It dropped conveniently at the feet of Hume, who had an open goal and did not miss it (31 mins).
At this point the scoreline was not a true reflection of the preceding half hour's play. But now Barrow continued to improve and from an Arnold feed, Holt shot firmly, but just wide, from the edge of the box. Nevertheless, Altrincham continued to win freekicks with regularity, however, but did not threaten the Barrow goal seriously at this stage. However, six minutes before the break, a foul by Housham on Craney, 40 yards out almost produced a goal. Adams's well -taken curling freekick was met by Talbot and from a half clearance he got in a firm second header which just cleared the bar (39 mins). Alty continued to carve out the more chances and when Craney impressively cut into the box from the right, Weaver had to make another smart save (41 mins). Holt in particular continued to give away freekicks but Mr Bainbridge did not see fit to produce his book. The last effort of the half was a disappointing, low shot by Craney which went well wide from 22 yards (44 mins). Half-time came with Alty trailing by two goals.
---
Half-Time: BARROW 2 ALTRINCHAM 0
---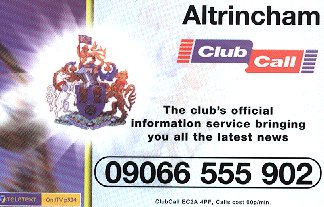 As in the first half it was Alty who had the better of the opening stages of the second period. In the first 13 minutes they fired in four excellent long-range shots, all of which were on target and needed good saves by Weaver. Firstly, Sullivan won the ball and Craney got in a superb 25 yarder which Weaver could only beat out (47 mins). Almost immediately, from an Alty freekick, Shuttleworth fired in an even better shot than Craney's from all of 30 yards, which Weaver again beat out well (47 mins).
Alty continued to play well and Shuttleworth had another effort blocked at source before Acton was called into action to catch a wickedly curling ball into his box from Gaughan on the left. But Adams, Sullivan and Lunt soon combined at the other end, on the Alty left, to allow Sullivan to curl in a menacing lob from 20 yards out on the left edge of the box, which Weaver had to backtrack smartly to tip over the bar at his back post for a corner (56 mins). Then Lunt and Gallagher combined well for Lunt to shoot low at goal from the edge of the box but Weaver again made a good save (58 mins).
A crude challenge by Maxfield on Adams earned the Barrow defender a yellow card and, at this point, on the hour, Barrow brought on Holker Street debutant Mike Kewley for Tearney. So far this half Barrow had posed virtually no threat to Acton's goal, with Rose seeing off the next tentative attack from the home side. However, Barrow threatened the Alty goal seriously for the first time in this half when Holt got round the Alty defence but shot wide. However, the ball did not go out of play and a colleague won a corner on the right. Maxfield's corner was stopped by a stretching Scott but this just set the ball up perfectly for Housham to knock past the prostrate Acton into the net from close range. As in the first half, after being on top, a corner had been Alty's undoing (64 mins).
From the restart Ian Craney was upended on the edge of the Barrow box as the rain lashed down again, sweeping across the pitch. Barrow soon replaced Housham by Hill (70 mins) before the Bluebirds won a corner. Again the corner caused Alty some problems and Acton had to block Arnold. Another corner soon followed, on the left, but this was cleared. Barrow were now getting on top as the second half followed the first half pattern. Barrow won their fourth corner in a six minute spell but following this Craney fired in yet another on-target 25 yarder which Weaver caught well as it arrowed towards the top corner of the net (75 mins). Craney's frustration boiled over when he was booked soon afterwards for a foul (76 mins). Hill then shot over the bar for Barrow before Craney committed another offence. Though the referee diplomatically did not take further action, Altrincham immediately subbed their young midfielder - bringing on Ryan for his first action of 2003 (78 mins).
Two minutes later Barrow brought on Robinson for Arnold. Soon afterwards, Talbot was caught clearly holding Holt inside the Alty box and a penalty was awarded. Gaughan despatched this without any trouble to make the score 4-0 (83 mins). Alty then brought on Francis Evans for his league debut. He replaced Gallagher (84 mins). Almost immediately the young substitute threaded an excellent 40 yard ball forward for his youth team colleague Steve Lunt who had sprung the offside trap. With Sullivan also making ground inside him, the exposed Weaver came out and Lunt opted to try to find Sullivan rather than shoot. Unfortunately, a defender nipped in to concede a corner before the ball reached Sullivan. Though standing in pouring rain and with their side trailing by four goals, the Altrincham fans behind the goal sang their team on.
With Lee Warren announced as Man of the Match, Alty continued to be the side creating more shooting opportunities. This time, from Ryan's feed, Adams shot well over from 30 yards (87 mins). Rose again showed speed and good reading of the game to see off a Barrow attack before yet another Alty chance came and went. Adams, Evans, Lunt and Sullivan all combined to feed McEvoy who very cleverly pushed the ball behind Hume and ran behind him into the box to get in a clear shot from 15 yards, to the right of goal. However, he pulled his shot across goal to give Barrow a goal-kick (89 mins). Alty's night ended on a low note when Shuttleworth was booked for dissent after he thought he had been fouled but the referee had thought otherwise.
Altrincham did not deserve to lose by four goals. Weaver was the busier keeper by some margin but in each half Alty conceded soft goals from corners to undo their good work. The Robins have now conceded 8 goals in their last 2 matches after going 18 games in which only 16 goals were let in.
This transformation is all the more surprising given that the team's recent decimation by injury has primarily affected the midfield and forwards and not the defence itself. Although Maddox was absent today at the back, Rose performed well as his replacement. It is also worrying that Altrincham have scored just one goal from outfield play in their last four league games. With league leaders Accrington Stanley the next visitors to Moss Lane, Alty will be hoping that the return to action of some of their injured players will be possible on Saturday. Overall, this was a good performance from a patched-up Alty side which was undone by excellent goalkeeping from Weaver and some instances of poor defending, especially from corners. So, Barrow achieved their first double over Altrincham and moved up to second in the table, whilst Altrincham dropped to thirteenth.
---
Full-Time: BARROW 4 ALTRINCHAM 0
---