Match Report
---
ALTRINCHAM (0) 1 ACCRINGTON STANLEY (1) 1
UniBond Premier League match,
played on Tuesday, 11 March, 2003 at 7.45p.m.
| | |
| --- | --- |
| Matchday Sponsor | Matchball Sponsor |
| Laing O'Rourke Northern | French Trading |
---
SCORERS
24 mins: Rory PRENDERGAST (Altrincham 0 Accrington Stanley 1)
84 mins: Ian CRANEY (Altrincham 1 Accrington Stanley 1)
---
REFEREE:
Mr. N. Butler
---
ATTENDANCE:
600
---
BACKGROUND:
This match had been postponed from last Saturday due to a waterlogged pitch but, tonight, conditions were good, though the pitch still showed the signs of the recent sanding kindly carried out by Manchester United, whose Reserves play at Moss Lane. Accrington had gone six games without dropping a point before tonight whereas Altrincham had lost their last two matches and conceded eight goals in the process.
---
TEAM NEWS
Altrincham welcomed back Peter Band but were neverthless without five regular first teamers - Mark Maddox, Rod Thornley, Danny Murphy, Sean Smith and Dave Gardner. To address this long injury list, Graham Heathcote had brought three new faces to the club this week. They were left-sided midfielder/full-back Paul Robertson, Tony Cullen from Salford City and, on loan, Steven Clegg, a former Manchester United youngster from Stalybridge Celtic. Robertson had been part of Alty's UniBond championshiop side of 1998-99. Clegg and Robertson both started tonight, in right and left midfield respectively. Indeed, the Alty midfield comprised four players whose natural position was on the flanks, with Gallagher and Shuttleworth playing in the central slots for this game.
Stanley included ex-Liverpool midfielder Mark Marsh, who has been at Boston United since last playing against us for Kidderminster Harriers. Other familiar faces included the fiery ex-Emley and Bradford man Rory Prendergast and the strike duo of Lutel James and Paul Mullin.
---
TEAMS
ALTRINCHAM (Red & white striped shirts, black shorts, red socks): 1. Richard ACTON, 2. Gary SCOTT, 3. Chris ADAMS, 4. Stephen ROSE, 5. Gary TALBOT (capt.), 6. Barry SHUTTLEWORTH, 7. Jason GALLAGHER, 8. Ian CRANEY, 9. Peter BAND, 10. Steven CLEGG, 11. Paul ROBERTSON. Subs: 12. Anthony SULLIVAN, 14. Stephen LUNT, 15. Neil RYAN.
ACCRINGTON STANLEY (colours) : 1. Jamie SPEARE, 2. Peter CAVANAGH (capt.), 3. Steve HOLLIS, 4. Steve HALFORD, 5. Jonathan SMITH, 6. Andrew PROCTOR, 7. Russell PAYNE, 8. Mike MARSH, 9. Lutel JAMES, 10. Paul MULLIN, 11. Rory PRENDERGAST. Subs: 12. Andy GOUCK, 14, Robbie WILLIAMS, 15. Dean CALCUTT.
---
SUMMARY
Altrincham gained a hard-fought but deserved point against table-toppers Accrington after falling behind to Rory Prendergast's swerving, low 25-yarder which deceived Richard Acton (24 mins). Fielding two newcomers in the starting line-up, Paul Robertson and Steven Clegg, Alty settled better in the second half and were rewarded when Ian Craney's fine run and superb shot from 22 yards beat Speare, six minutes from the end.
---
MATCH REPORT
After changing ends, Altrincham kicked off towards Golf Road and the opening minutes saw them gain three quick throw-ins on the left, taken by Chris Adams. But play soon stopped for lengthy treatment to Prendergast after a foul near the centre-line by Scott (3 mins). Not surprisingly Robertson was needing a little time to find his feet on the left, back at this level, and Clegg, too, had a quiet start. There was then another protracted stoppage for treatment, this time to centre-back Smith's neck, as the game still awaited its first shot on goal at either end (11 mins).
In fact, Smith soon had to give way to Williams, the Stanley centre-back having a large ice pack placed down the back of his neck as soon as he reached the bench (14 mins). The first shot of note came when James was allowed to collect the ball and turn but his 20-yard effort was deflected out by Rose for a corner on the Stanley left (16 mins). This led to a goal-kick which in turn led to Altrincham's first corner, taken by Shuttleworth from the right. Again, only a goal-kick resulted. More threatening action came following a Rose free-kick from Alty's own half. Talbot rose well to win the ball in the Stanley box, with keeper Speare left punching the air. However, the visitors' defence got the ball clear (21 mins). Soon afterwards Band went down in the box under a challenge but the referee saw no offence (23 mins).
After this fairly unexceptional opening first period, the game's first goal came rather out of the blue. The ball ran from Talbot inside to Prendergast who had the time to aim a low shot from a central position, 25 yards out. The swerve on the ball seemed to deceive Acton, who first stepped to his left but then tried to scramble in the other direction as Prendergast's well struck effort went past him into the net (24 mins). From the restart keeper Speare had to be alert at the other end to smother the ball as Band closed in on goal. Next, Prendergast got in another excellent shot from more than 20 yards but this time, Acton, diving to his left made a fine save, tipping the ball out of play for a corner on the Stanley right. The visitors were now on top and their next effort saw Payne shoot into the side netting at the foot of Acton's left post after a feed by the lively James (28 mins). In a bizarre incident which saw two Alty players challenge each other strongly for the same loose ball on the Alty right, Gary Scott emerged injured as play continued. Fortunately, the ball was eventually cleared. Soon, though, Stanley won their third corner of the game, through the efforts of Payne and Cavanagh on the right.
Altrincham responded when Gallagher and Craney fed Band but Speare was out quickly to gather the ball before another Prendergast 25-yarder went narrowly wide on the breakaway at the other end (31 mins). Stanley also won two quick corners on their left and from the second of these Hollis scooped an effort over the bar (32 mins). Alty soon made an apparently tactical change, replacing debutant Clegg by Anthony Sullivan, who went up front as Craney moved into central midfield. However, Stanley then won another corner off Adams. After Adams had briefly left the pitch for treatment to a head injury, the referee signalled two minutes of added time. Just before the end of the half Band was fouled and referee Butler allowed advantage but unfortunately the move broke down and the interval came with Alty still trailing.
---
Half-Time: ALTRINCHAM 0 ACCRINGTON STANLEY 1
---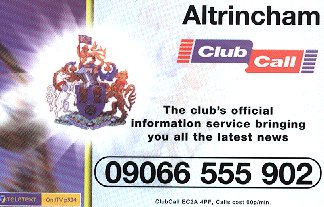 Altrincham came out of the blocks first in the second half and the opening two minutes saw Sullivan three times chasing after through balls, all of which reached Speare first. Sullivan had better luck when Scott and Band combined to set him up for a shot but he put it well wide (47 mins). A threatening move up the Stanley left ended when Payne mis-passed the ball after good work from Proctor and Prendergast.
Stanley came closer when Scott had to block a shot on the line after Marsh and Prendergast had combined effectively. The Alty defence finally scrambled the ball clear and the home side soon won only their second corner of the game. Shuttleworth's corner from the right came to Rose beyond the back post and his ball back into the box was tipped over by Speare for another Alty corner, on the right. Soon Alty replaced Gallagher with Lunt, necessitating another change of formation as Band now dropped deeper (51 mins). Altrincham soon began to get the upper hand, with Robertson beginning to come into the game and Band, as ever, exerting plenty of effort. Craney too, was having a battling game.
After Shuttleworth and Band had linked up, Sullivan fired in an excellent shot from 25 yards, which went across the keeper and forced him to make a fine full-length save, tipping the ball out for another Alty corner on the right (58 mins). After a firm but fair tackle by Craney by the touchline near the Accrington dug-out, Prendergast reacted strongly and a brief melee resulted, with Prendergast having to be held back by his manager. Apart from a lecture for both players, no card was shown. However, Mr Butler was less tolerant soon afterwards when Band protested at the award of a foul against him on the edge of the Alty box. The referee booked the Alty man (61 mins). Acton caught the following free-kick comfortably from Cavanagh. A superb midfield surge by Craney, past two opponents came to nothing before a Rose trip on James saw him join Band in the referee's book (63 mins). This was Rose's fifth booking and will trigger a suspension.
After a long stoppage for treatment to James, Cavanagh drove the ball into the wall only for the referee to order a re-take. This time Marsh drove the ball high over the bar from the retaken kick (66 mins). After Band had won possession well, Sullivan gained a corner for the Robins on the right but before it could be taken there was yet another Stanley injury stoppage. Shuttleworth's corner was easy meat for Stanley's defence much to Graham Heathcote's annoyance. Alty themselves then had to re-take a free-kick following a handball by Halford, 25 yards out from his goal. The re-take this time was to allow the ref to lecture Mullin and Craney for an off the ball incident. After Shuttleworth's first attempt, Robertson took the second free-kick but curled it directly into Speare's arms.
Mullin had the ball in the net at the other end soon afterwards but this was ruled out for offside (72 mins), before an overhit Robertson cross went into the 20/20 End terracing. Graham Heathcote shuffled his tactical cards once again and now sent Band further forward and brought Sullivan into midfield but it was Stanley who won the next corner, on their left. However, the best chance of this period fell to Alty when Lunt got behind his marker on the edge of the box but he scooped his effort well over the target. Acton then saved a Prendergast shot but Alty continued to press at the other end. Soon, Accrington replaced Marsh with the portly Andy Gouck, the former Southport player (79 mins). Prendergast got in another shot after getting past Scott on the Stanley left but he hit it well over the bar (80 mins).
Stanley came even closer soon afterwards when James did well but Mullin's effort from his cross from the left was beaten out. Just as it looked as if Accrington would hold on, Ian Craney got the ball from Prendergast and advanced up the middle of the pitch into the visitors' half. From about 22 yards out he took aim and the ball flashed past Speare into the keeper's left-hand corner for a wonderful equaliser (84 mins). Stanley immediately replaced James by Calcutt, the former Bradford wide man. However, it was Alty who threatened next with Robertson playing a fine ball to Sullivan on the right which was wasted by Sullivan's below par cross (85 mins). Stanley did get in a decent shot after this when Prendergast, yet again, was allowed a sight of goal but Acton saved well, low down (86 mins). A late Alty corner was cleared as Mr Butler curiously only allowed one minute of added time to a half which had seen several protracted stoppages.
Altrincham maintained their jinx on Stanley who have not now beaten them in the last six encounters. The draw saw Alty rise to 13th. After the first half, in which the Altrincham debutants tried to bed in and compensate for the absent regulars, the second half saw a much better performance and the even outcome was, in the end, deserved. Ian Craney was named as Altrincham's Man of the Match.
---
Final Score: ALTRINCHAM 1 ACCRINGTON STANLEY 1
---