Match Report
---
HARROGATE TOWN (1) 3
ALTRINCHAM (0) 0
UniBond Premier League match,
played on Tuesday, 18 March, 2003 at 7.45p.m.
---
SCORERS
37 mins: Colin HUNTER (Harrogate Town 1 Altrincham 0)
47 mins: Marc SMITH (Harrogate Town 2 Altrincham 0)
86 mins: Scott JACKSON (Harrogate Town 3 Altrincham 0)

---
REFEREE: Mr. Carl Bassindale (Doncaster)
---
ATTENDANCE: 368
---
BACKGROUND:
If Altrincham could win this match they would go seventh in the table, their highest position of the season. However, Harrogate were starting the game a point ahead of their opponents, with two games in hand. This was Altrincham's first ever match to the well-maintained Wetherby Road ground and it came after a 4-0 drubbing at Moss Lane by Harrogate on the opening day of this season. Conditions were good, with the weather dry but cold.
---
TEAM NEWS
Mark Maddox was unfit so joined Gardner, Thornley, Smith and Murphy as an absentee tonight. Jason Gallagher came back into the starting line-up in which Peter Band was in midfield whilst Sullivan and Craney were the forward players. Stephen Rose joined Talbot at the back in Maddox's absence, and Talbot took over the captain's armband.
For Harrogate, Ashley Connor was making his 100th UniBond appearance in goal. The home side was the same fourteen which formed the squad which won away at Barrow on their last outing.
---
TEAMS
HARROGATE TOWN (Yellow shirts with black trim, yellow shorts and socks) : 1. Ashley CONNOR, 2. James McDAID, 3. Dave MERRIS, 4. Simon STURDY, 5. Mick McNAUGHTON, 6. Stuart ELLIOTT, 7. James TURLEY, 8. Darren BEESLEY, 9. Marc SMITH, 10. Robbie WHELLANS, 11. Colin HUNTER. Subs: 12. Scott JACKSON, 14. Paul SYKES, 15. Len CURTIS.

ALTRINCHAM (Pale blue shirts, black shorts, black socks): 1. Richard ACTON, 2. Gary SCOTT, 3. Chris ADAMS, 4. Stephen ROSE, 5. Gary TALBOT (capt.), 6. Peter BAND, 7. Jason GALLAGHER, 8. Ian CRANEY, 9. Anthony SULLIVAN, 10. Barry SHUTTLEWORTH, 11. Paul ROBERTSON. Subs: 12. Steven CLEGG, 14. Stephen LUNT, 15. Neil RYAN.
---
SUMMARY
After playing well and matching Harrogate for 35 minutes, Altrincham fell behind to a defensive mix up between Scott and Acton which left Hunter to hook the ball home (37 mins). The game was effectively lost two minutes after the interval when Talbot's error let in Smith to score. Alty never seriously threatened Harrogate's goal and Jackson got the third four minutes from the end. Overall, this was a disappointing performance from an Altrincham side lacking Mark Maddox as well as the longer-term injured - Thornley, Smith, Gardner and Murphy.
---
MATCH REPORT
After a minute's silence for the death of the Harrogate Manager's father, the home side kicked off and enjoyed the better of the opening minutes. However, Alty soon settled down, with Scott and Gallagher particularly prominent on the Alty right. The first shot of substance came when Turley lifted an effort over the bar after good work by Beesley, a Worksop Town player on loan to the Yorkshire side (8 mins). Alty replied with a cross from Robertson which the keeper caught comfortably before good work by Shuttleworth, who got past two men, set up Sullivan for a shot which was blocked (11 mins). Alty then had a scare when Scott made a mistake but he recovered well to regain possession inside the Alty box (12 mins). A well-taken free-kick from Robertson, following Hunter's foul on Band, led to the game's first corner when a Harrogate player sliced his clearance.
With three Alty men at the near post, Robertson's inswinging corner from the right went to the back post where Sullivan stretched to head the ball onto the top of the net (13 mins). Band and Craney were then involved in a threat to the Town goal which ended with the keeper rather fortunately saving a Craney shot with his legs before the ball was cleared for another Alty corner (15 mins). Shuttleworth's corner, from the left was met well by Talbot but he could not get sufficient power to beat Connor who caught the ball as it looped towards the top corner of his net. Alty were now on top and Scott and Gallagher conspired to win a further free-kick on the Alty right. Robertson took it but it was cleared from the vicinity of the penalty spot by a defender. Next, following a throw-in, Ian Craney's left foot shot went narrowly wide from 22 yards (18 mins).
After Band had been penalised in the centre circle, Harrogate won a corner on their right and when Adams protested that it should have been a goalkick, he got a lecture from the referee. Scott saw off another attack before Town won a further corner off Robertson. Scott cleared this but the ball came off Robertson to Turley whose firm, low shot went narrowly wide (24 mins). Sullivan responded with a good cross at the other end, followed by one by Craney, but both were cleared. Whilst Alty were getting a number of balls into the opposition's box, they were not forcing the keeper to make serious saves. The end to end action continued with Whellans getting to the by-line but overrunning the ball (30 mins). Next, it was Hunter who got past two Alty men on the Harrogate left before Talbot came across to make a timely interception.
Then, just a couple of minutes after Gary Scott, of all people, had been caught offside in the outside left position deep in the Harrogate half, the home side took the lead in unfortunate circumstances. Scott, by now back in his right-back berth, made a short header back to Acton who was being closed down by Hunter. Although the keeper got his hands to the ball he could not hold it and under the challenge from Hunter lost the ball which the Harrogate winger hooked past him as he fell. It rolled over the line just before a covering defender could get to it (37 mins).
Harrogate were inspired by the goal and almost immediately Hunter had a fine shot saved well by Acton's legs after good work by Smith (40 mins). This gave Harrogate a corner which was half-cleared by Acton only for Turley to drive it back, wide of goal, from outside the box. Harrogate were now on top as the half drew to a close and, after a punch out by Acton, the last action of the half saw McNaughton lift the ball over the bar (45 mins). Alty were a little unlucky to be a goal down after having a good share of the play in the first 45 minutes. However, for Harrogate, Hunter on the left and the pacey Turley on the right were causing problems to Altrincham whilst the very tall, but nonetheless mobile, Smith was also proving difficult to handle.
---
Half-Time: HARROGATE TOWN 1 ALTRINCHAM 0
---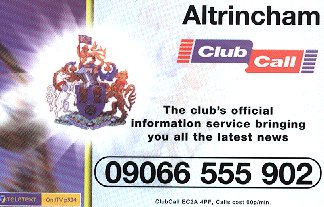 Alty changed formation at half-time with Band going up front and Craney dropping into central midfield. Connor soon had to come out of his area to head clear from Craney but disaster was to strike soon afterwards. Talbot, to the left of the Alty box, made a poor clearance from which Turley sped into the box and fed Smith to the left of goal. Though Acton kept out his first attempt, the tall number nine was left with an easy task of knocking the rebound home to give Harrogate what, at the time, was a flattering two-goal lead (47 mins).
After the re-start a Craney effort from 30 yards bounced comfortably for Connor, before Turley, at the other end, shot well over Acton's net (49 mins). Harrogate were now on top again, however, as Ian Craney's frustrating night continued when he lost possession. After a foul by Elliott on Craney, Gary Talbot got on the end of Adams's free-kick but the ball ran easily to the keeper (55 mins). Alty's attack were proving less direct than Harrogate's and tended to end up with a misplaced pass. Elliott's 30-yard shot, just wide of the upright, was the next decent effort on goal (57 mins)
Shuttleworth continued to battle in midfield but Alty were unable to carve out any clear openings further forward. To try and remedy this, Steve Lunt came on for Gallagher and Sullivan dropped back to right midfield to accommodate the young striker (62 mins). However, Harrogate soon won two corners in quick succession but their next reasonable effort came when Smith lifted the ball over the bar after he had been left in space from a Turley pass (66 mins). Though Shuttleworth got in a long range shot, this caused Connor no major alarms before Jackson replaced Whellans for the home team (69 mins). After consecutive errors by Scott and Rose, the sub immediately had a chance to score when Hunter seized on Rose's sliced clearance. However, Acton made a good parry (72 mins). Alty did now begin to up the tempo a bit but Band's long range shot into the crowd was the nearest they got to a goal before Harrogate made another change. Sykes, the former Ossett Town man, came on for Beesley (74 mins).
A Rose free-kick yielded a corner to Alty but this was cleared and a throw-in soon followed to Harrogate. Robertson contested the decision by swearing and bouncing the ball angrily onto the perimeter track to earn a booking from the referee (77 mins). Band, too, was spoken to before play resumed. Gary Talbot was now pushed forward for Alty who left just three at the back. As a result, Talbot soon won a header from an Adams free-kick but the ball again dropped comfortably for Connor to field (78 mins). Alty were now pressing forward but still making a lot of unforced errors, with miskicks. Harrogate were content to absorb the pressure and were good enough to prevent Alty getting any clear chances to score. Alty's woe was completed four minutes from the final whistle when Elliott fed Hunter on the left and he got the better of Scott .
Though Acton parried the winger's attempt at goal, Jackson was on hand to tap the ball home. Following this Elliott's 30 yard chip just cleared the Alty bar as the three minutes of added time began. Alty had one last chance when Talbot headed on to Sullivan but Connor saved well (88 mins). Full time arrived with Altrincham having been well beaten in the final hour after having started the game quite brightly. The Robins had now shipped seven goals to Harrogate without reply this season.
Barry Shuttleworth was named Alty man of the match but he will have taken little satisfaction from that. Perhaps the most telling statistic is that this was Alty's thirteenth game in which they had not scored this season in the league. They are not converting periods of good build-up into an end-product but tonight this weakness was compounded by defensive errors. The long injury list obviously has a major bearing on this but after the battling performances of recent weeks in similar circumstances, tonight's outcome was all the more disappointing.
---
Full-Time: HARROGATE TOWN 3 ALTRINCHAM 0
---