Match Report
---
ALTRINCHAM 0 HUCKNALL TOWN 0
UniBond Premier League match,
played on Saturday, 22 March, 2003 at 3p.m.
| | |
| --- | --- |
| Matchday Sponsor | Matchball Sponsor |
| Croma | Saturday Yankee & HFM Consulting Co. |
---
SCORERS
None

---
REFEREE: Mr. M.R. Thorley
---
ATTENDANCE: 557
---
BACKGROUND:
Altrincham's form had taken a dip recently, though a string of long-term injuries had had a lot to do with that. By contrast, Hucknall had been doing well and lay third in the form table over the last eight games. The game was played in bright sunshine on what was probably the warmest day of the year so far.
---
TEAM NEWS
Today Barry Shuttleworth joined the injured list with a bruised foot, whilst Rod Thornley, Danny Murphy, Dave Gardner and Sean Smith also remained sidelined. Mark Maddox was back, after missing Tuesday's game due to a family illness. Steve Lunt made only his second league start whilst the bench comprised three players still coming back to full fitness- Ryan, Sullivan and Clegg.
---
TEAMS
ALTRINCHAM (Red & white striped shirts, black shorts, red socks): 1. Richard ACTON, 2. Gary SCOTT, 3. Chris ADAMS, 4. Mark MADDOX (capt.), 5. Gary TALBOT, 6. Stephen ROSE, 7. Jason GALLAGHER, 8. Ian CRANEY, 9. Peter BAND, 10. Steve LUNT, 11. Paul ROBERTSON. Subs: 12. Steven CLEGG, 14. Anthony SULLIVAN, 15. Neil RYAN.
HUCKNALL TOWN (Dark blue & yellow shirts, blue shorts and socks) : 1. Ryan YOUNG, 2. Danny MAYMAN, 3. Chris SHAW, 4. John BURNS, 5. Michael SAVAGE, 6. Craig GAUNT (capt.), 7. Steve PRINDIVILLE, 8. Clint MARCELLE, 9. Russell COOKE, 10. Danny BACON, 11. Karl ADAMS. Subs: 12. Paul MITCHELL, 14. Gareth HOLMES, 15. Lee SOAR.
---
SUMMARY
Altrincham missed a last minute penalty when Ian Craney's effort was saved by keeper Young. Alty were without regular penalty takers Thornley and Shuttleworth, through injury. In truth, Altrincham rarely threatened the Hucknall goal and, though the visitors had a lot of corners, they too lacked any incision up front. Ironically Craney had just been named Man of the Match before the penalty came, for handball.
---
MATCH REPORT
Hucknall kicked off but were immediately forced to play the ball back into their defence and this was a portent for a game in which both sides were unable to break through each other's back line. However, Hucknall enjoyed the better of the opening stages and started to pass the ball around well, to feet with former Barnsley man Clint Marcelle making an impression in the Hucknall midfield. The first shot of any significance was from Burns, who surged forward well but shot weakly, albeit only narrowly wide, after 8 minutes. Soon, Robertson fed Craney at the other end and, though Ian turned well, he was dispossessed inside the penalty area (9 mins).
The sides then traded attacks but none of them threatened either goal in a serious way. Lunt did get in a shot at Ryan but the ball ran comfortably to the keeper (16 mins). However, Alty almost gave away the lead when confusion between Talbot and Acton led to the Alty centre-back heading the ball back over his own advancing keeper but Scott, racing back to the line with a Hucknall player, managed to hook the ball to safety over his own crossbar, to concede a corner (16 mins). Acton was soon in action again, punching half-clear to Mayman whose feed to Gaunt saw the Hucknall captain knock his effort well over the bar from 15 yards (17 mins).
Mark Maddox was now taking the goalkicks for Acton, who now seems to be yet another ailing Alty player. Band, Craney and Scott advanced up the right leading to a Band header, which was blocked and came back to Rose. He fed Craney, who lifted the ball over the bar from the edge of the box (18 mins). A characteristic Craney surge forward then led Gallagher to return the ball for Craney to shoot and Young to make a good save in the Hucknall goal (20 mins). Alty were now enjoying some possession but the nearest they came to a goal was when Band almost played in Lunt, only for Young to get to the ball first (25 mins). At the other end, Acton took the ball off the head of Hucknall's new signing, Bacon (29 mins). Then Lunt fed Craney, who moved forward, but his left foot drive cleared the bar from 20 yards (30 mins). From Mayman's feed, Gaunt passed Rose but shot narrowly wide (31 mins). Young then blocked a Band effort after Maddox had played a fine ball forward (33 mins).
Mark Maddox then earned himself a yellow card when he tripped Marcelle, after the midfielder had got round him just inside the Alty half (38 mins). From the free-kick, the ball skimmed off Maddox's head for a corner on the Hucknall left and it was Maddox, again, who headed clear Burns's flag-kick. Hucknall won a further two corners before the interval. The first was caught by Acton and the second punched clear by the Alty keeper after it had been taken short by Adams to the unmarked Mayman. Following the punch, Mayman shot the ball wide of goal. After Rose had been harshly penalised near the centre-line Band got a lecture for protesting (44 mins). Half-time arrived to end a fairly low-key 45 minutes. Indeed, there was more goalmouth action during the half-time schools' game between Brooklands and APS, which Brooklands won 3-1.
---
Half-Time: ALTRINCHAM 0 HUCKNALL TOWN 0
---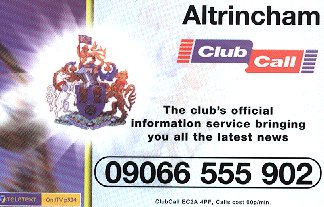 A chipped effort from Band, easily caught by Young, was the first meaningful action of the second half (46 mins). Altrincham finally won a corner when a Lunt effort was blocked, but Robertson's kick was poor. Maddox saw off a Hucknall attack before Adams tried to get things moving up the left, but to no avail. A ball from Gallagher allowed Lunt to cross but this was cleared, off Peter Band. Bacon then found Mayman whose shot was well stopped by Acton's legs after Altrincham had failed to clear their lines (56 mins). Soon, Bacon was surging past Maddox and fed Cooke who stretched but knocked the ball wide (58 mins). Mr Thorley then annoyed the home fans by allowing play-on when Craney was fouled and home possession was lost. Robertson and Craney then set Gallagher going up the right and, having got past Shaw, the full-back pulled down Jason to earn a deserved yellow card, 25 yards from his own goal (61 mins).
At the other end, a cross into the box from the left by Mayman seemed to be missed by Talbot and headed over the goal by a Hucknall man but the ref saw it otherwise and awarded a corner on the Hucknall right. This immediately led to a second corner after Acton punched clear and then a third when, once more, the keeper knocked the corner out of play. Finally an Alty free-kick award relieved the pressure. At this point, Steven Clegg came on for Jason Gallagher (63 mins).
Lunt then did well to win possession off Savage on the right edge of the Hucknall box but he could not find a colleague with his pass inside the box. Despite a minute or two of Alty pressure, Hucknall won yet another corner, their eighth to Altrincham's one at this stage. However, a shot from Craney soon won the home side a corner of their own but from Robertson's ball, Young punched clear (68 mins). After Bacon had got round Maddox, Talbot covered well and cleared, despite slipping he did so. Amidst the mediocre play Craney turned and fired in a great 20-yard shot which went just wide (70 mins) but then after Craney himself had lost possession, Hucknall won yet another corner on the right which only led to an Alty free-kick.
Hucknall now introduced Mitchell instead of Marcelle (71 mins) before more good work from Craney set up a Band shot which the keeper blocked. A fine tackle from Maddox saw off the next attack from Hucknall before Acton dropped a ball under pressure, only for Scott to clear the danger. Hucknall made another change, Soar replacing Shaw (77 mins) before the visitors took their corner tally into double figures, but Karl Adams overhit this one for an Alty goalkick (79 mins). Hucknall were again enjoying some sustained passing movements before Clegg won possession and progress was made via Scott and Rose before Band lost his footing. Craney then won possession and turned well before advancing on goal. Though he lost control, the ball ran to Lunt whose sidefooted effort was blocked (82 mins). Alty now brought on Sullivan up front, with Band dropping to midfield as Rose left the fray. At the same time, Holmes replaced Cooke for Hucknall (85 mins). Following treatment to Band, Craney was announced as Man of the Match.
After three minutes of added time had been announced, Alty won a corner through the recuperated Band. Robertson played this short to Clegg, whose cross found Talbot but he could not keep his header down (89 mins). Then, after Adams and Lunt had combined, Adams's ball into the box saw Band and Soar challenge for the ball in the air. As the ball dropped referee Thorley dramatically awarded a penalty for handball by the Hucknall man and Alty were presented with a last-gasp chance to take all of the points. Without regular spot-kick takers Thornley and Shuttleworth, Ian Craney stepped up. He placed his kick to the keeper's left but Young made a good save, low down and seconds later the final whistle sounded.
Had Craney netted the penalty, Hucknall would have felt aggrieved to have taken nothing from a match in which they had a lot of possession and many corner-kicks. However, neither side had the killer instinct in front of goal and the keepers had relatively little to do that was out of the routine collection of crosses, through balls and speculative shots. Alty have now won only two of their last eight games, scoring just four goals from open play in the process. Rod Thornley's return is eagerly awaited!
---
Final Score: ALTRINCHAM 0 HUCKNALL TOWN 0
---