Match Report
---
BRADFORD PARK AVENUE (0) 1
ALTRINCHAM (1) 1
UniBond Premier League match,
played on Saturday, 29 March, 2003 at 3p.m.
---
SCORERS
34 mins: Barry SHUTTLEWORTH (Bradford Park Avenue 0 Altrincham 1)
78 mins: James STANSFIELD (Bradford Park Avenue 1 Altrincham 1)

---
REFEREE: Mr. S. Turner (Runcorn)
---
ATTENDANCE: 440
---
BACKGROUND:
This was Alty's second visit to the Horsfall Stadium this season, following their win there in the Trophy. The corresponding league game here last season had seen Alty lose heavily and have Dave Swanick sent off. This time, Alty arrived having failed to score in their previous two games whilst for BPA, it was their third game in a week. Unlike the quagmire on which the Trophy match had been played between the sides, today's game was blessed with sunshine throughout.
---
TEAM NEWS
Altrincham were without Rod Thornley who was on duty in Liechtenstein as England masseur, as well as the injured trio of Danny Murphy, Neil Ryan and Dave Gardner, seen above at today's game. Steve Lunt was also a spectator, having played 120 minutes last night for the Altrincham District FA youth team. Gary Scott, Peter Band and Stephen Rose had all been injury doubts in midweek but all started today. Alty welcomed back Barry Shuttleworth after injury but the heralded debut of new signing Mattie Hughes failed to materialise due to fitness problems. A surprise face on the Alty bench was Andy Tunnicliffe, recalled from Trafford. His last appearance in the league squad had been at Gateshead, eight games previously. Alty started with Craney and Band up front.
BPA, too, had injury problems with Tracey, Benn and keeper Howe amongst those missing. In goal was Neil Storer, making his first league appearance of the season. Watching the match was BBC disc-jockey John Peel.
---
TEAMS
BRADFORD PARK AVENUE (All white, with green hoops on shirt) : 1. Neil STORER, 2. Andy QUINN, 3. Phil ATKINSON, 4. Simon COLLINS, 5. James STANSFIELD, 6. Graham MITCHELL (capt.), 7. Danny WALSH, 8. Robbie PAINTER, 9. Andy HAYWARD, 10. Jason MAXWELL, 11. Andrew WRIGHT. Subs: 12. Anthony HAMILTON, 14. James ELLIOTT, 15. Ian THOMPSON.

ALTRINCHAM (Red & white striped shirts, black shirts, red socks): 1. Richard ACTON, 2. Gary SCOTT, 3. Chris ADAMS, 4. Mark MADDOX, 5. Gary TALBOT (capt.), 6. Stephen ROSE, 7. Anthony SULLIVAN, 8. Ian CRANEY, 9. Peter BAND, 10. Barry SHUTTLEWORTH, 11. Paul ROBERTSON. Subs: 12. Steven CLEGG, 14. Jason GALLAGHER, 15. Andy TUNNICLIFFE.
---
SUMMARY
Alty took a point from this match after a stormy second half in which Chris Adams was sent off in the 77th minute for an apparent head-butt, though Bradford's Maxwell had appeared to throw a punch in the same incident. Maxwell was lucky to escape with just a yellow card. Adams had previously picked up just one yellow card in 33 games this season. (Above, Shuttleworth steps between the combatants). Altrincham had taken the lead after 34 minutes with a goal from Barry Shuttleworth after Robertson's shot had been blocked by the keeper. Within a minute of Adams's dismissal, Bradford equalised after Acton appeared to be fouled when collecting an aerial ball and Stansfield netted the resulting loose ball. Things had started to go wrong when Rose was stretchered off with a head injury (69 mins). Today's crowd of just 440 was nevertheless by far the highest in the league today!
---
MATCH REPORT
Bradford kicked off but, within three minutes, the matchball was found to be unsatisfactory and was changed. After early play had been largely on the far side of the pitch, the Alty left, it was the visitors who won the game's first corner, on the right. The corner, taken by Sullivan, came off Band for a goalkick (11 mins). Then Rose fed Band on the right and his cross was met by Craney whose snap-shot rose well over the bar (12 mins). However, much of the play was pretty uninspiring in the early stages; there were plenty of high balls hoisted forward by both sides but the pacey Wright looked a potential threat to Scott on the Bradford left. However, Bradford's most persistent weapon in the first half was to be a series of long throws from Stansfield. For Alty, Scott, Craney and Shuttleworth soon got together to win another Alty corner, which was taken from the right by Robertson (17 mins). After a trip by Rose, for which he earned a lecture, Walsh's freekick was cleared at the other end.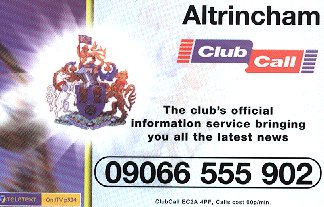 Goalmouth action was in short supply until a freekick on the left by Painter came via Maxwell to Hayward, who turned well and fired a firm shot against the inside of the post, to Acton's left. The ball rebounded out to Collins who, from the edge of the box, drove another firm shot goalwards. This came back from the underside of the Alty crossbar and the Alty defence scrambled the ball away for Bradford's first corner (28 mins). The corner was an inswinger which Acton chose to tip over the bar, rather than catch. The next corner led to a third, this time on the Bradford left, which Acton punched well clear. Altrincham had survived somewhat fortunately!
Collins had another shot from roughly the same range soon afterwards but this time he lifted his effort well over the bar (30 mins). Bradford were now beginning the pass the ball about more and Hayward hit the bar again albeit well after an offside flag had been raised against him (32 mins). Rose needed treatment in the aftermath of this incident and when play resumed Craney received a mishit shot from Band which he, in turn, miscued to the keeper. Rose then cut off Atkinson's advance and played a good ball to Craney who threaded the ball forward, left, to the advancing Robertson.
As Storer rushed out, Robertson knocked the ball against the keeper's body from where it rebounded to Shuttleworth who drove it, left-footed from 20 yards into the back of the net. Altrincham's first serious shot had given them the lead (34 mins). Soon afterwards, Craney did well from a Scott throw but his shot went too high from 25 yards (36 mins). Altrincham were now looking fairly comfortable with their lead, as Maddox and Talbot saw off all that was thrown at them. Indeed, Alty now put together a good move with Band finding Craney on the edge of the box. Ian, in turn, fed Scott whose well-struck cross from the right was cleanly caught by Storer (40 mins). The half drew to end with yet another throw in by Stansfield but Alty went into the clubhouse with their lead intact.
---
Half-Time: BRADFORD PARK AVENUE 0 ALTRINCHAM 1
---
Adams and Maxwell are separated by Shuttleworth in the incident which led to Adams's dismissal.
Craney earned an early lecture for foolishly shooting at goal after being pulled up for offside (47 mins). An 'up and under' clearance from Adams gave Bradford a corner on their right which Maddox got clear. There was then a farcical moment when play continued with two balls in motion on the pitch and this heralded a fairly scrappy few minutes which ended when Craney got in a shot which Storer saved competently. But the first real excitement of the half came when Maddox made a rare error on the Bradford left and the ball was crossed, low, across the Alty goalmouth, where it found Stansfield at the back post. He drove the ball at goal and it took a desperate clearance from an Alty defender, which struck his own crossbar, to keep the ball out (58 mins).
BPA had now hit the goal framework four times, albeit one of the efforts was offside. A free-kick by Collins then narrowly cleared the Alty bar but Acton had the shot under close observation. The visitors next took off Sullivan and brought on Gallagher (61 mins).
Painter then lashed out at Adams after the defender had tackled him but the referee missed the incident. The ref did see Mitchell holding Band and awarded a free-kick near half-way but Wright cleared Adams's free-kick. Play was then pulled up for offside as Collins was just beaten to the ball by Acton (64 mins). Acton's punt clear was expertly flicked on by Band to Craney. Craney delivered a firm cross which seemed to hit Shuttleworth; Barry ended in the net but the ball did not (65 mins).
Bradford soon made a change, with Elliott surprisngly replacing the lively Wright (66 mins). Play then stopped as Rose lay prostrate in the centre-field, having apparently collided with an opponent. Soon a stretcher was called for and Rose was carried off with what appeared to be a head injury. Immediately Tunnicliffe came on in his place and went up front with Craney as Band moved into the midfield hole (69 mins). Tunnicliffe was soon in evidence before Hayward clearly handled the ball in his own box, though the referee must have judged this unintentional (71 mins). After Band and Maddox had gone for the same ball, Bradford gained a corner as play continued in less than majestic style.
Acton got the corner half cleared and Bradford came back with the ball. Adams and Maxwell then contested possession on the Bradford right and the Bradford man reacted to Adams's challenge. For a moment that seemed to be the end of the episode but the two started again with Maxwell's hands appearing to be raised whilst Adams then seemed to headbutt his opponent.
Referee Turner showed Adams a red card but found Maxwell's role in the event only worthy of a yellow. This caused the Alty management to express their anger in no uncertain terms to the referee and linesman. In 33 previous matches this season Adams had seen only one yellow card but his action left Mr Turner with little alternative today, However, Maxwell can count himself very lucky only to have received a caution (77 mins). When calm seemed to have been restored, Mr Turner was called over by the linesman in the other half of the pitch, on the opposite side from the incident. After consultation, play finally resumed several minutes after the original incident.
More controversy immediately followed. After a foul by Mitchell on Tunnicliffe was missed by the referee, a ball was played into the Alty box from the right. Acton went up to catch it and seemed to be fouled in the process by an incoming Bradford player, Collins, in the air. However, the referee allowed play to continue as Acton lost his hold on the ball and it ran conveniently to Stansfield who had a fairly easy job of finding the back of the unguarded net to equalise (78 minutes). In about sixty seconds of playing time, Alty had gone from a reasonably comfortable 1-0 lead to a 1-1 scoreline and a one-man deficit. Just to compound their woe, Robertson was then booked for a verbal offence (80 mins). Although the home side were pressing to take advantage of their extra man, it was Altrincham who had the best chance of the closing stages.
Craney got the ball on the outer fringes of the box and engineered a shooting position from the right of goal but he could only find the keeper's legs and not the back of the net (84 mins). With six minutes of added-time time having been displayed, Craney was deprived of another pot at goal when the referee bizarrely gave offside from a curious Bradford backpass from the Alty half. Tunnicliffe continued to menace up front as his colleagues held Bradford at bay at the other end. The nearest Bradford came to a winner was when Stansfield headed over the bar after Acton had lost out to an aerial challenge from Quinn (87 mins). Alty then surprisingly replaced Craney by Clegg for the last three minutes most of which were spent in the Bradford half of the pitch.
The whistle finally game and Alty manager Graham Heathcote made a point of shaking the referee's hand despite his earlier altercation. In truth a draw was probably a fair result but the manner in which it had come about was very unsatisfactory. Whilst the dismissal of Adams was ultimately indefensible, there was a very strong case for Maxwell also to take an early bath and the manner of Bradford's equaliser was also highly controversial. Adams's suspension will add to Alty's selection problems, whilst Rose's injury threatens his unique record of having started or played in all of Alty's league matches this season.
---
Full-Time: BRADFORD PARK AVENUE 1 ALTRINCHAM 1
---