Match Report
---
ALTRINCHAM (0) 1 ASHTON UNITED (0) 0
UniBond Premier League match,
played on Saturday, 5 April, 2003 at 3p.m.
| | |
| --- | --- |
| Matchday Sponsor | Matchball Sponsor |
| BIBBY FACTORS NW and STEFAN BRZOZOWSKI | BRIAN FLYNN |
---
SCORERS
62 mins: Mattie HUGHES (Altrincham 1 Ashton United 0)

---
REFEREE: Mr. D. WHITBY
---
ATTENDANCE: 595
---
BACKGROUND:
Ashton had won the home match against Alty earlier this season thanks to a long-range strike after Alty had had many chances to score. But both sides had been on the slide recently and whilst Ashton occupied third-bottom place in the form guide, Alty were one place below them.
As this was UniBond Family Fun Day, the match was preceded by the release of dozens of helium balloons. The newly formed Altrincham supporters's trust, STAR, had also organised other activities for the younger members of the crowd, including an appearance by mascot Rocky Robin, whilst a raffle was also available for the adults in attendance.
---
TEAM NEWS
Alty welcomed back captain Rod Thornley for his first league start since mid-December and Stephen Rose was surprisingly back after missing just one match following his dislocated shoulder at Bradford last Saturday. Gary Talbot was also restored to the side after work commitments had kept him out on Monday night at Droylsden. So, dropping out of the starting line-up were Andy Tunnicliffe, Barry Shuttleworth and Jason Gallagher, the first two being named on the bench today. Neil Ryan and Steve Lunt, substitutes at Droylsden dropped out of the squad altogether. Band and Craney formed the central midfield, with Thornley and Hughes, on his Moss Lane debut, making up a new strike pairing.
For Ashton United, as well as manager Gerry Quinn, players Greg Challender and Darren Royle were well known to Alty fans. Keeper Trueman sported probably the worst hair-colouring seen at Moss Lane this season!
---
TEAMS
ALTRINCHAM (Red & white striped shirts, black shorts, red socks): 1. Richard ACTON, 2. Gary SCOTT, 3. Chris ADAMS, 4. Mark MADDOX, 5. Gary TALBOT, 6. Stephen ROSE, 7. Peter BAND, 8. Ian CRANEY, 9. Mattie HUGHES, 10. Rod THORNLEY (capt.), 11. Paul ROBERTSON. Subs: 12. Barry SHUTTLEWORTH, 14. Anthony SULLIVAN, 15. Andy TUNNICLIFFE.
ASHTON UNITED (Yellow shirts with blue panel, blue shorts, yellow socks) : 1. Danny TRUEMAN, 2. James RIORDAN, 3. Peter CARTY, 4. Gareth MORRIS, 5. Danny WHITE, 6. Darren ROYLE, 7. Paul GARVEY, 8. Phil DENNEY, 9. Jamie MILLER, 10. Jason DORMER, 11. Steve SMITH. Subs: Lee CALVERT, 14. Greg CHALLENDER, 15. Rodney ROWE.
---
SUMMARY
After a lacklustre first half Altrincham improved and deservedly secured a narrow win which took them up to 13th in the table. The goal came after 62 minutes through Mattie Hughes, who headed home Thornley's chip after good work from Robertson. Alty also had an earlier effort disallowed but Ashton had struck the underside of the bar in the first half.
---
MATCH REPORT
Altrincham kicked off, towards the 20/20 End, but when they won a throw-in less than a minute into the game, Mr Whitby stopped play to have Richard Acton change his goalkeeping jersey which had a yellow element in it, which he evidently thought clashed with Ashton's yellow and blue shirts. When Acton was decked out in a new green top, play resumed but Thornley was soon penalised for a challenge. From the resulting free-kick, 20 yards out, Dormer curled the ball wide of goal (2 mins). Mr Whitby upset the Alty fans with three early awards against the home team for minor offences. Soon, from a Maddox headed clearance, Morris fired in a shot from 30 yards which went well wide (9 mins) whilst, for Alty, Thornley got in an effort which was comfortably held by Trueman (10 mins). Altrincham were not finding their men with any consistency and play overall was pretty unremarkable in these early stages. Things improved a bit when Craney fed Thornley with a chipped pass but Rod could not find the target (16 mins).
This led to a brief period of Alty pressure which produced the first corner of the game, on the Alty left (20 mins). Robertson's corner kick, however, was disappointing. After Maddox's clearance to Robertson, a foul by Morris earned him a lecture from Mr Whitby. Rose's free-kick was also disappointing and the game stuttered on unremarkably. After Talbot appeared to foul Miller, Mr Whitby surprisingly gave Alty the free-kick but shortly after this the referee lectured Maddox for complaining about the award of a throw-in (23 mins). From a Talbot headed clearance, Dormer drove in a fine 25 yard shot at goal which went narrowly wide of Acton's left post (24 mins).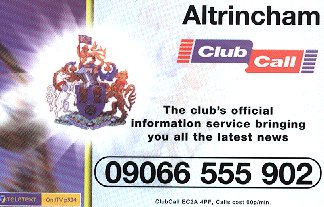 Trueman soon had to rush out of his box under a challenge from Hughes and the Ashton keeper was nearly at the touchline before he finally kicked clear. After a Band header, Hughes then showed good control but his left-foot curling shot was fairly easily saved by Trueman (27 mins). Acton was then in action, punching clear, to start the best move of the game so far when Rose found Craney who, in turn, got the ball to Hughes.
Thornley smartly stepped over Hughes's cross from the left to allow Craney a right foot curling shot at goal which went just over the bar. Soon afterwards Thornley's low shot, following a good surge forward from Craney, went narrowly wide as Alty improved (29 mins), but Ashton very nearly took the lead after winning a free-kick on their left flank when Craney was penalised. From 25 yards, Morris's freekick struck the underside of the cross bar in a central position, with Acton beaten. The ball rebounded out and was cleared (33 mins). As Ashton now pressed forward and Alty passes continued to go aimlessly forward, Graham Heathcote was not a happy man. Indeed, Ashton threatened again when Acton missed a ball in the air and Denney headed over him towards goal but Adams covered well and cleared the danger from some five yards out (36 mins).
Ashton finally won themselves a corner just five minutes before the interval and from this, on their left, Royle got in a header which came back off Acton but was scrambled clear. Robertson then broke forward for Alty and fed Thornley whose shot rose over the bar (41 mins). Both defences continued to dominate, with Hughes and Thornley getting little change in the air against the Ashton centre-backs whilst Talbot and Maddox were equally in charge at the other end. A ball into the Alty box by Riordan did, however, give Miller a header which was not far wide of the target (43 mins). Before the interval Carty shot well wide for the visitors before Robertson and Adams fed Craney for an effort from 20 yards which was well saved by Trueman (45 mins). The interval came with the crowd hoping for better fare in the second period.
---
Half-Time: ALTRINCHAM 0 ASHTON UNITED 0
---

The crowd's wishes were fulfilled when in the first minute of the second half Hughes fired in a superb volley from outside the box which Trueman beat upwards over the bar for a corner. Alty continued to press, no doubt with Graham Heathcote's half-time talk inspiring them to better things. Next, Robertson, Craney and Hughes combined for Craney to shoot just wide and soon afterwards Rose's ball forward produced a corner off Carty on the Alty right. Trueman dropped Robertson's corner and the ball came out to Adams. He played the ball back into the box where Talbot headed the ball on for Maddox to "score" at the back post but the effort was ruled out for offside (50 mins).
At the other end, Miller headed narrowly wide following a throw-in as the standard of the game improved. From a harsh freekick against Maddox, Dormer drove his free-kick only narrowly wide (56 mins). Dormer then caught Thornley in the back and the Alty captain needed treatment (60 mins). Hughes (seen today, left) then did very well, with his back to goal, to flick the ball over his own and the keeper's head but Carty cleared the danger. However, Robertson then picked up the ball near the centre line and advanced diagonally towards the Alty right. He exchanged passes with Hughes and Craney before the ball came back, left, to Thornley inside the box and he chipped the ball across the box to the right to Hughes who headed the ball firmly home for his first goal for Altrincham (62 mins). This was only Alty's second goal in their last 442 minutes of play.
Though Alty won another corner soon afterwards, the next ten minutes produced little goalmouth incident before Hughes was winded when he caught the ball in the midriff whilst closing down an Ashton clearance. After coming back onto the pitch following treatment Hughes immediately found himself with a shooting opportunity but his toe-poke did not trouble Trueman. Gerry Quinn now brought on Rowe, the former Emley man for Miller (72 mins). However, Alty won another corner on the right which Trueman caught from Robertson's kick (76 mins). Ashton then made a double switch with Calvert and Challender replacing Garvey and Dormer, as a freekick was awarded against Rose for a foul on Morris, as he turned, 20 yards out. Morris drove the kick into the Alty wall. Alty then broke away and Craney, via Thornley, found Hughes wide left of the goal, near the by-line. Despite the acute angle, Hughes nevertheless got in a powerful shot which Trueman tipped over for a corner on the Alty left (78 mins).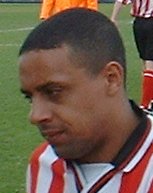 A good ball forward from Adams then found Hughes who showed fine control and won a another Alty corner on the left. Robertson's corner came out to Craney who found Maddox's head but the ball went over the bar (80 mins). Ashton mounted a final challenge in the last ten minutes and won a corner on their left off Scott's block (81 mins). The corner, by Morris, came off Royle for a goalkick and then Alty brought off Hughes to a fine ovation and replaced him by Andy Tunnicliffe (81 mins).
This was the last sighting of Hughes this season as he is now suspended till the second game of next season. Maddox then did well as Ashton continued to press forward but soon Denney got in a volley into the side netting. Barry Shuttleworth now came on for Thornley (84 mins) before Gary Talbot went through a purple patch of four good clearances inside two minutes. At this point Hughes was announced as Man of the Match (87 mins). Adams's fine tackle saw off the next Ashton attack before White hooked an effort wide. As the last minute arrived Sullivan (seen today, right) came on for Craney. Alty deservedly recorded their first win in five outings and moved up to thirteenth. It is a pity that Hughes is now suspended as he and Thornley offer a pacey combination that could trouble opposition defences once the pair are fully fit.
---
Final Score: ALTRINCHAM 1 ASHTON UNITED 0
---