Match Report
---
ACCRINGTON STANLEY (1) 3
ALTRINCHAM (0) 1
UniBond Premier League match,
played on Saturday, 12 April, 2003 at 3p.m.
---
SCORERS
44 mins: Lutel JAMES (penalty) (Accrington Stanley 1 Altrincham 0)
66 mins: Barry SHUTTLEWORTH (Accrington Stanley 1 Altrincham 1)
80 mins: Steve HALFORD (Accrington Stanley 2 Altrincham 1)
87 mins: Lutel JAMES (Accrington Stanley 3 Altrincham 1)

---
REFEREE: Mr Gary KELLETT (Bradford)
---
ATTENDANCE: 2,263
---
BACKGROUND:
If Stanley were to win this match and Barrow were to slip up at Ashton, then Stanley would win promotion today. However, Altrincham had not lost any of their last six encounters with Stanley and in the referee Mr Kellett appeared to have a lucky talisman. He had presided over four Alty games in the last three seasons and the Robins had won them all, including the Altrincham home game against Accrington in October 2001.
The game was played before the biggest crowd of the season, 2,263, and the limited turnstile facilities at the Crown Ground meant that the kick off was delayed by nearly ten minutes. Whilst Accrington are to be admired for their recovery from the ashes of the 1960s and for the improvements made to the Crown Ground, on days such as this watching a match from the main stand is something of a challenge as the nearside corner flags are not visible and the constant stream of spectators walking up and down throughout the match along the front of such a shallow stand obscures the view of the game.
---
TEAM NEWS
Alty's Mattie Hughes and Chris Adams were both suspended and Tony Sullivan was not in the squad. A new face on the bench was Tony Cullen, the Salford City midfielder, signed some weeks ago but yet to appear due to injury. His former Salford team-mate Dave Gardner was back, on the bench, after his recent absence through injury.
Accrington welcomed back Jonathon Smith, after his facial injury, and the ex-Liverpool midfielder Mike Marsh, whom we also met in a previous championship finale in 2000, when his Conference winning Kidderminster Harriers side came to Moss Lane. His influence on the side was underlined by the stadium announcer who constantly referred to Marsh as "the little genius".
---
TEAMS
ACCRINGTON STANLEY (All red) : 1. Jamie SPEARE, 2. Peter CAVANAGH (capt>), 3. Steve HOLLIS, 4. Steve HALFORD, 5. Jonathon SMITH, 6. Andy PROCTOR, 7. Steve FLITCROFT, 8. Mike MARSH, 9. Lutel JAMES, 10. Paul MULLIN, 11. Rory PRENDERGAST. Subs: 12. Robbie WILLIAMS, 14. Russell PAYNE, 15. Brian WELCH.

ALTRINCHAM (Pale blue shirts, black shorts, black socks): 1. Richard ACTON, 2. Gary SCOTT, 3. Barry SHUTTLEWORTH, 4. Mark MADDOX, 5. Gary TALBOT, 6. Stephen ROSE, 7. Jason GALLAGHER, 8. Ian CRANEY, 9. Peter BAND, 10. Rod THORNLEY (capt.) 11. Paul ROBERTSON. Subs: 12. Dave GARDNER, 14. Stephen LUNT, 15. Tony CULLEN.
---
SUMMARY

In front of 2,263 spectators, Altrincham almost held out for a point before two late goals saw Accrington clinch a place in the Conference for next season. Although Accrington deserved to beat Altrincham today, they took the lead in a controversial fashion just before half time. Gary Talbot fell on the ball and when it wedged under his chest, referee Kellett gave handball and James converted the penalty, off the upright. Altrincham equalised through a Shuttleworth penalty after a clear trip on Craney in the 66th minute. Accrington regained the lead 10 minutes from the end when Halford scored at the back post despite Rose's clearance on the line and James added a third after 87 minutes. Above, Barry Shuttleworth (in blue, behind the no.2) nets Alty's goal to the delight of some of the travelling fans.
---
MATCH REPORT
Altrincham started quite well on a bobbly and undulating surface. After nine minutes Ian Craney set off on a superb run of thirty yards or more, in the inside-left position, on which his close control took him past several defenders almost to the by-line. But, from the left of goal Ian was only able to shoot into the side netting as he ran out of space. Accrington replied with a move from Proctor to Mullin and his feed set up James for a shot which Acton impressively saved, point blank, as he rushed off his line (12 mins). Rod Thornley came to the touchline to rub a potion on his knees but he managed to see out the ninety minutes (14 mins). Play was now end to end but after Thornley had been deliberately body checked by Smith, the tall Stanley defender received a yellow card (16 mins). Following the Alty free-kick, taken by Maddox from near half-way on the right, Alty won a corner off Mullin, who stepped in to prevent Scott getting to the ball. From Robertson's corner Maddox did well to get in a firm header which only just cleared Speare's bar (19 mins).
For Stanley, James and Prendergast were combining ominously well on the left. Soon, Maddox made an important clearance but the ball came out to Marsh who, from some twenty yards, drove in a fine shot which hit the underside of the Alty bar and bounced out to safety (22 mins). Mark Maddox was upsetting some of the home crowd with what they saw as robust play but the referee saw nothing wrong in it. Next, Flitcroft, brother of the former Manchester City and Blackburn star Gary, fired in a low shot which Acton saved well, as he dived (24 mins). Accrington were now getting on top and Alty were more restricted to attacking on the break. Stanley finally won a corner, despite Talbot's protests to the contrary, after half an hour. Flitcroft's corner was cleared but soon an error by Maddox allowed Mullin to get in a cross shot which came back off Richard Acton's right upright (31 mins). Altrincham were now on the back foot and were thankful, when Mullin got behind Talbot, to see an offside flag. The visitors' best effort at this stage was a volley from Thornley which was well struck, but very wide of the target (38 mins). Referee Kellett then angered the Alty fans when he failed to punish Halford after he had lifted Thornley off the ground with both hands and dumped him down again, wrestling-style (41 mins). It looked as if Alty would hold on to parity till the interval until the referee made another controversial decision. Maddox cleared well to Scott, who was some 20 yards from goal but the Alty right-back delayed his clearance and it was charged down. The ball ran into the box where Talbot, in attempting a clearance, fell on top of the it and it became wedged under his chest as he lay prostrate on the ground. As he got up and the ball was cleared, Mr Kellett pointed to the spot, presumably having seen what he believed was a handball. In a repeat of the last away game, at Droylsden, Alty had conceded a highly dubious spot-kick for alleged hands. Two minutes of added time were announced and after some delay James took the kick. His low effort just beat Acton's dive, to his right, the ball cannoning off the base of the post and rebounding across into the other side of the net (44 mins). Whilst Accrington's lead was deserved, its manner of arrival was not satisfactory.
Soon after the restart, Hollis skied a clearance near the half way line on the Accrington left and as the ball dropped behind him for Band to run clear on goal, the Stanley defender committed a professional foul, bringing down Band from behind. Hollis diplomatically stayed down "injured" by his own foul tackle as the visiting fans called for his dismissal. As the Stanley player had protracted treatment, referee Kellett and Alty assistant Manger Dalton Steel became involved in a heated exchange as it became apparent that Mr Kellett was not even going to book the Stanley defender. In the end Mr Kellett sent Dalton off the pitch. Half-time soon arrived with Stanley half-way to their championship title, as news arrived that their nearest rivals Barrow were losing 2-1 at Ashton United.
---
Half-Time: ACCRINGTON STANLEY 1 ALTRINCHAM 0
---
At half-time Alty withdrew Gallagher and brought on Dave Gardner on the right flank. As in the first half, Alty started well without creating any clear chances until Scott, Craney and Gardner combined to feed Band inside the box. Instead of turning and shooting Band laid the ball off and the chance was gone. After another Craney run up the middle had been ended Accrington soon went close when Flitcroft's nod down gave Mullin a chance which he lifted over the bar (53 mins). James continued to be a threat to Alty but the Robins looked fairly comfortable at this stage. As Mullin received treatment for a facial injury incurred in an aerial clash with Scott, Rose rushed off to change his shorts (55 mins). Then came the miss of the game when James's cross from the right found Mullin unmarked at the back post almost on the goal-line. Somehow, the former Radcliffe Borough man managed to head the ball wide, across the face of the open goal (58 mins).
Gardner then got to the by-line at the other end but the ball was cleared before Mullin had his third miss of the half, failing to make contact with Cavanagh's pass when in space inside the box to the right of goal (60 mins). Stanley were now on top again and Alty's only response was a sliced cross from the left by Shuttleworth which went into the crowd to the left of the goal. Scott conceded a corner to Stanley which was cleared and ended up with an Alty throw. Following this, Robertson, Craney and Thornley combined and when Robertson played a teasing ball forward into the box in front of Craney, Flitcroft tripped the Alty midfielder some 12 yards from goal, left of centre. The referee pointed to the spot and not a single Stanley player appealed against the decision. Shuttleworth stepped home to convert the penalty against his former club. His low shot, to the keeper's left, just beat Speare's dive to level the scores, somewhat against the run of play (66 mins). Soon after this came a fine shot from Thornley from 20 yards which Speare saved excellently (70 mins).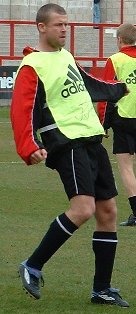 Stanley continued to press and made a change with Payne replacing Flitcroft (76 mins). However, on the break Thornley again threatened and Speare had to be very smart to race out and kick clear as he threatened to get on the end of another testing ball from Robertson (77 mins). Peter Band was then adjudged to have fouled James to the left of goal some 35 yards out and from the free-kick the ball found Halford unmarked at the back post. Although his effort was kicked off the line by Rose, referee Kellett awarded a goal (80 mins). From the restart Scott fed Gardner who got hold of a good volley from an acute angle to the right of goal but it went behind the target. Stanley then replaced the impressive Smith by Williams (81 mins) as an official walked past with a case containing the UniBond Trophy and another man followed with the presentation table. Maddox then picked up an unarguable booking for tripping Payne as he got past him in midfield (81 mins).
Alty were contributing a lot to an entertaining game. Next, a good move, started by Scott, went via Robertson and Shuttleworth to Band who laid the ball off for Craney to fire in a fine shot from outside the box which Speare did well to save and even better to hold cleanly (84 mins). After the referee had missed a very clear Accrington handball in midfield, play then moved to the Altrincham end. Though the initial danger was cleared, Stanley were soon back again and a ball from Marsh forward to James saw the impressive striker drive the ball across Acton who, diving to his right, got his hand to the ball, but could not stop it hitting the back of the net to give Stanley a 3-1 lead (87 mins). As it was announced that three minutes of time would be added, Alty brought on Tony Cullen (above, left) for his debut, in place of Ian Craney. Although Stanley won a late corner, the score remained unaltered and Accrington had won the championship. Onto the field came their jubilant fans as Alty trooped off having now won just two of their last ten league matches but not having played as badly over the last few weeks as this record suggests. Accrington plainly deserved their win today but the dubious first penalty award did not make Alty's task an uphill one.
Good luck to Stanley in the Conference!
---
Full-Time: ACCRINGTON STANLEY 3 ALTRINCHAM 1
---
Link to Home Page
---
Copyright: ©

Compiled by
John Laidlar