Match Report
---
RUNCORN FC HALTON (3) 3
ALTRINCHAM (1) 2
UniBond Premier League match,
played on Monday, 21 April, 2003 at 3p.m.
---
SCORERS
27 mins: Peter BAND (Runcorn FC Halton 0 Altrincham 1)
42 mins: Steve CARRAGHER (Runcorn FC Halton 1 Altrincham 1)
44 mins: Chris PRICE (Runcorn FC Halton 2 Altrincham 1)
45 mins: Paul PRESCOTT (Runcorn FC Halton 3 Altrincham 1)
55 mins: Ian CRANEY (Runcorn FC Halton 3 Altrincham 2)

---
REFEREE: Mr Jim TATTAN
---
ATTENDANCE: 334
---
BACKGROUND:
This was Runcorn's first game back at their Autoquest Stadium home, which they share with Widnes Vikings, after an enforced exile to Prescot Cables FC recently due to work being done on the pitch. Neverthless, the pitch was still well worn in places but the game was played in good conditions on a generally bright afternoon except for a brief, heavy shower in the first half.
---
TEAM NEWS
Altrincham were still without the suspended Adams and Hughes, but Dave Gardner made his first start for several weeks after injury. Anthony Sullivan came onto the bench as Steve Lunt was rested, having played for an hour yesterday for the youth team as well as having played as a first-team sub on Saturday. Andy Tunnicliffe dropped to the bench to accommodate Gardner.
---
TEAMS
RUNCORN FC HALTON (Yellow shirts and socks, green shorts) : 1. Tony McMILLAN, 2. Steve CARRAGHER, 3. Matty McGINN, 4. Peter ELLIS, 5. Mike HARRIS, 6. Tom SPEARRITT, 7. Chris PRICE, 8. Dominic MORLEY (capt.), 9. Paul PRESCOTT, 10. Paul ALLEN, 11. Lee PARLE. Subs: 12. David NESS, 14. Chris LIGHTFOOT, 15. Liam WATSON.

ALTRINCHAM (Red & white striped shirts, black shorts, black socks): 1. Richard ACTON, 2. Gary SCOTT, 3. Barry SHUTTLEWORTH, 4. Mark MADDOX, 5. Gary TALBOT, 6. Stephen ROSE, 7. Dave GARDNER, 8. Ian CRANEY, 9. Peter BAND, 10. Rod THORNLEY (capt.) 11. Paul ROBERTSON. Subs: 12. Andy TUNNICLIFFE, 14. Tony SULLIVAN, 15. Neil RYAN.
---
SUMMARY
Three crazy minutes immediately before the interval saw Alty's well-deserved lead, gained through a Band header (27 mins), wiped out by three Runcorn goals. Carragher equalised after Parle got the ball past Talbot (42 mins), then Price made it 2-1 (44 mins) before Prescott volleyed home (45 mins). Alty pulled one back through Craney (55 mins) and hit the bar later through Band but a very unadventurous Runcorn kept Alty at bay till the end.
REPORT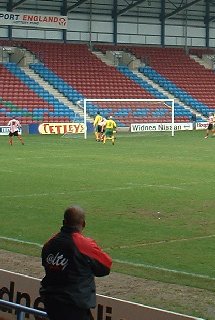 Right: Dalton Steele calmly watches Band's goal, scored in front of an empty stand.
Altrincham kicked off with Gardner and Thornley up front. Just after the minute mark, Band and Craney got the ball to the unmarked Robertson, left of centre some 15 yards out, but he shot wildly over the bar when he should have hit the target. After a foul on Craney by Price, Mark Maddox's agricultural lunge at Prescott was also rightly penalised (4 mins) by Mr Tattan, who had officiated in the Altrincham v Kettering cup tie earlier this season. A pattern of delays was set when the two small ballboys on one of the three uninhabited sides of the ground took some time to retrieve the ball from amongst the empty seats. Why there was not a spare ball on the far side of the ground to avoid these constant breaks in the action was hard to fathom. After Carragher had fouled Robertson and then followed up with the Alty man on the ground, Gardner's free-kick was too high both for the stretching keeper and any Alty colleague.
The keeper's hesitancy was seen again a few minutes later when Band darted in front of him and took the ball to the left of goal but his return shot, as he fell to the left, was chipped just over the bar (9 mins). When Craney lost the ball at the other end soon aftewards, Price chipped it well over the bar from 25 yards (11 mins). A mistake by Shuttleworth produced the first corner of the game, to Runcorn on their right side. This was cleared but another corner, off Robertson, soon followed and a third followed after 15 minutes. However, Gardner won Alty their first flag-kick a minute later but the same player overhit the corner-kick. An Alty free-kick, awarded after Thornley had been pushed over by Ellis, was quickly taken and Scott's resultant cross came to McMillan. Then Talbot recovered from his own error to clear and the referee strangely gave Alty a goalkick and not a corner as it should have been.
In defence Mark Maddox was proving to be at the top of his game with several no-nonsense clearances but the Runcorn back line was equally resolute from the aerial balls pumped forward by Altrincham. Nevertheless a good move by Alty followed when Craney, Shuttleworth and Robertson combined to feed Thornley who made a fine turn and fired in a left foot shot from 20 yards which McMillan saved very well, low down (25 mins). However, Alty did even better soon afterwards when Rose won the ball in midfield and via Thornley and Gardner the ball came back to the Alty captain on the right. His well flighted cross was met by Band at the back post and he headed the ball firmly into the top left-hand corner of the net under a defensive challenge to give Altrincham a deserved lead (27 mins).
Altrincham nearly added to the lead when Garner set Thornley free to the right of goal but as Rod advanced he played the ball left to the unmarked Craney who was given offside with the goal seemingly at his mercy (34 mins). Runcorn were not looking like a side unbeaten in their last eight games. Thornley was proving a handful and Runcorn's discomfort was underlined when Carragher took Robertson's legs from behind and was booked (38 mins). Alty then won a corner and, though Robertson's kick was cleared back to him by a defender, his second cross found Band's flying head which directed the ball only narrowly over the bar (40 mins). Soon, however, Talbot was obliged to concede a corner after a ball was played over Scott's head and the centre-back had come across smartly to cover. Following the corner, the ball came to Price who had space to get in a low shot which Acton saved well with his legs (41 mins).
After the next Alty attack broke down in midfield, when Gardner lost out to Morley, Parle got the ball past Talbot on the right side of the Alty box and Carragher volleyed it expertly across Acton into the corner of the net to give his side an equaliser which was barely deserved on the balance of play to date. Runcorn now had their tails up and after Maddox had fallen, a shot from Prescott ran to Acton. Then Runcorn progressed up the left and the ball came to the unmarked Price on the left edge of the Alty box. He had time to sidefoot the ball, low, across Acton from 12 yards to give Runcorn the lead (44 mins). As if this were not bad enough, Runcorn added a third when Allen advanced on the right and crossed to Prescott in the centre, just outside the box. The striker had space and time to chest the ball down before sending a superb volley into the top of the net past Acton's despairing leap (45 mins). Half-time came with no one quite believing how 42 minutes of dominance by Altrincham had been so totally undone by three minutes of slack defending.
---
Half-Time: RUNCORN FC HALTON 3 ALTRINCHAM 1
---
Alty took off Scott and brought Ryan on at right-back for the second half. Following an Acton free-kick Gardner fed Thornley for a low shot which was well stopped by McMillan (48 mins). Alty continued to dominate the proceedings and got their reward after 55 minutes when Maddox played a fine aerial ball from the back which Craney brought down and controlled superbly on his instep just inside the box in a central position. Somehow, Ian then managed to thread a low shot through a crowded goalmouth into the corner of the net past the keeper's right hand to make it 3-2.
After a stoppage for a Runcorn injury play continued and McGinn got in a 25 yard shot which was very high of the target (58 mins). Band, Thornley and Craney then combined well before a fine tackle inside the Runcorn box stopped the attack. With a three-man attack of Thornley, Band and Gardner, Alty looked likely to level things but when Thornley crossed to Band, the Alty man's header went wide (65 mins). Then Craney won possession and fed Robertson on the left. His curling cross was met by a firm header from Band which smacked against the crossbar with McMillan beaten and from the rebound Thornley got in a header but could not get enough power on it to beat the recovering keeper (66 mins).
Left: As near as it got- Peter Band's header comes back off the bar and Rod Thornley's follow up will be saved by the Runcorn keeper.
Next up was Rose, who won possession but mishit his shot very wide before a cross from Robertson fell too easily for the Runcorn keeper. Meanwhile Maddox made two crunching clearances to stifle any thoughts of a Runcorn counter-attack (68 mins). Play now began to be interrupted by substitutions and for the second game running Alty lost some of their impetus as a result. For some reason the visitors chose to make two separate changes inside two minutes, with a Runcorn change sandwiched in between.
Firstly, after 70 minutes, Tunnicliffe surprisingly replaced Ryan who had looked in no trouble after coming on at half time (70 mins), then Runcorn manager Liam Watson brought himself on up front instead of Allen (71 mins) before Anthony Sullivan came on for Gardner (72 mins).
Hesitancy by Shuttleworth then allowed a bouncing ball to come to Prescott but his shot was poor. A bad tackle from behind on Thornley by Ellis earned a deserved booking but it took lengthy treatment from Gary Thompson to restore Rod to sufficient fitness to continue (75 mins). Altrincham then continued to pen Runcorn back for the most part into their own half with Acton being a distant spectator in the Alty goal.
Robertson then fed Thornley and his pass into the box was only just smothered by McMillan as Tunnicliffe arrived (77 mins). However, a push by Talbot gave Runcorn a free-kick from 30 yards which Price sent straight to Acton. Then Robertson lost possession to allow Carragher to advance up the right where, from Watson's feed, Prescott shot well wide (81 mins). Alty had now lost some of their impetus and Runcorn began to come back into the game in the final ten minutes.
After Watson had pushed his hand into Tunnicliffe's face to fend him off as he advanced up the left touchline in front of the linesman, the Alty man needed treatment but a Runcorn corner rather than an Alty free-kick was given (84 mins). This came to Acton and soon Band was heading wide at the other end. Alty continued to press before Morley had a shot saved by Acton (88 mins). Runcorn now took a couple of opportunities to run the ball into the corners to waste time as they hung onto their lead. Despite playing a second half of 52 minutes to compensate for injuries, substitutions and lost balls, Altrincham were unable to get the equaliser which on the balance of play they fully deserved. Three minutes of defensive inattention had undone 87 minutes of effort.
---
Full-Time: RUNCORN FC HALTON 3 ALTRINCHAM 2
---