Match Report
---
FRICKLEY ATHLETIC (0) 0
ALTRINCHAM (1) 3
UniBond Premier League match,
played on Saturday, 26 April, 2003 at 3p.m.
---
SCORERS
5 mins: Peter BAND (Frickley Athletic 0 Altrincham 1)
51 mins: Peter BAND (Frickley Athletic 0 Altrincham 2)
90 mins: Steve LUNT (Frickley Athletic 0 Altrincham 3)

---
REFEREE: Mr R.J. Holdsworth
---
ATTENDANCE: 215
---
BACKGROUND:
This was the last league match of a season which, at one point, had looked like being Altrincham's last in the UniBond Premier, either through the club folding or being relegated. So, although the result today would mean that Altrincham would, at best, finish in mid-table, it was with a sense of achievement that the season was coming to its conclusion.
Frickley, too, were thankful to have reached the end of a season in which for many weeks they had looked doomed to the relegation play-offs only for a late surge to take them clear of danger.
The game was played on a sunny afternoon but on a hard and bobbly pitch. It was good to see that both teams played in their first-choice striped kits. Either the UniBond League has changed its rules as issued at the start of this season or the referee chose to ignore them, for Rule 9 states that "If the home team plays in traditional striped shirts then the away team cannot play in traditional striped shirts irrespective of whether or not there is a clash of colours". This has always seemed a very odd restriction, anyway.
---
TEAM NEWS
Altrincham welcomed back Chris Adams from suspension and this allowed Barry Shuttleworth to move to central midfield where Ian Craney was, for once, absent. Ian started on the bench. For Frickley, Morris's rib injury had improved sufficiently for him to play but Robinson was suspended and regular no.6, Paul Marquis, was also missing.
---
TEAMS
FRICKLEY ATHLETIC (Blue & white striped shirts, blue shorts and socks) : 1. Mark SAMWAYS, 2. Duncan RICHARDS, 3. Kieron O'BRIEN, 4. Antony JACKSON (capt.), 5. Matt DALY, 6. Steve WOOLFORD, 7. Lee MORRIS, 8. Phil LINDLEY, 9. Adam RUSSELL, 10. Curtis BERNARD, 11. Chris GOWEN. Subs: 12. Richard BYWATER, 14. Gary HATTO, 15. Mark HANCOCK.

ALTRINCHAM (Red & white striped shirts, black shorts, black socks): 1. Richard ACTON, 2. Gary SCOTT, 3. Chris ADAMS, 4. Mark MADDOX, 5. Gary TALBOT, 6. Stephen ROSE, 7. Dave GARDNER, 8. Barry SHUTTLEWORTH, 9. Peter BAND, 10. Rod THORNLEY (capt.) 11. Paul ROBERTSON. Subs: 12. Ian CRANEY, 14. Andy TUNNICLIFFE, 15. Stephen LUNT.
---
SUMMARY
Altrincham gained a comfortable win against Frickley in a game that never reached the heights on a very bobbly pitch. Peter Band got the opener when he knocked the ball home after the keeper parried a Rod Thornley shot (5 mins). After Thornley had failed to convert two more good first-half chances, Peter Band added a second after 51 minutes, rolling the ball in from the right of the goal. Steve Lunt wrapped it up seconds from the end with a well-taken drive.
REPORT
After changing ends, Altrincham kicked off playing up the marked slope, into the sun. After some routine exchanges, Altrincham took an early lead when Gardner picked up the ball on half-way and advanced up the right. His cross found Band, then Thornley, to the left of goal. Though Rod did not really get hold of his shot, Samways was unable to hold it and it spilled out to Band who knocked it home from close range (5 mins). There was a case for Thornley being offside but Mr Cook, the linesman did not give it to the annoyance of home fans.
There was then a farcical moment or two as Richard Acton spurned the match-ball as unsatisfactory and then also rejected its replacement. The referee finally found a suitable one but carelessly knocked it past Acton who had to run back 30 yards to retrieve it before play could recommence. Play continued in a scrappy fashion with the bobbly pitch ruling out any passing movements and leading to balls being lumped forward in the air and then mis-controlled on the ground.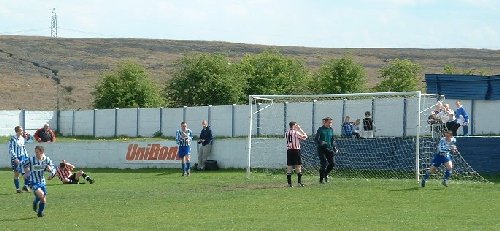 Band and Thornley hold their heads as a chance goes begging (24 mins).
After treatment to a Rose head injury incurred in an accidental clash, an Alty free-kick set Thornley clear to the left of goal. Though he lobbed the keeper, Rod could only find the right upright rather than the gaping net (18 mins). After Rod had then been caught offside, Graham Heathcote told his players to "stop clipping the ball and kick through it". Gardner and Band then conspired to get the ball across the front of the Frickley goal where Thornley somehow failed to make any contact at all in front of an open goal (24 mins). Altrincham's main chances were coming from the left side but it was Frickley who now won the first corner, on their right (25 mins).
Frickley were causing little danger to Alty where Maddox and Talbot were repelling all the aerial balls and Adams, too, was playing well. After Dave Gardner had been given offside, Graham Heathcote interrogated Mr Cook, the linesman, who was now unpopular with both sides (27 mins). Frickley's best effort so far came when Adams misjudged an aerial ball and Bernard got behind him to the right of goal. His cross found Russell who prompted a good double save from Acton (32 mins). Soon afterwards, Acton missed a right-wing cross but the blond Morris was unable to capitalise in front of goal when the ball came back to him from the left (33 mins).
Alty then won their first corner when Band fed Gardner, who got the ball to Scott. His cross was punched clear to Robertson who won the corner on the left (35 mins). This was quite clearly cleared by a defender's forearm but play continued. However, from Adams's pass, Thornley soon won another corner which the keeper caught at the second attempt from Gardner's kick (37 mins). Throughout the game, Samway's handling was to be uncertain, though the wind will not have helped him. Frickley were now enjoying the major share of the possession as Alty tried to hit them on the break. Thornley won a free-kick on the left and from Adams's kick Band won another corner, taken by Gardner on the left, Band's attentions deceived the keeper and it came to Gardner but his effort was blocked (43 mins). The sides traded unproductive attacks before a piece of juggling of the ball by Acton had the Alty fans' hearts in their mouths just before the interval. The half ended with a superb Maddox tackle as he covered for an error by Scott.
---
Half-Time: FRICKLEY ATHLETIC 0 ALTRINCHAM 1
---
Alty had the ball in the net early in the second period but only well after the whistle had gone for offside against the "scorer", Thornley. Thornley had been fed by Dave Gardner after a good pass by Gary Scott on the right (47 mins). Play continued in a fairly stuttering fashion until Rose won possession in centre-field and, via Shuttleworth and Gardner, the ball came to Thornley, some 35 yards to the left-centre of goal. He advanced and, in turn, fed a ball to Band, to his right. Band got round the keeper and from a very wide position nevertheless managed to roll the ball home, with it entering the net off the base of the keeper's right-hand post (51 mins).
The goal brought Band's league tally to eleven, the same as Ian Craney, who till then was the leading scorer from outfield play this season. (Rod Thornley has 13, but these include 4 penalties).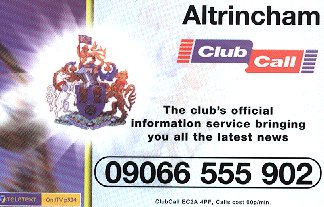 Graham Heathcote shouted to his keeper to make sure he got height rather than distance on his kicked clearances "every time", with the hardworking Band the main target for the aerial punts. After Adams and Morris had been involved in a bit of silliness, which earned them both a lecture, each side made a swap. Alty brought on Craney for Rose and Frickley took off Russell for Hatto (57 mins). Barry Shuttleworth was instructed to become the centre of a three-man midfield, with Gardner, Band and Thornley further forward. Alty soon won a corner, via a Dave Gardner free-kick which came off Richards's head on the Alty right. Robertson's corner was missed by a defender as it came across but it also evaded both Band and Thornley in the box (59 mins). Maddox saw off a Frickley breakaway with a superb tackle which gave Frickley a corner on their right, but this was cleared. Then Lindley advanced and won another corner off Maddox, who appeared to be pushed in the process (60 mins).
This corner was cleared and Alty immediately won one of their own from which Talbot rose well but his header just cleared the bar (62 mins). Thornley was then given offside after a very late decision by the linesman, which annoyed the Alty bench. After Frickley had put on Hancock in place of O'Brien, the Alty bench was even more irate when Maddox was clearly pushed and, as consequence, handled the ball. Maddox protested when he was penalised, a "crowd scene" developed, and Mr Holdsworth booked the Alty centre-back (67 mins). From the free-kick, by Gowen, Maddox himself appropriately made the initial clearance before Acton finally punched the danger away (68 mins).
Frickley now enjoyed a period of relative pressure but the game was still not anywhere approaching a classic. The Alty bench responded by instructing Band to move back into right midfield and Craney to tuck in behind Gardner and Thornley up front (72 mins). There was almost an immediate effect when an error by Daly allowed Thornley to stretch and volley just over the bar (73 mins). Gardner soon won another Alty corner and from this the ball came to Thornley whose snap shot came back off the upright from six yards (76 mins). Alty were now well on top once more but Craney's very high effort from 25 yards was the nearest to a goal at this stage.
Frickley now made their third change, bringing on Bywater for Morris (80 mins). But soon, Samways was caught out by a Shuttleworth cross. However, Thornley was unable to convert the chance and only a throw-in resulted for Altrincham, on the right. Alty then made two separate substitutions in a minute, with firstly Tunnicliffe replacing Gardner (83 mins) and then Lunt coming on for Thornley (84 mins). Maddox assumed the captaincy, though it took a couple of minutes for the armband to reach him via Lunt and Craney. Lunt was immediately working hard to close down Frickley defenders. The homes side's last chance came when they were caught offside. In the dying seconds a clearance by Samways was relayed back up the centre of the pitch by Band. This set Lunt free and running at the keeper whom he beat calmly with a firm drive from about 15 yards out, to record his third first-team goal of the season.
This was a professional performance by Altrincham which ensured that the season ended on a high note after the on- and off-field traumas of earlier months. Alty fans will look forward to a more promising season next August when, hopefully, manager Graham Heathcote will have some or all of his unfit players (Danny Murphy, Tony Sullivan, Jason Gallagher, Sean Smith and Neil Ryan) available again. New striker Mattie Hughes will also hopefully blend in well, once he completes his suspension at the start of the season.
---
Full-Time: FRICKLEY ATHLETIC 0 ALTRINCHAM 3
---