News Archive 27 May - 5 June 2001

This Page

6 June 2001


---



All framed pictures on this site are enlargeable; just click on the images themselves.
---
5 June 2001
HARDY GOES TO COUNTY
Neill Hardy, the former Alty striker, has joined First Division Stockport County from Radcliffe Borough of the UniBond First Division for £15,000, rising to £25,000 based on appearances. Having been tracked by Bury earlier this season, the move to Edgeley Park has come as a surprise. Hardy, now aged 27, hit 22 goals last season for Radcliffe, despite being injured for part of the campaign and was a prolific scorer during his four years at Moss Lane, netting 59 goals in 133 starts (+28 sub appearances) before he left in 1999, having lost his automatic starting place in the side.
---
4 June 2001
VICS' PLANS AT RISK
As reported below on 1 June, Northwich Vics' plans to move their ground to within 200 yards of Witton Albion's Wincham Stadium have been deferred by Vale Royal Council. The Evening News tonight reports that "Northwich Council objected [to Vale Royal Council] because of traffic impact and annoyance of residents, and has been given a 151-name petition from the Chapel Street Wincham Action Group, plus 128 individual objections". In addition, Witton Albion FC has also objected to the plans.
"ROBINS' REVIEW" WINS AWARD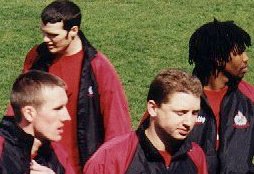 The Wirral Programme Club Non-League Football Programme of the Year award for the UniBond Premier Division 2000-01 has been won by Altrincham's Robins' Review programme with 160 points. The runners-up were the programmes of Hucknall Town (153) and Leek Town (152). The Robins' Review is edited by Grahame and Terry Rowley, who are to be congratulated on their success. Meanwhile news is still scarce about some of last season's squad. In the accompanying photo, apart from Rod Thornley (in the background) who has been contracted for 2001-02, will any of the other three players pictured here still be at Moss Lane next season? They are (l. to r.) Adam Farley, Steve Finney and Paul Edwards.
NEXT SEASON
Next season all UniBond midweek matches will kick off at 7.45pm instead of the mish-mash of 7.30 and 7.45 starts experienced last season. The Hyde United site reports that the format of the UniBond Cups for next season will be decided at the AGM on 16 June.
ACCRINGTON STANLEY v BARCELONA?
The excellent Accrington unofficial site has announced that Stanley "have faxed Barcelona FC with the offer of a friendly match when they visit Lancashire in August to play Blackburn Rovers. The club has also invited Kevin Keegan's Manchester City to bring a side to Accrington". City will be playing a friendly at Hyde on 25 July (7pm) whilst Hyde will be visiting our neighbours Trafford for a 7.30pm match on Wednesday, 8 August. An unusual pairing is Burscough v Stenhousemuir of the Scottish Division Two; that friendly takes place on Sunday 29 July at 1pm. A more conventional friendly, with local interest, is Colwyn Bay v Stockport County on Saturday, 21 July at Llanelian Road. Probably the first cup final of the season will be the Liverpool Senior Cup Final between Burscough and Southport on 31 July (7.45pm).
---
3 June 2001
TIM CLARKE
Goalkeeper Tim Clarke, briefly at Altrincham in 1993/94 season before playing league football at Shrewsbury Town, Scunthorpe and Huddersfield, has been released by his current club, Kidderminster Harriers. Tim kept goal for the Harriers in their Conference-winning season of 1999-2000. He has now re-joined Halesowen Town, where he started his career.
S.A.M. POLL
The Sale & Altrincham Messenger Alty Player of the Year poll has now ended, with the winner being revealed here.
TAYLOR ON TAYLOR
In today's Non-League Paper Bernard Taylor describes his new signing from Hyde, Paul Taylor, as "the sort of player I want round me- totally committed". Bernard also commented that "I've really like the look of Paul ever since I first watched him and, after missing out on him once, it's great to think we've finally got him". Bernard is also reported in the same article to be pursuing his interest in Droylsden captain Carl Holmes and is now said to have made a part-exchange offer to the Bloods. The NLP also carries a section on "Midfield Masters", including Altrincham's legendary John King. The article outlines his career, which brought him to Moss Lane four times as player and manager and concludes that "to say that King was competitive would be something of an understatement".
SUMMER MAINTENANCE
This site is currently undergoing close-season maintenance with the pages relating to last season being moved to the Alty Pages Archive and new pages being prepared for next season. At the end of this process the search-engine at the foot of this page will re-index the site; in the interim there may inevitably be some incorrect hits, for which I apologise.
---
2 June 2001
RUNCORN NAME CHANGE?
As well as moving their ground from Canal Street to the Autoquest rugby stadium in Widnes, Runcorn FC are now reported to be considering a name change to Runcorn Halton FC. Halton Borough Council, who are responsible for the Widnes-Runcorn area, are the Linnets' main sponsors. Now is the time to order your Altrincham FC Season Ticket and thereby help the Club throughout the coming season. Prices are unchanged from last year with the added bonus that this season any adult buying a season ticket can acquire Juniors' season tickets at £10 per child.
Season tickets: Adults £105 (standing) or £125 (sitting); Juniors £40 or £60; OAPs £55 or £60
As the tickets give entry to all 22 league games, this works out at only £4.77 (standing) and £5.68 per match and season tickets also normally give free entry to pre-season friendlies.To get your season ticket(s), please send a cheque (payable to "Altrincham FC") and a stamped addressed envelope to Mr Graham Heathcote, The Secretary, Altrincham FC, Moss Lane, Altrincham , Cheshire WA15 8AP. Please remember to specify the number and type (stand/terrace; adult/child) of tickets required. If you wish to collect the tickets from the ground (tel. 928-1045 for collection times), you can omit the s.a.e..
It is expected that turnstile prices will also remain unchanged, though this is yet to be confirmed. Last year's prices were:
Standing: Adults £6-50, Juniors and Concessionaries £4-50
Sitting: Adults £7-50, Juniors and Concessionaries £5-50
---
1 June 2001
WARD LINKED TO LEIGH
The Evening News tonight surprisingly links Mark Ward to Leigh RMI in an article on the possible departure from Hilton Park of the RMI Assistant Manager, Dave Miller. Miller is linked to the Staylbridge managership and RMI manager Steve Waywell is pushing Miller for a decision on his future. If Miller goes, the paper says "Waywell...may be tempted to take former Altrincham chief Mark Ward back to Leigh". Meanwhile Peter Davenport, the former Macclesfield boss, has been appointed the new manager of League of Wales side Bangor City. Also in Wales, Danny McGoona's Caernarfon Town completed the double by winning the Cymru Alliance League Cup this week; next Tuesday they go for the treble in the NWCFA Challenge Cup against Holyhead Hotspur.
GOOD NEWS FOR WINSFORD
Because of administrative errors Winsford had six points deducted for fielding ineligible players last season. These deductions led to their being relegated for the second successive season, this time to the NW Counties League. However, their disillusioned manager, Steve Shaughnessy, has finally made up his mind to stay at the club. The former Runcorn and Stalybridge Celtic player could conceivably have some good news if Gretna's application to join the Scottish League is successful. One option in such a scenario would be that Winsford would not be relegated.
ANOTHER FRIENDLY
The Witton website reports that there will be a friendly against Altrincham at Wincham Park on Tuesday 14 August with a 7pm kick-off. A list of all of Alty's known pre-season friendlies is here
YOUTH CUP REPORT
There is now a detailed report of the Alty Cup Final win over Prestwich Heys on the Prestwich Heys website. A report is also to be found on this site's Youth Page.
VICS' PLANS DEFERRED
The Northwich Vics site reports that Vale Royal Council has "deferred" the application from the Vics for planning permission for a new stadium at Wincham. This follows a meeting on 30 May between the Vics' Board and the Council. It is currently unclear to outsiders what exactly this means in terms of the fulfilment of the Vics' plans. The Club has also issued a list of retained and released players. Ex-Alty captain Gary Talbot is definitely retained whilst Lance Key, as previously reported, has been released. It is also reported that the FA has given its support to two-up and two-down between the Conference and the Nationwide League Division 3 and that this proposal is therefore likely to be accepted by the AGM of League Chairmen who meet from 7 to 9 June.
---
31 May 2001
BLYTH'S NEW (MINE)SWEEPER
One fundraising venture which Altrincham cannot emulate is that being mounted by Blyth Spartans. The Spartans now share their town's name with a Royal Navy Minesweeper, HMS Blyth, and on 3 June there will be a quayside festival in the town to honour the newly commissioned vessel, which will be present in the docks. Blyth Spartans FC will have a stall at the event selling Club t-shirts, which could well end up in exotic oriental ports around the world. The shirts feature designs by the Viz comic's artists. The Club will also be running an open-top bus service to the event and proceeds of this and of the t-shirt sales will be to help bale the Club out of its tax debts. On the playing front, all of last year's squad are believed to have re-signed for next season. For more, see the Blyth site. Other UniBond news from the north-east includes confirmation from Bishop Auckland that Jeff Smith, who scored at Moss Lane in the league encounter with Altrincham this season, has this week signed a two year contract at new Premiership side, Bolton Wanderers. The fee is described as "nominal". So, he and ex-Alty man Kevin Ellison could soon be clashing at a higher level than their UniBond origins. The Bishops have appointed Colin Richardson, who at one time managed Gateshead, as their assistant manager to Tony Lee.
---
30 May 2001
PLAYERS (AND CLUB) ON THE MOVE?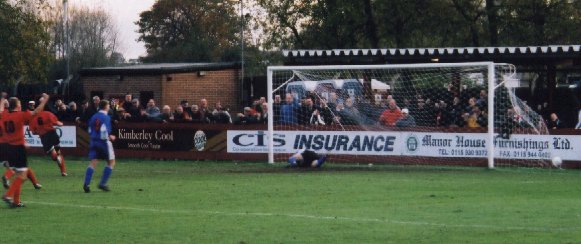 The Gainsborough Trinity striker Lee Ellington, who figured briefly at Moss Lane in 1999-2000, is attracting attention from Port Vale, Huddersfield Town and Bristol Rovers. One man almost certainly leaving The Northolme ground is defender Brian Linighan who has moved his home to Hartlepool. Marine's "Player of the Year", their ex-Southport midfielder David Gamble, has left the Club after being unable to agree terms. He is now being linked with Runcorn. Marine have released defender Mark Schofield and midfielder Simon Wilson. John Knapper, who is seen left netting from the spot against Altrincham for Ilkeston in the Trophy last season, is rumoured to be heading for Northwich Victoria. Vics' manager Keith Alexander was, of course, formerly at Ilkeston. The Drill Field club's planning application for a new stadium at Wincham is due to be heard next Tuesday and is expected to be successful. Three Vics' players may be leaving as they are wanting a payrise according to the This is Northwich website; they are Mark Devlin, Mark Bailey and John Robertson.
---
29 May 2001
NORTH-WEST TRANSFERS
Recent transfers include Altrincham's two signings, of whom further details may be found lower down this page and on the Current Players page. Andy Whittaker's transfer, first reported below, comes after two and a half years at Bamber Bridge, the club he joined for £3,000 from Southport in November 1998. Mike Norbury's move from Hednesford to Emley will bring him up against Altrincham once more. Those who witnessed Alty's 5-0 drubbing at Hednesford last season will recall that Norbury began his second spell at Keys Park in that match.

Chris Adams (Ashton Utd to Altrincham)
Ian Arnold (Southport to Morecambe)
Andy Gouck (Southport to Morecambe)
Mike Norbury (Hednesford Town to Emley)
Paul Taylor (Hyde Utd to Altrincham)
Andy Whittaker (Bamber Bridge to Lancaster City)
IAN SENIOR
Ex-Alty keeper Ian Senior has joined with Dave Felgate, the veteran Leigh RMI goalkeeper to run a goalkeeping course at Tempest United Football Club in Bolton, from 7 June. Ian can be contacted on 07960 137232 by anyone interested in signing up.
REFEREE PROMOTED
Graham Salisbury, who refereed Altrincham's away games at Worksop and Emley last season, is the sole UniBond referee to have been promoted to the Nationwide panel of match officials for next season.
SPEAKER MOVES ON
Steve Bruce, who entertained Altrincham supporters and sponsors at a recent Sportsman's Dinner has left Wigan Athletic, the club he only joined that same day. He is being linked with the Crystal Palace vacancy.
---
28 May 2001
UNIBOND NEWS
Hucknall Town's striker Simon Martin looks set to leave the club as he has moved back home to St Albans after completing his university studies at Lincoln. Simon hit 53 goals in 109 (+21) appearances for Hucknall and was looked at by Leicester City shortly before the Foxes latched on to Altrincham's Kevin Ellison. Martin, formerly at Lincoln United, has rejected a new contract at Hucknall and is now expected to join a southern team.

Andy Whittaker, who hit 29 goals last season for Bamber Bridge, is reported by the Bamber Bridge website to have signed for Lancaster City as a replacement for Chris Ward, who was sold late last season, to Birmingham City. Whittaker had previously rejected a move to the Giant Axe in 1991.
VICS' DISAPPOINTMENT
Gary Fletcher, who left Northwich on loan to Hull City last season, has returned to the Drill Field after Hull refused to match the Vics' £150,000 valuation.
---
27 May 2001
YOUTH TEAM WIN DOUBLE!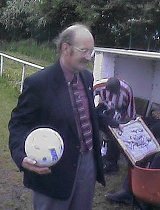 Altrincham Youth team clinched the Bolton & District N.W. Youth Alliance League Championship this afternoon with a well-deserved 3-0 victory over Rossendale United Youth at Wilmslow Albion FC's ground. For a brief match report, please visit the Youth Page. Congratulations to manager George Heslop (seen left, after the game), coach Neil Thomason and all of the Youth squad for ending the Altrincham FC season on the highest note possible.

SEARCH THIS SITE
A search-engine has now been added to this site and this can be found at the bottom of this page, along with instructions for use.
CHRIS ADAMS RETURNS AND OTHERS ON WAY?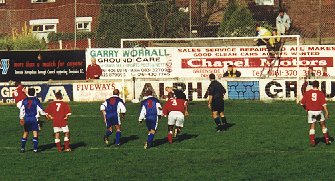 The Pink today reveals that Altrincham have re-signed defender Chris Adams, now 24, from Ashton United for whom he made 56 appearances last season. Chris, like his unrelated namesake and fellow-left-back, Danny, joined Alty originally from Congleton Town in 1997. After just one first-team outing as a substitute, Chris moved to Nantwich and then in July 1999 Trafford. He has also had spells at Droylsden, Northwich Vics and Oldham Athletic. Altrincham are also reportedly seeking a player-exchange deal for Droylsden captain Carl Holmes, with two un-named Moss Lane players being proffered for the Bloods' player. Holmes scored both goals against Altrincham in the match at Droylsden in October; the first, a penalty, is seen left. Leigh RMI are also now reported by the Pink to be eyeing Droylsden keeper Paul Phillips, rather than as reported in the media last week, Alty's Stuart Coburn. The NLP reports that Altrincham have been showing interest in 33 year-old striker Kevin Hulme, the former Bury, Doncaster and Chester striker but he is also being linked with the Stalybridge managership. Possibly moving in the outward direction is former player-manager Mark Ward. The Pink reports that Witton's new boss Eddie Bishop is making a loan bid for Mark Ward who remains contracted to Altrincham as a player.
TITLE DECIDER
Altrincham Youth side's last game of the season is a fixture against Rossendale United which will be played at the Wilmslow Albion ground at Oakwood Farm on Styal Road, today (27th); kick-off is at 2pm. A win would clinch the title and, depending on results elsewhere, less than that might still be good enough. For more on the Youth side, who have already won their Cup competition, see here. Youth team striker Mario Daniel is mentioned in the Pink's match report of the Manchester FA Youth side's defeat in Northumberland last week. Mario came on as a substitute.
OLD BOYS
Ricky Harris has been retained at Leigh RMI, along with Robert Trees and Ged Kielty but, as previously reported, Mick Morrell has been released. Northwich have released at least seven players including Lance Key (see earlier news). Steve Tobin, who was briefly at Altrincham, is pictured in the Pink as the Altrincham Sunday League representative team's skipper, receiving the Greater Manchester Inter-League Open-Age Cup.
NEXT SEASON AND LAST SEASON
In the NLP Emley boss Ronnie Glavin lists five teams apart from his own whom he expects to challenge for the UniBond Premier title next season; these are Altrincham, Barrow, Burton Albion, Gateshead and Lancaster City. The same paper's review of the last UniBond season has a large picture of Bernard Taylor and a photo from the Emley v Altrincham game but the only textual reference is to our change of managership and not to our on-field performances.
---
26 May 2001
ALTY MEN IN EUROPE
Even though TNS lost the Welsh Cup last night, 0-2 to Barry Town, they still qualified for the UEFA Cup. This means that TNS's ex-Alty men Ken McKenna, John Toner, Steve Morgan, Gary Powell and Lee Coathup, all of whom figured in the Final, could be playing on the continent next season. The League of Wales AGM has confirmed that Danny McGoona's team, Caernarfon Town are promoted to the League of Wales.
ROBINS' REVIEW
The Unibond Forum today carries a message awarding Altrincham's Robins' Review matchday programme the accolade of best programme in the UniBond League. Congratulations to Grahame and Terry Rowley, the editors of the programme!
BARROW PRICE-RISE & OTHER UNIBOND NEWS
Barrow are likely to be the most expensive side to watch in the UniBond League as they are raising admission prices next season to £8 (stand) and £7 (terrace). Season tickets will be £150 and £135 respectively. However, a £30 season ticket for juniors and a £55 one for students will be available. At Altrincham admission prices are expected to remain at last year's levels, though some new discounted initiatives are expected to be announced by the Club.

Bishop Auckland are making progress with plans for a new stadium in the town, at Tindale Crescent. With the help of the Football Foundation, they appear to be at the stage of formulating their funding applications.

Leek Town have retained all of their registered players, despite relegation to the UniBond First Division. Nevertheless, it is expected that some of the players will move on before the season starts.
---
---