Altrincham Football Club News Archive.
This Page www.lusoweb.co.uk/alty1.htm

1 July, 2001



---
All framed pictures on this site are enlargeable; just click on the images themselves.
---
1 July, 2001
RIVALS FOR HOLMES
The NLP
---
30 June, 2001
ALTY CUP DRAWS
Altrincham have been drawn at home to Frickley Athletic in the FA Cup 2nd Qualifying Round FA Cup, but away in both the 1st and, should they reach it, the 2nd Round of the FA Trophy.
FA CUP 2QR - Saturday 29th September : Altrincham v Frickley Athletic
FA TROPHY 1 - Saturday 3rd November: Spalding United v Altrincham
FA TROPHY 2 - Saturday 1st December: Radcliffe Boro/ Accrington S. v Spalding Utd/ Altrincham.
The only unfamiliar opponents above are Spalding United, "the Tulips", who play in the Eagle Bitter United Counties League, having just been relegated. They enjoyed just two seasons in the Dr Martens Eastern Division in which they finished bottom on goal difference, having won only seven games all season. They are therefore now two levels below Altrincham in the Pyramid. The club was formed in 1921 and play at the quaintly named Sir Halley Stewart Field. They have twice reached the FA Cup 1st Round, but not since 1964. However, they did reach the Trophy 3rd Round in 1999/2000 and the Vase quarter-finals in 1990 and 1998. A year later the Lincolnshire Club went into liquidation but has since recovered. Spalding, famous for its flower festival, lies midway between Boston and Peterborough in the district of South Holland. The Club's sponsors are well-known names- Geest (of banana and bulb fame) and Somerfield, whose supermarket is next to the ground. All of Alty's pre-season and cup fixtures are listed here.
Other Trophy games include: Trafford v Ossett Albion, Ossett Town v Hyde Utd, Gretna v Witton, Droylsden v Frickley, Belper v Runcorn. Other FA2QR matches include Vauxhall Motors v Hyde Utd, Emley v Bamber Bridge and Worksop v Bishop Auckland. Mossley, our conquerors last year, meet Spennymoor away in the First Qualifying Round.
BLYTH IN A MESS
The Blyth web site has extensive coverage of the Club's financial plight; Blyth owe more than £50K to the Inland Revenue. Tony Platten, the Club's business adviser was this week obliged to ask for a 4-week adjournment to the Club's tax hearing, which was scheduled for last Wednesday. This request was due to management instability within Blyth Spartans. Referring to potential backers, Mr Platten said that "only if the management of the club was stable enough to be able to pay loans back would I recommend to the businessmen in question that they put their money forward. Before and after last week's meeting it became clear that that structure was not in place. A number of serious personality issues came to light and it was obvious that there was no stable management at the club". He went on: "The company Blyth Spartans A.F.C. Limited has not been running properly or legally. There has been only one director, no chairman and no company secretary. That will all be changed". So, he has proposed that "a restructuring occurs as a means of satisfying potential business backers. Therefore it is intended to set up an executive committee of business people who have the skills to oversee the day to day running of the club", which costs around £100,000 a year to operate. A general manager and the executive committee will monitor the club's operations. Already this week, Match Secretary Chris Golightly and Board member John Broadhead have resigned. Mr Platten sees two options to place before "the organisation dealing with the club's financial situation": -

"1. I tell them that we don't need them and have resolved the issue ourselves. Everyone needs to be in agreement for us to proceed with this first option.
2. The club asks for a Creditors' Voluntary Agreement. This means that administrators would come in to stop the club being wound up and the club would pay so much per month to the Inland Revenue. There are a number of implications of this second scenario".


Manager John Charlton has met Blyth Spartans Juniors, Blyth Town Juniors and Blyth Spartans Ladies with a view to creating a centre of excellence at the Club for football in the area. News on ground improvements at Croft Park is expected from the local Council next week.
SPENNYMOOR'S NEW BOSS
Spennymoor United have named Peter Quigley as manager. He was the man who took Tow Law Town to an FA Vase final at Wembley in 1998.
---
29 June 2001
LEROY AND HUCKNALL
According to nlfootball, the Hucknall manager John Ramshaw "is particularly excited by the arrival of ex-Altrincham striker Leroy Chambers, whom he appeared to have lost to UniBond rivals Frickley Athletic three weeks ago. However, the former Sheffield Wednesday and Boston United player had a change of mind after seeing the facilities at Watnall Road". Leroy is likely to replace Hucknall's leading scorer, Simon Martin, who is reportedly a target for Northwich Vics, though the reason previously given for Martin's departure from Watnall Road was a move down south. Andy Morris, Hucknall's former Rochdale player, is retiring through injury but Ramshaw has signed Ilkeston right-back Jermaine Bailey. Wayne Fairclough, Lee Soar and Richard Taylor have also left the club.
BARROW NEWS
Barrow's Lee Ellison has now definitely joined Gateshead - because he has secured a permanent job as a Gateshead postman. But Barrow's Grant Holt is set to rejoin the Bluebirds because his plans to play in Australia have fallen through. Holt, who scored at Moss Lane last season, is on Halifax's books till 1 August.
---
28 June 2001
STANLEY SIGN PSG TRIALIST
The Unofficial Stanley site reports that Accrington have signed a 21 year-old striker, Tom Beech from Crawley Town in the Doc Martens League. However, Beech had previously had trials at both Chelsea and Paris St Germain! Elsewhere in the UniBond, Barrow have also signed a striker, Carl Waters from Holker Old Boys. However, the Bluebirds will be losing Lee Ellison, who is expected to sign for Gateshead shortly. Closer to home, Martin Filson has denied that, as previously announced, he has signed for Rhyl but he has left Stalybridge.
UNIBOND CUP FIXTURES
Courtesy of information provided by Grahame Rowley, details of the UniBond Group Stage matches for Altrincham are now available:
week commencing 24/9/01 Runcorn v Altrincham
w/c 08/10/01 Altrincham v Trafford
w/c 22/10/01 Witton Albion v Altrincham
27/11/01 Altrincham v Colwyn Bay
w/c 10/12/01 Altrincham v Vauxhall Motors
It is probable that most if not all of these games will be on the Tuesday of the week in question. All will start at 7.45pm. For a list of all the friendlies and cup games announced to date, click here.
UNIBOND CUP GROUPS
The UniBond Cups are following the same broad format as last season except there is now an extra group-stage game for most teams as there are only eight rather than nine groups. Five groups have six teams in them, the rest have only five teams. The groups are:
1-Blyth Spartans, Bishop Auckland, Gateshead, Spennymoor Utd, Gretna.
2-Barrow, Bamber Bridge, Lancaster City, Workington Town, Kendal Town.
3-Whitby Town, Guiseley, Bradford PA, Harrogate Town, Farsley Celtic.
4-Accrington Stanley, Chorley, Radcliffe Borough, Marine, Burscough, Rossendale Utd.
5-Runcorn, Altrincham, Witton Alb., Colwyn Bay, Trafford, Vauxhall Motors.
6-Ossett Town, Droylsden, Hyde Utd, Emley, Ashton Utd, Ossett Albion.
7-Eastwood Town, Burton Albion, Matlock Town, Hucknall Town, Leek Town, Belper Town.
8-Worksop Town, Lincoln Utd, North Ferriby Utd, Gainsborough Trinity, Stocksbridge P.S., Frickley Athletic.
---
27 June 2001
UNIBOND CUP DRAW
Altrincham have been drawn in the same UniBond Cup group as Colwyn Bay, Runcorn, Witton Albion, Trafford and Vauxhall Motors. So far, the only fixture known is at home to Colwyn Bay on 27 November, 2001. Also, the dates for the FA Cup are: 2nd Qualifying Round- 29 September; 3rd- 13 October; 4th- 27 October; 1st Round Proper- 17 November 2001.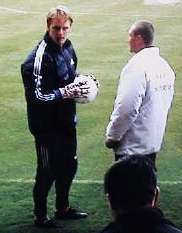 KEY TO KINGSTONIAN
Lance Key, who kept goal for Altrincham in the latter part of the 1999-2000 season, has joined newly relegated Kingstonian. Lance left Northwich at the end of last season to move to the south of England. At least in the Ryman League, he should not be told off by any stewards for warming up on the wrong part of the pitch, as he was at Rushden and Diamonds in April 2000 (see picture, left). Having started his Altrincham career with seven games in which the Altrincham side remained unbeaten, after the 1-0 defeat against Rushden at Nene Park Lance was never again on the winning side for the Robins.

VICS' NEW GROUND GETS APPROVAL
The following is from the Vics' official site: "At the Vale Royal Borough Council Planning Meeting, on Tuesday 26th June 2001,outline planning permission was approved (suject to a section 106 agreement), for Northwich Victoria F.C. to build a new stadium at Wincham, Northwich. This is the end of the statement. Further details will be released when appropriate". Witton will be pleased! The Drill Field Den site states that "Vics believe that they can have The Drill Field sold within the month" and that "the [new] 6000 seater stadium should be ready for Conference football in 2002-2003 season". There is also a lengthy report on the Northwich Guardian site.
ANOTHER TRINITY SIGNING
Gainsborough Trinity have signed Boston United's striker, Andrew Stanhope, who was released at the end of the season. He joins Joby Gowshall, Phil Brown, Paul Watts, Steve Circuit and physio Peter Jellett as ex-Boston men at Gainsborough.
---
26 June 2001
ALTY CHASE PITTS AND TWO MORE LEAVE STALYBRIDGE
According to nlfootball, Altrincham have made an offer for Winsford's former Wigan Athletic trainee winger Dougie Pitts. However, Southport are also reported to have moved for the youngster. In addition to manager Phil Wilson, assistant manager Peter Ward and captain Gary Bauress, Southport have now signed Tony Sullivan and Steve Jones from Stalybridge. Celtic have also lost Martin Filson to Rhyl and Alex Green to Gresley Rovers since winning the UniBond title in May.
BLYTH DEVELOPMENTS
Blyth Spartans' attempts to reach a settlement over their debt to the taxman are set for a decision from the tax officers this Wednesday. So far, the Club has raised £14,000 (about a quarter of the debt) but monthly standing orders are adding to this and further fundraising initiatives are being undertaken. Ground improvement work is also necessary at Croft Park. Both stands require safety work on them and concrete terracing is to be installed to replace other unsurfaced areas. This and other improvements will cost £90,000 and an application has been made to the Football Foundation. The Club is also hoping to make use of the sports hall of an adjacent school for the joint benefit of the local community and the Spartans' social club. On the playing front 13 of last seasons players are staying and Blyth are interested in signing Graham Pepper from Gateshead and ex-Alty trialist, Craig Skelton, from Whitby Town. More on the Blyth web site.
---
25 June 2001
ANOTHER FRIENDLY?
The Rossendale United web site has announced a friendly against Altrincham on 24 July- at Rossendale. The Club are newly promoted to the UniBond First Division for 2001-02. There is no confirmation of this match yet from the Altrincham end. Click the "Friendlies" button, above, for the full list of pre-season games.
TOO GOOD FOR UNIBOND?
Some Alty fans thought the team was too good to be relegated from the Conference in 2000. Some arguable evidence to support that case is that you could now field quite a reasonable side from players who played for Altrincham in one or other of our spells in the UniBond League but then moved up or back to higher-level football.
1- Andy Dibble (Stockport Co.), 2-Danny Adams (Macclesfield), 3- Paul Robertson (Leigh RMI), 4- Paul Ellender (Scarborough), 5-Gary Talbot (Northwich Vics), 6-Ged Kielty (Leigh RMI), 7-Stuart Terry (Northwich Vics), 8-Ricky Harris (Leigh RMI), 9-Keith Russell (Hednesford Town), 10-Neill Hardy (Stockport Co.), 11- Kevin Ellison (Leicester City). Sub- Tony Rigby. In addition the following played for Alty in our last Conference season (or pre-season) and still played at that level or higher after we were relegated: Lance Key, Robert Trees, Mick Morrell, Tony Hemmings.
ANOTHER CELTIC MAN GOES
Yet another player has left promoted Stalybridge; midfielder Alex Green has joined Gresley Rovers. The 21 year-old is a former Bury youth player. Meanwhile Ossett Town have signed the former Newcastle United left-back, John Beresford, who was briefly at Worksop last season.
---
24 June 2001
ALTY CHASE SERTORI?
According to the NLP, Altrincham are one of the clubs pursuing Cheltenham Town's released utility man, Mark Sertori. However, Nuneaton Borough are believed to have made a bid for him. Manchester-born Mark, aged 33, formerly played League football for Stockport, Wrexham, Lincoln and Bury. The same paper also reports on Alty's link to a proposed new stadium in Stretford and records the signing of Jeremy Illingworth, with Bernard Taylor saying, "He is a box-to-box player, a strong boy. But he has played upfront, in midfield and even as a sweeper. We will make good use of him". Elsewhere in the paper Kevin Ellison is described as "the pick of the bunch" in an article on future stars. Mark Harris describes Kevin as "a lovely lad. You can never stand in a player's way once they want to progress and we were delighted to be able to facilitate that for him". Ex-Alty man Tony Hemmings has cost Chester City £3,500. The payment, to Ilkeston Town, had been delayed by a wrangle after Hemmings left Chester for Carlisle. Hemmings had joined Ilkeston after being released from Moss Lane.
UNIBOND NEWS
A two-page illustrated report of the annual dinner of the UniBond League is included in the NLP. This coming season is the final one of UniBond sponsorship of the Northern Premier League though a renewal of the deal is being sought. Apart from presentations to the UniBond League cup and League winners, Worksop Town and Workington were awarded the Fair Play trophies. Elsewhere in the paper, Nigel Clough repeats the claim that Burton have moved to the UniBond solely to avoid stressful away journeys to such distant locations as Havant and Crawley. He says that "in terms of competition it [the UniBond] will be just as tough" as the Dr Martens League. He expects Burton to bring 200-300 fans to every away game next season. Clough has re-signed his only two out-of-contract players, Terry Henshaw and Pat Lyons. Danny Brunskill of Bishop Auckland was in the Redcar Working Men's Club pub side which finished fourth in International Carlsberg Pub Cup in Sweden recently. St Albans City are hoping to sign Hucknall's leading scorere Simon Martin, who has moved away from the Nottingham area.
OWENS'S ALTY ROOTS
The England semi-profesional team's manager, John Owens gives a detailed account of his Altrincham career in today's NLP. During his ten years as Alty centre-back he won the Alliance (now Conference) twice (1980, 1981) and played six times in front of crowds of over 30,000. He was also in the Trophy-winning Alty side and played in three third-round FA Cup ties. Originally a P.E. teacher, Owens managed Liverpool Under-15s, a side which included Steve McManaman and Robbie Fowler. For the last nine years he has coached under Steve Heighway at Liverpool's Academy. After three years managing the Liverpool Schools' Under-15s, the F.A. appointed him to his current job in which he has seen the national side unbeaten during his four years in charge.
"ALTY IN WALES"
TNS, the League of Wales side with a contingent of ex-Altrincham players, meet Polonia Warsaw in the first round of the UEFA Cup; the away leg is on 9 August, the home tie is on 23 August. Ken McKenna, Steve Morgan, Lee Coathup, Gary Powell and others could have a difficult tie on their hands!
MORE ON IVAN
Today's NLP has an obituary for Ivan Crossley which recalls his membership of "the great Altrincham side of the 1970s and early 1980s. He played in the Trophy finals of 1978 and 1981 and also in the FA Cup ties against Everton and Spurs. He returned to his roots in Bury when he signed as a player for Elton Fold at the start of the 1983-84 season". After a post-mortem, Ivan's funeral will be at Guardian Angels RC Church, Newbold Street, Bury on Tuesday.
---
23 June 2001
TRIBUTE TO IVAN
Tonight's Evening News has an article on premature death from heart attacks, a half of which comprises a tribute to Ivan Crossley, the ex-Alty defender who died this week. Curiously the paper seems to be unaware that Ivan had a football playing career of his own, including winning the F.A. Trophy with Altrincham. Here is what the article said about him in its entirety: "Ivan Crossley, 48, died from a heart attack while playing a five-a-side game with his son Paul, 26, at the JJB Soccer Dome at Trafford. The married father-of-two was trainer and coach at the Bury-based Finnair Manchester league club Elton Fold and played football with his son most Mondays. His brother Stuart said, "Football was his life. He was really fit and he just lived and breathed football". Ivan also worked for the RAC and was well known in Manchester city centre, Bury, Prestwich and Sale. Club Secretary Guy Mallinson described Ivan as "fit as a fiddle" and added: "He didn't smoke and hardly drank. He was very popular and the lads loved his training methods. He'll be a hard act to replace".
HYDE KIT INNOVATION
The Hyde United web site reports that Hyde will play in the same red shirt, white shorts and red socks as last year but their away strip will be the exact opposite i.e. white shirt, red shorts and white socks. This will give the team the option of any permutation of the two colours. The same site also reports a minor UniBond rule change for next season; new players will now have to be signed four hours before kick-off rather than one hour as now.
---
22 June 2001
BACK IN TRAINING
Fewer than seven weeks after the end of last season, Altrincham's players returned for their first "unofficial" training session yesterday. Another session is due next Thursday, with official training commencing on 3rd July. The Club has not yet issued its list of retained players but it is expected to be released before the end of this month.
ALTY PIPPED TO DEFENDER AND OTHER UNIBOND NEWS
Witton Albion have pipped Altrincham to the signature of right-back Neil Morley, according to the Witton web-site. Morley and Carl Rendell have both been signed by manager Eddie Bishop from relegated Winsford United. Morley is a former Manchester City youth player, now 22, and the Witton web-site states that "UniBond Premier Altrincham were also thought to be interested in him". The Winsford manager has described Morley as "the best full back in the UniBond League". Both new players will play for Witton in the Mid-Cheshire Senior Cup Final at the Drill Field, Northwich on 9th August (7.45pm). Elsewhere, the unofficial Accrington web site reports that Stanley have yet to make a summer signing because players and clubs have been asking for too much money. The Chairman, Eric Whalley reported that "We have looked at Phil Eastwood, who has been made surplus to requirements at Morecambe but when we inquired about him, all of a sudden the price went up to five figures. I'm friends with those at Morecambe, I used to manage there, but they can whistle for it". Two other players on Stanley's shopping list are Southport's Dino Maamria, the 29 year-old Tunisian who was formerly at Doncaster Rovers and the Rossendale United striker, Craig Sargeson. Manager John Coleman is also in talks with a Football League striker. Further north, Barrow have confirmed that they are re-starting a reserve side and that it has been accepted into the Lancashire League, in which Alty Reserves play. Barrow season tickets are now available and they include free admission to Reserves' games. At Gainsborough Trinity manager Phil Tingay has appointed Kettering Town's ex-Stockport County player, Phil Brown, as player/assistant manager. For Brown, it is a return to another of his former clubs. Tingay himself is also a former Kettering player.
MORE UNIBOND CLUB NEWS
Richie Roberts, Colwyn Bay's 30 year-old first-choice goalkeeper, is leaving the Club after eight years at the Llanelian Road club. Roberts was the keeper who hauled Jason Gallagher down to concede a penalty in the league match last season at Colwyn Bay. Roberts will remain available for the Bay in emergencies, however. Replacing Roberts is Paul Smith, who has been acquired from League of Wales side TNS, managed by ex-Alty man Ken McKenna. The Bay have also signed a midfielder, Simon Richards from Flexsys Cefn Druids. Although most of last season's squad are staying at the Bay, a couple of further signings are expected shortly. For more, see the impressive Colwyn Bay FC website. Following Leroy Chambers's move to Hucknall, the Frickley website reports that they have re-signed striker Carl Fothergill, two years after he left the Yorkshire side for Gainsborough Trinity. Fothergill had since moved on to Stocksbridge Park Steels and then Kettering Town. Meanwhile, relegated Leek Town have reduced their gate prices. Entrance will now cost £5 (£3 for concessionaries and £1 for accompanied children).
---
FOR EARLIER NEWS, CLICK HERE
---


Copyright: ©


Compiled by John Laidlar


The Luso Pages comprise the following units; click on the boxes below to go to each set of pages. For the Luso Pages home page, click on the box to the left:
Pages on Anglo-Portuguese Culture
Pages on Lisbon and Oporto Public Transport
Pages on Sale and Altrincham, Cheshire



For all your musical needs...ACOUSTIC INSTRUMENTS NORTH-WEST


---
SEARCH-ENGINE FOR THIS SITE

Make sure the tab below is set to "This site" and then enter the name or word you are seeking. Then, click submit and all matches to your search term will be displayed. Alternatively, set the tab to search "The Web" and a search will be made across the whole internet. Please bear in mind that indexing is only done periodically so very recent matches may not be displayed. As most of last season's files have recently been archived to another URL, if you get a false-hit from this search engine, please try the same search on the ALTY PAGES ARCHIVE search-engine, to which there is a link below.

---
---