Altrincham Football Club News Archive.
This Page www.lusoweb.co.uk/alty1.htm

20 July, 2001



---
News Archive 1-19 July 2001
All framed pictures on this site are enlargeable; just click on the images themselves.
---
19 July, 2001
EDWARDS LEAVES
Paul Edwards, the ex-Doncaster wide man who played nine games for Altrincham at the end of last season, has reportedly signed for Conference side Leigh RMI. Despite never scoring for Altrincham (or indeed for Doncaster), Edwards made a strong impression with the fans at Moss Lane.
UNIBOND TRANSFERS
Darren Vicary, linked with Altrincham a few months ago, has rejoined the club where his career started, our UniBond rivals and cup opponents - Vauxhall Motors. Vicary spent part of last season at Stalybridge Celtic. Vauxhall have also signed Terry Fearns who hit 39 goals last season for St Helens Town of the NW Counties League.
SPENNYMOOR SAVED
The creditors of Spennymoor United have accepted a deal with an anonymous Spennymoor benefactor. The Moors have also taken on Tony Heslop as assistant to new manager Peter Quigley, who has had to start his job with just eight retained players! These include goalkeeper Stuart Dawson and captain Craig Veart. However, the Club is hopeful of re-acquiring Mark Taylor from Whitby and signing Matt Hysen (ex-Gateshead and Blyth).
LOOK OUT FOR SARGESON
Rossendale United, whom Alty play in a friendly next week, have re-contracted their top scorer Craig Sargeson (20), who hit 39 goals last season and 38 the previous year. He had been tracked by Accrington. Meanwhile Droylsden have signed Gary Thomas from Mossley. A midfielder, Thomas was formerly with Winsford United, Stalybridge Celtic and Southport. However, ex-Alty and Trafford player, Mike Garside is staying at Mossley after a rumoured departure came to nothing. Also in the North-West, striker Lutel James, who was at Hyde before joining Bury, is now signing for Accrington Stanley.
---
18 July, 2001
TRANMERE VIEW
The Tranmere web site has a report and comments on the game at Moss Lane last night. Rovers' manager Dave Watson said, "I'm obviously disappointed with the result and performance. Not many of the players played as well as they can. Credit to Altrincham, they worked hard and played well but we know we didn't play well at all". This site's match report is here.
ANOTHER FRIENDLY
There is now an extra friendly match, away at Salford City, on Wednesday 1st August at 7.30pm. The hoped-for friendly against Manchester City is not now expected to materialise. For the revised list of friendlies, click the appropriate button at the top of this page.
ALTY YOUTH TEAM
The Youth team have drawn a home tie for their first game in this season's FA Youth Cup competition, against Leek Town. This will be played at Moss Lane on Wednesday 29 August. If they win, they will meet either Gretna or Crook Town at Moss Lane in the next round.
GRAHAM HEATHCOTE GAME
The Graham Heathcote testimonial game against Macclesfield Town on 26 July will be followed by a 30 minute game featuring "Altrincham Legends". The "Legends" will include Jeff Johnson, John King, Lennie Dickinson, Ken McKenna, Paul Rowlands and Paul Showler.
SPEAKING OF PAUL SHOWLER...
Paul Showler has been released by Peterborough United and Tony Hemmings has been freed by Carlisle United. Another old boy, Andy Dibble has been offered a new contract at Stockport County whilst in the crowd at last night's match with Tranmere were Danny Adams and Gerard Léonard, our French striker who played for us at Frickley last season.
---
17 July, 2001
A GOOD START!
Altrincham beat a strong Tranmere Rovers side tonight, 1-0, thanks to a goal from Danny Murphy. There is a match report here.
ELLISON TO GRIMSBY
The Grimsby web site reports that ex-Robin Kevin will be with Grimsby Town as they visit Lilleshall and then possibly on their Swedish tour. This is with a view to his joining Grimsby "to operate on the right[!] wing". Whether this is a sell-on by Leicester City or a loan is not clear.
ALTY RESERVES
Graham Wright will manage the Altrincham Reserves next season and a former Moss Lane favourite, Paul Cuddy, will be the new Reserve Team coach. Paul made over three hundred appearances for the Club. Click on the following link for more on the Reserves.
SCHOOLS' INITIATIVE
Free tickets to games at Moss Lane will be made available to local schools on a rotation basis during the coming season. Vouchers for child admission to Moss Lane will also appear in the SAM newspaper for selected games. For more on the Club's Schools' Initiative, please click here.
VOICE OF ALTRINCHAM
A new public-address announcer is required at Moss Lane for matchdays. Any volunteers should please contact the Club on 928-1045.
---
16 July, 2001
EMLEY LOSE STRIKER?
Above: Kick-off at Wakefield as Emley start last season's league game against Altrincham.
Emley will kick-off the new season as one of the favourites for the UniBond championship after their fine run last season. However, they could be without Lebanese international striker Wael Nazha who played at the weekend for Conference side Stevenage Borough against Tottenham Hotspur.
SENIOR PROFILE
Last week's NLP had a substantial piece on ex-Alty keeper Ian Senior (41 next week) who now has played for 26 clubs in a 25-year career. Amongst his many claims to fame is playing in the penultimate English side to play in Europe before the post-Heysel ban on our country's clubs; Ian turned out the European Fire Services' Cup Final in Luxembourg, the day before the disaster in Brussels. The highlight of his career was playing in an FA Cup win for Chorley against Wolves. Ian kept goal for Alty and uniquely did not let in a goal for Altrincham for almost 18 years - between playing for the Robins in 1983 and returning to play in January 2000!
---
15 July, 2001
LANDON GOES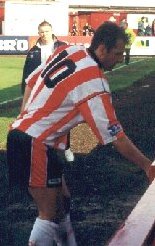 Alty striker Richard Landon has joined UniBond First Division side Radcliffe Borough, who had a gap for a striker following Neill Hardy's move to Stockport County. Radcliffe has taken a number of ex-Robins in recent years - apart from Hardy, Scott Wilson and Phil Power were at the Boro last season. This is the third time Landon has left Moss Lane inside a year; he had two abortive loan spells at Droylsden and Vauxhall Motors. Dickie scored 8 goals for Alty last season from 15 starts and 17 substitute appearances. He turned out yesterday for his new side against Bolton Wanderers and was marked by ex-Scotland captain, Colin Hendry; the two are pictured on the front-page of today's NLP.

KEVIN FEATURED
The centre-spread of today's Non-League Paper is a feature on Leicester City's non-league recruits, including "£200,000 bargain" Kevin Ellison, who is pictured with manager Peter Taylor. (Kevin was actually sold for £50,000 rising to £100,000 on appearances). After tipping his ex-schoolfriend Lee Furlong, now at Burscough, for league football, Kevin stated that "most of the non-league lads just don't get a chance. The big clubs just seem to prefer the foreigners". The article goes on to say that Kevin "is loving life at the top with Leicester. He has bought a house in the city and, after making his debut against the stars of [Manchester] United, is relishing the prospect of breaking into the first team on a regular basis. Ellison says that "the money is a big difference from Altrincham but, to be honest, that never really mattered. I'd have come here for nothing. All I am interested in is getting into the first team".
WARD IN ACTION
Ex-Alty manager Mark Ward is turning out today for Everton Masters against Manchester United Masters in the NW Final of the national veterans' competition at the Manchester Arena. Another ex-Alty veteran, Ken McKenna, scored for TNS yesterday in a friendly at Heswall. Carlsberg have served a winding-up order on Winsford United for £3,500 but the Club has stated that it can pay the debt.
TREES UPROOTED & OTHER UNIBOND NEWS
Robert Trees, who turned out briefly for Altrincham in 1999-2000, has been released by Leigh RMI and has joined our local league rivals, Droylsden. Bamber Bridge are to get £1,000 per game for allowing Bolton Wanderers to stage their Reserve games at the Irongate ground. Today's NLP has a an article on John Davison's preparations for the new season at Burscough and also reports that Northwich Vics are chasing Simon Martin, the top-scorer at Hucknall last season, after Martin's proposed move to St Albans City fell through.
ALL FIXTURES
All of the UniBond Premier fixtures for 2001-02 are now listed in the fixture grid on this site.
---
14 July, 2001
TRANMERE NEWS
Our first opponents of the season, Tranmere Rovers, have appointed Ray Mathias as their new Assistant Manager. He succeeds Kevin Sheedy, who left the Club last week. This comes after the appointment as manager of Dave Watson as successor to John Aldridge. Mathias holds the Tranmere appearances record (636) and has been a successful manager in his own right, having taken Wigan Athletic to promotion in the past. Tranmere visit Moss Lane this Tuesday (17th), kick-off 7.30pm.
HYDE LOSE THREE
Press reports suggest that three more players have left Hyde United. They are goalkeeper Graham Bennett, defender Mark Beeston and centre-back Steve Rimmer. Their new clubs are not yet known. Paul Taylor has, of course, already left Ewen Fields for Moss Lane and Paul Robertson has gone to Leigh RMI.
ANOTHER GROUND SHARE?
After Emley and Runcorn, Guiseley of the UniBond First Division are the latest club to consider a groundshare with a rugby league side. Because Leeds Council will not allow development of their Nethermoor ground, Guiseley are considering moving in with Keighley Cougars, whose ground lies six miles away. However the Nethermoor Ground is to appear on BBC1 as the backdrop for the series, "Playing the Field".
---
13 July, 2001
KICK-OFF APPROACHES
Altrincham kick off the new season with a home friendly against Second Division Tranmere Rovers this Tuesday (17 July). However, a recently planned game away at Glossop on the following day has had to be cancelled almost as soon as it was organised. Click the "Friendlies" button, above, for a list of the pre-season games.
PLAYER SPONSORSHIP
Alty fans are being encouraged to sponsor a player for the coming season. It costs £100 to sponsor the full kit of a player but you can also sponsor individual pieces of kit as follows; shirts (£50), boots (£25), Shorts (£15) and socks (£10). For further details please contact the Club's new Sales and Marketing manager, Mark Eckersall, at the Club (928-1045).
S.A.F.E. MEETING
Amongst other matters to be discussed at the S.A.F.E. (Supporters' Association) meeting scheduled to take place on Saturday 4 August, (before the Blackburn Rovers game), will be the appointment of a successor to Mark Eckersall as the S.A.F.E. representative on the Board. There will be more details of the meeting in due course.
UNIBOND TRANSFERS AND NEWS
Recent transfers involving UniBond Premier clubs include:
Carl Howarth (Nelson to Burscough). Howarth is a young striker whose goals took Nelson to the verge of promotion to NW Counties Division One. He is an ex-Everton youth player.
Mark Wilde (Burscough to St Helens Town). Wilde played in both league games against Alty last season; he scored the goal in our away match at Burscough.
Stuart Clarke (Sheffield Utd to Hucknall Town)
Simon Shaw (Doncaster Rovers to Barrow). Shaw is an ex-England semi-professional right-back.
Rick Ranshaw (Grantham Town to Gainsborough Trinity). Ranshaw is a 31 year-old striker returning for his second spell at Trinity.
Hyde United will take on Stalybridge Celtic for the "Ray Stanley Memorial Shield", to be played on Monday 23rd July at 7.45pm. Ray Stanley was the Secretary of Hyde who died last year, aged only forty-two. Hyde have also relaid the turf of their Ewen Fields ground, whose surface had degenerated badly by the end of last season. Blyth Spartans are putting up their basic gate prices to £6 for next season, with season tickets being available at £95. Northumberland County Council are to check out the main stand at Croft Park, where the timber and bitumen construction is a cause for concern.
EX-ALTY KEEPER MAKES NEWS IN PORTUGAL
Tim Clarke, who kept goal for Altrincham in the mid 1990s, is hailed in today's Portuguese sporting press as the hero in Barry Town's 2-0 UEFA Cup win against FC Shamkir of Azerbaijan. FC Porto meet the winners of this tie, hence the interest in the game in Portugal. A Bola the main Portuguese football paper even sent its own reporter to South Wales to write a stirring full-page report of the game. "The many dangerous attacks created by the Azeris ended in the safe hands of Clarke who was, without doubt, the great hero of a cold Thursday evening", wrote their man at the match. Clarke kept goal for Kidderminster against Altrincham in their championship-winning Conference season in 1999-2000.
VICS LOSE BOSS
Keith Alexander has left Northwich Vics less than a year after going to the Drill Field. Alexander, who lives in Lincoln, has joined Lincoln City as Assistant Manager. He was manager of Lincoln in 1993-94. Ironically his new side meet the Vics in a friendly at the Drill Field on 24 July. Assistant-manager Gary Simpson and defender Steve Davis have taken temporary charge of the Vics. An enigmatic offical statement from the Vics states that "The Board will for the time being not be advertising the position of Manager, applications if received will be reviewed, however a very restricted timescale is now placed on the Board. It is important by the first week in August to have appointed a new manager, the Board will be working towards this end".
---
6 July, 2001
REST AND RECREATION
This site has been updated every day in the close-season so far. However, I am afraid that after today there will be no additions to this site for the next six days. In the meantime I hope that you find some areas of this site that you have not visited before, so please click the buttons at the top of this page to have a look around.
FIXTURE GRID
The full season's fixtures for the following clubs are now on this site's fixture grid: Accrington Stanley, Altrincham, Barrow, Blyth Spartans, Bradford P.A., Burton Albion, Colwyn Bay, Frickley, Hyde and Runcorn. Clicking on the "Fixture Grid" button above will take you to there. Altrincham's fixtures are more fully listed on the League Fixtures and Friendlies/Cup Fixtures pages of this site.
---
5 July, 2001
"NOT OUT OF WOODS"
Mark Harris, Chairman of Altrincham FC, has told SAM that the Club is "by no means out of the woods yet" in its attempt to regain financial stability. He revealed, however, that the Club has now paid off £100,000 of its half-million pound debt. Mark also indicated that he thought that the Board might grow to 12 in number. The paper also reports Mark Eckersall's appointment as Sales and Marketing Manager and reaffirms Grahame Rowley's brief to "increase matchday fund raising". Meanwhile another Board member, Bob Peters, will concentrate on maximizing commercial activities.
ALTRINCHAM FC OFFICIAL WEB SITE
Many visitors to this Alty Pages site may have read on the Home Page of Altrincham Football Club Alan Johnson's statement of resignation as web-master of that site, which has been the official Club web-site since its foundation in 1997. Fans of Altrincham owe Alan and his colleague, Paul Dewey, a great debt for having established such a comprehensive resource dedicated to The Robins. Personally, I should also like to record my thanks to Alan for the assistance and cooperation that he has given me since this site started in 1999.
Following discussions between Alan, the Club, SAFE (the Supporters' Asociation) and myself, it has been agreed that this site, currently styled The Alty Pages, will become the new official site of Altrincham Football Club and will also include SAFE news and activities in its pages. The Club is aiming to secure sufficient web-space to ensure the development of its official site for some years to come and this is likely to lead to a new web-address (URL) for this site. Until that process has been concluded, this site will continue to operate at its present address www.lusoweb.co.uk/alty1.htm. I hope that users, both new and old, will find it an adequate successor to Alan and Paul's site. I am pleased to report that Alan will supply matchday photographs and, no doubt, other information to this site during the coming season.
For those who are new to this site, it may be helpful to know that it comprises two main parts. The first section carries all the current season's news plus background information on the Club, links to other sites, maps of other teams' ground locations, etc. The second part of the site is an archive of data, statistics, match reports, details of past players and other material covering the period from 1999 to the end of the 2000-01 season. All parts of the site can be reached by using the clickable buttons at the top of each page. There is also a site-search mechanism at the bottom of this page and a search-engine for the archive section. In 2001-02 this site aims, once more, to provide up-to-date news as well as match reports on all Altrincham first-team competitive games and on as many matches as possible at Reserve and Youth Team level. League tables, player profiles and statistics are also included in the site.
I should like to thank everyone who has supported this site to date, either by visiting it or by assisting in other ways and I hope that during the 2001-02 season you will all find what you are seeking here. Any suggestions for improvements will be gratefully received; my e-mail address is at the bottom of the page. Finally, I am very grateful to Altrincham FC and SAFE for allowing me to operate in the future as the official site.
John Laidlar
DAWS MOVES
Nicky Daws, who spent some time at Altrincham in his early career, has moved today from Bury to Rotherham United.
---
4 July, 2001
DIBBLE NETS £20,000
Goalkeeper Andy Dibble, currently at Stockport County, has won £20,000 compensation for injuries suffered whilst on loan from Altrincham to Barry Town in December, 1998. Dibble was burnt and scarred for life when the local council used hydrated lime for marking the Carmarthen Town pitch for their game against Barry. Dibble dived onto the markings and burnt his back, which then needed skin grafts. At the time, Dibble had lost his place at Altrincham to Stuart Coburn and was about to take up a "lucrative" offer of employment in the United States when the accident occurred. For more on this, click here.
FULL FIXTURE LIST
The full Altrincham league fixture list is here or may also be found by clicking the League Matches button above. The opening day of the season sees Whitby at Moss Lane, followed by a Tuesday night trip to Worksop. The season ends with back-to-back games with Vauxhall Motors. However, please remember that your first opportunity to see Alty's 2001-2 side will be at the friendly against Tranmere Rovers at Moss Lane on Tuesday 17 August at 7.30/7.45 (k.o. time to be confirmed). Click the Friendlies button above for the list of pre-season and Cup games. There is also still time to get your season ticket, which is great value. Contact the Club on 928-1045 for full details. Many thanks to Grahame Rowley for the fixture list. This site's fixture grid so far contains full fixture lists for Accrington, Altrincham, Frickley and Hyde.
MARK IS NEW SALES & MARKETING MANAGER
The Club has issued the following press release:

"Altrincham FC are pleased to announce the appointment of Mark Eckersall as their new Sales and Marketing Manager. In a move away from Commercial Managers, the board were looking to appoint someone with extensive local knowledge and someone who had Altrincham FC "running through their blood". With Mark's appointment, the Board believes they have found their man.

A local man, who has been the Supporters' Club representative on the Board, Mark knows the many aspects involved in the running of the club and in offering him this position, the Board believes that the club will benefit immensely from Mark's enthusiasm in his new position. Mark's responsibilities will include all aspects of advertising, sponsorship and corporate hospitality as well as numerous fund raising projects for the Football Club. Anyone interested in discussing possible opportunities for their involvement with the club, can contact Mark on 0161-928-1045."

Everyone who supports Altrincham will wish Mark well. Mark has done everything at Moss Lane from painting the ground, to organising the supporters' coaches and sitting on the Board; - Altrincham FC could not have anyone in charge of sales and marketing who is more committed to the Club.
---
3 July, 2001
BLYTH SAVED
Further to the earlier piece on Blyth Spartans, the Club has now announced that it "is secure thanks to the help of three benefactors, who have made significant loans to the Club, and the hard work and generosity of team supporters and local people who have raised over £13,000 in the six weeks since the crisis erupted".
UNIBOND FIXTURES
Hyde United have published their fixtures. Altrincham will entertain the Tigers on Boxing Day, whilst we go to Ewen Fields on New Year's Day. As yet no fixtures have been released by Altrincham.
CONFERENCE FIXTURES OUT
The 2001-02 fixtures for the Nationwide Conference have now been issued and can be found at Confguide. Stalybridge start away on 18 August at Stevenage Borough, who were the visitors to Moss Lane for our first game when we returned to the Conference in 1999. Celtic's Christmas pairing is with Leigh RMI. Northwich kick off away at Yeovil and play their festive matches with Chester City.
BLYTH SPONSORSHIP BOOM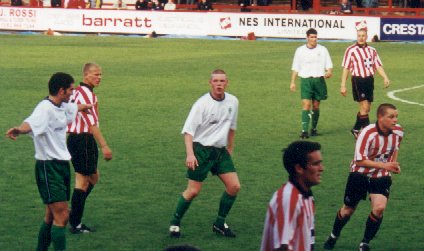 Financially troubled Blyth have had an encouraging response from their fans. All of the team's kit for next season has already attracted sponsors, raising more than £2,000 for the club. For £85 a kit, sponsors get admission to the Club's Sponsors' Evening at the end of the season where the sponsored kits are presented to the sponsor. They also get their names in every home matchday programme and receive a copy of the new quarterly Blyth Spartans Sponsors' Newsletter. Pictured left is the Blyth away kit, in the game at Moss Lane last season. Hay, Murphy, Furlong and Hawes are the Alty players in the picture.
---
2 July, 2001
NEW NEWSLETTER FOR EXILES
Jacqui Forster has produced a new issue (no.5) of "The Fanfare for the Travelling Fan", the newsletter for all those Alty fans who are members of SAFE in Exile, the organisation for supporters who live outside Greater Manchester or Cheshire. "The Fanfare" is an excellent full-colour publication with plenty of news and recollections. Membership of SAFE in Exile is a bargain; contact Jacqui Forster for details.
NEILL HARDY
Tonight's BBC North West Tonight had a feature on Neill Hardy, the ex-Robin who has recently signed for Stockport County. Neill was seen in his job as a builder's labourer, which he has now abandoned for the bright lights of the Nationwide First Division.
---
1 July, 2001
2001-02 FIXTURES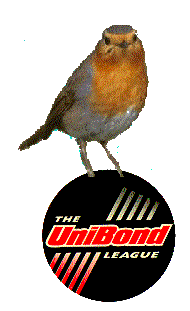 The Bishop Auckland site reports that next season's UniBond Premier fixtures are due out on 5th July. However, the Bishops already seem to know that their first five league fixtures are ALL away from home, though the site does not list who are the opponents! The sequence of away games is presumably due to the ground's dual use as a cricket pitch.

RIVALS FOR HOLMES
The NLP reports that Altrincham face competition from QPR, Northwich and Stafford Rangers for the signature of Carl Holmes, the Droylsden captain. The same paper has a double-page feature on Droylsden's colourful manager Dave Pace and his even more controversial boardroom colleague, Steve Vaughan. Vaughan admits he may go to gaol for offences unconnected with football, whilst Pace refers to a period in Greece where "the local Mafia done me in and I came back with nothing". Vaughan expects to regain possession of Barrow's Holker Street ground after a forthcoming court hearing. The NLP also has articles on Leroy Chambers's move to Hucknall and Lance Key's to Kingstonian.
ALTY AND THE FA CUP
Alty's FA Cup draw with Frickley recalls two FA Cup First Round Proper ties with the Yorkshire side in the 1980s. In 1983 the Robins won 1-0 at Frickley and in 1986, Alty beat Frickley 4-0 in a replay at Moss Lane. Altrincham are currently going through their worst FA Cup spell for over 30 years, not having made the First Round Proper since 1996. For the full Altrincham Cup record, click here. Since 1971, Altrincham have reached Round Two or further 13 times.
---
FOR EARLIER NEWS, CLICK HERE
---
---