Pictured, above, courtesy of Alan Johnson, are Kevin Hulme and Rod Thornley in the Whitby Town goalmouth last Saturday at Moss Lane. This and a number of other excellent photos of the Whitby game are to be found on Alan's web site. Alan will be extending his photographic coverage of Altrincham games throughout the coming season.
GOOD START
If Altrincham can avoid defeat on Saturday it will be their best unbeaten start to a season since 1989 when they won one and drew two of their first three games. In 1990 they drew two and won two of the first four fixtures. Currently, with two wins in two games, it is the Robins' best start since 1994.
---
23 August 2001
"SUPPORTERS DIRECT" CONFERENCE
Jacqui Forster, the organiser of Alty in Exile, the association for supporters based away from the Altrincham area, is attending the First Annual Conference of Supporters Direct, to be held at Birkbeck College, London on 6th September. She is representing both SAFE and the Exiles at this event. The new Minister for Sport, the Rt Hon Richard Caborn MP will be addressing the Conference as will Richard Scudamore, the Chief Executive of the FA Premier League. The day will be focused around two plenary sessions at the start and end of the conference separated by training workshops aimed at sharing experiences, networking and providing relevant skills to fans working in trusts. The Conference will also see the launch of "The State of the Game: The Corporate Governance of Football Clubs 2001" a report by the Football Governance Research Centre at Birkbeck College. The sessions will include, The story so far by Brian Lomax (a registered Alty Exile!) reviewing the first 12 months of Supporters Direct and the Rt Hon. Richard Caborn MP launching the State of the Game report with Dr Christine Oughton from the Birkbeck Football Governance Research Centre and Nic Coward from the FA. Jacqui will also attend two workshops on "How to Set Up a Trust" (by the fans who've done it) and "Internal Trust Accounting and Finance Procedures" (with experts from the Institute of Co-operative Directors). Thanks to Jacqui for the above information.
INS AND OUTS AT GATESHEAD
A new Gateshead official web site has come to life and it reports that the club has signed ex-Manchester United youth left-winger Trevor Buckingham and former Nottingham Forest Youth goalkeeper Craig Stacey. However, Gateshead have surprisingly released striker Wayne Edgcumbe, who was to be the captain this season and was player of the season last year. He has now signed for Durham City. Also departed is former captain Sam Kitchen. A third departure is a new signing from Barrow, striker Lee Ellison, who has moved to Bishop Auckland.
"LITTLE JOE" LANDON!
The Radcliffe Borough site has a picture of Dickie Landon in action against Eastwood last weekend. He seems to be known there as "Little Joe" Landon after an actor of that name in an old TV Western series! Dickie apparently spent half the game at centre-back, where he performed "as though he had played there all his life".
COLWYN BAY
Alty travel to Colwyn Bay this Saturday. For coach travel to away games, click the Away Travel button at the top of this page. For car travel, click on The AA site where, using the "Route Planner", you can print off a full route from anywhere to Colwyn Bay. Nearing Colwyn Bay by the Expressway (A55) take first sign, left, to Old Colwyn. At end of slip-road, turn left, then straight across at mini roundabout into Llanelian Road. Ground is half a mile on, on right. Colwyn Bay, now managed by centre-back Colin Caton, have not got off to a good start this season after their dice with relegation last year.
The Bay lost their first match 1-2 at Lancaster City and then went down 3-2 at Droylsden on Tuesday. The game this Saturday should allow the Bay's new recruit, Stuart Scheueber, to renew his acquaintance with his former Moss Lane colleagues whilst Marc Limbert, another former Robin, is also likely to be in the Welsh club's line-up. Last season's game saw Altrincham win 2-1 with goals from Finney and Landon (penalty).
---
22 August 2001
ALTY DROP TO FIFTH AS BARROW GO TOP
Tonight's results saw Barrow and Burscough go above Altrincham on goal difference. Click button above for League Table.

Accrington Stanley 0 Barrow 3
Bradford Park Avenue 0 Burscough 2
Gateshead 1 Blyth Spartans 1
WORKSOP TOWN 1 ALTRINCHAM 2
There is now a match report here.
ROBINS AT DROYLSDEN
As well as Rico Richards, Droylsden have signed two other members of Altrincham Youth's double-winning team of last season- Levi Kennedy and Otis Thomas. Also at the Butcher's Arms, former Robin Michael Moore netted for Droylsden against our next opponents, Colwyn Bay, last night. Another ex-Alty man on the scoresheet yesterday was Lee Ellington who netted twice for Gainsborough Trinity.
NEXT MATCH
| | | |
| --- | --- | --- |
| Saturday 25 August 2001 | COLWYN BAY | AWAY k.o. 3pm |

For coach travel to away games, click the Away Travel button at the top of this page. For car travel, click on The AA site where, using the "Route Planner", you can print off a full route from anywhere to Colwyn Bay. Nearing Colwyn Bay by the Expressway (A55) take first sign, left, to Old Colwyn. At end of slip-road, turn left, then straight across at mini roundabout into Llanelian Road. Ground is half a mile on, on right.
---
21 August 2001
WORKSOP TOWN 1 ALTRINCHAM 2

Other results:-
Bamber Bridge 0 Marine 1
Burton Albion 1 Runcorn FC Halton 1
Droylsden 3 Colwyn Bay 2
Frickley Athletic 1 Whitby Town 4
Hucknall Town 1 Gainsborough Trinity 4
Lancaster City 2 Vauxhall Motors 0
Worksop Town 1 Altrincham 2
NEW ALTRINCHAM F.C. OFFICIAL WEB SITE
Welcome to the new official web site of Altrincham Football Club.
As announced some weeks ago, Alan Johnson, since 1997 the webmaster of the official Altrincham F.C. site site, has decided to scale down his operations and concentrate on using his site for the photographic and archival recording of the Club's activities. As a consequence, it was agreed between Alan, myself and the Club that my unofficial site, The Alty Pages, established during 1999-2000 season, would become the official Club site. This has now happened. It had been hoped that there would be a new Web address for this site by the beginning of this season but this issue is still under negotiation between the Football Club and the internet service provider. Hopefully, a new Web address will be settled shortly. For the time being therefore this site remains at "htpp://www.lusoweb.co.uk/alty1.htm".
I should like to thank very much all the users of the Alty Pages site to date and I hope that they will continue to visit the new official site. The site will continue to be updated on as near a daily basis as possible throughout the year and will try to cover all three Altrincham sides- the first team, the reserves and the youth team. The archive of the Alty Pages will remain available by clicking here or by using the Archive button above. As mentioned above, Alan Johnson's archive from 1997 will also remain available at his site, along with an expanding photographic content. It is hoped that Altrincham supporters will find the two sites complementary. Although Alan is not retiring, it is an appropriate time to thank him for his efforts in creating the original Altrincham F.C. official site and for his help to me since I started my site. If you have any suggestions for inclusion on the official site, please let me know via the e-mail link at the bottom of this page.
UNIBOND HANDBOOK - REFEREES' PAYRISE!
The 2001-2002 UniBond Handbook has now been released and, as usual, is a mine of information on the workings of the UniBond leagues as well as a good source for Club information. The handbook reveals that UniBond referees' pay has risen this season by £2 to the princely sum of £32 a match - linesmen get £16. The minimum admission price for Premier League games is £4.50 this season (£4 for Cup games). Amongst other changes listed are the revised UniBond Cup group stage arrangements, the Premier division relegation play-off rules and the new standard evening kick-off time of 7.45pm. The book is available from the Press Officer, Mr P Bradley, 7 Guest Road, Prestwich, Manchester. Please check with him for the price by post- it is approximately £4.
---
20 August 2001
EMLEY OFF THE MARK
Tonight's match:
Emley 2 Hyde United 1. The league table is here.

TWO ALTY MEN JOIN DROYLSDEN
Centre-back James Glendenning, who went on loan to St Helen's Town last season, has now signed for Droylsden. He is joined at the Butcher's Arms by Altrincham Youth Team striker Rico Richards.
---
19 August 2001
OLD BOYS - SCHEUBER SURFACES
Rumours that Stuart Scheuber, an ever-present under Mark Ward at Altrincham last season, had returned to his native North Wales were confirmed when he played for Colwyn Bay yesterday. We meet the Bay next Saturday. There was no sign of Steve Porter and Adam Farley at Burscough where they were rumoured to have gone. Paul Ellender had a sad debut for Boston, who lost to Margate. His transfer fee from Scarborough is reported to have been £60,000 so Alty will get no sell-on money. Lance Key's new side, Kingstonian, lost 0-1 yesterday but Leroy Chambers's Hucknall crashed 6-1 at Barrow. Dave Anane was subbed for Witton and Lee Cox missed a penalty for them as they lost 1-3 to Ossett Town. Dickie Landon missed a good chance as Radcliffe Borough drew 0-0. Mark Quayle has been transfer-listed by Morecambe and Paul Robertson has been released by Leigh after failing to impress in pre-season. Michael Moore, who played for Alty 4 years ago, has joined Droylsden. Steve Waywell did not pursue his plans to sign Mark Ward for yesterday's Leigh game. Chris Timons played in Ilkeston's 1-1 draw and John Toner netted for TNS in Wales. Danny Adams's Macclesfield drew 1-1. Graham Barrow is suing Chester City over his dismissal last season. Paul Edwards did not play for Swindon Town, nor Neill Hardy for Stockport, where Andy Dibble was on the bench. Kevin Ellison remains injured at Leicester City.
BERNARD INTERVIEW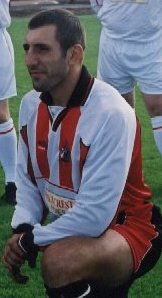 Today's Pink carries an interview with Bernard Taylor. He reveals that he was pleased with our pre-season friendlies and with the new signings. (One of these, Mark Sertori (left) won the Man of the Match award on his debut yesterday). The injury to Paul Taylor was a "minor" cartilage problem, though it needed an operation. Thankfully Paul's damaged knee was not the one which caused him to miss much of last season. Bernard went to say that he and Graham Heathcote were aiming to have a tight defence, like Stalybridge had last season. However, although the Board had been good to him and Graham, there was not the cash available to buy more players. Bernard picked out Burton, Emley and Barrow as major title contenders this season. "I owe those wonderful Altrincham fans something after the massive disappointment of our relegation from the Conference... I let them down and I want to make up for it", said the Alty manager.
---
18 August 2001
ALTRINCHAM 1 WHITBY TOWN 0
There is a match report here. The Alty team sheet is here and the first league table is here.
THE UNIBOND PREMIER, Saturday 18 August
A day of surprises as Emley, Accrington and Worksop crashed.
Altrincham 1 Whitby Town 0
Barrow 6 Hucknall Town 1
Blyth Spartans 3 Bamber Bridge 1
Bradford Park Avenue 1 Burton Albion 4
Burscough 1 Frickley Athletic 0
Colwyn Bay 1 Lancaster City 2
Gainsborough Trinity 5 Accrington Stanley 2
Hyde United 1 Bishop Auckland 3
Marine 1 Gateshead 3
Runcorn FC Halton 2 Emley 0
Vauxhall Motors 3 Worksop Town 2
Some betting odds have appeared on the Hyde United site, quoting Alty at 16-1 for the title- with our opponents Whitby at 14-1! The favourites are Emley and Burton.
---
FOR EARLIER NEWS, CLICK HERE
---
---